50+ Employee Appreciation Messages to Infuse the Culture of Recognition at Work
50+ Employee Appreciation Messages to Infuse the Culture of Recognition at Work
Here are the best employee appreciation messages to fuel the culture of recognition with a massive boost. Appreciate to impress!
When was the last time someone appreciated you at work?
OK, let's put it this way: What are the most memorable words of praise you received which you can put in the bag of "best compliment(s) I have ever got"?
You can count them on your fingertips (well, at least I can), and it's not because people don't recognize you for a job well done, they just don't know the rulebook of employee appreciation day messages, words, or compliments besides "well done".
That's because employee recognition is the most preached yet least practiced trait in the modern workplace. You can see it happening on engagement platforms, the likes and love reacts flowing all over the screen, but in reality, not a single sign to show for it.
What is this real-life employee appreciation and how's it different from writing "well done" to everything that comes your way? Why is it crucial and what has your organization been doing wrong when it comes to recognition? Read away to find out. And of course, find below fifty-something employee appreciation day messages for your colleagues that'll kill the stage better than "well done". Presenting the best employee appreciation messages, words of recognition and appreciation, and more.
What is employee recognition?
Employers are well aware of the fact that recognizing employees is the simplest way to recognize them for a job well done, with this Harvard Business Review report signifying how 40% of employed Americans would give it their all if they are recognized. Recognizing employees means showing them that one values them for what they do. It can be from one teammate to another, one work-BFF to another, or an organization openly appreciating employees for what they do.
With Empuls, one never misses out on appreciation for every occasion.
It's well beyond the point where people worked for what's on the paycheck, with benefits and workplace culture becoming prominent factors on deciding where to work. In this case, employee recognition, appreciation, and creating a culture of engagement is crucial to pull the best ones in. Employee recognition is a small step that pays big dividends, and here's why it's important.
When employees feel recognized, they stay on. The ones with grit bloom into top talents and the top talents can't think of anything else but sticking to their current employer for they are appreciated for what they do.
It facilitates employee engagement. One of the key traits of an engaged culture is that it's powered by people who value others for who they are and what they do. It can be as simple as "hey, I love your sneakers" and as specific as "I'll always be thankful for automating our budget process—it made my job easier!". Recognition gives employees a reason to come to work every day.
It skyrockets productivity. As the HBR study highlighted a 40% footfall in the number of people who'd give it their all if they are recognized, a Gallup study portrayed that recognized workforces give a 24% better output in terms of quality of work when they are recognized. Multiply that number by the financial output and you've got a goldmine.
5 tips for successful employee appreciation
Employee appreciation thrives on thank you's and well done, but carrying out a culture of appreciation should have an ultimate objective: the achievement of goals. With proper curation of objectives in place, here are five tips for successful employee appreciation that will lead to better results on desired fronts if practised right.
When recognition is practised in the right manner, a culture of appreciation will encourage employees to do what's better for the organization's betterment, which would accomplish the desired objectives in place. Check them out and tick them off the list:
1. Alignment to objectives
An organization's mission, vision, and goals decide on what the recognition should be like. This depends on departments too, with the sales team sticking to the numbers game, development team on the degree of innovation, and blue-collar workforce on the number of gigs served. This results in a tasks-oriented approach that racks up the performance number to help the cause of appreciation.
2. Appropriate to the efforts
A common notion is to generalize the appreciation words for employees and rewards is what leads to nothing but chaos. By channelizing appreciation through a criterion where everyone has a slice of the pie, we ensure that there isn't a soul left without the hunger to appreciate another and perform in such a way that they hoard appreciation for themselves.
3. Sufficient funding
The organization should commit a decent amount of resources to engagement as it ultimately pays off in terms of productivity. The budgeting procedure generally does have a segment for rewards and recognition, but special funds should be kept for appreciation activities to encourage participation. Employees are motivated to participate when it's engaging and the funds help the cause.
4. Keep the right carrot
Appreciation in form of a simple "thank you" note can do wonders and so can a coffee mug. Pick any of the appreciation messages from down below and send it over to your peers or subordinates-- the emotion behind it matters more than the face value attached to it (although in reality, the materialistic value does help the case).
5. Regular evaluation
An important thing to check while developing a culture of appreciation is to see what it brought to the table. Running Pulse Surveys can help in figuring out an employee's perception of any program and then there's tracking their performance, which directly assists in improved work ethic and better results.  Hence, appreciation words for employees do help.
Now that we know enough about the direct impact of words of recognition and appreciation, here are a few tips to keep in mind while running a proper appreciation program, let's have a look at how one can appreciate their compatriots at work with employee appreciation day messages which would even add frills to a coffee mug with these employee recognition words.
The 50 best employee appreciation quotes for every occasion
Words of Appreciation from Coworkers or Peers
We all are thankful to our peers for they have our backs and here's what we can send out to appreciate them. No felicitation between coworkers should go unnoticed and with Empuls, we bring them all to the spotlight.
1. "Have you ever run away from responsibility? Because you are always up to it!"
2. "I am proud of the fact that you overcome every mountain there is to climb in front of you."
3. "Having colleagues like you makes my work and dedication a breeze. Thank you for being there!"
4. "Hey work BFF, you are amazing! I hate you when you crack those lame jokes, but I love you for you are always here to support me. Thank you!"
5. "This team is full of hard-hitters and you always keep them in sync. Thank you for it!"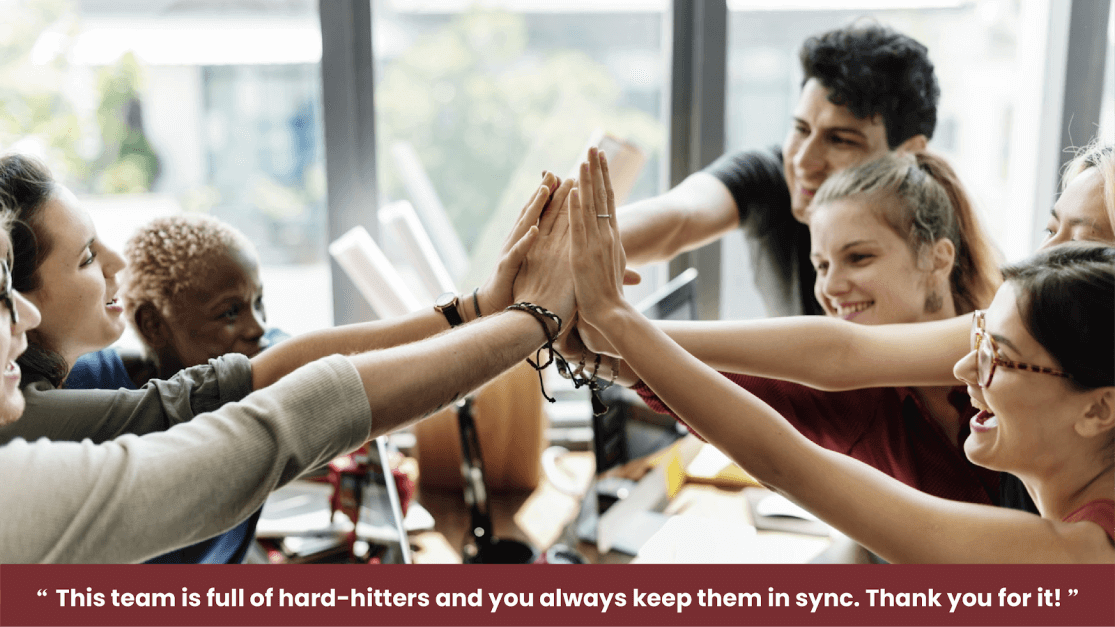 6. "Your efforts at strengthening our culture are right in front of our eyes. Thank you for it!"
7. "To be honest, you always find a way to get things done, and boy you do it so well. Thank you!"
8. "Your happy nature makes this workplace shimmer. Thank you!"
9. "I am not going to lie, I was intimidated by your fast approach, but now it's moving mountains. Cheers to that!"
10. "Your expectations from us and ours from you are the benchmark of what we have achieved. Great job!"
Compliments on Specific Projects
Success comes in the form of milestones and specific projects deserve applause. Here's how one can commemorate a good job on specific projects to their peers at work:
Success in particular projects is a huge plus point, and one can show for it on Empuls.
11. "I can't tell you how proud I am with the way you handled that meeting today. One of the best things about you is how you present your work."
12. "Hey! Your work on Project X has been abysmally astounding. I can tell you how easy it has made my life—and it shows."
13. "I see you've been grinding pretty hard on Project X. I am happy that you are dedicated to whatever you do."
14. "I loved your presentation about Project X, and it intrigues me so much, I want to learn more about it. We can have a chat in the breakroom if you're open to it!"
15. "Way to go on that project! We are awestruck." (Let's face it-- short and sweet=amazing)
16. "Your presentation skills are setting high standards! I might need to pick your brain the next time I have an opportunity to give one!"
17. "Your perspective towards Project X is amazing. I think we can use it in a very productive manner that way. Thank you!"
18. "Wow, I just heard people in the breakroom applauding your approach. Whatever it is, sounds pretty grand! Keep it up."
19. "I've been at this place for [x] years and I haven't heard such applause for a presentation like yours. Loved it!"
20. "Come on! Treat us for lunch, your project turned out to be a big win!"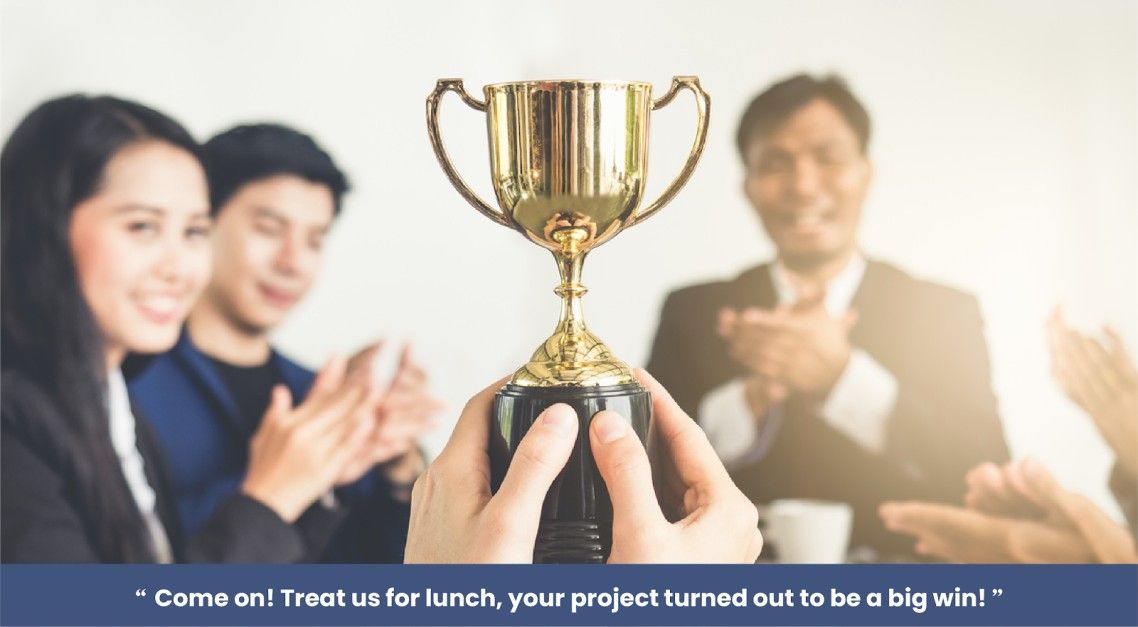 When They're Having a Bad Day
Everyone's been a victim of having a bad day and in this time of desperation, it's only human to feel low. Here's how you can pick your peers up with a message or two to make their day a bit less worse:
A pat on the back always lifts one up and makes a bad day better.
21. "Well, tough crowd! Nevertheless, I'm proud of how you handled everything."
22. "Hey, you remember that successful Project last month—It really caught all the eyeballs! Don't worry about this one. Let's hustle for another big win!"
23. "I just want to say that I know things are gloomy, but I admire all the work you're doing."
24. "Today's day was a bouncer! I don't know what I would have done without you."
25. "Hey, I know work's been crazy lately, but boy you have taken it as a sport. Do you need a hand?"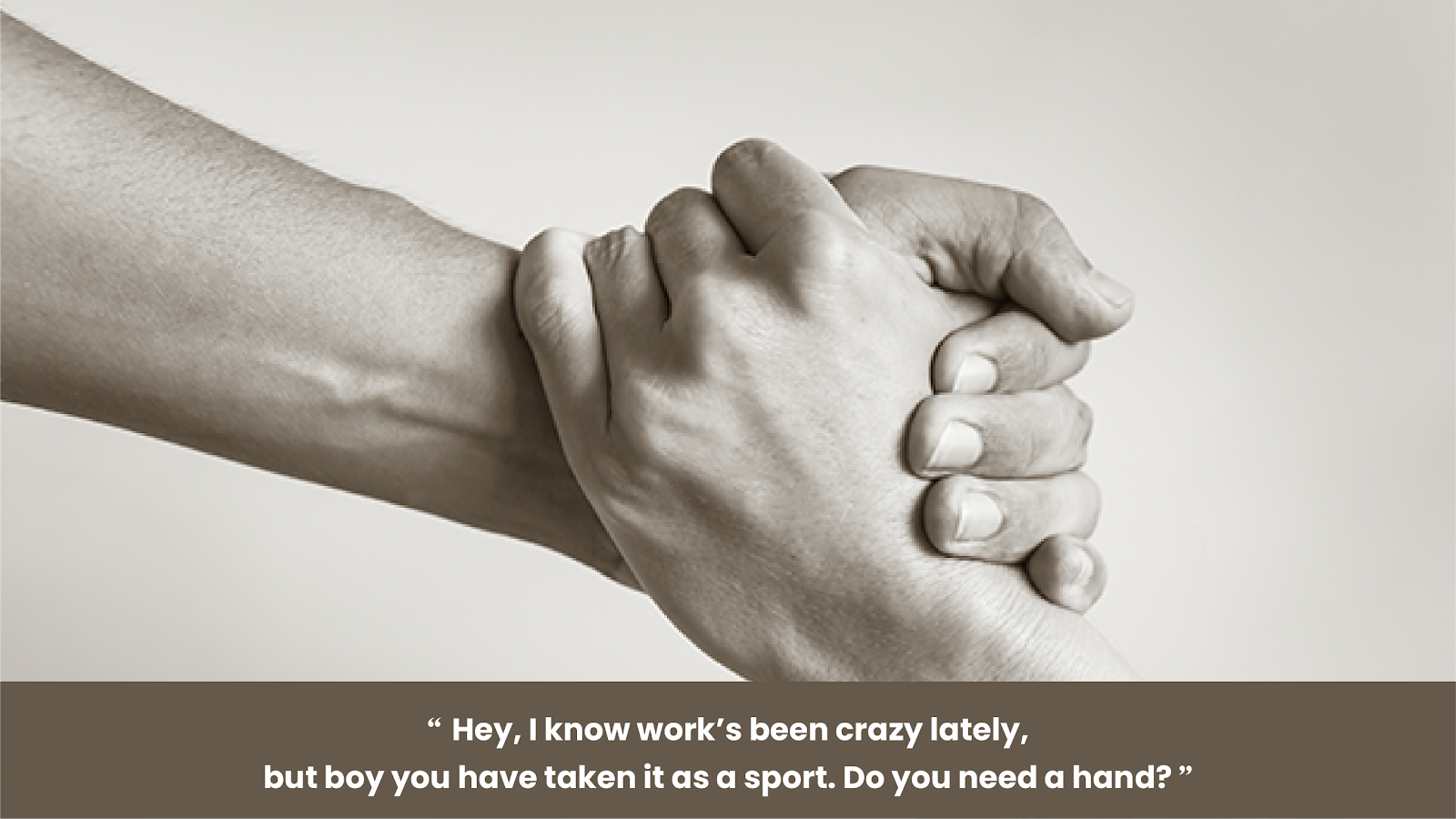 26. "Such a tumultuous week and yet you're all held up like this? It's so impressive and I am proud."
27. "Thank you again for [put whatever I want here]. I know I don't say that enough."
28. "I'm sorry for how that meeting went. Anyway, want to blow off some steam over a game of pool?"
29. "Hey, now let's forget what happened and head home, alright? You are amazing and there's nothing you could've done better. Cool off."
30. "Let's put this ugly week behind us. Are you up for a drink/bite at your favorite joint?"
When They Had a Big Win
Promotions, baby on the way, a big sign-off on the project, it's the time to party! Here's how to congratulate your peers on a big win:
31. "You struck oil on the promotion! No one deserves it more than you."
32. "You killed it at the meeting! I am so pumped up to start with our new venture."
33. "Your work ethic has paid off and everyone is amazed by your success. Mazel tov!"
34. "Thank you for being my inspiration for all the good work and most importantly, being a good employee."
35. "You have left us mesmerized with every project. I am so happy to see you excel!"
36. "Wow. Just wow. You've done an outstanding work! Great Job."
37. "You are setting quite a benchmark with your work. I wish to be that good too!"
38. "What an amazing quarter for you, looks like burning the night oil paid off. Great job."
39. "When I first met you, I knew that you'd hustle it out and it showed in the results. Amazing job!"
40. "The most successful goal-achiever of the month-- I am proud!"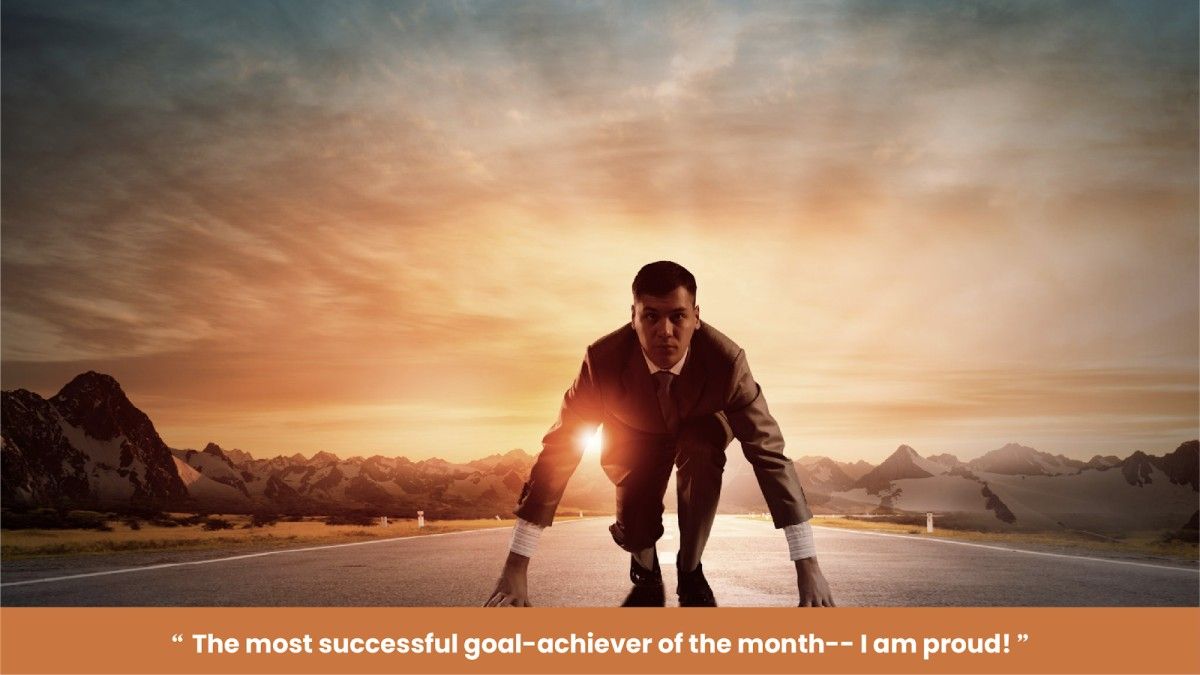 Compliments on Their Skills
We all have a math whiz, a science junkie, and a writer among us. Let's thank them for the progresses in their arsenal with a short message.
41. "Your problem-solving skills are visionary."
42. "Your communication skills are so flamboyant and nonchalant. I love it!"
43. "Your ideas pull a rabbit out of our hats, don't they?"
44. "Thank you so much for assisting me with Project X. I'm not the best at [the skill they are best at], so you saved me from a huge fall."
45. "You've got such an amazing work ethic."
46. "Your technical prowess has brought this project to life."
47. "I can't believe you were such good [insert their best skill]. I fear we might have to pay you more. Ha-ha!"
48. "Your wit reminds me to smile now and then and that is everything."
49. "True intellect lies in asking the right questions and you have aced it. Amazing!"
50. "You can shimmy out of catastrophic situations with your number game. Great work!"
51. "In times when everyone was confined to their homes, it was your work that surpassed our expectations. That's amazing and we can't be prouder. Thank you!"
52. "Not only did you keep everyone engaged with your humor on video calls, but your work ethic has been simply spectacular. I can't thank you enough for it!"
53. "Putting in those extra hours even when you're at home is a rather grilling task. As always, you made us proud. Thank you! I can't appreciate you enough for it."
54. "Being a dark horse is one thing but being always present for every query that arises outside and in work hours is another. Thank you so much!"
What's the Best Recognition Software for Appreciation?
Employee appreciation is a rather forgotten art but the reason isn't lack of values, rather lack of a platform. With most organizations connected via intranet, let alone the fact that remote employees are increasing in number, it's crucial that there's a workforce engagement platform wherein employees can communicate, collaborate, and stay engaged to what's going on.
This is where Empuls comes in as one of the best recognition software around. Keep your workforce motivated, reward and recognize them as peers and managers. and we'll make sure that you have all the ingredients for a happy workforce. Want to give it a whirl? Book a demo now.
All set for your Employee Recognition Project?
What is employee recognition is what can move mountains and now that you are aware of 5 important tips to employee appreciation, you can gear up for the next employee recognition phase at your organization.
With the onset of remote work taking over the world, it is crucial to take employee recognition words into the network. For that, you need an online social media platform designed specifically to appreciate, engage, and motivate your workforce. Looking for that holy grail? We got you covered.
Empuls Newsletter
Join the newsletter to receive the latest updates in your inbox.
---