In today's rapidly evolving business environment, efficient human resource (HR) processes play a pivotal role. They are the gears and levers that ensure the smooth functioning of an organization, propelling it toward its goals. A key player facilitating this efficiency is HR software.
By digitizing various HR processes, HR software solutions help streamline workforce management. They play a significant role in facilitating the organization's growth, enhancing productivity, and maintaining a harmonious work environment.
Why you need HR software?
Market research on HR software trends clearly illustrates that HR departments today face a myriad of challenges. They are often saddled with administrative tasks, making it challenging to focus on strategic activities that drive organizational growth.
Employee recruitment and onboarding, payroll management, time tracking, performance management, and compliance with labor laws are just a few of these demanding tasks.
HR software can alleviate these challenges. These solutions free up valuable time for HR professionals by automating routine processes. They also reduce errors and ensure that HR policies are consistently applied across the organization.
Moreover, the advantages of digital transformation in HR are numerous. It brings about better data management, faster processing, improved employee engagement, and significant cost savings. HR software, thus, has become an essential tool for modern businesses striving for efficiency and growth.
Key features to look for in an HR software
There are several key features to look for when selecting an HR software solution. The first is a centralized employee database management system, which enables easy access to and management of employee information.
Payroll management is another crucial feature, reducing the likelihood of errors and ensuring timely payment. Similarly, time and attendance tracking can eliminate manual tracking, enhancing accuracy and efficiency.
Other notable features include a streamlined recruitment and onboarding process, an employee self-service portal allowing employees to manage personal information, and a performance and talent management system to identify and nurture talent within the organization.
In addition, learning and development tracking helps promote continuous growth and professional development. Lastly, robust reporting and analytics capabilities provide invaluable insights into the workforce, assisting in strategic decision-making.
Top 10 HR software solutions for efficient workforce management
To streamline HR processes and workforce management, here are ten exemplary HR software solutions, with an emphasis on usability, unique features, and pricing.
BambooHR
Workday HCM
Zenefits
Gusto
SAP SuccessFactors
UltiPro
Namely
ADP Workforce Now
Ceridian Dayforce
PeopleSoft
Zelt
1. BambooHR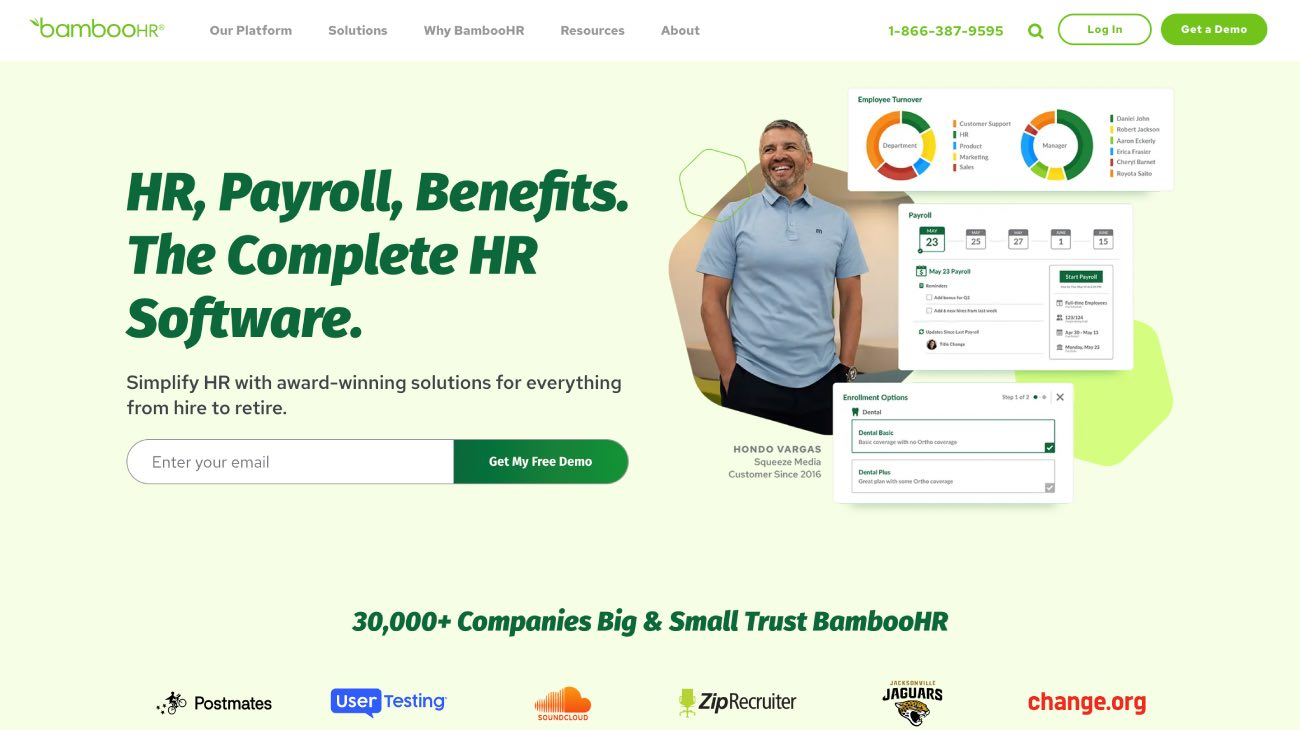 BambooHR is an all-in-one HR software solution specially designed to cater to the needs of small to medium-sized businesses. With its intuitive and easy-to-use interface, BambooHR simplifies complex HR tasks.
It offers a comprehensive set of tools for hiring, onboarding, managing compensation, and setting company culture. Its streamlined processes aid in reducing administrative work and empowering HR teams to focus on people, not processes.
Pros
User-friendly
excellent employee self-service portal
robust reporting
Cons
Limited customization
the mobile app could be improved.
Pricing
BambooHR has 2 pricing editions, from $5.25 to $8.75.
A free trial of BambooHR is also available.
G2 Rating:
4.5/5
G2 Review
What do you like best about BambooHR?
I like the user-friendly interface. BambooHR has everything clearly laid out, at the click of a button. I love that everything I need is all in one place, and is very easy to find! It has been especially helpful in our hiring process. All those involved in hiring can see what step we are at, what has happened and what needs to happen next. Also, if there is a feature we are looking for and is not available in BambooHR, the customer service team is super responsive and open to adding new features.
What do you dislike about BambooHR?
I honestly cannot think of something I dislike about BambooHR! There are features I might like to see added, but I know that the BambooHR team is constantly making improvements. We are so much better off now that we use BambooHR!
What problems is BambooHR solving and how is that benefiting you?
BambooHR has solved many of our administrative problems, from something as simple as tracking vacation time, to the greater impact processes like tracking applicants.
- Jackie L, Mid-Market(51-1000 emp.)
2. Workday HCM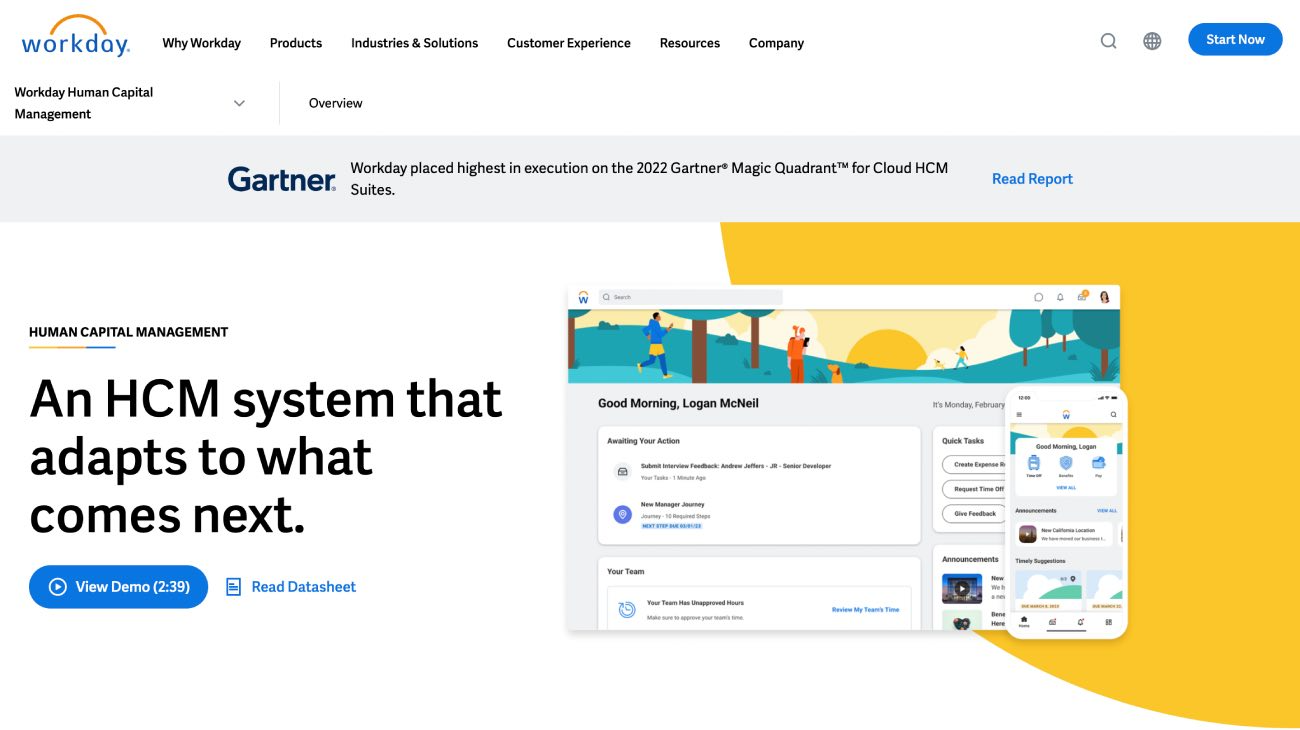 Workday HCM is a powerful, unified suite that brings together HR, payroll, and talent management into a single system. Tailored for large organizations, Workday provides an extensive range of functionality. It enables strategic decision-making through actionable insights and robust reporting capabilities.
With a strong focus on business agility, Workday allows you to adapt to evolving business needs quickly.
Pros
Extensive functionality
good integration options
powerful analytics
Cons
Can be complex to implement and navigate.
Pricing
Workday HCM has not provided pricing information for this product or service. Contact Workday HCM to obtain current pricing.
G2 Rating
4.0/5
G2 Review
What do you like best about Workday?
Workday is a great tool that provides payroll, benefits, applicant tracking and recruiting information solutions. The dashboard clearly shows tasks, candidate reviews and scheduling information. The platform has excellent reporting and analytics capabilities to understand industry trends and track recruiting progress.
What do you dislike about Workday?
Workday is a complex tool, and I went through a steep learning curve to navigate the platform. Finding candidate information on the search bar has too many unnecessary clicks, which can easily be streamlined in the software. Compared to other ATS systems, Workday is more expensive as well.
What problems is Workday solving and how is that benefiting you?
I use Workday as an ATS for recruiting. I track candidates' progress in the recruiting life cycle, send offers, and input all new employee documents into the platform.
- Angelina C. , Enterprise(> 1000 emp.)
3. Zenefits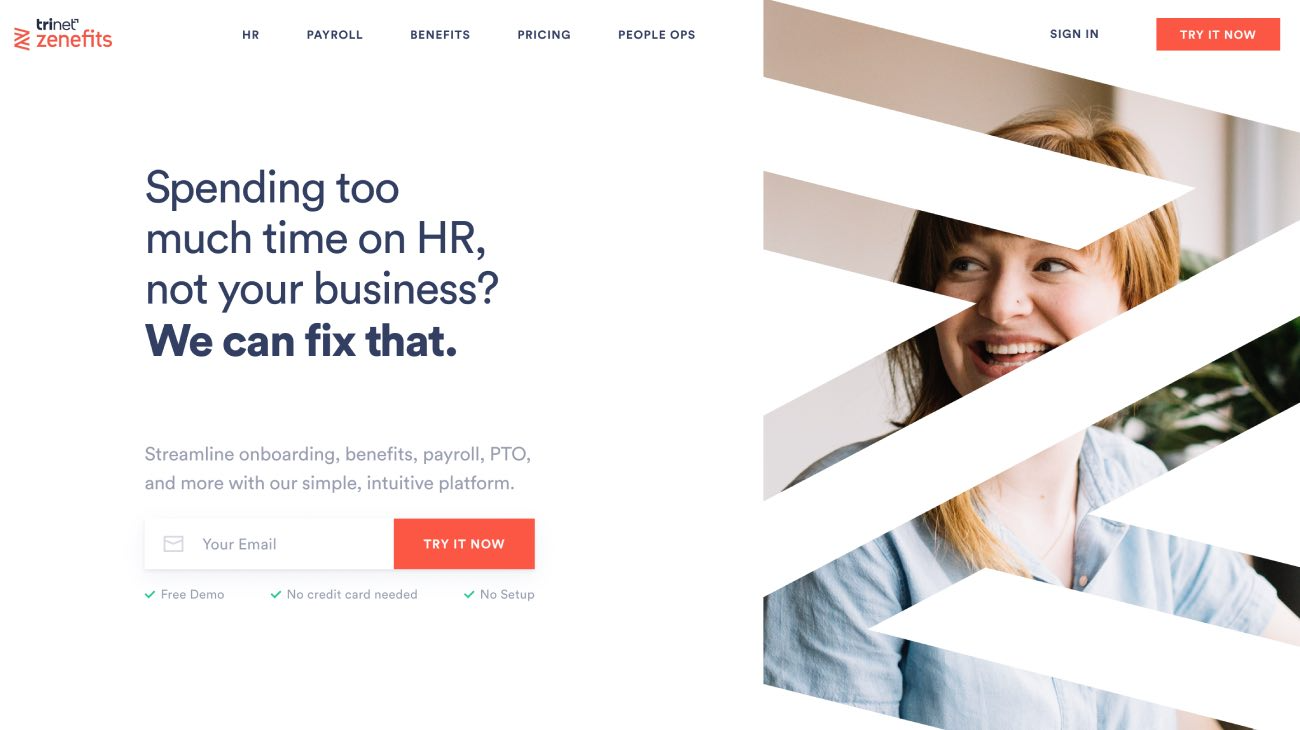 Zenefits is an all-encompassing HR software platform that provides an extensive range of HR services. From full-service HR and benefits administration to payroll and time-tracking, Zenefits offers it all. It excels in simplifying complex HR processes, making it a one-stop-shop for all your HR needs.
Zenefits is known for its user-friendly interface, making HR management a breeze for both HR personnel and employees.
Pros
Streamlined onboarding process
good mobile functionality
Cons
Occasional system glitches
customer support could be better
Pricing
Zenefits has not provided pricing information for this product or service.
G2 Rating
4.0/5
G2 Review
What do you like best about Zenefits?
Zenefits houses all our core HR functions in one place - from payroll, to onboarding, to PTO, to benefits. We're a small team but we've still got to manage as many processes as a big organization. It's so great to have a platform that keeps it all running in sync without a lot of manual tracking, updating, calculating, emailing, and all that other stuff that we love to do.
What do you dislike about Zenefits?
The new pricing tiers aren't my favorite, but the platform is still a great deal
What problems is Zenefits solving and how is that benefiting you?
We're staying organized and less stressed in doing so.
- Ben F.
Director of Human Resources
Mid-Market(51-1000 emp.)
4. Gusto
Gusto is a cloud-based platform designed to simplify HR, payroll, and benefits for small businesses. With Gusto, you can automate and streamline your payroll processes, ensure benefits compliance, and manage your team all in one place.
Gusto's employee self-service portal allows employees to onboard themselves, view pay stubs, and manage their personal information, freeing up valuable time for your HR team.
Pros
Ease of use
excellent payroll features
good employee portals.
Cons
Limited HR capabilities
suitable primarily for small businesses
Pricing
Gusto has 1 pricing edition that costs $46.
A free trial of Gusto is also available.
G2 Rating
4.0/5
G2 Review
What do you like best about Gusto?
The app for employees is simple to use. Expenses are also an easy-to-use feature for employees. Support agents are also able to key in to your account and share a screen with you, making some of the support questions a bit easier to resolve.
What do you dislike about Gusto?
The updates Gusto makes are very poorly thought out. It is not uncommon for them to make an update, then change their pricing to where you need to upgrade or pay for an additional license to continue using the features you previously used that were already included in your current pricing package.
What problems is Gusto solving and how is that benefiting you?
Time tracking
- Nicholas W.
Manager
Small-Business(50 or fewer emp.)
5. SAP SuccessFactors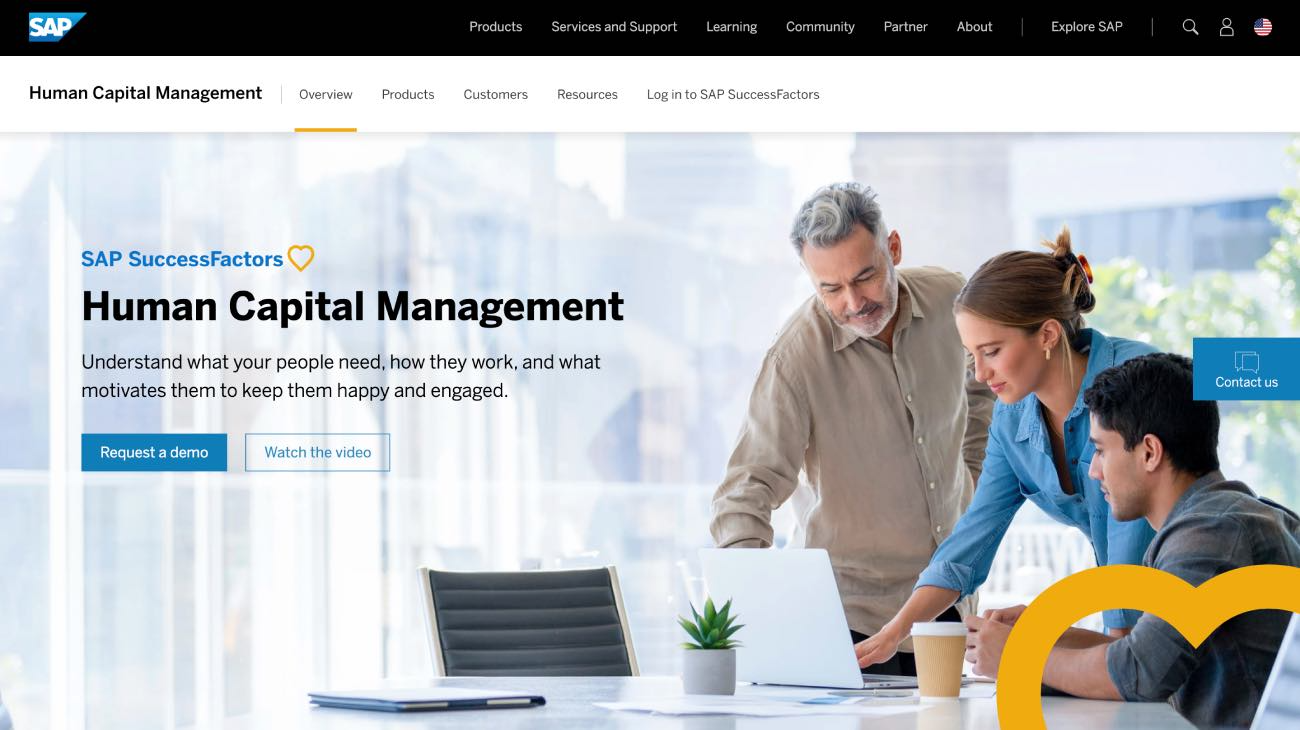 SAP SuccessFactors is a comprehensive, cloud-based HR solution for enterprise-level organizations. It provides a wide array of HR functionalities, including core HR, payroll, talent management, and learning and development.
SAP SuccessFactors is designed to improve employee engagement, boost productivity, and foster innovation. With robust analytics, it allows businesses to make data-driven decisions and enhance their HR strategies.
Pros
Comprehensive feature set
great analytics
good support
Cons
Can be complex to implement
the interface could be more modern
Pricing
SAP SuccessFactors has not provided pricing information for this product or service.
G2 Rating
3.9/5
G2 Review
What do you like best about SAP SuccessFactors?
- It helps to manage employees to set and achieve goals
- Provides the platform to monitor the goal achieve
- Promotes accountability and responsibility
- It helps identify areas of achievements
- Easy to monitor and keep track of the progress and processes
What do you dislike about SAP SuccessFactors?
- This application may lead to a narrow focus on specific goals, neglecting other important aspects of life.
- The UI could be much better.
- It could be better if there is an option to attach files so employees can also upload the appreciation mail
What problems is SAP SuccessFactors solving and how is that benefiting you?
It helps you to capture goals and KPIs set by Senior Management and keep track of them. Also, employees can have their views on what work is done or what plans they have achieved. It helps employees to speak their minds freely. Also, it's constructive; as in one financial year, employees work on multiple projects under different managers. So, it is very useful to keep track of advances.
- Mamata K.
Technical Lead
Enterprise(> 1000 emp.)
6. UltiPro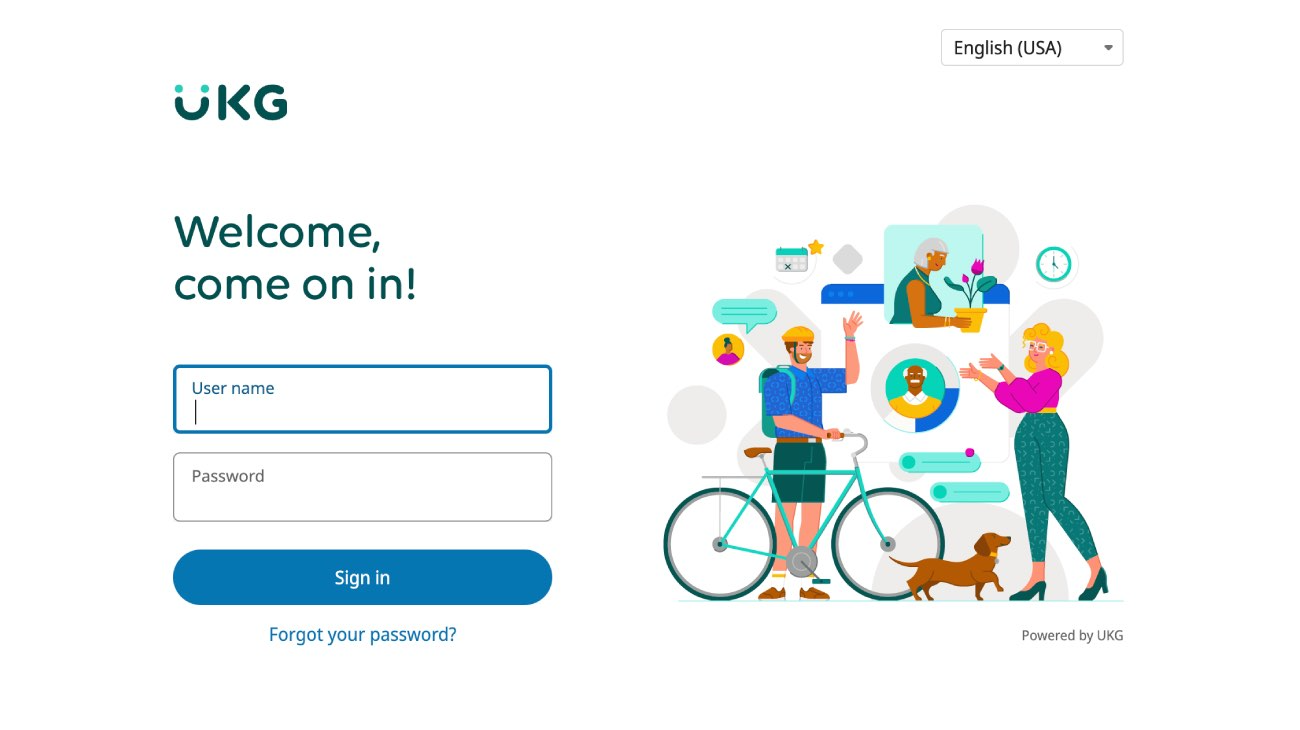 UltiPro by Ultimate Software is a comprehensive solution providing a full suite of HR, payroll, and talent management solutions.
With a wide array of features, UltiPro is designed to simplify complex HR tasks. Its feature set includes a fully integrated suite of HR tools, from recruitment and onboarding to payroll, benefits, and performance management. UltiPro's reporting tools offer valuable insights into your workforce, allowing for informed decision-making.
Pros
Wide range of features
excellent reporting tools
good customer service.
Cons
UI can be clunky
some features are not intuitive
Pricing
Sability has not provided pricing information for this product or service.
G2 Rating
4.9/5
G2 Review
What do you like best about Sability?
The consultants we work with are very knowledgeable, professional and patient while working with novices like us.

What do you dislike about Sability?
I don't have any complaints with their service. Overall, they have had a positive impact on our operations.
What problems is Sability solving and how is that benefiting you?
Our problems center around how we try to fit our old manual processes into Dayforce's login. The Sability team has helped us to make our operations more efficient by helping us to make better use of the features offered in Dayforce.
- Paul M.
General Manager
Enterprise(> 1000 emp.)
7. Namely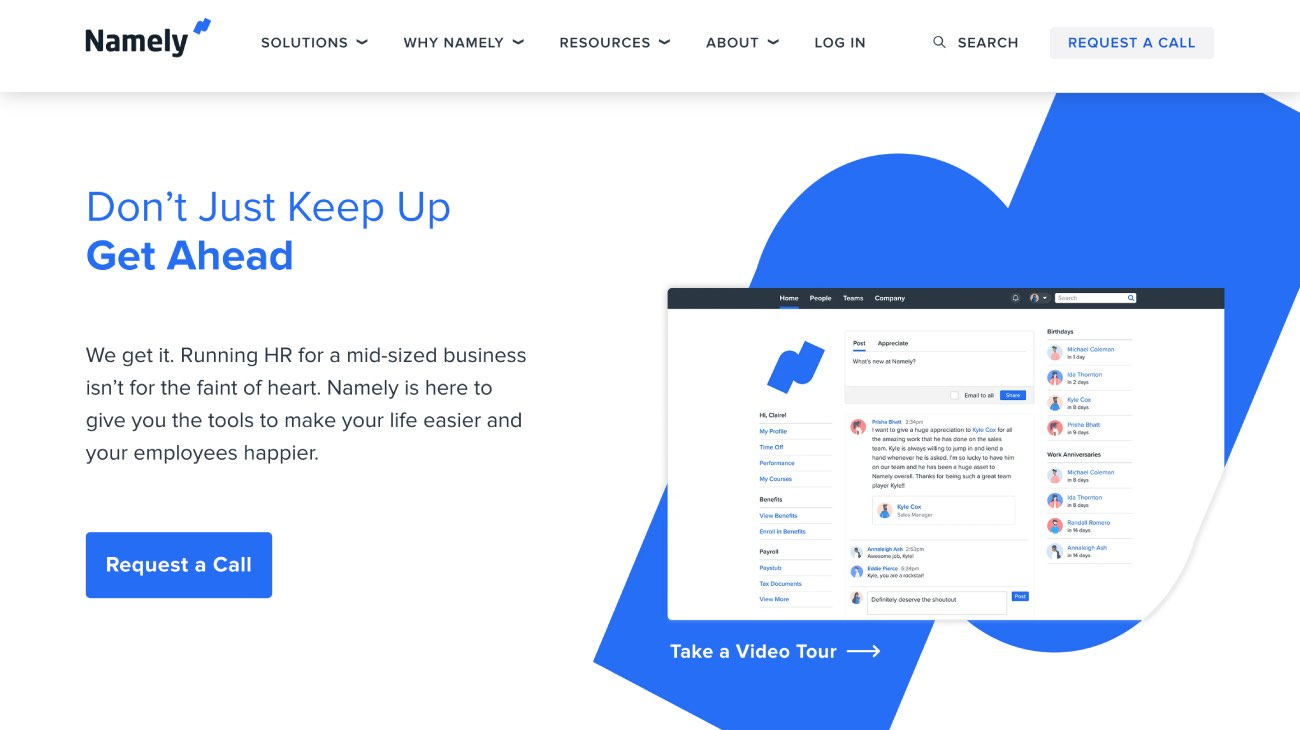 Namely is a versatile HR platform designed specifically for mid-sized companies. It offers comprehensive tools, including payroll, benefits, talent management, and time and attendance tracking. Namely's platform is customizable, making it easy to tailor to your company's unique needs.
Its easy-to-use interface and robust features make it an excellent choice for businesses looking for a complete HR solution.
Pros
User-friendly
excellent customization options
robust payroll features.
Cons
Reporting can be improved
customer support could be more responsive
Pricing
Namely has 3 pricing editions - please contact them to get exact price ranges.
G2 Rating
4.0/5
G2 Review
What do you like best about Namely?
Namely is an excellent HRIS platform. We are a technology company and our tech team has had rave reviews about the platform and ease of use. The ease of use from the reporting to the different modules has streamlined our HR services and made it easy to focus on non-administrative functions.
What do you dislike about Namely?
The API feeds have taken months to finalize, leading to delays in processing terminations and new hires with their benefits with our different vendors. Once that is resolved, we'll be streamlined in that aspect as well.
What problems is Namely solving and how is that benefiting you?
Namely is streamlining our processes, easy to use and holds all of our information in one place. From onboarding new hires to tracking PTO use, all of the resources have helped us to manage our team and be able to focus on more strategic functions vs. administrative.
Verified User in Hospital & Health Care
Mid-Market(51-1000 emp.)
8. ADP Workforce Now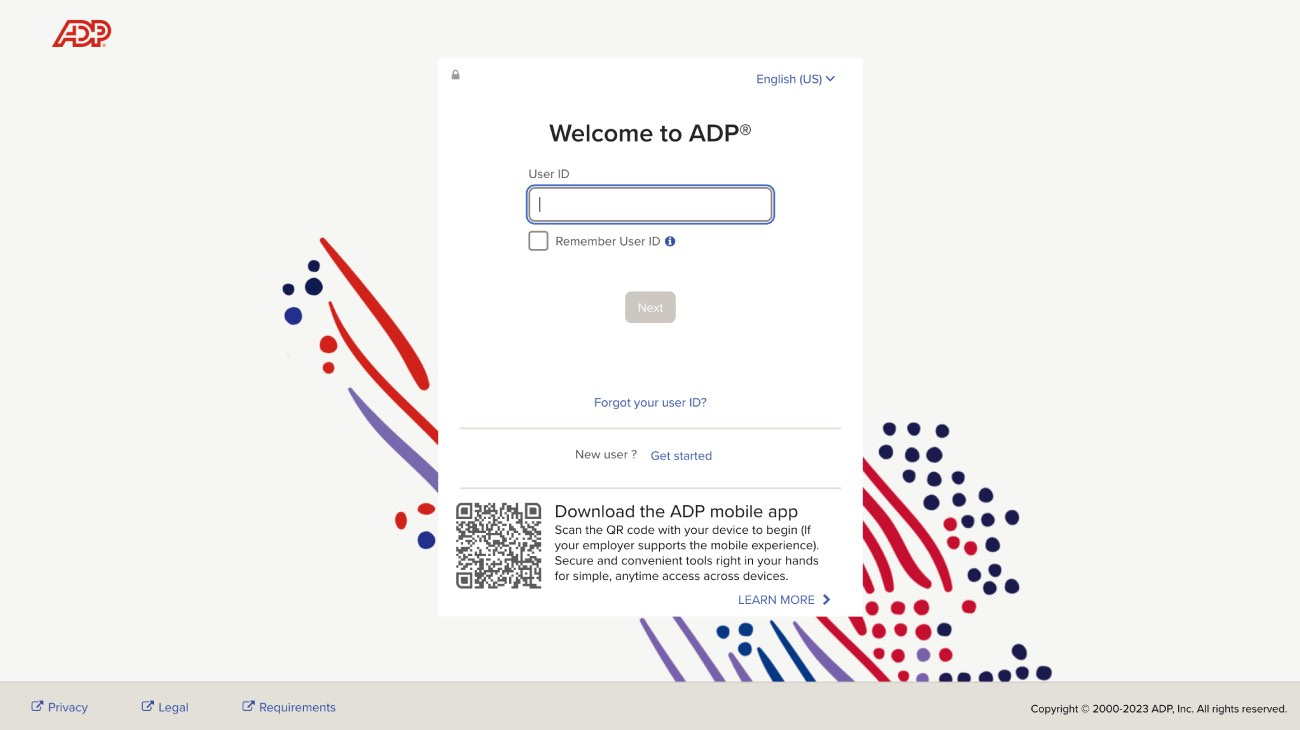 ADP Workforce Now is a complete, cloud-based HR suite suitable for businesses of all sizes. This powerful tool offers comprehensive functionality, including HR management, benefits, talent management, and payroll.
With ADP Workforce Now, businesses can manage their entire workforce from a single platform. The system also boasts robust reporting and analytics capabilities, providing valuable workforce insights.
Pros
Comprehensive functionality
robust reporting and analytics.
Cons
The user interface could be improved
complex pricing structure
Pricing
ADP Workforce Now has not provided pricing information for this product or service.
G2 Rating
4.1/5
G2 Review
What do you like best about ADP Workforce Now?
I have been working with ADP for a while, and I love the robust feel of the software. ADP always upgrades its software system to stay on top of all the latest HR and payroll laws. This helps take guesswork and time out of my day and makes my job easier.
What do you dislike about ADP Workforce Now?
There are times after ADP does an upgrade that the system goes down. Unfortunately, during these times, there is little to no word from ADP on when the system will be up. You have to use the Bridge and look for answers there. It is frustrating and annoying. The one good thing is, this does not happen that often! Also, when there is a tax issue, uploading the tax notice is a great feature, but I have found that if there is an urgent matter, it is best also to open a case with your Rep.
What problems is ADP Workforce Now solving and how is that benefiting you?
I am building reports for analytics with payroll and HR. These reports make our processes run smoother and faster while cutting down processing time and increasing efficiency. I also use Enhanced Time and Performance Management.
Payroll Tax Accountant
Mid-Market(51-1000 emp.)
9. Ceridian Dayforce
Ceridian Dayforce is a global human capital management (HCM) platform that transforms the employee experience. It unifies data from across the entire employee lifecycle to enable better decision-making at every level.
Dayforce is a comprehensive cloud platform combining HR, payroll, benefits, workforce, and talent management in a single application. Its scalable platform is built with a single, flexible rules engine, real-time updates, and calculations that help address complex regulatory requirements.
Pros
One platform for all HR needs
strong analytics
real-time data
Cons
Can be difficult to navigate
implementation can be complex
Pricing
Ceridian Dayforce has not provided pricing information for this product or service.
G2 Rating
G2 Review
What do you like best about Ceridian Dayforce?
I love how Dayforce keeps so many vital tasks on one screen; the ease of use is a huge plus. I can quickly find what I need, and I don't need instructions on how to use the site.
What do you dislike about Ceridian Dayforce?
Dayforce tends to move slowly or freeze often. If I could change one thing, it would be how the site loads; it seems to need a lot to load, and I believe that helps cause it to load so slowly.
What problems is Ceridian Dayforce solving and how is that benefiting you?
The previous site we used did not offer everything we needed within one. So to process what we needed to, we would have to switch between multiple locations. Now that we have Dayforce, it cuts out all additional sites.
Enterprise(> 1000 emp.)
10. PeopleSoft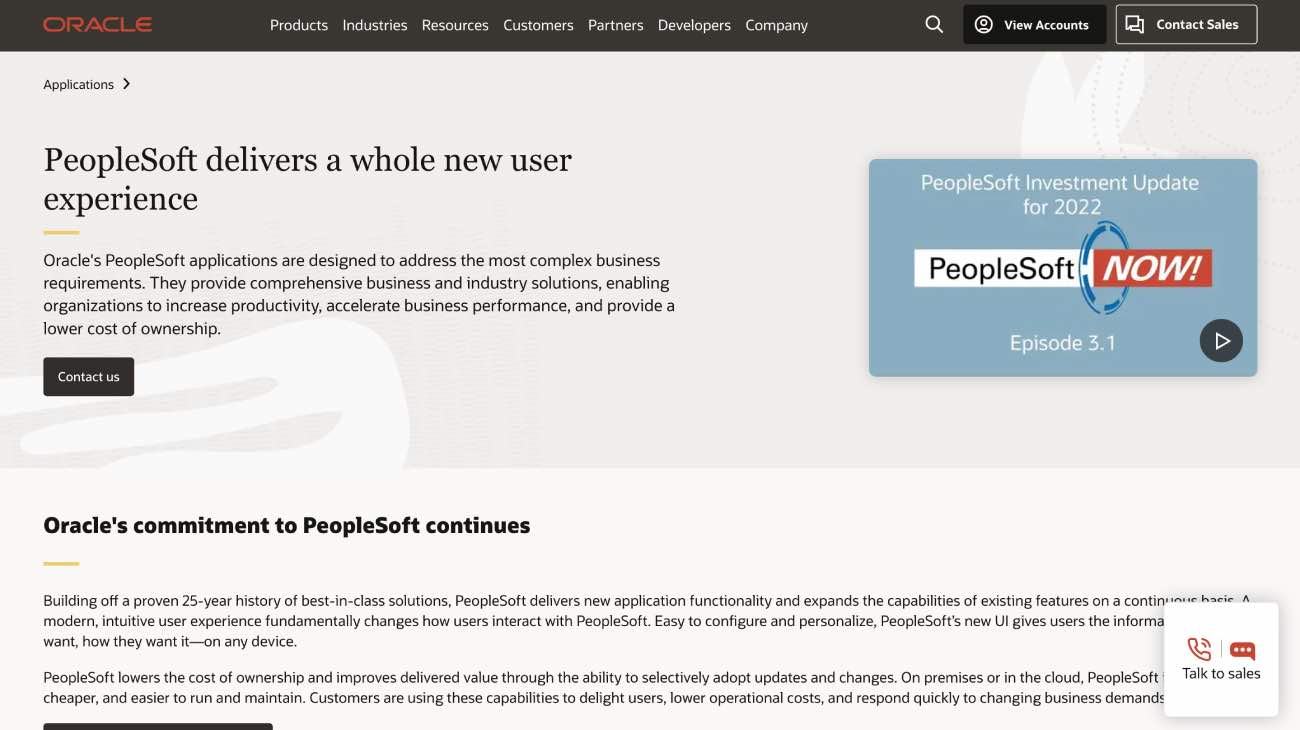 PeopleSoft is an Oracle product that provides a variety of software solutions, including an HR management system. It offers robust functionality for large businesses, covering HR, payroll, and talent management. With flexible deployment options, PeopleSoft can be run on-premises, in the cloud, or a combination of both.
The platform offers a broad suite of software solutions that allow businesses to automate, streamline, and optimize HR processes.
Pros
Comprehensive HR solutions
good integration options
customizable
Cons
Dated user interface
steep learning curve
Pricing
Oracle PeopleSoft has not provided pricing information for this product or service.
G2 Rating
3.7/5
G2 Review
What do you like best about Oracle PeopleSoft?
Oracle PeopleSoft is a comprehensive system that allows for a vast amount of data to be contained and obtained. Its personnel, student records, and budgeting functionality is an all-in-one solution.
What do you dislike about Oracle PeopleSoft?
PeopleSoft can be slow to generate reports or look up names and keywords. It's not smart enough to provide suggested results based on various forms of a name (with a hyphen or without, for example).
What problems is Oracle PeopleSoft solving, and how is that benefiting you?
Oracle PeopleSoft is my go-to system for entering, updating, and verifying personnel data. It is our official record-keeping system that I know I can trust on a daily basis.
- Amanda F.
Site Leader
Enterprise(> 1000 emp.)
Choosing among these solutions depends on your organization's specific needs, the complexity of your HR processes, and the size of your organization. Each of these software solutions offers a unique set of features and capabilities that can help streamline your HR operations and enhance workforce management.
11. Zelt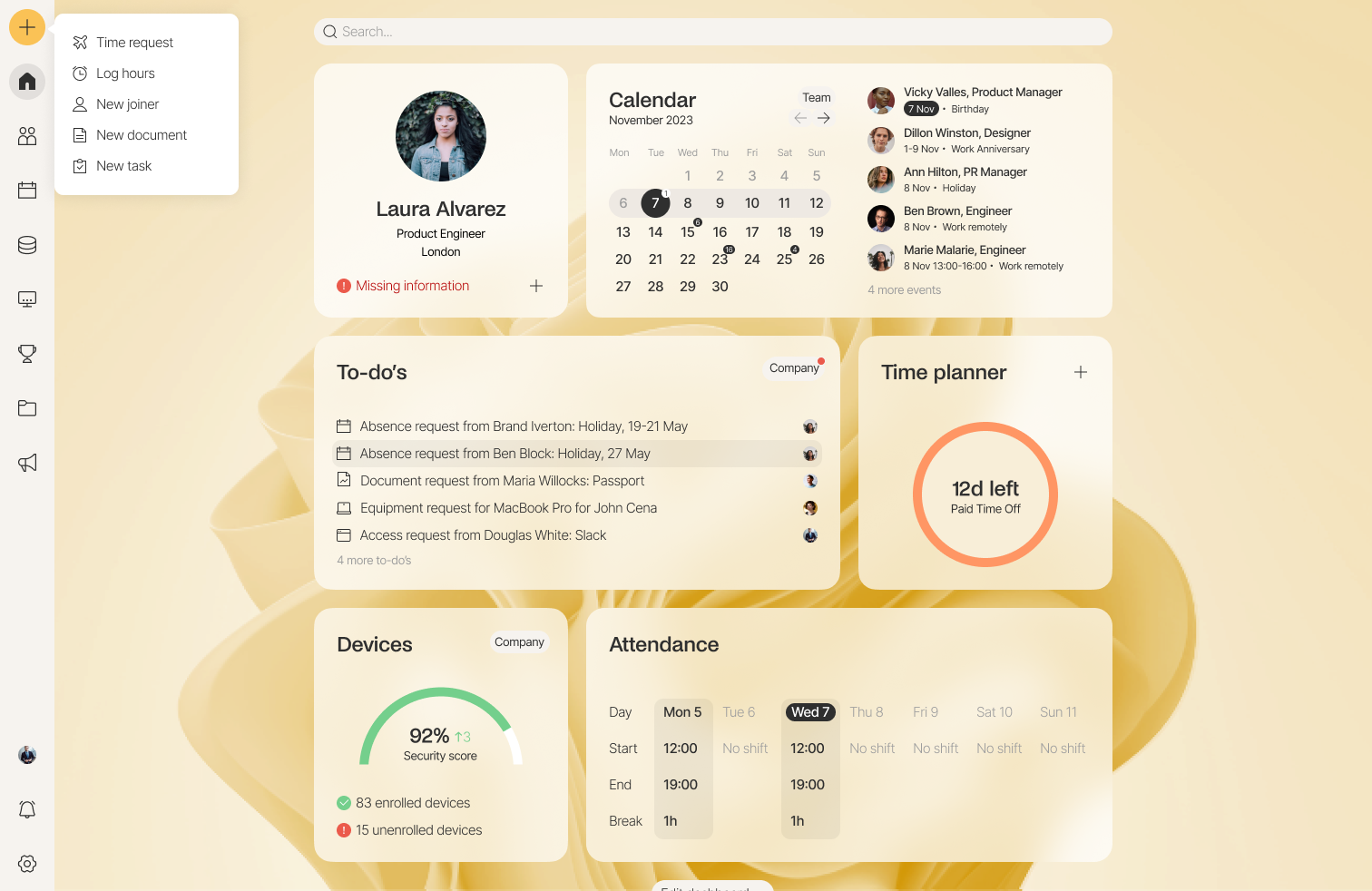 Zelt offers a one-stop solution for people operations, serving companies of all sizes. By automating tasks like onboarding, payroll, device rental & security, Zelt simplifies the complexities of HR management. With a strong emphasis on employee satisfaction and operational efficiency, Zelt emerges as a reliable HR tool.
Pros
Intuitive UI
Integrated solutions across different services like HR, Finance & IT
Highly customisable- Responsive customer support
Cons
Mobile app could have more features
Pricing
4 modules (People, Money, Apps & IT) with a free and pro tier. You only pay for the modules you use. Starts as low as $4
G2 Rating
4.9/5
G2 Review
What do you like best about Zelt?
Zelt is the all-in-one HRIS tool that any SMB needs. Not only does it offer one of the most comprehensive products on the market, being the one-stop for payroll, holiday tracking, employee benefits, asset management, hardware rental. Set up is quick, UI is very user friendly and the support is extraordinary. The team is ready to answer any question and give advice on anything making the seemingly daunting tasks of people and payroll management very easy.
What do you dislike about Zelt?
I am looking forward to see the improved reviews app
What problems is Zelt solving and how is that benefiting you?
Support and advice, Automated payroll, customisable time away policies, customisable permission groups
Factors To Consider When Choosing HR Software
Choosing the right HR software is a crucial decision that depends on various factors. The first step is understanding your organization's unique needs. Organizations may require different features based on size, industry, and operational strategies.
Scalability is another crucial consideration. As your organization grows, your HR software should be able to grow with it. User-friendliness is also vital to ensure seamless adoption by employees and HR professionals.

Your chosen software should ideally integrate with your existing systems to provide a unified solution. Security and data privacy are also non-negotiable, given the sensitive nature of HR data.

The level of customer support provided, the software's budget and pricing model, and the reputation of the vendor should also factor into your decision.

The impact of efficient HR software on workforce management
Efficient HR software plays a critical role in effectively managing the workforce and driving organizational success. HR software solutions provide automation, enhance productivity, and give meaningful insights into the workforce, fundamentally transforming how HR operates and how they contribute to business outcomes.
The first significant impact of efficient HR software is HR processes' enhanced efficiency and accuracy. With the right HR software in place, repetitive and time-consuming tasks like payroll processing, benefits administration, and time tracking can be automated, freeing up the HR team's time to focus on more strategic initiatives.
In addition, automation reduces the risk of human error, ensuring more accurate data management and compliance with various regulations.
HR software also plays a crucial role in improving employee engagement and satisfaction. An intuitive HR system with a user-friendly interface and easy accessibility can significantly enhance the employee experience.

Features like self-service portals allow employees to access their personal information, request leaves, track their time, and more. Such empowerment can lead to greater job satisfaction and, in turn, improved productivity.
A robust HR software system also provides insightful analytics that inform strategic decision-making. Comprehensive reporting capabilities enable HR leaders to track key metrics, identify trends, and monitor the effectiveness of HR policies and programs. These insights can guide decisions about talent management, succession planning, workforce development, and other critical areas.
For example, data from an HR system can reveal trends in employee turnover, helping identify potential issues in company culture or compensation.
Similarly, insights into recruitment metrics can help refine talent acquisition strategies. Without an efficient HR software system, these valuable insights might be difficult, if not impossible, to gather and analyze.
Another key benefit of HR software is its role in fostering compliance. From managing personal data to adhering to employment laws, HR departments are responsible for ensuring businesses stay compliant. With changing regulations, it's easy to miss a detail and fall out of compliance, which could result in hefty penalties.
An effective HR software system can send alerts for potential compliance issues, maintain necessary documentation, and ensure adherence to laws and regulations.
Conclusion
Streamlining HR processes and efficient workforce management are critical for any organization's success. HR software plays an instrumental role in this process, enabling organizations to overcome challenges and drive growth.
The future of HR processes and software solutions is bright and exciting. With the continual advancements in technology, businesses have much to look forward to in the realm of HR management.
If you haven't already, we encourage you to explore different software solutions for your HR needs. Remember, the right HR software can significantly enhance your workforce management, contributing to your organization's overall success.