"What does not get measured is never managed."
Whether you are a college student or a business owner, you might be facing issues related to missed deadlines, project mismanagement, and shift scheduling complexities. This is where technology comes into play, allowing us to improve, perform & leverage our resources, and time management applications help users.
The market for time tracking software is said to grow at 20.4 percent CAGR. This rise in the use of time tracking software shows that users believe these pieces of software enhance employee productivity. After conducting extensive research, we found 15 excellent applications that would help you increase your employee performance.
What is a time tracking app?
A time tracking application is essential software that helps track employees' working hours and provides data on how they have spent their time on different projects. This allows employees to report directly through the application and help in invoicing and payroll.
Time tracking software is also important for businesses as it helps them finish projects within deadlines, reach their goals on time, and generate profit with their limited employees.
Importance of time tracking apps and their impact on business
If you own a business, then time tracking software will help your business and impact it drastically. Here's how:
1. Track your expenses
Businesses often have limited budgets. This condition forces them to manage tasks so that their revenue is healthy. Owners must take account of the following:
Their project's profitability: Are particular initiatives lucrative in terms of the time & effort people put into them? Should you raise your customer fees? Time monitoring may give answers to these questions, allowing you to justify raising your prices.
Employee contribution: Are all workers devoting the same energy and time to their tasks? Or are they wasting money by concentrating on unproductive jobs and failing to meet deadlines? You can always use accounting software, which is a crucial tool for businesses of all sizes and will make tracking expenses a breeze. It aids businesses in managing their cash flow, keeping track of their financial transactions, and reaching financially appropriate choices.

2. Prioritize your tasks
Many times in a business, employees take on multiple projects at once within strict deadlines. These conditions pressure employees to deliver all the projects with the best results. By tracking employee time, businesses can prioritize their tasks better because:
Employees may devote more time to studying which duties are simpler but more lucrative. This may also greatly boost their future ventures.
Owners may discover jobs that are time consuming and less lucrative. These should be eliminated or reassessed.
If the volume of work increases, company owners may determine whether to recruit additional staff.
Owners may discover whether or not they are micromanaging their tasks. And if they are, they should delegate part of their responsibilities to others.
3. Enhance employee accountability and transparency
One of the best benefits of time tracking software is work transparency. Employees with transparent working schedules can plan their work better. Employees also provide better transparency of their jobs by providing details about their work. With this, employees are also aware of their responsibility for particular tasks. If the employees know that their time is strictly accounted for, they will be more productive.
4. Increase employee productivity and save money
Saving time sure does mean saving money, and vice versa. The time tracking software will help you save money by reducing administrative work.
You will save money if you improve your workers' productivity and the accuracy of the prices linked with your initiatives. This is only feasible if you keep track of their working hours.
As we have learned why time tracking software will help your business, here are fifteen time tracking applications to improve your productivity.
Top 15 time tracking apps for productivity and work life balance
The problem is that dozens of time monitoring applications are available, each with a plethora of functionality. The issue is, though, which tool is ideal for you and your team. Well, it depends.
1. Toggl
G2 Rating: 4.6 Stars
Price: USD 8 per month for the team and USD 13.35 per month for business
Toggl is gaining popularity for its simplicity and versatility. It offers an intuitive interface, allowing users to track time for different projects and tasks. With Toggl, you can generate detailed reports, set reminders, and integrate with other productivity tools, making it a go to app for individuals and teams.
2. Trello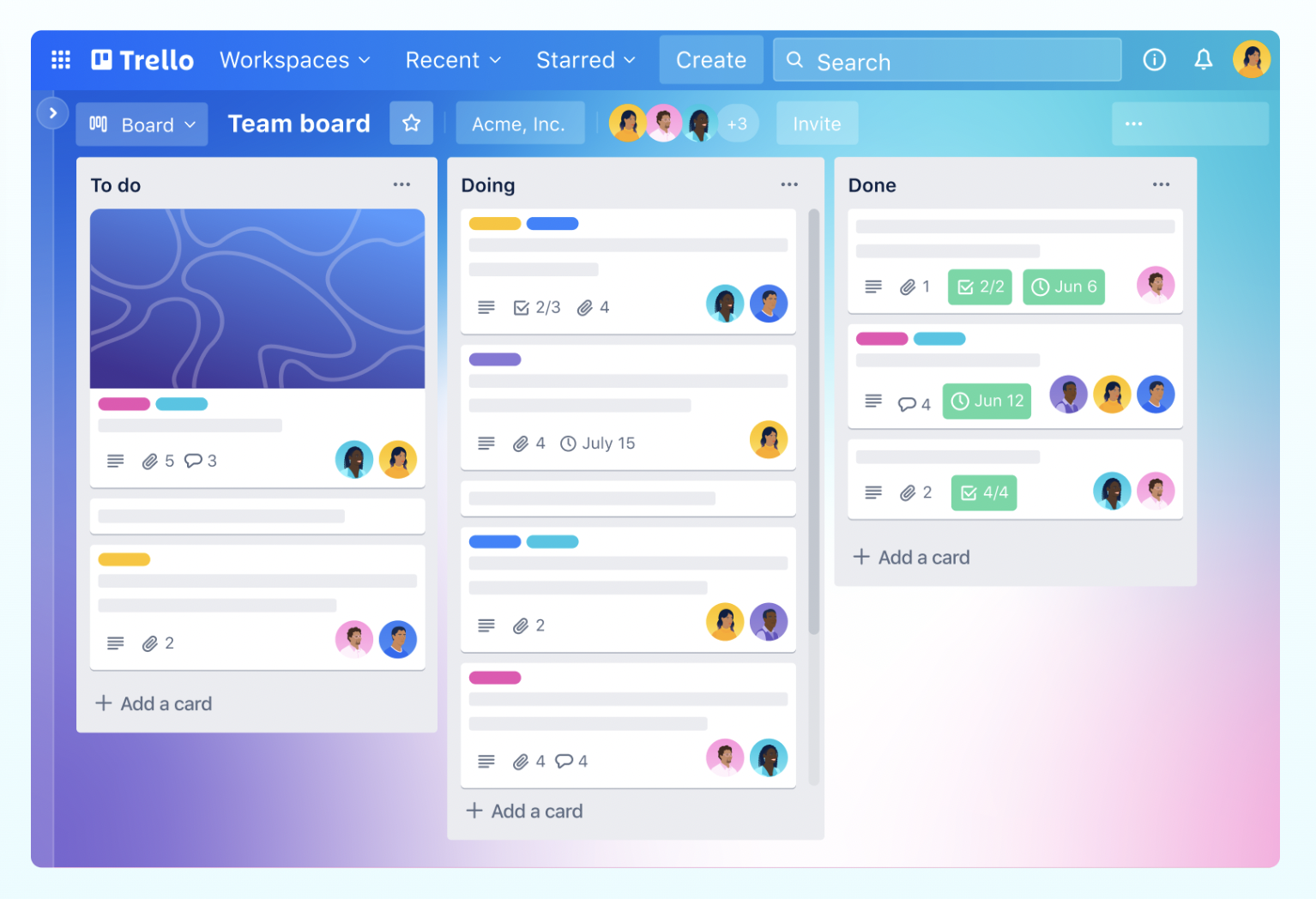 G2 Rating: 4.4 Stars
Price: USD 17.50 per user per month
Trello is surely one of the most popular time tracking tools that you should try out. The software is simple to use, flexible in nature, and powerful. You can add tasks, add deadlines and add project details. You can integrate different applications that your team has always been using into the workflow of Trello. The application is great for marketing teams and product management works.
3. Harvest
G2 Rating: 4.3 Stars
Price: USD 10.80 per month for Pro Version
Harvest is a productivity program that provides incredibly beneficial time management as well as a time tracking tool to assist you in monitoring productivity and properly sending invoices. It provides you with a better insight into where your time is invested & how you may permanently enhance your time management technique.
It gives you total control over the time monitoring process with a single click. This also makes tracking and altering time information on the timesheet easier. It is mobile compatible, allowing you to monitor time via any device at any time. It aids in the proper management and distribution of hours across your projects.
4. Clockify
G2 Rating: 4.5 Stars
Price: Starting from USD 3.99 per user
Clockify is a free time tracking app that offers an array of features for individuals and teams. It allows you to track time across projects, set hourly rates, and generate reports. With its user friendly interface and affordability, Clockify is an ideal choice for freelancers, remote teams and small businesses.
5. Forest
G2 Rating: 4.3 Stars
Price: Download for Free for Android and USD 4.99 for the monthly Pro version
Forest is a one of a kind reimagining of time management tools. This unusual and entertaining tool helps you concentrate by including the Pomodoro method, which breaks work into pieces with short intervals. The idea is straightforward: if you remain concentrated throughout this period, your virtual plant will grow. The tree will perish if you lose concentration. You may grow several trees to build a virtual forest, as the app's name suggests!
6. Wrike
G2 Rating: 4.2 Stars
Price: USD 9.80 per user/month for the team version and USD 24.80 per user/month billed annually for the Business version
Wrike helps teams work with maximum efficiency and empower teams across different departments. You can focus on priorities and adapt to your workflows with real time collaborations. Now increase your visibility with customizable dashboards. You can initiate your projects with clarity and see where bottlenecks are in your project timeline.
7. Hubstaff
G2 Rating: 4.3 Stars
Price: Starting from USD 5 per user monthly
Hubstaff provides time tracking, employee monitoring, and project management functions. Hubstaff also allows you to monitor time and workers from anywhere. It is a time tracking tool for Linux, Windows, and Mac systems, as well as mobile devices, allowing you to keep track of your workers even while they're out of the office or on the road.
Hubstaff not only measures time but also tracks position using a GPS tracker. It also allows you to capture automatic screenshots, make payrolls, and pay your staff using the program.
8. RescueTime
G2 Rating: 4.1 Stars
Price: USD 12 per month or USD 78 per year
RescueTime is a time monitoring tool that not only analyses the amount of time you invest in certain URLs, programs, and applications but also tells you how productive you were during the day.
It automatically assesses your productivity based on predefined criteria using built in productivity ratings. However, since the application does not automatically transmit information to managers, it will not be the greatest time tracking tool for companies wishing to watch their employees like a hawk.
9. Time Camp
G2 Rating: 4.7 Stars
Price: Starting from USD 6.99 per month for Basic Version
TimeCamp is an online time tracking service that allows employees to monitor their work time both manually with timers and automatically with the desktop timer.
Project managers may use the app to interact, log billable work hours, and monitor project progress. It also enables the creation of automated staff payroll and the sending of invoices to clients. Furthermore, it is employee productivity tracking software that allows you to observe whether your staff is being as efficient as you'd like them to be throughout the workday.
10. DeskTime
G2 Rating: 4.6 Stars
Price: Pro Plan starting for USD 7 a month
DeskTime is a time tracking app that provides in depth insights into your work habits and productivity patterns. It automatically tracks your time, measures productivity levels, and offers features like website and app usage monitoring. DeskTime's productivity reports can help you identify areas for improvement and optimize your work routine.
DeskTime is ideal for corporations and teams who are more concerned with the bigger picture than with granular research of the Websites and programs their workers use. Set an efficiency objective (for example, 85 percent average monthly productivity), then monitor your colleagues to meet it.
11. ClickUp
G2 Rating: 4.7 Stars
Price: Business plan costs USD 12 per user per month
ClickUp is mainly planning and management of projects. It does, however, include time tracking, especially among its capabilities, so its inclusion here is clearly justified.
You may use ClickUp for scheduling, work together on papers, and even communicate with your colleagues to organize and manage your team's work. It may replace multiple tools you're now utilizing by bringing them all together in one place while making the work of your team easier.
12. Paylocity
G2 Rating: 4.4 Stars
Price: Prices start at USD 29 per month plus USD 5 per employee or contractor per month
Paylocity Web Pay is payroll software that assists in the management of payroll & human resource matters using a sophisticated online approach. You may use this program to reduce payment related data redundancy by using an industry leading technological solution. It helps you to streamline your human resource & payroll activities by integrating with many third party systems at 180° and 360°.
13. ClickTime
G2 Rating: 4.6 Stars
Price: Starter pack starts at USD 10 per month
Clicktime is a project management time-tracking solution that employs simple timesheets in order to maintain every project on schedule. Users may rapidly approve staff hours using reports and dashboards for a comprehensive perspective.
Employees can simply update, add, and copy hours across timesheets, add custom generated sections and objectives, and make it simple for teams to keep track of their hours. Team leaders, executives, and project owners may see if projects are over or below budget right away. They may even get a unified picture of every employee's availability, expenses, and productivity.
14. Timely
G2 Rating: 4.8 Stars
Price: Timely has three pricing editions, from USD 20 to USD 35
Timely is a completely automatic time tracking program that monitors and tracks work time without the need for a timer. It saves all of your time tracking data in a private timeline that you can view from any location or device.
With it, businesses can easily evaluate their progress, budget use, and project direction in real time. Some of the app's primary features include automatic time monitoring, a live activity stream, rapid reporting, shared report links, budget tracking, and so on.
15. Justworks Hours
G2 Rating: 4.5 Stars
Price: Basic Plan Starting from USD 59 per month
Using a mobile-first experience, you can rely on shift management, geo fencing and automatic notifications. You can also examine overtime and time off, costs, payroll & invoicing, and project hours in more detail.
Whether your staff travels for business or works in the same office, this simple solution allows your workers to manage their time regularly.
Conclusion
Employee time tracking tools are one of the latest additions to employee management toolkits. It surely is one of the biggest boons to businesses around. However, we understand these applications are more than just tracking employee working hours.
A well-organized employee time tracking software is a low cost solution to save money while also making the most of the working hours of your employees.