Are you reading this because you want to find appropriate birthday wishes for employees, colleagues, and coworkers? Then you've come to the right place! Recognizing birthdays is special for anyone.
But, it's an important way of making your employees feel recognized and valued for an employee.
We have put together a list of quirky, work-appropriate, and heartfelt happy birthday wishes for employees that you don't have to spend long wondering what to say to them!
Why is it important to acknowledge employee birthdays?
Celebrating your employees' birthdays is an absolute must! If you don't, you may end up losing valued members of your team.
Birthdays are one of those times of the year when people think about their life and evaluate their situations. Because of this, birthdays are one of the most common days people quit their jobs.
So, a simple happy birthday message to employees can go a long way! Putting in a little effort to show your appreciation for your employees can make them feel valued.
In turn, this will make them feel happier in their position at your company, and you will see increased employee retention.
Best happy birthday wishes for employees to send on their special day
Here are the 30+ unique happy birthday wishes for employees to make them feel happy and appreciated on their very special days.
Birthday wishes for employees about their character
1. It's unlikely to find a good employee who is also a friend! You're an exceptional employee, and we have nothing but respect and admiration for who you are. Happy Birthday.
2. We've heard so many great things about you from your team and everyone in the workspace. It must be from the positivity you bring to work and is a highly admirable quality. Keep working hard! Happy Birthday.
3. A fantastic team member like you is so invaluable to us! We're pleased that you've built such strong bonds with every team member. Here is a bouquet of happiness for you! Wishing you good health and prosperity.
4. You have done so much great work for the company, and we've decided that it's no longer enough to call you a great employee. You are a great member and are invaluable to the team! We hope that every day is filled with happiness, prosperity, and well-being. Have a great birthday and a marvelous year ahead.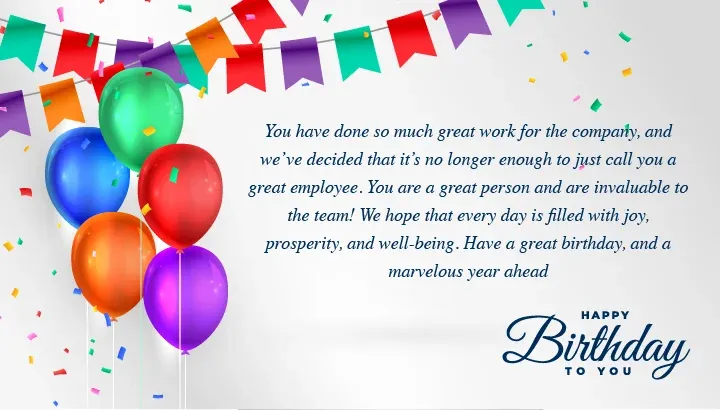 5. We feel extremely thankful to have an employee like you who fits in so well with our company culture. We appreciate all your hard work and wish you all the best. Happiest of birthdays!
6. We want you to know that no one else could do the fantastic job that you do. It is an absolute delight to share the workspace with someone as diligent and persevering as you. Happy birthday and thank you for sticking with us!
7. Remarkable people deserve remarkable things! We hope that nothing but amazing things occur in your life and that your year ahead is filled with nothing but joy and wellness. We hope to spend many more days, months, and years working with you! A very happy birthday to an amazing employee.
Professional birthday wishes for employees
8. I want to let you know that all the great things you've achieved since your arrival have not gone unnoticed. You are a one-of-a-kind employee, and we are proud to have you in the workspace. Happy Birthday!
9. Best wishes on your birthday! You are an extremely dedicated employee, and we are very grateful for that. It's clear that you think of the company as your own, and your work sure does reflect it.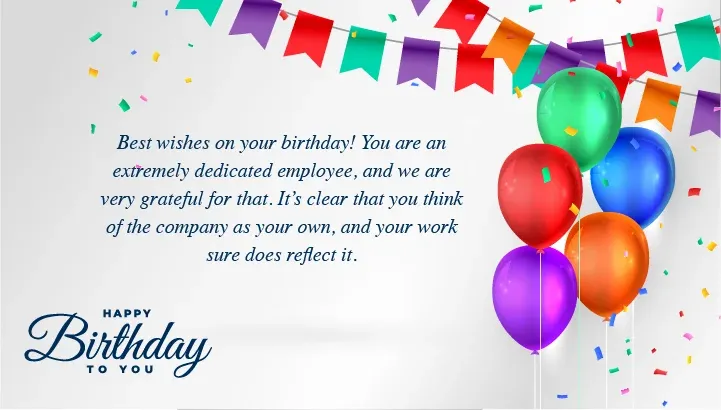 ‍10 . Over the time you've been working for us, it's evident that you are a pillar of this company. Your resourcefulness and creativity are invaluable qualities. Keep it up! Happy Birthday.
11. We want to wish a powerhouse of an employee a very happy birthday! You are dedicated, diligent, and reliable and deserve nothing but the best. Here is to your amazing day and a fantastic year ahead!
12. If we had the best employee award, you would win it hands-down! You are the dictionary definition of what a great employee is. We hope you have a wonderful birthday and a prosperous year ahead.
Warm and heartfelt happy birthday messages for employee
13. To a valued employee who has directly contributed to the success of this business by working hard, happy birthday. We wish you only the best in life, filled with contentment and success. Have a great day!
14. It's your birthday, and all we want to do is put a smile on your face! You deserve all the blessings coming your way because not only do you do outstanding work, but you are also an outstanding person! Happy birthday to you.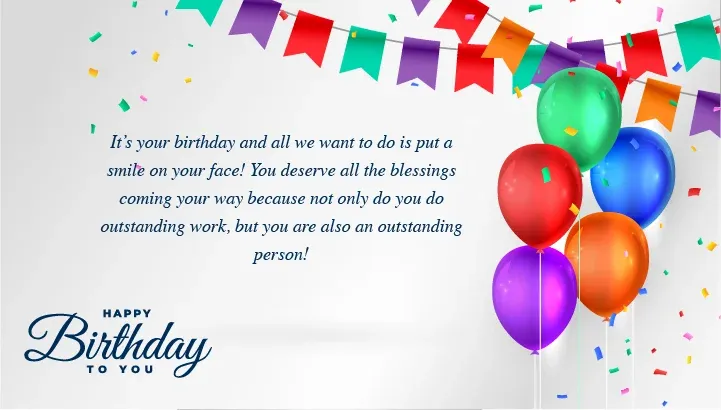 ‍15. Very happy birthday to the person who has been so blessed to have an amazing employer like me! Just kidding! We are the ones who are blessed to have someone like you on our team. Have a fantastic day, and keep up all the good work you do for us.
16. Your birthday means a lot to us because you are a top employee and one of our team's most creative and resourceful members! Happiest of birthdays, and we hope you enjoy this day and have a great year ahead.
Longer happy birthday wishes for employees
17. Today is the perfect day to begin another year-long journey. Today is a clean-slated start to new endeavors, hopes, dreams, and beginnings. Don't forget to make sure that you have great adventures during this journey. We wish you never cease to enjoy all the small joys in your life. Happy birthday!
18. We are filled with nothing but pride when thinking about an employee like you! You have the whole world at your fingertips, and a myriad of opportunities lies ahead. Our wish for you is that today is just overflowing with immense happiness. As people, we tend to dread aging but for today, don't count the candles, just enjoy the glow!
19. All the words in the world could not describe how much we value you as an employee, team member, and friend. You are talented and hard-working. Your positivity and personality make our days at work a delight, and everyone on the team agrees. Here is to your happiness, good health, and prosperity!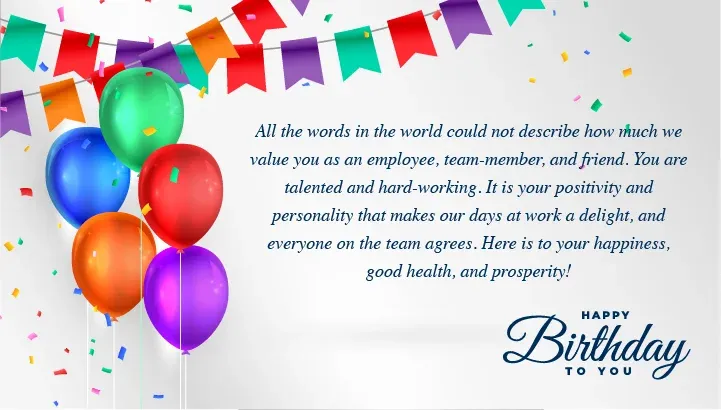 ‍20. Happy birthday! You are an invaluable asset to this company, and we can't imagine what things would be like without you. We can't show you enough gratitude for choosing to work with us. On this special day of yours, you must know how much we appreciate the work you do for us. Have a great day.
21. You bring so much positivity, joy, kindness, and passion to this team, and it's only fair that we wish that your year ahead is filled with the same. We hope you enjoy your birthday because you deserve nothing but the best. May your day be filled with all the cake and chocolate you desire! Happy birthday.
Short and sweet happy birthday wishes for employees
22. We wish you all the best on this special day and hope for more good things to come. Happy birthday!
23. We want to wish you a very happy birthday! Today's the day to celebrate what a great person and employee you are. All the best to you!
24. We hope you have fastened your seat belt! Your life is about to race off into the sun. Happy birthday and I hope you have a smashing day and year ahead!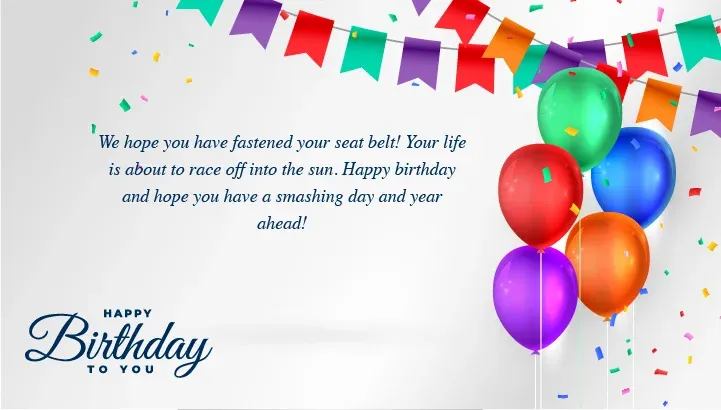 ‍25. To one of our most esteemed employees, happy birthday! We hope this day is unique and brings all the happiness you deserve.
26. May this birthday be the start of a year filled with good luck, good health, and great vitality. I wish you a very Happy Birthday!
27. Take the day off, enjoy with your loved ones, and don't forget to share your birthday cake with us. Happy Birthday, Dear!
28. To an employee that is an essential asset to this company, thank you for all your hard work and dedication. Best wishes for your birthday and enjoy your celebrations.
29. Your exceptional work ethic frequently humbles us. If you keep working this hard, you will always be successful in whatever you do. Happy Birthday!
30. You help this team achieve great heights, and we are so lucky to have you on board. We wish for nothing but the best in all your endeavors. Happy birthday.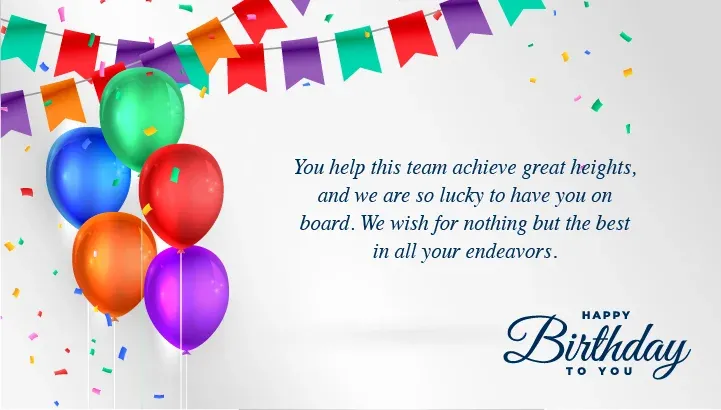 ‍31. Best wishes for your birthday, and thank you for all the hard work! You're a top employee, and we truly appreciate having you with us.
32. We have watched you go from a new hire to that hard-working employee to a valued member of our team and family. We wish you nothing but prosperity. Happy birthday to you!
33. From all of us here at the company, we wish you a happy birthday and a wonderful, prosperous year ahead!
34. May this special day be full of joy, surprises, and fun. May this day become as incredible as you are. Happy Birthday!
Now, go and celebrate!
Sending your employees a kind birthday wish is important and can make a big difference to their day, even if it's short and simple.
We all love some good wishes - especially from someone we look up to.
If you want to make your employees feel special, it would be a great start to send them one of the above wishes on their birthday and have a small celebration.
This is sure to make them feel special and brighten up their day!
Birthdays are special. However, it's not always about handing over a bouquet and getting it over with.
Want to make your employee's birthday even more special? Send birthday wishes with unique rewards. Do it with Empuls. Book a demo today.