"It's beginning to look a lot like Christmas…"
It's nearly the holiday season, and you're stuck in a conference with your team gathered around discussing the year-end sales while inside your head, you're miles away planning a Christmas party, secret Santa exchanges, and a bunch of Christmas messages & wishes to be sent out to the entire organization!
You're no Wordsworth or Longfellow, instead, lean back, put up your feet, and take your pick of inspirational, funny, motivational, and just plain Christmassy wishes we've put together for your workplace.'
Merry Christmas wishes for colleagues or coworkers
🎄
Christmas is the epitome of hope, joy, and good cheer. Christmas wishes to your colleagues and coworkers must reflect that warmth while remaining professional and respectful. Choose from our extensive lists of wishes and messages below.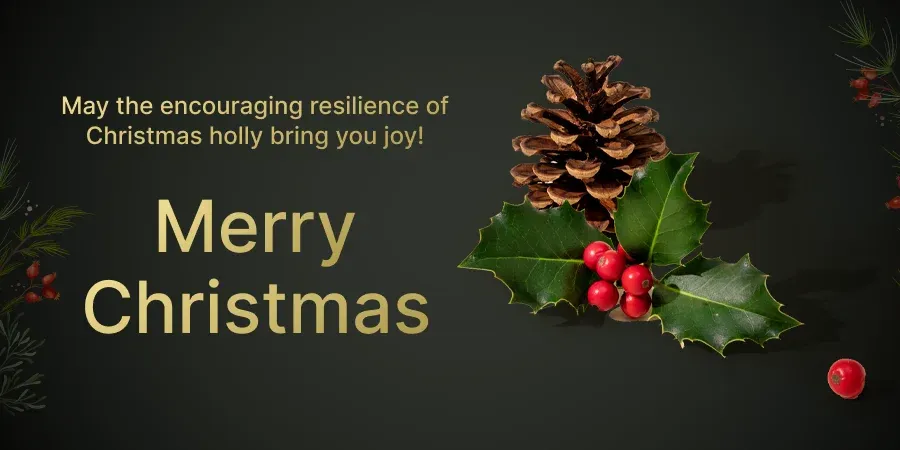 1. May this Christmas bring joy and blessings into your life. Merry Christmas!
2. Wishing you love and happiness this season and into the New Year.
3. Wishing you/your family peace, love, and joy at Christmas and always.
4. Sending warm wishes for a wonderful Christmas and a Happy New Year!
5. Sending wishes to you and your family for a wonderful Christmas and a peaceful New Year.
6. Warmest wishes and thoughts for you my colleague on Christmas. Just wanted to let you know that I like working with you. Merry Christmas.
7. May your Christmas celebration be filled with joy, happiness, opportunities, warmth, and love. Merry Christmas and a Happy New Year.
8. May the Christmas season bring more success and achievements in your life. Have a safe and great holiday. Merry Christmas.
9. Working with you has always been wonderful. I wish you a Merry Christmas!
10. May the festive season bring you opportunities and success in life! Merry Christmas!
Personalized Christmas wishes for colleagues or coworkers
11. Coworkers like you make work so much easier and the workplace so much friendlier. Merry Christmas to you and your family
12. I feel lucky to share the workplace with such an amazing and helpful person like you. Enjoy your holidays. Merry Christmas!
13. Your guidance and suggestions always help me do the best thing at work. I wish you a Merry Christmas full of love and peace!
14. I'm grateful for the support and motivation you give me. The kind of energy you bring into the office is truly priceless. Merry Christmas!
15. Working with you always gives me immense pleasure. Thank you for being such an incredibly awesome colleague. Wishing you a happy Christmas!
16. Dear colleague, let us always help each other and spread positivity. Have a blessed Christmas and New Year!
17. Here's to a productive New Year for all of us and Merry Christmas, too.
18. Merry Christmas to you with a wonderful new year. I sincerely thank you for all the support and effort you've put into our team.
18. It is an honor to work with such a talented person like you. I hope you enjoy the holiday season to its fullest.
19. Happy Holidays and many thanks. We couldn't do it without you. This year and always, you're a valued member of our team.
Funny Christmas wishes for colleagues
🎄
Yes, it's Christmas, and we're stuck at work. But think of the people with whom you stand, and you'll realize it's a great perk!
20. We're there through the ups, and we're there through the lows; this Christmas season, we might be there through the snows!
21. The office Christmas party is a great opportunity to catch up with people you haven't seen for…20 minutes!
22. Christmas begins with an office party and ends when you finally realize what you spent around April 15th of the next year. Merry Christmas¡
23. Merry Christmas! May your fun be large and bills be small this year.
24. You are the reason we can get through this season! Keep Calm and Merry On.
25. Here's hoping you still have plenty of jingles in your pocket after the holidays are over!
26. The fact that we don't see each other during this Christmas season means I will not leave your side when we return to work. Enjoy your spare time, Merry Christmas!
Conclusion
As we've seen, there is a wide range of options for wishing your colleagues merry Christmas. Choose a wish that fits your relationship with your colleagues, or use a portion of each wish to make something new and tailor-made. Whatever you decide, be sure to wish your colleagues well this Christmas and every day throughout the year.