Table of Contents
In April 2015, when the story broke about Gravity Payments CEO Dan Price taking a pay cut to raise his staff's salary to $70,000 a year and reward them for their hard work, the internet was divided.
While most of the business world gawked in wonder, a raging debate ensued on Fox News about how this would affect his business.
Opinions ranged from disbelief to disdain. Heavily ridiculed, the young CEO stuck to his guns and cut his salary of $1.1 million to cover the costs.
Six years down the line, we see the positive effects of his decision that many said would make him 'go bankrupt.'
Dan's inspiration? A 2010 paper on employee emotional wellbeing, co-authored by Nobel prize winners Daniel Kahneman and Angus Deaton, analyzed more than 450,000 responses to the Gallup-Healthways Well-Being Index.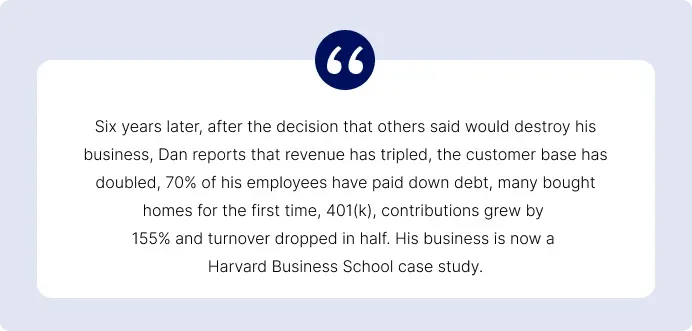 This story is a classic example of great employee rewards and recognition program in action. In a recent interview with CBS News, Dan had the last laugh.
Reminiscing about the ridicule he'd faced, he spoke about how the move made his employees fiercely loyal and reflected positively on the business.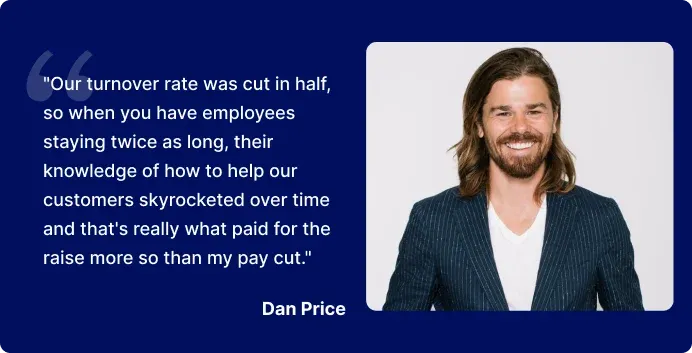 Dan's employees even chipped in to buy him a car to 'repay him for his sacrifice and the dreams he made possible?' (Source: CBS News)
14 Companies with best rewards and recognition programs
Dan may be one of the few CEOs to lead by example, but these companies have got their employee rewards and recognition programs down to an art!
ALKU's employee award program - 'the corporate cup program.'
Bain and Company includes positive reinforcement in the workplace
Target's holiday hiring plans to invest in current employees (an intelligent strategy)
Zappos' peer to peer recognition program
HP Inc's modern total rewards program
Cisco's connected recognition program
Mondelēz International' employee wellbeing and benefits award program
Unilever's "The Unilever Heroes Awards" program
Airbnb has found that it may not always be money that will attract the most attention.
Southwest Airlines' peer-to-peer SWAG (Southwest Airlines Gratitude) recognition program
Recognition as part of change management at Norton Healthcare
Siemens' 'Champions' and 'You Answered' reward programs
Typeform's cultural quirk that encourages Spontaneous Applause.'
Simplus' impressive workplace culture made it the best place to work
Leading companies understand the importance of recognizing and rewarding positive behaviours and outstanding performance in the workplace.
Let us now look in detail at how these 14 companies across different industries have redefined workplace culture and improved productivity with their modern employee rewards and recognition programs.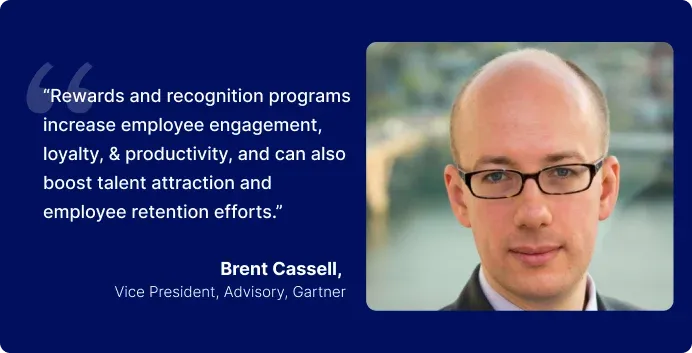 Two examples of rewards and recognition programs from consulting companies
A specialized consulting firm, ALKU launched their new employee award program – the 'Corporate Cup Program,' which recognizes individuals and teams for going above and beyond while working from home.
This was followed by the company branded peer-to-peer recognition 'T-Shirt Program' given to employees who display exceptional principles and contributions (the t-shirts are printed with motivating hashtags like #BeAPro, #PitchYourNiche, and #FollowMyLead.)
The company regularly hosts small wins and celebrations where employees can win fabulous prizes. The 'The ALKU Stimulus Package' is another way to celebrate and rewards star employees while happy hours over Zoom add a fun element.
A leader in the management consulting space, Bain and Company's workforce-centric, collaborative culture has landed it the #1 spot on Glassdoor's Best Places to Work 2021 list.
Along with flexible working models, paid days off for a job well done, and a hefty performance bonus, the company encourages its employees to work 'wherever they feel most productive!'
This attitude of positive reinforcement extends to their rewards and recognition strategy and their motto? 'A Bainie never lets another Bainie fail.'
Two standout examples of rewards and recognition programs from eCommerce/retail companies
This year, Target, one of the USA's largest retailers, took a pledge to scale back on holiday season hiring and instead focus on improving the rewards and recognition for their existing employees by offering those who choose to work weekends and holiday shifts an extra $2 over the $15 minimum wage.
The company also provided a $200 bonus to all its frontline employees (the fourth recognition bonus since the pandemic).
2. Zappos (a subsidiary of Amazon)
Famous for its Zollar Program, Zapponians are rewarded with redeemable 'Zappos Dollars.'
The company has taken peer-to-peer recognition and rewards to the next level with three other programs:
the "Master of WOW Parking," where any Zapponian can award a covered parking spot (try getting a covered parking spot under the burning Vegas sun!) to another employee;
"Coworker Bonus Program" where Zapponians can reward each other (Managers, supervisors, and team leads are not eligible to receive or issue them to direct reports) with redeemable $50 Zapponian dollars;
and the "Zappos Hero Award," where Zapponians receive a hero cape and a $150 Zappos gift card.
Two examples of IT/tech companies that have nailed their employee rewards and recognition programs
1. HP Inc
HP Inc., which went small after its split from Hewlett Packard Enterprise (HPE), revamped its employee recognition program during the pandemic to include virtual Saturday dance parties, Michelin-chef-led cooking classes (drool!) and providing tutoring and home learning support alongside financial bonuses.
The company also rewards its engaged employees with paid volunteer time (All U.S. employees who report at least 10 hours of volunteer work per quarter receive a $50 Good Card), employee discounts, and paid vacations.
Ranked 18th on the 2020 Forbes list of the World's Best Employers, tech giant Cisco recently gave its nearly 76,000 global employees a day off for mental health in May 2020, followed by another day out in August to 'unplug.'
Apart from this, the company implemented a global peer-to-peer reward and recognition program called 'Connected Recognition' funded at 1% of the payroll, a paid day off on birthdays, and discount programs to all its employees.
Two great examples of rewards and recognition programs from FMCG companies
This US-based, global food, beverages, and confectionery (Cadbury, Dairy Milk, Oreo, Ritz) manufacturer, implemented an employee wellness program called BOOST for encouraging employee healthy living initiatives.
They launched a worldwide rewards program called 'Great Rewards' that offers, among other things, a product shop for the staff, desk drops for all new products, performance-based bonuses, and a grand, annual Employee Benefits Awards that shine a spotlight on teams and individuals who make a difference.
Unilever was featured in the Forbes 2021 list of America's Best Employers for its approach to motivating, recognizing, and rewarding employees for their hard work.
Its bespoke, global digital reward system, uFlexReward (developed in-house and rolled out in 2015), analyzes individual preferences to offer personalized benefits tailored to the employee's needs.
The company also organizes 'The Unilever Heroes Awards' annually to celebrate, honor, and recognize employees who make a difference, show excellence, great initiative, and commitment.
Check how these two travel companies are rocking their rewards and recognition programs.
This famous, American, small-scale startup gone global bed and breakfast rental platform has an entire 'Ground Control' team to drive their unique company culture (they even featured on Glassdoor's best workplaces list in 2016).
The company's vision is to ensure employees 'workplace as an experience'.
From actively recognizing employee contributions, milestones, and paid volunteer time to provide healthy snacks and food, having pop-up work anniversary, birthday celebrations, themed events, and creating free annual travel experiences, the company knits its employees closer into one big 'Airfam.'
Just how popular are they? Statistics show that Airbnb received 180,000 CVs for 900 open positions in one year! Visitors to the Airbnb office in SOMA, San Francisco, have raved about a workplace that feels more like an apartment home than an office, with a kitchen, a library, and places to practice yoga or meditate (folks can even write on the walls!).
The world's largest low-cost airline once again made it to Forbes 2021 America's Best Employers list (it's the sixth time!), and it's no wonder, given that their commitment to their employees is on par with that of their customers.
Southwest calls itself a 'Company of People.' In their peer-to-peer SWAG (Southwest Airlines Gratitude) recognition program, employees recognize and reward each other with points.
These points can be swapped for Rapid Rewards points (travel incentives), Guest Passes, merchandise, gift cards, and even Visa debit cards.
A SWAG points monthly prize drawing makes life more interesting for those looking to save up. The best part, there is no expiry date for the points!
Two best examples of reward and recognition programs from healthcare/health technology companies
Sitting cozy in the No. 10 spot on the 2021 Healthiest 100 Workplaces in America, Norton Healthcare lives by its culture of 'service to others,' when it comes to its employees.
Their "N Recognition of You" initiative celebrates every aspect of their employees' lives at work, from small milestones to big achievements. In 2018, 123,633 recognitions were sent by their people.
Apart from this, they celebrate their employees' years of services and milestones through annual Employee Service Awards luncheons and an annual Employee Service Awards banquet.
2. Siemens (health-tech)
Siemens revamped its generic e-card gifting program to the new 'Champions' (the company has paid nearly £3.8 million in employee rewards since May 2009) and 'You Answered' programs which allow both leaders and coworkers to reward and recognize good performance in colleagues with thank you e-cards and redeemable points.
In recent news, the company rewarded its 300,000 global employees (unfortunately, senior managers were excluded) with a one-time bonus of €1,000.
Startups are no way behind when it comes to rewards and recognition programs.
This software company has an unusual but welcome approach to employee recognition - it's 'Spontaneous Applause' where the whole office gives a standing ovation to an employee for a job well done.
Everyone might not know the reason for the applause, but it makes the recipient feel happy and celebrated for their efforts.
Typeform also uses merit-based bonuses called 'Typecoins' to reward good performance, exchanging personalized gifts. Their employees also rave about their remote office allowances.
Simplus made it to the 2020 Best Company Workplace Culture list alongside big names like Google, Adobe, Microsoft, etc. Glassdoor also listed it as one of 2021's Best Places to Work. How do we know that?
Here's what one San Francisco employee has to say, "The best place to work for. 100% remote, unlimited PTO, HSA matching contributions, bonuses and rewards, flexible hours, great teams."
Building a case for rewards and recognition: the ClearTrip case study
From startups to mid-sized companies and Fortune 500's, organizations are remodeling their employee rewards and recognition programs to modern standards. It is a smart step for which they are possibly reaping rich 'rewards' in profits, productivity, and talent retention.
💡
"Companies with highly engaged workforces outperform their peers by 147% in earnings per share." |
Dale Carnegie
Trending Articles
Thank You Message for Birthday Wishes
Farewell Message for Colleague
Birthday Wishes for Colleague
Thanks Message to Boss for Appreciation
Feedback to Managers
Thank You Message for Work Anniversary Wishes
Resignation Letter for Personal Reasons
Creative Award Titles for Employees
Appreciation Messages for Colleagues