When choosing a place of work, today's employees look at far more than just the job description or the pay package. A new hire wants to be confident that the company they are committing their skills and time to is one whose beliefs and practices align with their ideas about a workplace.
In this context, the company's core values act as a guiding light for employees seeking to know what their purpose at the company is.
How to Define Core Values of a Company?
Simply put, core values are what the company intrinsically stands for and are a vital part of the brand image the company portrays to both customers and employees. They form the foundation of organizational culture and guide a company to conduct itself and perform well under all circumstances.
Importance of Company Core Values
The truth is, a business without core values isn't a business really. Think for a moment, how would you build great teams, deliver excellent customer service and foster innovation without defining and sharing your core company values with your employees?
Your company values create a sense of purpose, improve team cohesion, create a sense of commitment, thereby sharing your company culture and impacting the business strategy.
The benefits of establishing company values are:
A competitive Advantage - While the war for talent is only growing tougher, 46% of job seekers value company culture as an important factor while choosing to apply to a company.
Reducing turnover- It doesn't really matter how good an employee is at their job if they are disengaged and feel it isn't the right organization for their growth. On the other hand, if the person's values are in line with those of the company they work for, they are more likely to love their work instead of leaving prematurely.
Increasing the quality of hires and higher employee engagement- When people working for you are happy, they will naturally be more productive and engaged. They will also have a positive impact on their co-worker's mindsets.
Increasing productivity - Reinforcing the importance of culture fit and not just the job fit, hiring people who are happy working in your organization are less likely to feel disengaged, nor will it lead to employee absenteeism.
To summarize, building a strong business starts with building a company culture reflecting your core values.
Core Values Matter for Brand Identity
In today's digital-first world, any potential candidate or customer will first look up a company online. Unfortunately, while product expertise or the client portfolio is all very well, job seekers are unlikely to apply to an organization whose values do not match their own.
Someone who believes in compassion and charity, for instance, may not wish to join a highly profit-driven company, and vice versa. In addition, a company's values help clients get a clearer picture of how the company is likely to operate, and whether the company is the right one to do business with.
How do Core Values help in Employee Engagement?
It is not enough to merely recruit talented employees. The real goal is to retain them and keep them motivated. But, unfortunately, more than 50% of companies worldwide struggle with retaining their most valuable employee groups.
Poor employee engagement costs companies $450-500 billion annually. The pandemic has further aggravated the challenge of keeping employees happy and motivated. A Bloomberg report says professionals are working up to three hours more each day since early 2020.
Core values can help contain the attrition rate and allow businesses to engage with their employees more successfully.
For starters, core values provide a framework that tells employees what kind of company they are joining and their roles in that setup.
That way, employees have clear expectations of what they will be called upon to do, giving them a greater sense of security and a sense of belonging. The more secure an employee feels at your workplace, the more engaged they will be in their jobs, and the better their productivity will be.
Recruits who come in knowing exactly what they have signed up for are less likely to become disillusioned and leave. Having a set of core values that speak to the public is a competitive advantage in this high-performing world.
How many Core Values should a Company have? 6 Core Company Values Examples
No matter what a business does and the kind of brand it wishes to portray, having an ethical framework is the bare minimum that it owes its employees and customers. So if you are confused about how many company core values you must have, fret not, we have you covered.
This section discusses the four pillars of an ethical framework
1. Integrity
This means doing things in an honest, fair, and morally upright manner. The pillar establishes your company's credibility and helps you build a solid and ever-lasting relationship with all relevant stakeholders.
2. Innovation
Companies that wish to outshine the competition and emerge victoriously should focus on innovation rather than imitation. That means your employees should be encouraged to share new ideas, no matter how out-of-the-box they are. You can then evaluate how those ideas may be turned into viable products that are valuable to customers.
3. Drive
In today's dynamic world, companies need to have the drive to strive for excellence constantly. This requires you to establish a work culture that encourages exploring individual skills and creativity, which can be applied to doing the job in newer and better ways.
4. Respect
A solid foundation of respect is key to retaining talented employees and motivating them to do their best. Respect extends to an employee's abilities and their race, gender, sexual orientation, marital status, personal beliefs, disability status, and so on.
Your company should do its utmost to ensure a safe and healthy work environment where everyone has an equal opportunity to learn and grow. Ideally, each employee should feel free to share their ideas and ask for help as needed.
5. Customer Experience
Don't just hit the bare minimum when it comes to helpful customer service by being polite. Go above and beyond to solve for your customers, with or without a protocol in place.
6. Diversity Mission
Let's take the example of Coca-Cola. Their Diversity Mission page shows pie charts with global employee gender and race ratios. What better than publicly exemplifying a commitment to accountability!
The more valued your employees are made to feel, the more committed they will be to their jobs. A positive attitude and increased engagement will directly impact your company's bottom line in the long haul. Is it not what you want?
How to reinforce your core values at the workplace?
Each new employee should see clearly how your core values drive your business, and the hiring process is only the beginning. Here is how to practice the company's core value of teamwork.
1. Consistently communicate the values
A good way to keep your employees reminded of the values is through strategic reinforcement initiatives that subtly plug the values into corporate communications, daily briefs, project goals, and informal discussions without coming off as too preachy.
Such affirmations will make the employees more focused and motivated. Those engaged will outperform their un-engaged peers, resulting in your company becoming up to 20% more profitable.
2. Reward and recognize value-centric behavior
Another effective option is to celebrate individuals and teams for their work that upholds the core values.
When appreciating them over a call or on an email, highlight which core value they exhibited in their effort and how that contributed to their accomplishment. This will encourage your other employees to aspire to uphold those values too.
You can even deploy a rewards and recognition system like Empuls to recognize an employee for a job well done — on a public platform. Fellow employees can also join in the conversation and congratulate the person, ensuring greater visibility.
3. Incorporate the values while hiring and onboarding
Selecting candidates who culturally align with your company is as essential as hiring employees who match your required skill set and experience level. Run the potential employees through a rigorous questioning process to identify whether or not they will be around the company for the long run.
Similarly, you can reinforce core values during employee onboarding. For example, when sharing about your company, the HR team can show the recruits a culture deck, just like Netflix, explaining their company values and why they are essentials.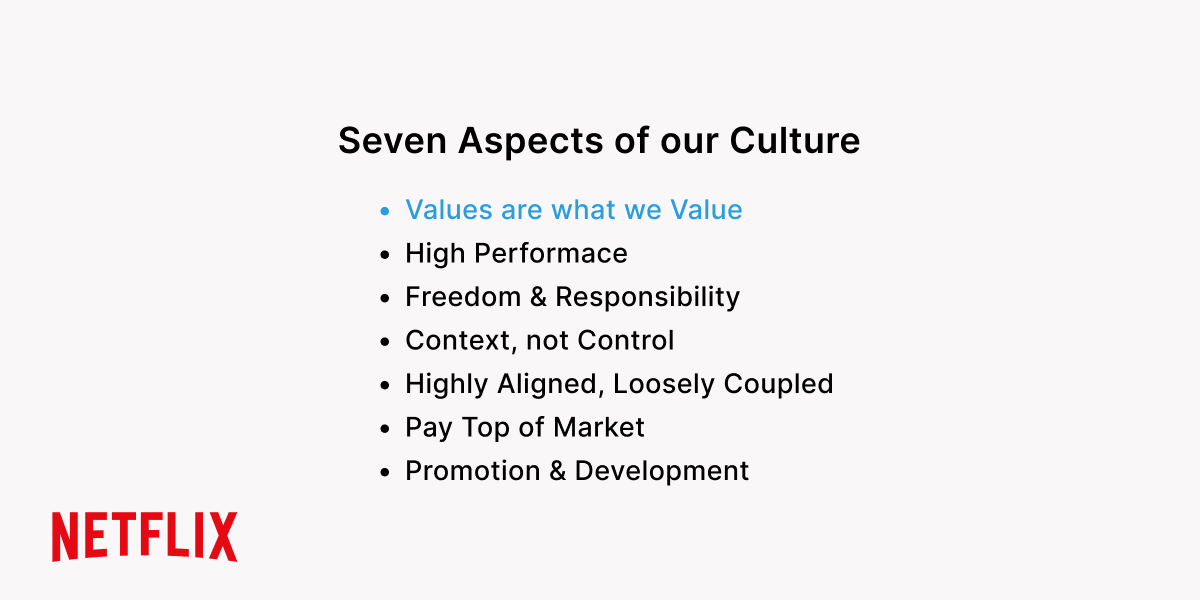 That way, your employees will start incorporating the core values from early on and perform according to the system.
4. Recognize and reward value-centric behavior  
Firstly, publicly define the values that empower your employees. They could be #COLLABORATE #NOPAINNOGAIN or #SOLVER for example. By defining them, you inspire and encourage employees to take ownership of their work.
When they go the extra mile for your business, there are multiple ways to publicly recognize and reward employees.
The non-monetary rewards could be - appreciation by peers, written recognition in newsletters, on social media, or the website and awards.
Monetary reward ideas for employees are - gift cards and vouchers, experiential gifts, and personalized coupons.
5. Incorporate core values in your sales process
When you integrate the core values in your proposal messaging, it goes beyond merely listing values in the opening paragraph. It also highlights how the core values shape client communication and customer experience.
6. Incorporate company values in the hiring process
When you select candidates who culturally align with your organization, they tend to stay for longer. They are more engaged and productive at work. Integrating company core values in the hiring process ensures that you attract the right talent who would work towards the same goals.
7. Ask for employee feedback regularly
At the end of the day, your employees are the best ones to tell whether your company is living by the core values. The easiest way to make sure that you reinforce the values in the organization is by regularly checking with the team to see what they have to say.
Try using a pulse survey to gather anonymous staff feedback. With the resulting data in hand, you can make informed decisions to ingrain the values even deeper in your company.
In today's world when everyone's plate is full, the bad news is that company values may take a backseat. The good news is by implementing these pieces of advice, your company's core values will be cemented into every stage of operations.
6 Companies with Inspiring Core Values
Core values drive the company's purpose every day, so be sure to pick ones that truly define what you stand for. Several well-known brands have crafted inspiring lists of core values that you can get ideas. Some of the company core values examples include:
The ice cream company strives to support sustainable and safe methods of food production, which reduce environmental degradation, boost the economic viability of family farms and rural communities, and maintain the productivity of the land over time. It also strives to minimize the negative impact on the environment.
The world's most popular beverage company believes in having "the courage to shape a better future" and is "committed in heart and mind."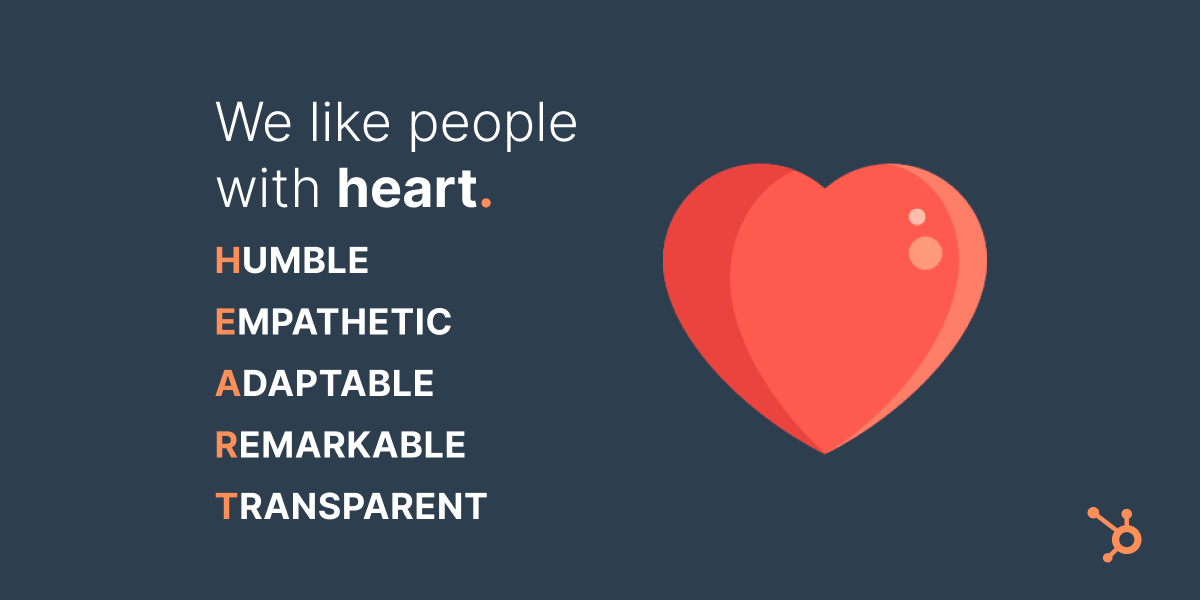 HubSpot's core values are spelled in the form of a "HEART" to help employees remember each one.
It is Nike's nature to innovate and do the right thing!
The coffee retail chain wants to "create a culture of warmth and belonging, where everyone is welcome!" It believes in being present, connecting with respect, dignity, and transparency.
On the company page, Airbnb includes a long description of each of these core values. You could lay them out crisply, for the reader to get the key points while then elaborating each value in detail.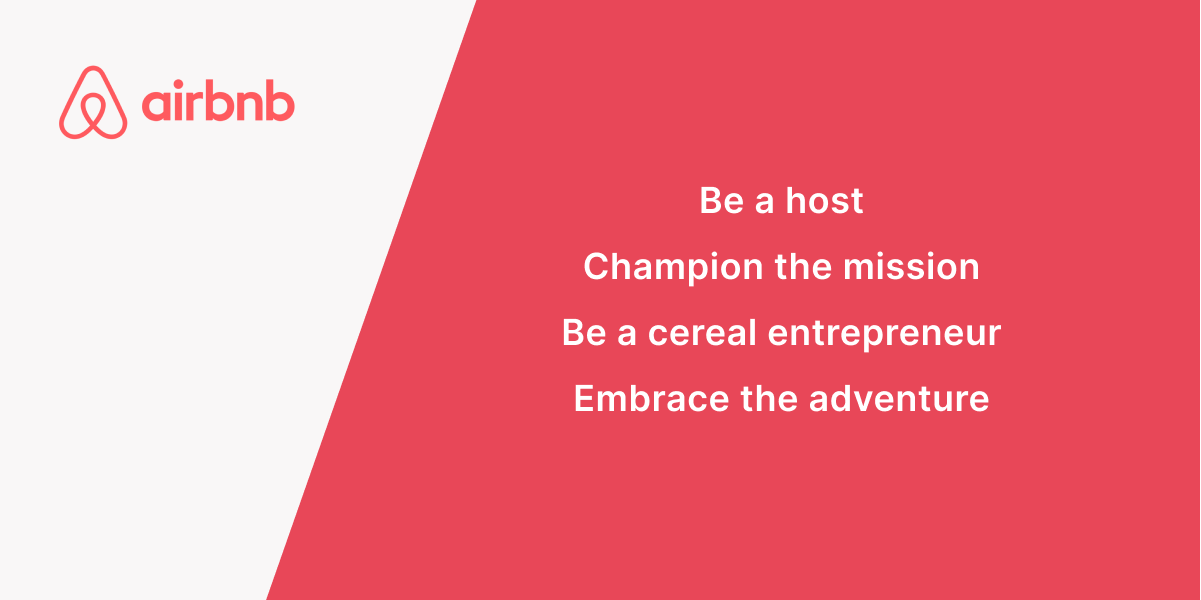 Now that you know the organizations with amazing core values, it is time to start working on creating the core values for your company.
Empuls' Core Values
Setting core values is never easy as they reflect the behavior and decision of the whole team and future employees. They unify the company culture - especially in a remote company like ours.
Here are Empuls' core company values, set after much thought:
Value - Excellence
Mission - To put motivation and engagement (technology) at the center of business growth
Do it right the first time
Unlock new value
Be the master of your own work
Feet on the ground
Customer is our true north
Be thorough to make through
Bottom line: Company Core Values are Important
A company's core values need to be consistently lived up to, from the senior management to all the way down, if those values are to be more than just fancy statements on a corporate website.
By committing to upholding your core values and recognizing them when in action, you establish yourself as a trustworthy company and create a healthy work atmosphere where employees feel confident about doing their best every day.