Table of Contents
Employee benefits in the UK aren't just a nice-to-have; they're a strategic tool in the modern business arsenal. Employee benefits in the UK have emerged as the silent game-changer, influencing recruitment, retention, and overall workplace satisfaction.
Wondering what kind of benefits are offered to employees in the UK?
Fret not. In this blog, we have described everything from the best employee benefits in the UK to the way an employee benefits package can be designed for employees, the legal regulations, tax compliance and other nuances with regard to the subject.
UK businesses know that to attract and retain top talent, it's about more than just the monthly pay. If you are an HR manager or own a business in the UK, you might wonder about employee benefits in the UK or if you can offer different benefits to different employees in the UK or the different employee benefits platforms in the UK.
Read on to find out more employee benefits examples in the UK and how they can be planned for a company.
Understanding UK employment laws and regulations
The UK has some of the best employment laws and regulations when it comes to protecting employees and employers for the mutual benefit of both parties. The UK government has divided the various employee benefits into two categories: mandatory benefits and non-mandatory benefits.
The mandatory employee benefits in the UK include the following aspects:
Pension: Contributed both by the employer and the employee (minimum 8 percent with atleast 3 percent by the employer)
Healthcare insurance: Backed by NHS and is contributed by the employer. It is a publicly funded system where employees are not required to pay upfront or in full. Private options can also be considered.
Sick leave: Should be equal to 95 pounds for up to 28 weeks in case of long-term sick pay. Most companies have their own structure that meets the statutory sick pay system.
Holiday leave: 28 days of paid annual leave. Flexible holiday pay can be made available as part of the company.
Maternity leave: 52 weeks of maternity leave with 90 percent average pay for 6 weeks. After 6 weeks, it can be either 90 percent of average earnings or 148 pounds per week, whichever is lesser.
Pensions are a compulsory benefit provided by employers in the UK. All new hires are auto-enrolled into the UK pension scheme and a minimum of 8 percent of contribution is to be made by the employer and the employee combined.
Most companies pay 3 percent but the higher the contribution above the minimum required level, the better the chances are to attract the best candidates and talent from the market.
There are several platforms and softwares that are used by companies to enroll candidates as soon as they are hired into the company and the employer and the employee can mutually agree on a level of percentage for the contribution to the pension scheme.
Types of employee benefits in the UK
Here are some of the best employee benefits in the UK.
1. Health and wellness benefits
Health and wellness includes health insurance and other kinds of benefits that employees can make use of. Most companies offer the NHS health scheme, which is publicly funded but can also tie up with private health insurance companies for similar benefits.
They are contributed by the employer and the employee based on the company's preference. Popular healthcare cover includes options such as:
Mandatory health cover from NHS.
Private health insurance is also an option where employers can attract a better workforce.
Dental and vision care - some companies may provide extra benefits by enrolling. employees in private health care that cover dental and vision care as well.
Go Up and their mental well-being benefits
Go Up
is a UK-based digital marketing company that has provided a positive working environment for employees by taking a large stride towards mental and emotional well-being. They have provided access to counsellors, gyms, health centres and bike-for-work schemes to help employees lead a positive, stress-free lifestyle. The feedback survey helps keep up with employee expectations and allows employees to bring their pets along.
2. Retirement benefits
Pension is the most important part of retirement benefits in the UK. There are plenty of employee benefits providers in the UK that help in the auto-enrollment of employees in a pension scheme, which is contributed by the employer and the employee. A minimum 8 percent needs to be contributed, with at least 3 percent from the employer side.
There are other schemes as well that can be considered by employees, such as Workplace pension and contribution schemes. Under the workplace pension scheme, the employer, employee, and the government contribute based on the employee's average earnings. Tax relief is also added to the pension as a contribution from the government.
The Boeing company
has an amazing retirement benefit for its employees by contributing 75 percent of the employee's first 8 percent contributions. It also provides other options, such as bonds, international index funds, etc, using a plan that automatically enrolls employees.
3. Leave and time-off benefits
The UK government provides paid holiday, sick, and maternity or paternity leave based on employee salary and work timings.
Holiday pay: The UK government mandates that employees be paid a weeks' worth of pay for every week of statutory leave that they are entitled to. For employees who have fixed pay and fixed work timings, such employees are entitled to 5.6 weeks of paid annual leave. This works out to 28 days per year of annual leave.
Below are some of the paid leaves offered by companies:
Sick leave: Employees are entitled to sick leave based on the type of employment and the pay offered to them. Upto 28 weeks of sick leave is available as per the employment laws but thai varies based on employment. Statutory sick pay must be provided at least 109 pounds per week.
Family-friendly leave: This includes maternity and paternity leave. Mothers are entitled to 52 weeks of paid maternity leave with 90 percent of the employee's average earnings in the first 6 weeks and a minimum statutory pay thereafter (either 148 pounds per week or 90 percent of average pay, whichever is lesser).
26 weeks is standard; an additional 26 weeks is comprehensive leave most companies provide. Fathers are entitled to 2 weeks of paternity leave with minimum statutory pay.
Several companies in the UK provide excellent leave policies, and one of the notable ones is the
Aviva Insurance group
, which offers 44 weeks of paid-off for mothers with 24 weeks for fathers. They offer 6 months of full pay for mothers.
4. Financial benefits
Financial benefits include buying of stock options and bonus or profit sharing by the employer to the employees. Employees can buy shares or stock options worth 60,000 pounds with tax benefits on the same.
Employee stock options: Employees can be awarded for their service in the company by providing them with stock options or shares in the company. They are tax efficient for the company as well as the employees. They can be any of the 4 types: Share incentive plans (SIPs), Save-as-you-earn Options (SAYE), Company share option plans (CSOP), and Enterprise management incentives (EMI).

Bonuses and profit-sharing: Profit-sharing can be awarded to employees as a one-time cash bonus or spread across a period. This plan can be devised mutually between the employee and the employer.
5. Other benefits
Other benefits that can be offered as both tangible and intangible benefit to employees are:
Employee assistance programs: This is a company-funded program that provides 24x7 assistance to employees on any matter that requires assistance, be it financially, mental or any other type of aid that helps with employee wellbeing and therefore ensures the productivity and well-being of the company as well.
Gym memberships, discounts and other such perks: Companies can also fund various other benefits like providing a health and wellness membership using gym and fitness center memberships, discount schemes or rewards programs that helps in recognising and rewarding employees for their productivity and many other perks and benefits under this category.
Cloud Nine and its industry-best employee benefit culture
Cloud Nine
is a hair and beauty brand that has adopted some of the best practices in the industry and has become one of the best places to work in 2023, according to the Sunday Times, because of its exclusive benefits. The brand offers health cash plans for physical and dental wellness. Zurich offers life insurance plans, a positive mental health environment, and an amazing work culture.
Designing your employee benefits package as per UK laws
Designing the right benefits package is a complicated task. As business or company owners or HR team members, it is important to keep in mind the requirements of your employees and then design the right employee benefits that also abide by the mandatory laws and legislations of the UK government.
Below is a guide that can help you come up with the right package:
1. Assessing the needs and preferences of your workforce
The most important thing is to consider the type of workforce, whether they are paid full time, part-time, full wages or part wages etc. A specific employee benefits package can be designed based on the workforce and their time in the company.
2. Customizing benefits to your company's culture and values
The employee benefits are carefully evaluated by any new hire and aspiring candidates and therefore, it is important that companies choose the right employee benefit package that also reflects the company's culture and values. This helps attract the right talent from the market and retain good employees with the company.
3. Budgeting and cost considerations
Budget is an important parameter. Not all benefits can be fit into a company budget no matter how much a company wants to do its best for their employees. A carefully crafted employee benefits package that fits the budget for the employees is important.
4. Balancing mandatory vs. voluntary benefits
As mentioned earlier, companies need to provide mandatory benefits, but many voluntary, non-mandatory benefits improve the company's image and help attract the right candidates from the market. A good mix of mandatory and voluntary or non-monetary benefits can boost the company's image and attract the right employees.
Tax implications on employee benefits in the UK
When you own a business or a company in the UK, you are expected to report the expenses and benefits offered to your employees to HR Revenue and Customs.
An employer also has to pay national insurance and taxes for the different expenses and benefits they offer, including company cars, accommodation, banking services, bikes for employees, bonuses, childcare, entertainment expenses, mobile phones, retirement benefits, etc.
Tax treatment of different types of benefits
Each benefit under the category is taxed differently. As a business, when you pay for employee benefits through a government scheme such as healthcare or retirement benefits, employers pay under the PAYE scheme (Pay as you earn scheme). For privately funded expenses, employers must calculate taxes per the UK norms.
Understanding tax-efficient benefit structures
The government schemes and programs offered are tax efficient and help cut down on taxes by mutual sharing of expenses between the employee and employer, such as in the case of pension schemes where the employer and employee contribute a total of 8 percent.
The government funds part of these payments in the form of tax returns, which adds to the accrued pension fund and is available for use by age 60. Private contributions may attract more taxes and need to be calculated differently.
Reporting and compliance with HM Revenue and Customs (HMRC)
All expenses in the name of employee benefits need to be reported to the HMRC. Employers using government schemes do not need to report them to the HM Revenue and Customs. Still, these expenses must be notified and reported to the HMRC for privately funded and contributed benefits to the employees.
Starbucks employee benefits in the UK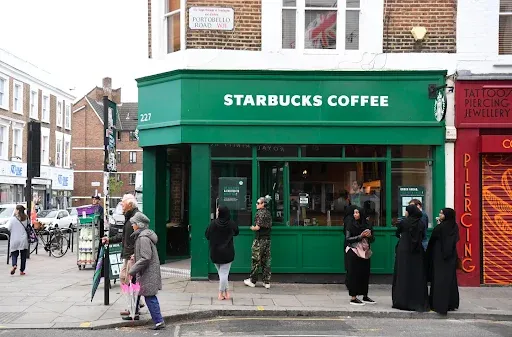 Starbucks, a leading name in the coffee industry, prides itself on offering its employees a comprehensive range of benefits in the UK. These perks and privileges are designed to ensure the overall well-being of its partners (employees) and support them in their personal and professional journeys.
1. Retirement benefits
Starbucks corporation has always valued the long-term financial stability of its workers. To this end, they offer
401(k) Plan: A popular retirement savings option in the corporate world.
Profit sharing: Encouraging a collective sense of ownership and fostering company growth.
Defined contribution pension plan: with this plan, Starbucks assists its partners in saving and investing for a stable income in their later years.
2. Committed to well-being
Believing in the adage, "You can't pour from an empty cup", Starbucks has established an extensive rewards and well-being programme for its partners.
3. Generous holidays
Partners receive up to 33 days of holiday annually, which includes bank holidays. Additionally, there's an extra bonus day for personal use.
4. In-store perks
While on shift, partners can enjoy free food and beverages. They are also entitled to a free bag of coffee each week and benefit from a 30% discount on food, beverages, and merchandise.
5. Learning and development
Comprehensive training is provided, ensuring that partners are well-versed in coffee knowledge. There's also access to the Starbucks Global Academy, an online learning platform for continuous personal and professional development.
6. Life assurance
This ensures financial security for partners' families in unforeseen circumstances.
7. Discounts and offers
Through the perks at work platform, partners can avail discounts with local and national retailers, ranging from cell phones, gym memberships, and entertainment tickets to hotel stays.
8. Mental well-being
Recognizing the importance of mental health, Starbucks offers a subscription to Headspace, an app that promotes mindfulness and meditation.
9. Home sweet loan
For those looking to move, this initiative offers interest-free loans, which can be repaid over 12 months. This helps partners manage their rental deposits.
10. Bean stock options
This unique benefit allows all partners to own a piece of Starbucks, reinforcing the sense of collective growth and achievement.
11. Employee assistance programme
Available 24/7, this is a resource that offers support not just to the partners but also to their families in times of need.
12. Career opportunities
With Starbucks, the sky is the limit. They offer excellent long-term career prospects in-store and within their support centre roles.
Starbucks UK goes beyond just being an employer. It plays a pivotal role in enriching the lives of its partners through an impressive array of benefits, reflecting its commitment to their growth, well-being, and happiness
Conclusion
With the changing employment needs and the rising inflation, employee benefits must be comprehensive and adaptable so that employees feel protected and cared for. It is important that employers in the UK consider the employees' changing needs and stay abreast of the economic condition. 85 percent of employees do not feel properly compensated by their employers in the benefits section.
Using a good benefits package and the various perks offered to employees, companies can attract the right employees and retain the best employees who are of utmost importance for the company's growth. A trained and efficient workforce is the backbone of an organization, and only by using the right benefits package, can the company hope to achieve a positive work environment.
FAQs about employee benefits in the UK
Here are some common frequently asked questions about employee benefits in the UK.
What benefits do employees value most in the UK?
Employees in the UK most value benefits such as pensions, health insurance, flexible working hours, and paid leave.
How much do employee benefits cost in the UK?
The cost of employee benefits in the UK varies widely depending on the type and scale of the benefit, but on average, they can range from 15% to 40% of an employee's salary.
Can you offer different benefits to different employees in the UK?
Yes, employers in the UK can offer different benefits to different employees, but they must ensure that this does not lead to discrimination or breach of equality laws.