Table of Contents
There are multiple drivers behind an engaged and motivated workforce. Oftentimes, true employee engagement has less to do with free lunches or fun Fridays. Instead, it has got more to do with making employees feel valued.
At its core, employee engagement is the extent to which employees feel committed, motivated, and engaged about their jobs. In fact, on average, only 30% of employees are actively engaged at work. This shows the grim reality that the majority of the working population showing up at work is completely disengaged.
While disengaged employees cost their organizations nearly $500 billion, businesses with a highly engaged workforce are 21% more profitable than their counterparts.
There are several contributing reasons from lack of adequate training and communication to workplace stress, disconnected teams, and lack of recognition. So then, how can an organization find a workable solution to engage their employees in a meaningful way?
An employee engagement software offers an automated solution for HR departments and C-level executives to replace traditional ways to keep employees engaged. Instead of assuming what the employees require, this data-driven platform pulls actual insights from tracking their behaviour.
Let's dive in to see how employee management software addresses engagement issues without further ado.
What is an Employee Engagement Software?
Employee engagement software is a central platform for employees to align and share important information which helps to connect with their organization.
Employee engagement platform, Empuls works seamlessly on both mobile apps and desktops. Thousands of organizations ranging from enterprises, multinational corporations, startups, and small and medium scale businesses use employee engagement software.
The benefits it offers to organizations and employees alike include:
Broadcasting company news and alerts on the centralized dashboard.
Secure messaging for managers to communicate with their employees and vice versa.
Instant access to important documents.
A platform that can integrate with other collaboration tools and HRMS for a seamless and integrated user experience.
Today, employee engagement software is a cornerstone to a company's success. Especially in this age where workplaces have a distributed and remote workforce, it becomes vital to have a transparent employee recognition and appreciation process.
So then, what are the considerations when choosing an employee engagement solution provider?
Benefits of Employee Engagement Software
The primary benefits of employee engagement software are:
It helps improve the employee experience.
It helps to align employees to the organization's culture and values.
It helps make the onboarding process seamless.
It gives a platform for transparent employee feedback.
It improves the employee retention rate.
We know how overwhelming it can be to select the best employee engagement software. Ultimately, as a business owner, Empuls gives you a digital toolbox so that employees can do their job effectively.
8 Must-have Features of Employee Engagement Software
Buying the perfect employee engagement software is always a tough choice, but no more. Here are the eight essential features to look for when buying employee engagement software:
1. Measure real-time employee engagement using pulse surveys
‍Culture is the pillar of a highly functional organization. For leaders and managers, it is vital to have conversations with employees about what they think of the company culture. An employee engagement pulse survey provides quick insights into the company's culture-health and well-being.
Empuls turns employee feedback into actionable insights that can measure real-time employee engagement.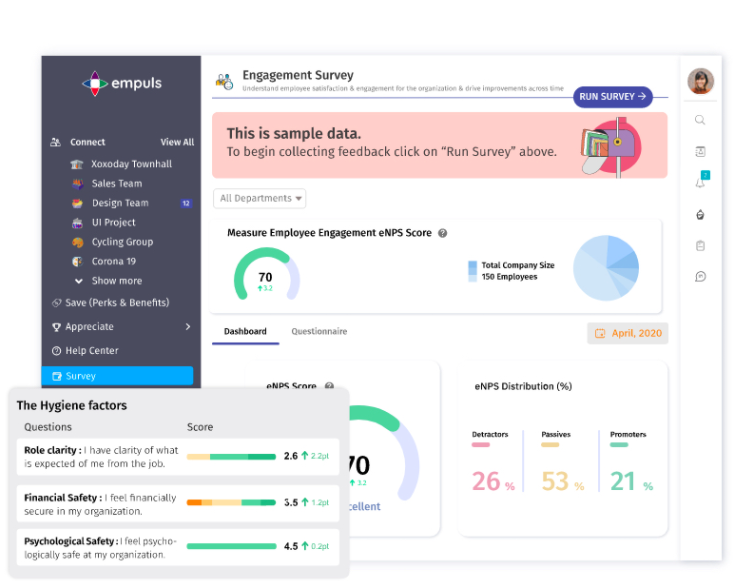 The features include:
eNPS surveys to help you understand how likely your employees are to recommend your organization, products, and services to their network.
Deep diving into the reports using heat maps and KPI linkage.
Interactive dashboard to indicate the health of the organization.
Predictive analysis and machine learning to spot anomalies.
Giving real-time alerts about disengaged employees.
Contextual nudges to help leaders and managers improve.
2. Connect and align employees and teams with Social Intranet
When an employee joins your organization, their goal is to achieve something meaningful in the job. This is the main element of employee engagement. Teams harmonized by a common passion adapt more quickly to changes and respond with greater agility.
When the team shares a vision, everyone's goals are aligned, which aids in quicker strategy implementation.
Social Intranet from Empuls enables organizations to connect and align their employees with a shared goal and vision.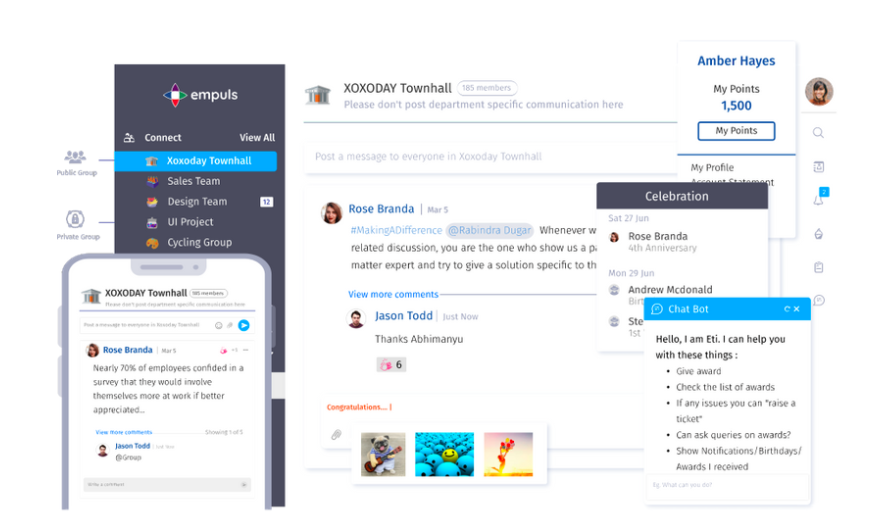 The features include:
Empuls groups to have transparent conversations.
Socializing with colleagues.
Updating teams with company news and announcements.
Creating separate groups based on interest in sports, health, and other hobbies.
Collaborating and engaging socially for events such as birthdays and work anniversaries.
Collaborating on projects and ideas by sharing videos, photos, and blogs.
Creating an employee directory, feed walls, mentions, and tagging.
3. Automating rewards and recognition to create a culture of appreciation
Although most organizations reward employees for their outstanding contributions, the rewarding process is seldom standardized. The common challenge for this initiative is varying levels of interest of leaders.
Also, favors go unrecognized, with interdepartmental collaboration missing. This indeed leads to a confusing rewarding process that leaves the employees feeling unappreciated, and lacking motivation.
Empuls helps companies of all sizes automate the process of rewards and recognition to create a culture of appreciation. Empower employees with complete control over the rewards they receive using a transparent rewarding system. What better than recognizing and rewarding positive behavior to boost employee morale and make them feel valued.
The features include:
Birthdays, work anniversaries, or other milestones make rewarding fun with automated wishes and points/gift vouchers sent to employees.
Social appreciation for amplification to friends, peers, and family.
A wide range of redemption options for the rewards.
4. Savings and perks for employee wellbeing
💡
According to
SHRM
, a staggering 57% of professionals take into account the benefits and perks an organization offers while considering a job.
Also, as an employer, wouldn't you want to offer perks and benefits to your employees? After all, they are the reason your business is running smoothly. These employee perks could be anything beyond a guaranteed compensation to sweeten the deal.
Xoxoday offers an automated platform Empuls, to incentivize and reward perks for your employees. Empuls makes it easy to use and manage the perks program in under 60 minutes, a startup or a large corporation.
The benefits include:
Exclusive discounts on groceries, travel, restaurants, apparel, and more.
5,000+ global perks to choose from.
Access to affordable services, suppliers, and partners.
Gift cards and tax savings.
Access to insurance and loans.
5. Improving productivity and decreasing employee turnover by understanding problems
Empuls helps you understand the problem areas in your teams and organization. Deeper insights in the form of one-on-one feedback and surveys allow you to measure what truly matters to your employees.
Empuls is designed to fix the key problem areas such as employee motivation, recognition, internal communications, well-being, and alignment. Actionable KPIs nudge managers and HR to take action at the right time.
6. Improve employee experience by choosing the right motivators
‍There is a crucial relationship between performance, productivity, knowledge, engagement, and retention. Empuls, the digital employee engagement platform, gives you agile data from diagnosis to actions to improve the employee experience.
Identifying and addressing the right levers such as cultural, technological, and physical factors co-creates a winning people-first culture.
7. Enhance your managerial skills to understand the team better
Managers play a central role in building winning teams and establishing a culture. Empuls has a suite of resources, tools, and data-driven insights for managers that directly boost the productivity and performance of the teams.
‍8. Make communication accessible to everyone, including remote teams
Workplace Intranet by the employee communication and engagement platform, Empuls allows you to recreate the office vibe, build a community, and facilitate connections even while working remotely.
When people are feeling more disconnected than ever, recreating the office atmosphere is vital to keep employees engaged. Celebrations, remote team-building activities, and appreciation will positively impact employee retention and well-being.
Check our How Empuls, an all-in-one employee engagement programs is helping companies to improve the engagement levels of employees and build a culture of recognition in the workplace.
Engaged employees build stronger teams
Along with measuring employee engagement, the benefits of the employee engagement software Empuls extend to multiple positive outcomes. They include improved productivity, stronger teams, and more efficient managers.
When received through an engagement platform, employee feedback allows organizations to understand what is working in the workplace, what requires improvement, and how to support employees to perform their best. Want to know more? Book a demo or start a free trial now!