If we're to talk about employee experience, McKinsey's recent post comes to mind, which says—'It's not about the office; it's about belonging,' where the 'sense of belonging' stems from an employee's experiences at the company.
McKinsey emphasizes the importance of creating an inclusive, purposeful experience in the workplace because the alternative leads to employee churn.
💡
54% of employees who left their job in the past six months did not feel valued by their organization whereas 51% lacked a sense of belonging. (
Source:
McKinsey
)
Now let's look at some real examples of these numbers in action.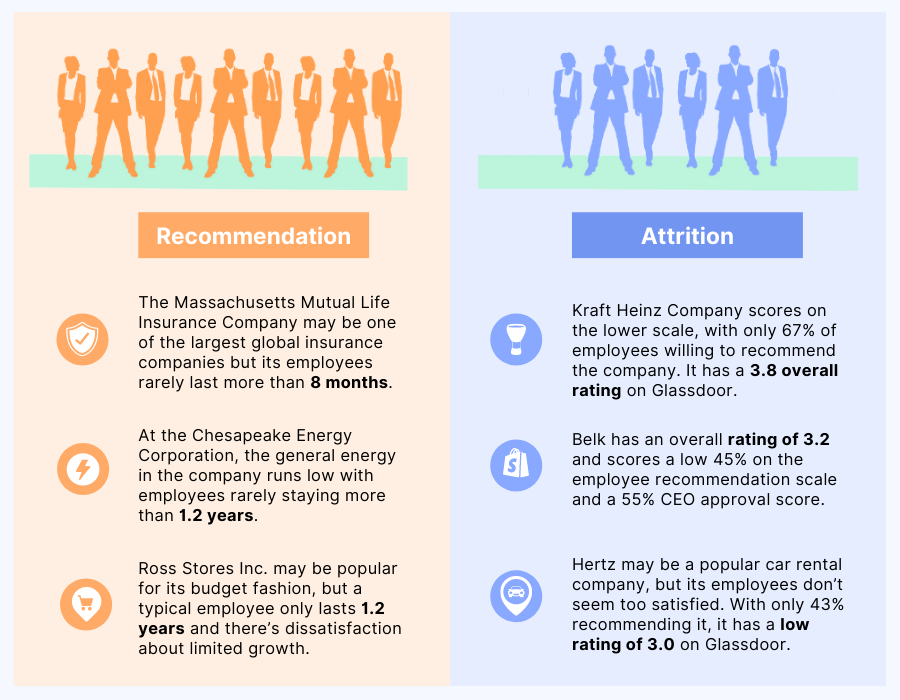 But for every company that fails to deliver a high-ROI employee experience, others stand out for their significant investments in their most valuable assets – their employees.
When it comes to 'leading by example,' these companies are paving the way.
8 Companies that offer the best employee experience
Some companies are taking the lead in understanding employees' needs and improving their experiences through motivational, social, and psychological means. Their goal is to build an 'irresistible organization' to woo their workforce. (Source: Josh Bersin)
While you can find the best of the lot on the Employee Experience Index, we would like to highlight some of the companies with the best employee experience strategies:
1. Gravity payments
Gravity Payments shot into fame in 2015 when its CEO Dan Price set an example of how to treat employees right by taking a pay cut to raise his staff's salaries.
His exact words were, "Most people live paycheck to paycheck. So how come I need ten years of living expenses, and you don't?" (Source: Inc).
Following Dan, several other company CEOs were struck with an epiphany about the kind of experiences they were providing their employees and the overall impact on business.
Experiences offered: The company has not only raised the minimum wage to $70000 for all employees but also offers flexible/variable working patterns, supportive management and a positive work environment, regular SEND sessions, internal career progression, free food, and drinks, etc.
Result: Dan's controversial move, initially ridiculed, has now become a case study for Harvard Business school. The company's customer inquiries went up, employee turnover was reduced to less than half, their revenues tripled, and it is now generally hailed as a genius move.
2. Workday
With reviews on Glassdoor raving about Workday's great culture and how it goes the extra mile in looking after its employees, this Cloud solutions company is one of the Best Workplaces for Millennials.  
Experiences offered: Its popularity can be largely attributed to its inclusive work environment, which emphasizes collaboration between employees and personalization at work. Workday offers its employees internal career development opportunities, a balanced social life, a supportive work environment, and flexible working patterns.
Result: Its positive workplace environment not only put it on Glassdoor's Best Places to Work list back in 2013 but has steadily increased its stock price since then!
3. NVIDIA
This tech giant is not just famous for its graphics card. Admired by the world for their incredible work culture, NVIDIA's employee-focused, collaborative, and inclusive workplace gave massive returns.
Experiences offered: Their workforce-centric culture helmed by their visionary CEO Jensen Huang (98% employee approval) offers employees some of the best experiences in the industry. Whether it's work-life balance (they even have a bar in the office!), a family-first approach for employees, community volunteering/donation opportunities, ESPP & RSU stock refreshers for financial development, flexibility, supportive team, or workplace atmosphere, employees at NVIDIA are genuinely happy.
Result: With over 94% of employees recommending the company on Glassdoor, NVIDIA is not not only recognized as one of the best places to work for three consecutive years but also boasts a high stock price.
4. The Cheesecake Factory
In 2018, the Cheesecake Factory was the only company to make it to the Fortune's 100 Best Companies to Work For list. With a CEO approval rating of 93% (David Overton), it's no wonder that the employees at this company feel highly valued.
Experiences offered: The company launched an initiative called Wow Stories, which recognizes its frontline workers and highlights stories of service achievements to boost morale and spread best practices. The company also prioritizes training and recognition providing multiple development opportunities to the employees. The company's attitude towards its employees comes from its beloved CEO, "treat them like you would treat yourself, always respectful and understanding that (although it's overused) that you're a family."
Result: The company has been on the Fortune's 100 Best Companies to Work For list since 2014!
5. Mozilla
Mozilla amped up its focus on employee experience during the pandemic and soon emerged as a winner in the changing environment.
The company's popularity is evident from the fact that employees like Tony Cinotto (Product Manager), Allie Mendelson (Contingent Workforce Program Manager), and Philipp Kewisch (Add-ons Operations Manager), who left the company for greener pastures, returned to its fold.
Experiences offered: The company found new ways to engage their remote employees and new hires through online internal events while gaining brownie points with their employees for their flexibility and remote working. Apart from this, Mozilla is also known for its diversity initiatives and programs, including its Racial Justice Commitments and LGBTQ inclusion programs.
Result: The company encourages remote working, thereby saving a ton in infrastructure costs by removing the need for physical spaces.
6. SAP
This enterprise software company has been on the Best Places to Work list since 2017. In fact, according to Glassdoor, it is known for having 'its employees' interest at heart.'
Experiences offered: SAP embeds innovation, inclusion, and diversity into its employee experience initiatives. It offers its employees a wide range of development and upskilling opportunities, remote and flexible working, autonomous work, supportive leadership, and a good work-life balance (rare in most companies!)
Result: With 92% employee recommendations and a 94% CEO approval rating, SAP is not only one of the top reviewed companies on Glassdoor but has seen steady market growth since 2013, with current stock prices crossing the $100 mark!
7. Arby's
This American hospitality company lives by its tagline 'Inspire Smiles Through Delicious Experiences' and applies it internally to its employees.
Experiences offered: In times of trouble, the company is known to turn to its frontline employees for suggestions and solutions, taking and implementing their feedback, empowering them, and improving employee experience through multiple initiatives, including career development and higher education. The company also provided flexible schedules, career progression, and free meals.
Result: With over 90% of its employees considering it a great place to work, Arby's has a lower turnover rate than most of its competitors!
8. AutoZone
This auto parts retailer revamped its employee experience program in 2013 and has been known as 'an amazing place to work' since then!
Experiences offered: AutoZone is committed to providing its employees with a wide range of career development and learning opportunities, a supportive workplace, collaboration, and flexibility.
Result: Their new employee experience initiatives were a great success; the boost in their engagement rates led to Global market research firm ORC International honoring them with the Top Employee Engagement award.
A round-robin approach to transforming the employee experience
The trend to invest in employee experiences is currently being led from the front by a select few. But it has triggered an entire generation of startups, SMBs, and established organizations to up the ante on their employee experience initiatives.
Thus, we see a new era emerging. An age of strategic talent management through curated employee experiences. Companies that are pioneering in this are also the ones that are successful in:
Attracting and retaining frontline talent
Witnessing accelerated revenue growth
Seeing decreased costs
Noticing better employee performance across the organization
Enjoying enhanced customer experience (emotionally engaged employee = great customer experience.)
💡
According to
Forrester
, customer experience (CX) leaders who (over five years) invested in employee experience achieved a 17% revenue growth compared to only 3% by CX laggards.
Hope this article has given you enough reason to join the employee experience revolution today!