Table of Contents
Prepare to be enchanted: 65 Halloween snacks await!
Halloween's here!
Explore through a world of spooky snacks, irresistible desserts, and bewitching hampers that will transform your workplace party into an unforgettable extravaganza.
Embrace the magic of the season and indulge in the extraordinary as we unveil a treasure trove of Halloween-inspired creations and costumes that promise to captivate your senses and leave a hauntingly delightful mark on your memories.
The enchanting significance of the haunting Halloween feast: A night of spooky revelry and timeless traditions
The commemoration of ancestral spirits: At the heart of this macabre feast lies a sacred acknowledgment of those who have journeyed beyond the mortal realm. As the days grow shorter and the nights lengthen, the Halloween dinner becomes a poignant tribute to the departed souls, a moment to remember and honor those who once walked among us.
Through a carefully crafted menu and eerie ambiance, we set a place at the table for our ancestors, inviting their spirits to partake in the festivities.
A feast for the living: Yet, Halloween dinner is not merely a solemn affair; it is a celebration of life itself. In the midst of ghostly apparitions and eerie decorations, a sumptuous feast is laid out, brimming with the bounties of the autumn harvest.
It is a reminder that in the face of mortality, life persists, vibrant and resilient. The savory aromas, the rich flavors, and the warm camaraderie that accompany this feast are a testament to the vitality of the human spirit.
Community and connection: The Halloween dinner is a communal event, a gathering that brings together friends, family, and neighbors. It is a time for laughter, storytelling, and the sharing of traditions.
Through the act of breaking bread together, we forge bonds that transcend the ordinary, creating a sense of belonging and unity. As we pass around plates of delectable treats, we form connections that strengthen our ties to one another and build a sense of community.
Confronting fears and embracing transformation: In the eerie glow of jack-o'-lanterns and the flicker of candlelight, we confront our deepest fears. The macabre setting of the Halloween dinner challenges us to face the mysteries of the unknown, to acknowledge the shadows within ourselves, and to find solace in the presence of others.
It is a transformative experience, one that empowers us to embrace change, to let go of what no longer serves us, and to step boldly into the future.
5 Halloween Snacks gift box ideas
Here are five unique Halloween snack gift box ideas for employees:
1. Spooky sweets and treats box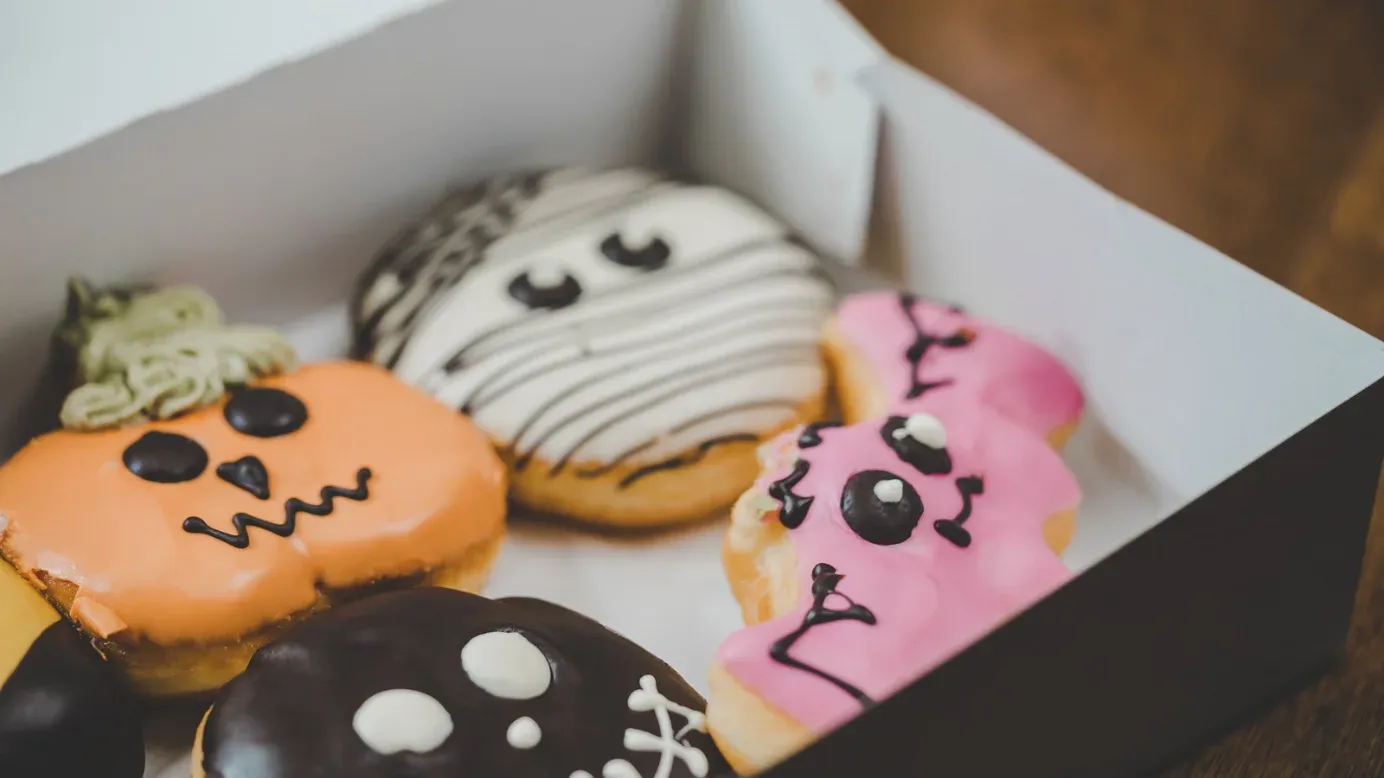 Include an assortment of Halloween-themed candies like gummy worms, chocolate eyeballs, and candy corn.
Add some homemade treats like pumpkin spice cookies and caramel popcorn.
Include a small bottle of apple cider or a Halloween-themed drink for a festive touch.
2. Gourmet popcorn delights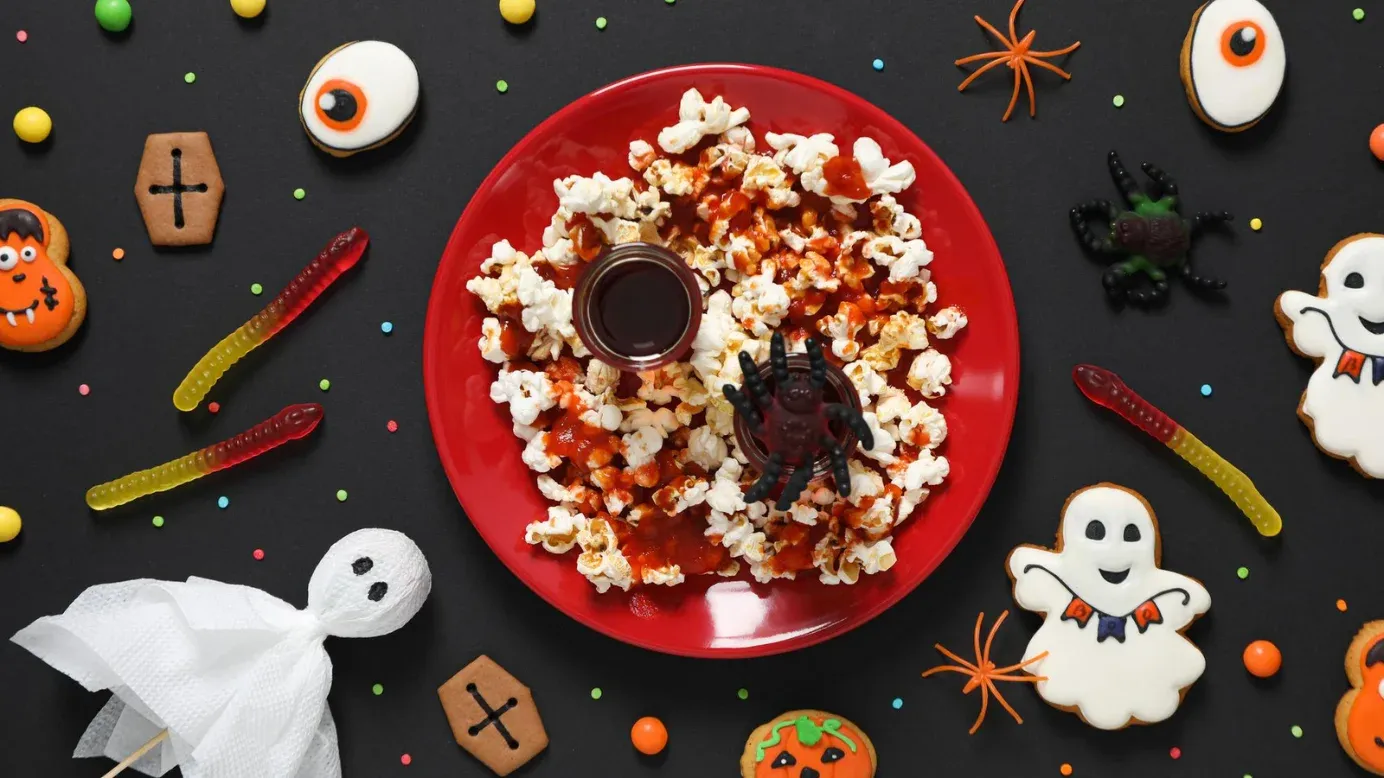 Curate a selection of gourmet popcorn flavors such as caramel, cheddar cheese, and spicy Sriracha.
Add in some seasonal twists like pumpkin spice caramel popcorn or white chocolate-covered popcorn with candy corn.
3. Haunted healthy snack box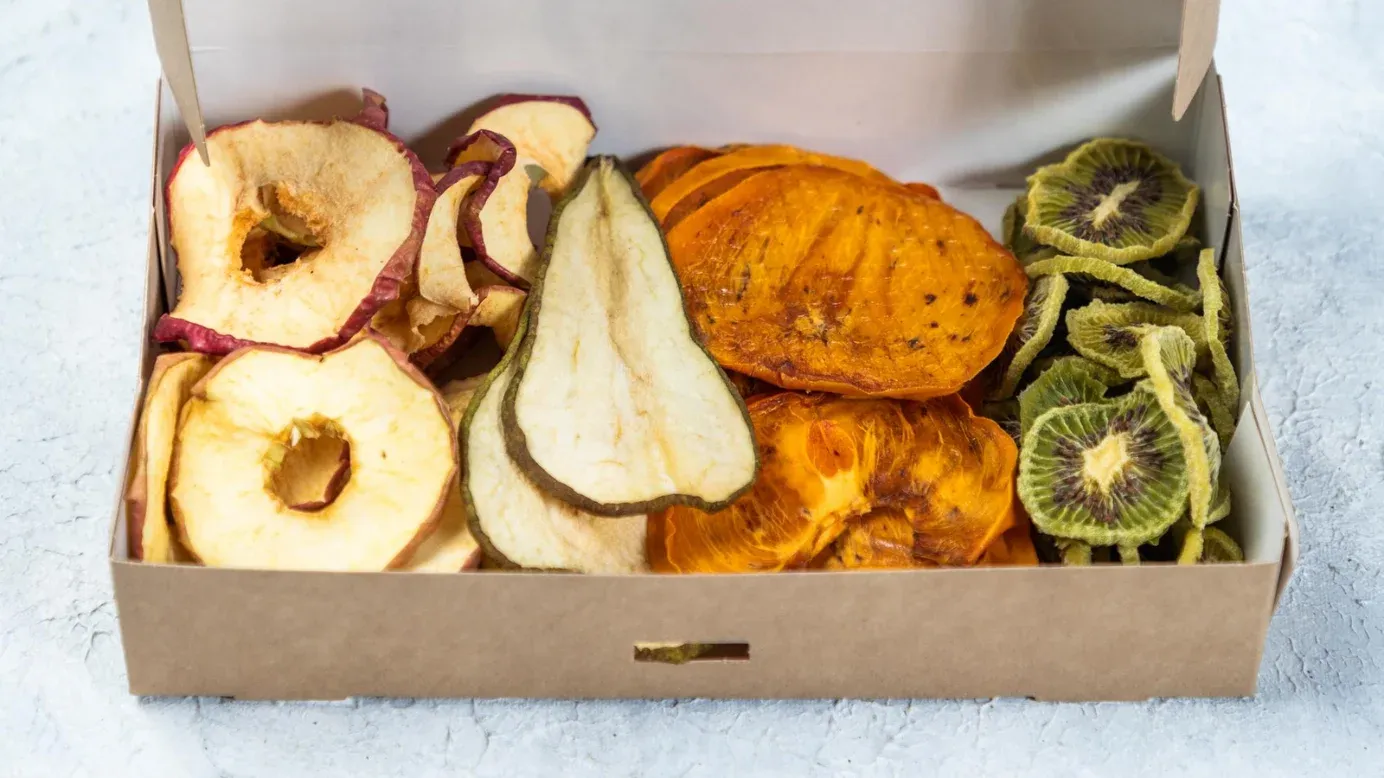 Include a mix of healthy and indulgent snacks like dried fruit, mixed nuts, and trail mix.
Add some fun Halloween-themed items like ghost-shaped veggie chips or jack-o'-lantern-shaped crackers.
4. Witch's brew beverage kit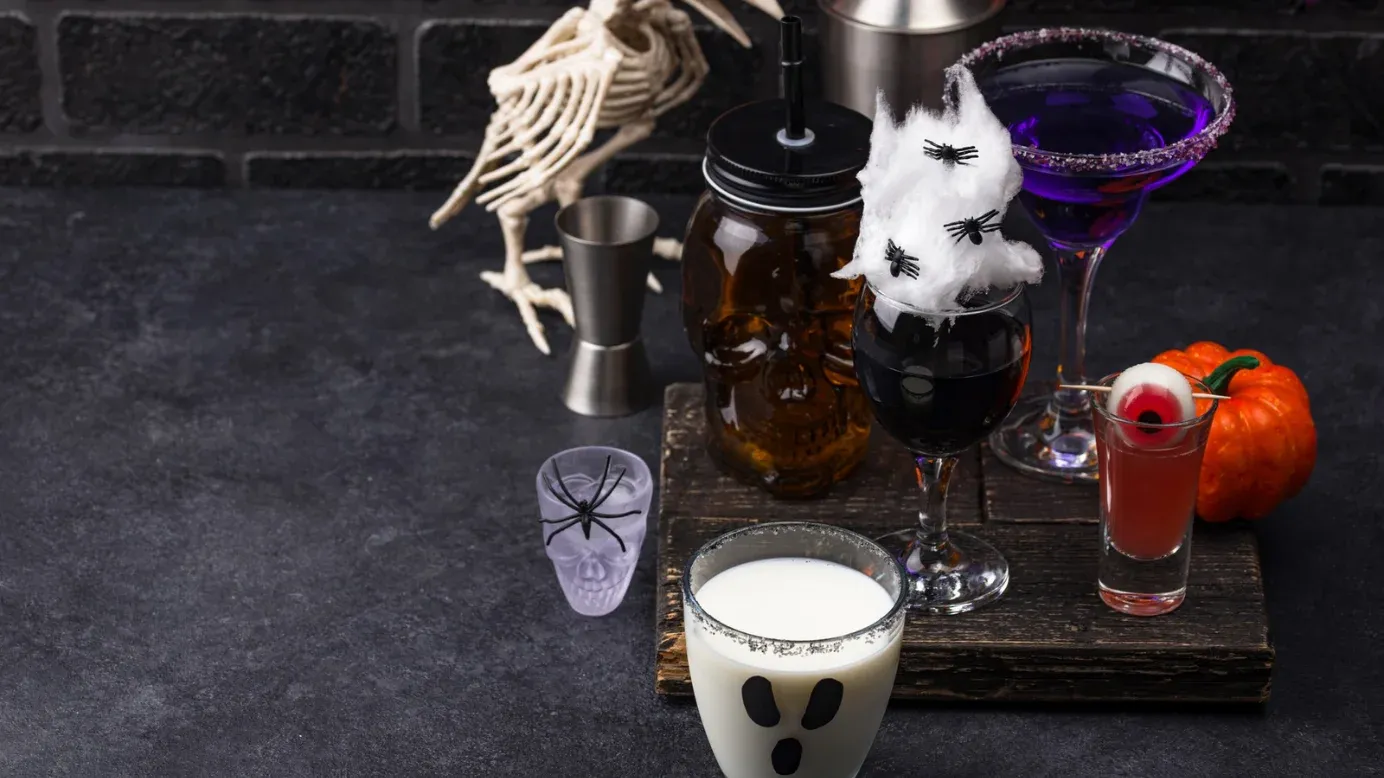 Include a selection of seasonal beverages like apple cider, pumpkin spice latte mix, and herbal teas.
Add in some spooky-themed mugs or cups for sipping the beverages.
5. DIY Halloween treat kits
Provide the ingredients and instructions for employees to create their own Halloween treats.
Include items like cookie mix with Halloween-shaped cookie cutters, a DIY caramel apple kit, or a s'mores kit with ghost-shaped marshmallows.
40 Halloween snacks for the workplace party
Here are 40 Halloween snacks for the workplace party:
1. Cauldron spinach dip with witch hat chips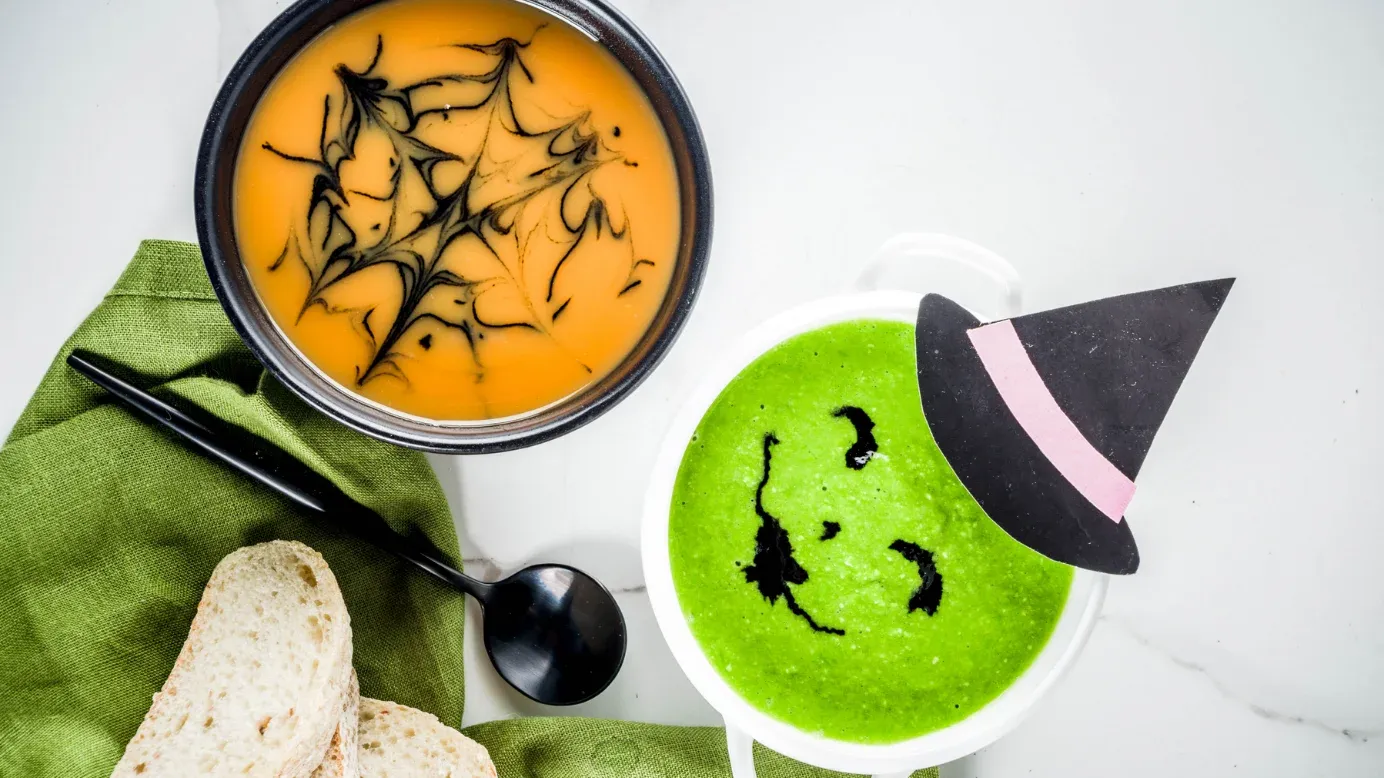 Create a bubbling cauldron of creamy spinach dip and serve it with homemade witch hat-shaped tortilla chips for a spooky and delicious starter.
2. Haunted forest crudité platter
Arrange an assortment of fresh vegetables to resemble a haunted forest scene, complete with cucumber ghosts, carrot pumpkins, and broccoli trees, served with a savory dip.
3. Ghoulish guacamole eyeballs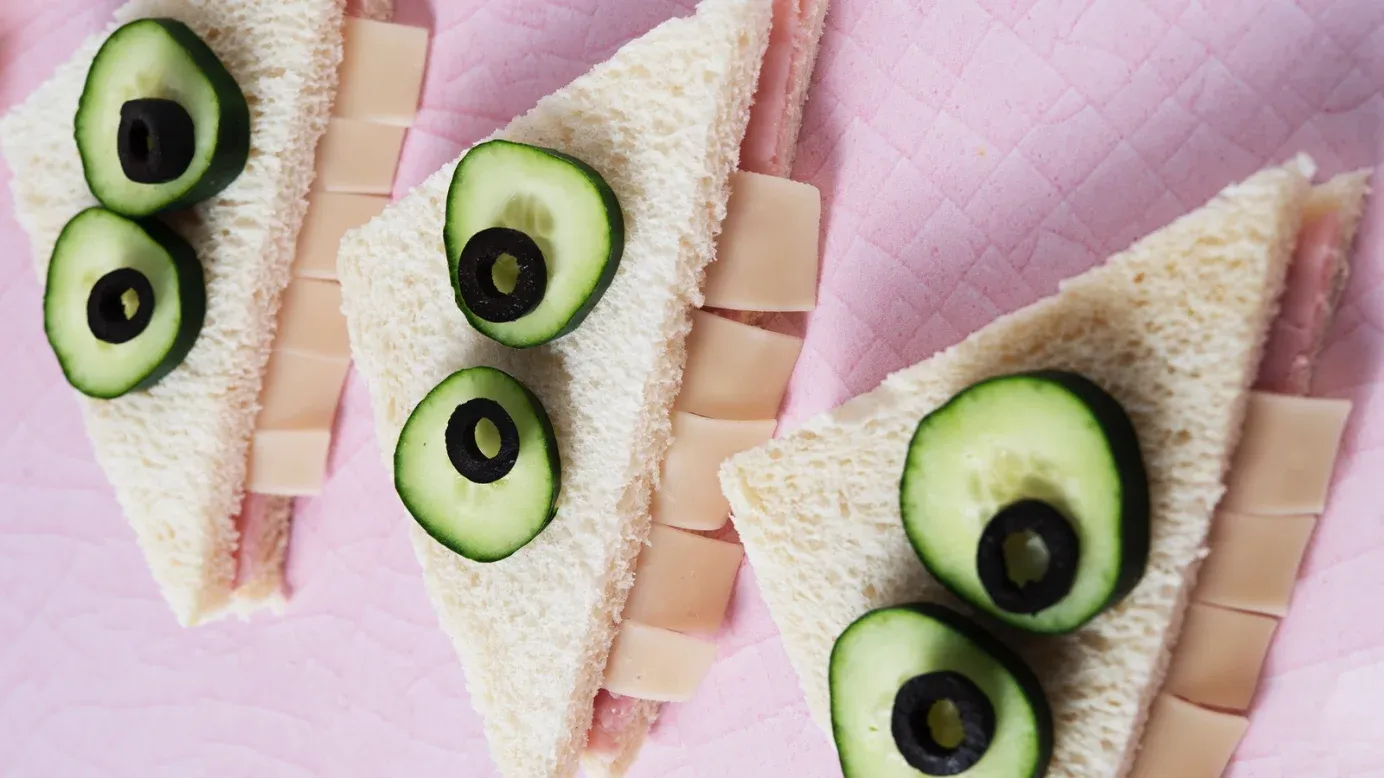 Mold guacamole into eerie eyeball shapes using hard-boiled eggs as the pupils, creating a creepy yet tasty dip to serve with tortilla chips.
4. Vampire bite caprese skewers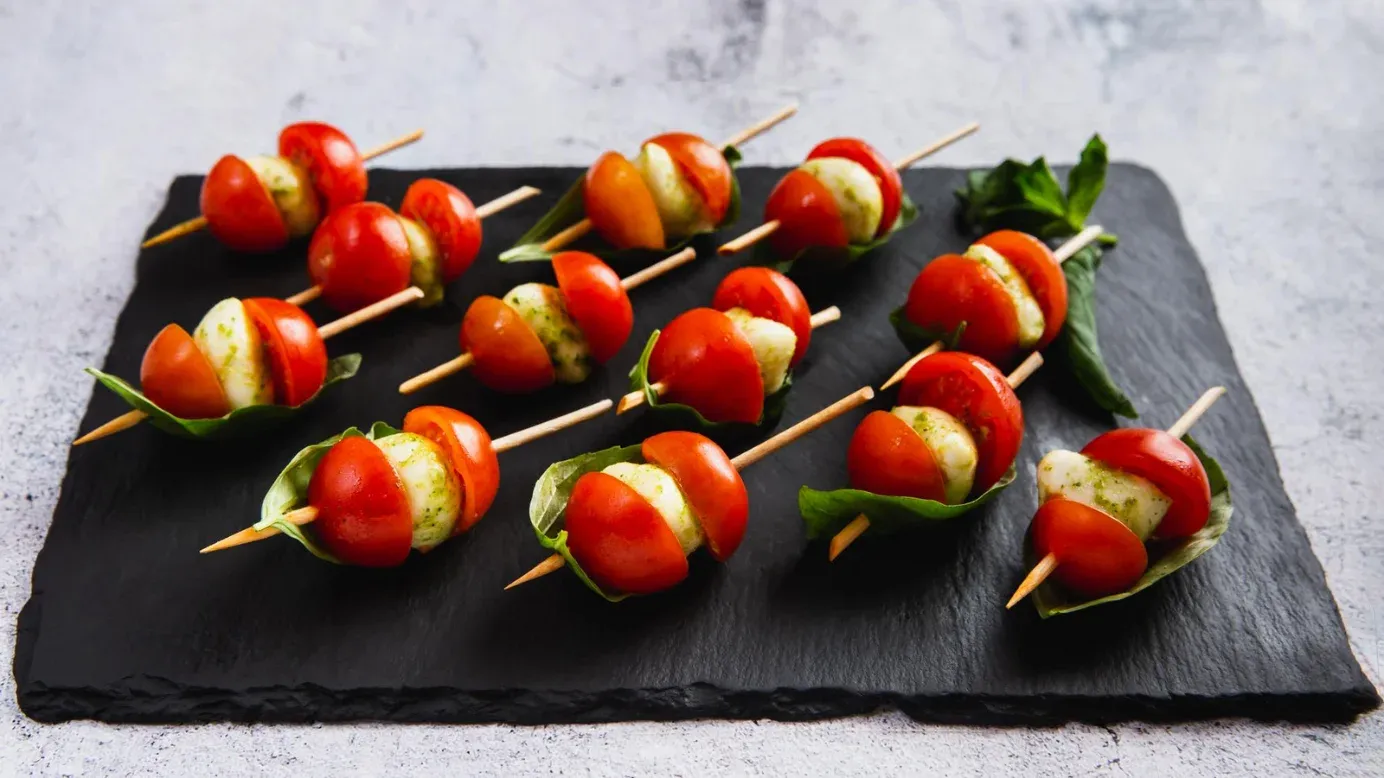 Skewer cherry tomatoes, fresh mozzarella, and basil, then add a touch of raspberry sauce to simulate vampire bites for a visually striking and flavorful appetizer.
5. Mummy meatball sliders
Wrap mini meatballs with thin strips of crescent roll dough to create mummy-like figures, then serve them in slider buns with marinara sauce for a hauntingly delicious dish.
6. Witch finger pretzel sticks
Shape pretzel dough into eerie witch fingers, complete with almond fingernails, and serve with a savory mustard dip for a spooky and satisfying snack.
7. Ghostly deviled eggs
Turn classic deviled eggs into ghostly treats by using black olives for eyes and mouths, giving a playful and ghoulish twist to a traditional favorite.
8. Spiderweb hummus dip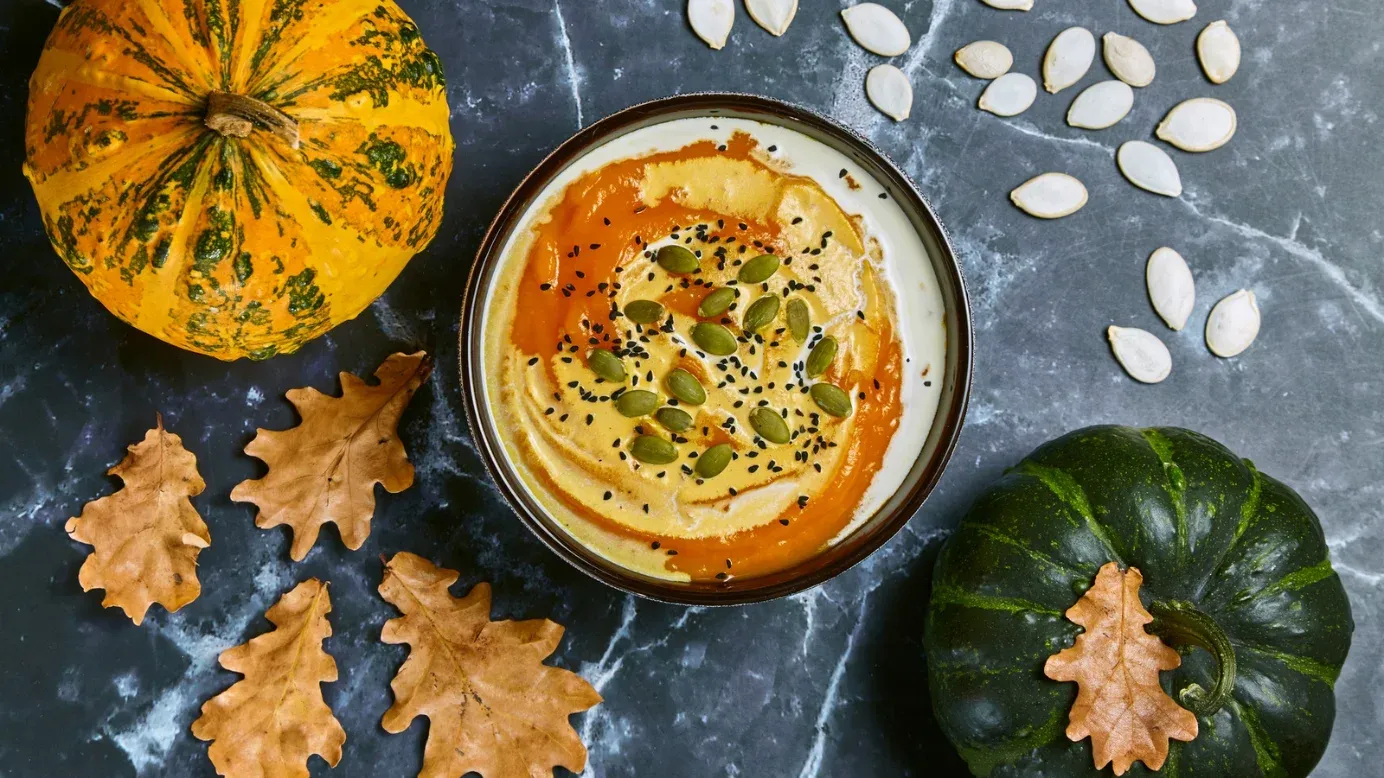 Pipe a spiderweb design on a platter using black bean hummus and top it with a plastic spider, creating a visually impressive centerpiece for dipping.
9. Zombie brains cheese ball
Mold a creamy cheese ball into a brain shape and coat it with paprika for a realistic zombie brain effect, complete with crackers for spreading.
10. Worms in dirt pudding cups
Layer chocolate pudding, crushed cookies, and gummy worms in clear cups to create a fun and spooky dessert that resembles worms crawling through dirt.
11. Monster mash avocado toasts
Top whole-grain toast with mashed avocado, creating playful monster faces using cherry tomatoes, olives, and sprouts, offering a healthy and whimsical snack.
12. Mummy hot dogs in a blanket
Wrap cocktail sausages with strips of crescent roll dough, leaving a small opening for the mummy's eyes, resulting in a cute and tasty Halloween snack.
13. Candy corn fruit parfaits
Layer pineapple chunks, mandarin oranges, and whipped cream in clear glasses to mimic the iconic candy corn, providing a sweet and festive dessert option.
14. Cemetery veggie platter
Arrange an assortment of fresh vegetables in a graveyard-like display, using cherry tomatoes as tombstones and dip-filled bell peppers as mausoleums, offering a spooky yet nutritious appetizer.
15. Pumpkin patch stuffed mushrooms
Fill button mushrooms with a savory mixture of cream cheese, garlic, and herbs, then top them with a roasted red pepper stem for a flavorful and festive dish.
16. Bats in a blanket with blood sauce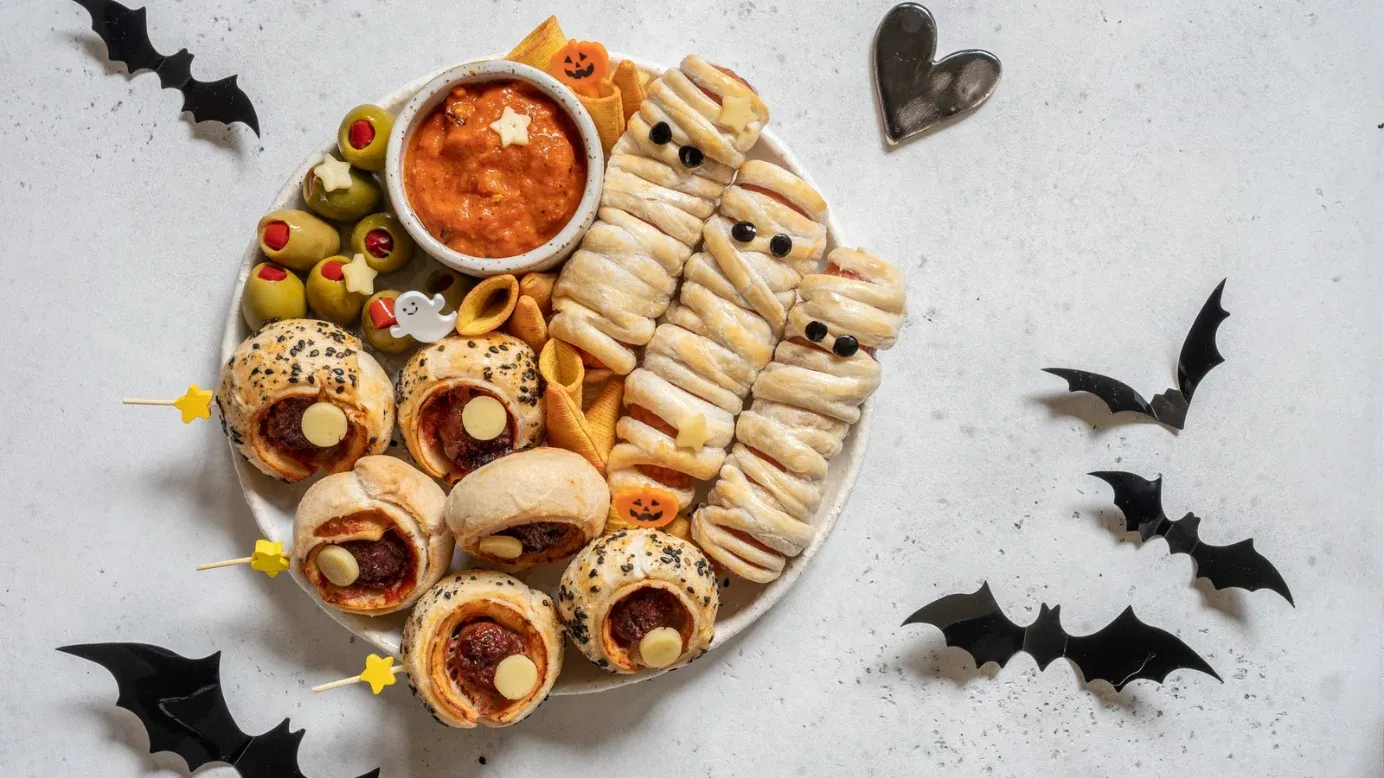 Wrap mini sausages with crescent roll dough, shaping them into bat-like figures, and serve with a vibrant red raspberry sauce for a visually striking appetizer.
17. Candy apple nachos
Slice apples and arrange them on a platter, drizzling them with caramel sauce and chocolate, then sprinkle with mini chocolate chips and candy corn for a sweet and shareable treat.
18. Cursed cheese platter
Assemble a variety of cheeses, crackers, and charcuterie on a serving board, adding creepy accents like gummy spiders and edible black garlic bulbs for a sophisticated yet spooky spread.
19. Witch's brew pumpkin soup
Serve a velvety pumpkin soup in individual cauldron-shaped bowls, garnished with a swirl of sour cream and a sprinkle of black sesame seeds for a witchy and warming appetizer.
20. Ghostly puff pastry pinwheels
Roll out puff pastry, spread with cream cheese and spinach, then roll it up and slice into pinwheels, creating ghost-like spirals that puff up when baked, making for a fun and flavorful snack.
21. Creepy crawly antipasto platter
Arrange an assortment of marinated vegetables, cheeses, and cured meats to resemble creepy crawlies, complete with olive spiders and prosciutto-wrapped mummies for a visually stunning and delicious starter.
22. Witch's brew spinach dip bread bowl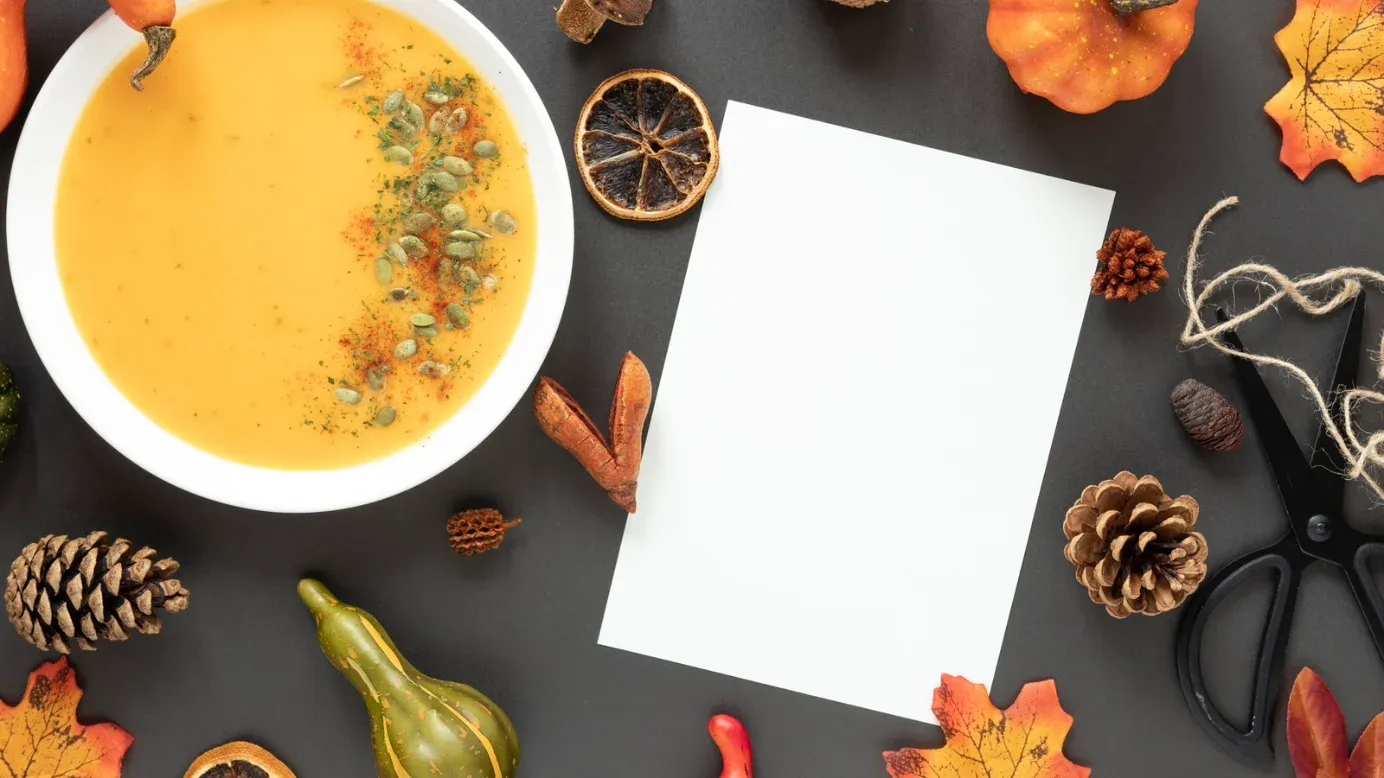 Hollow out a round loaf of bread and fill it with a creamy spinach dip, creating a cauldron-like centerpiece surrounded by breadstick broomsticks for a whimsically spooky appetizer.
23. Monster eyeball deviled potatoes
Hollow out baby potatoes and fill them with a zesty deviled egg mixture, topping each with a sliced olive "eyeball" for a playful and flavorful twist on a classic dish.
24. Graveyard dip with tombstone crackers
Serve a savory dip in a rectangular dish, garnished with tombstone-shaped crackers made from toasted bread, offering a spooky and interactive appetizer for guests to enjoy.
25. Candy corn stuffed bell peppers
Fill halved bell peppers with layers of seasoned ground meat, rice, and cheddar cheese, resembling the iconic candy corn, baked to perfection for a hearty and festive dish.
26. Haunted pumpkin cheese ball
Shape a cheese ball mixture into a pumpkin and coat it with crushed nuts for a textured effect, adding a bell pepper stem and celery leaves, creating a charming and tasty centerpiece.
27. Vampire bite caprese skewers
Skewer mozzarella balls, cherry tomatoes, and basil leaves, then drizzle with balsamic glaze to mimic vampire bites, offering a visually striking and delicious appetizer.
28. Mummy wrapped jalapeño poppers
Wrap jalapeño halves with strips of crescent roll dough, resembling mummies, and fill them with a spicy cream cheese mixture for a delightful and slightly spicy snack.
29. Worms in a swamp guacamole
Create an enticing swamp-like scene by placing guacamole in a shallow dish, topping it with gummy worms and serving with tortilla chip "lily pads" for a playful and tasty dip.
30. Wicked witch finger breadsticks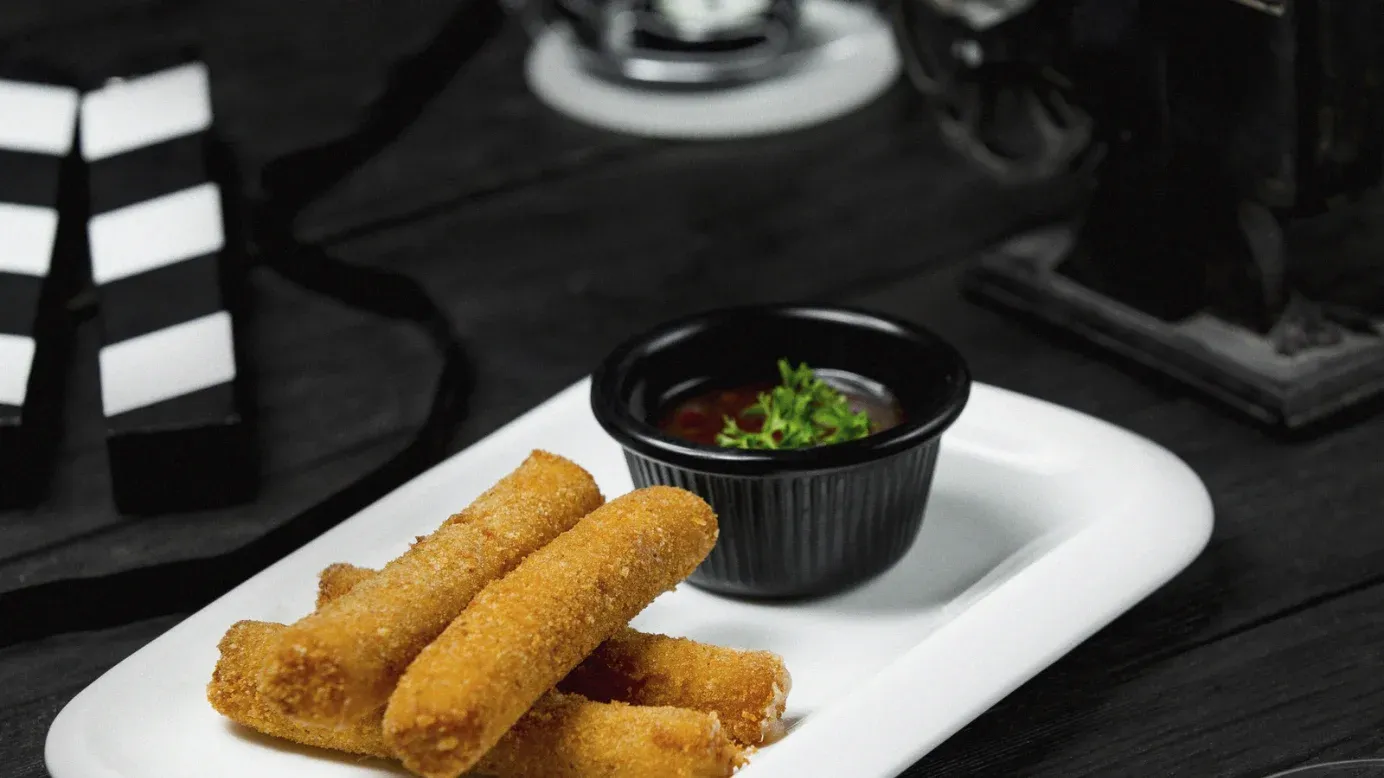 Shape breadstick dough into long, gnarled witch fingers, complete with almond slice "nails," offering a whimsically spooky and bread-based snack.
31. Zombie brains caprese salad
Arrange tomato slices, fresh mozzarella, and basil leaves in a brain-like pattern, drizzled with balsamic reduction, creating a visually striking and flavorful appetizer.
32. Haunted ghost pepper wings
Toss crispy chicken wings in a spicy ghost pepper sauce, creating a fiery and flavorful snack that's sure to add a kick to your Halloween celebration.
33. Spiderweb taco dip platter
Layer refried beans, guacamole, sour cream, and cheese in a circular dish, then use black bean salsa to create a spiderweb design, offering an eye-catching and delicious dip.
34. Mummy wrapped sausages
Wrap cocktail sausages with strips of puff pastry dough to create mummy-like figures, adding mustard eyes for a playful and satisfying Halloween snack.
35. Cursed cauliflower "Brain" bites
Roast cauliflower florets and toss them in a spicy buffalo sauce, arranging them to resemble a brain on a platter for a visually striking and flavorful appetizer.
36. Vampire blood Beet soup
Serve a vibrant beet soup in individual shot glasses, garnished with a dollop of sour cream and a drizzle of olive oil, offering a visually stunning and flavorful Halloween starter.
37. Spooky spiderweb pizza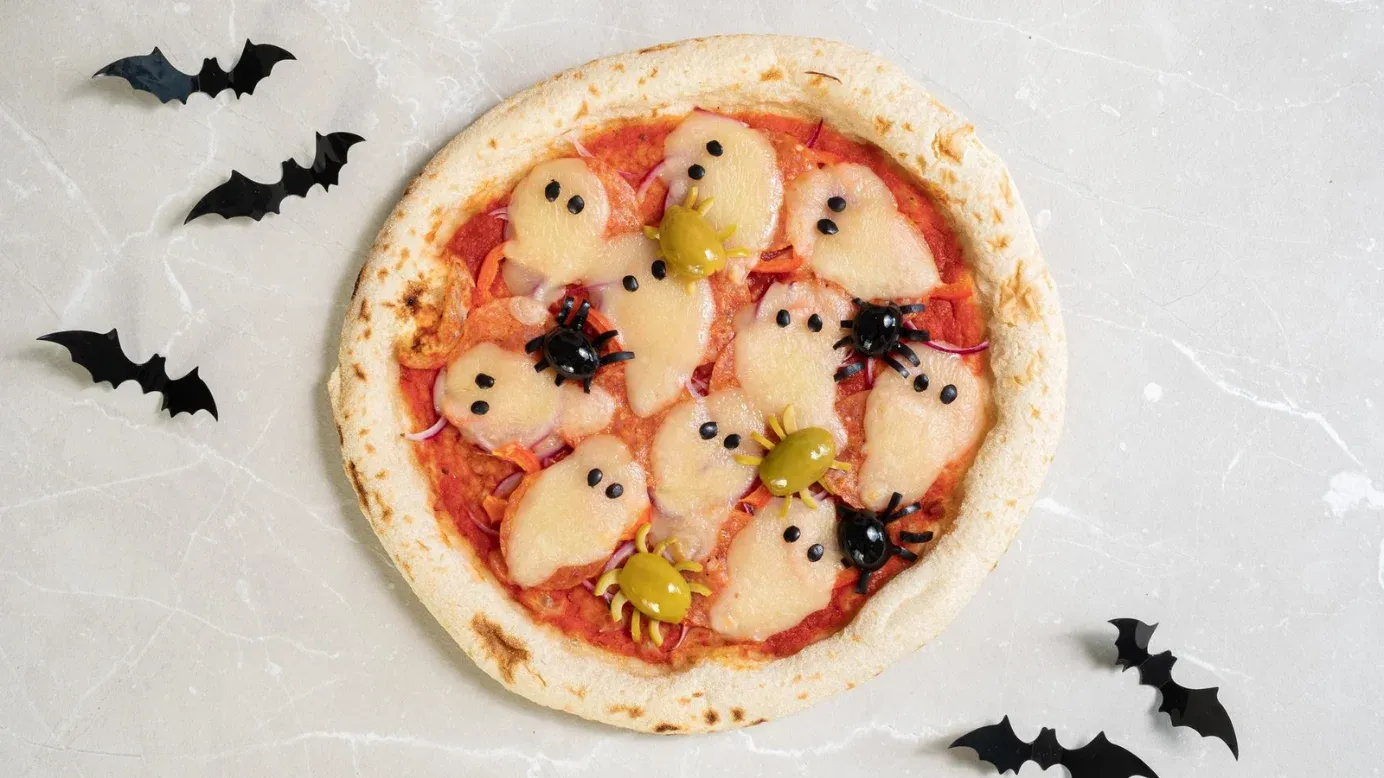 Create a pizza with a spiderweb design using pizza sauce and cheese, adding olive spiders for a playful and delicious Halloween-themed dish.
38. Skeletal veggie platter
Arrange an assortment of fresh vegetables to resemble a skeletal figure, complete with cauliflower skull, cucumber ribcage, and carrot limb bones, offering a creepy yet nutritious appetizer.
39. Witch hat stuffed mushrooms
Fill button mushrooms with a savory mixture of cream cheese, garlic, and herbs, then top them with a crispy tortilla chip witch hat for a flavorful and festive dish.
40. Jack-o'-Lantern hummus bowls
Carve mini pumpkins and fill them with your favorite hummus, adding carrot sticks as handles for an adorable and tasty Halloween appetizer.
20 Halloween desserts for an workplace party
Here are 20 Halloween desserts perfect for a workplace party, each with a brief description:
1. Haunted red velvet cupcakes with cream cheese frosting
Moist red velvet cupcakes topped with swirls of creamy, tangy cream cheese frosting, adorned with spooky edible decorations for a festive touch.
2. Witch hat sugar cookies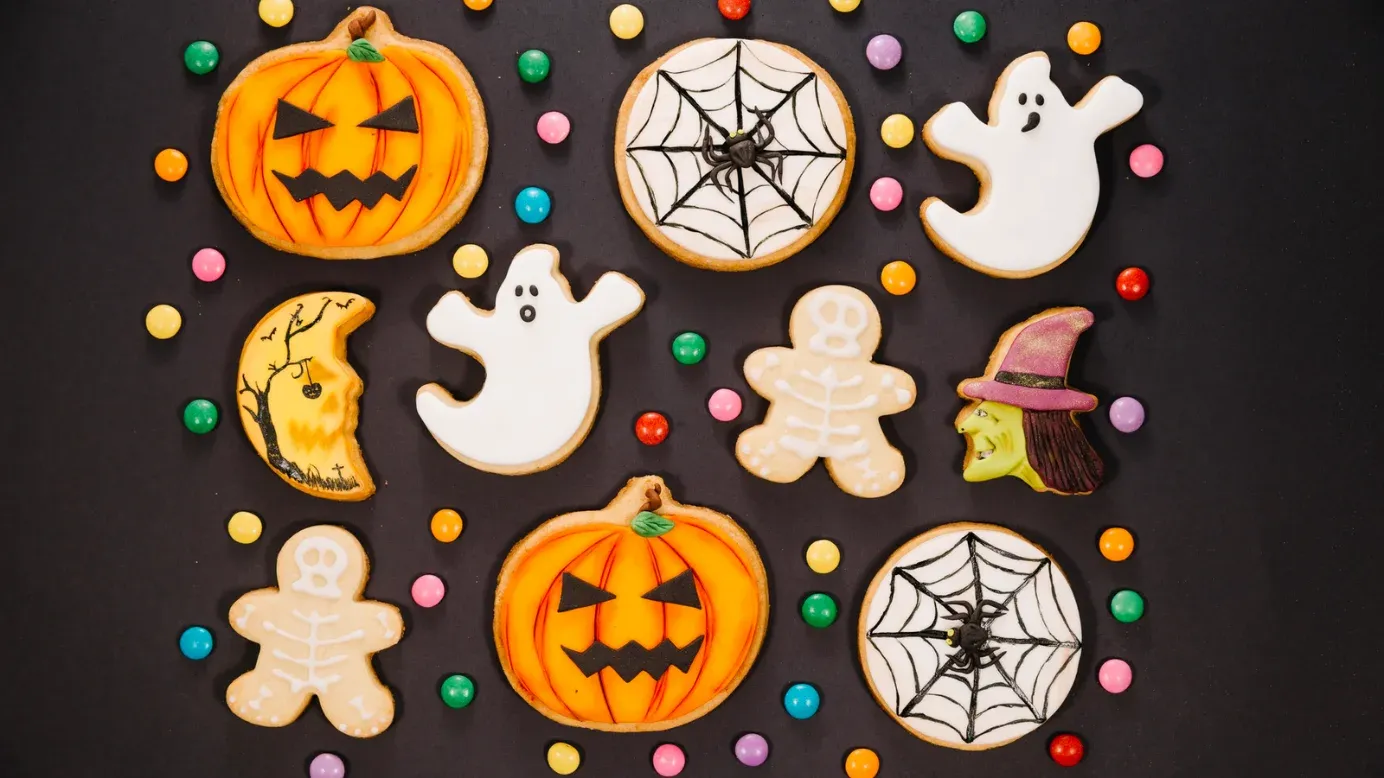 Delightful sugar cookies shaped like witch hats, decorated with vibrant icing and sprinkles, offering a charming and delicious treat.
3. Pumpkin cheesecake bars
Creamy pumpkin-flavored cheesecake filling on a buttery graham cracker crust, cut into bars for easy sharing among coworkers.
4. Mummy brownies
Fudgy brownies draped in white chocolate strips to create adorable mummy figures, complete with candy eyes for a fun and spooky twist.
5. Candy corn rice krispie treats
Classic Rice Krispie treats layered in the iconic candy corn colors, offering a delightful and nostalgic sweet treat.
6. Graveyard chocolate cake
Rich chocolate cake layered with chocolate frosting and decorated to resemble a spooky graveyard, complete with cookie tombstones and edible dirt.
7. Eyeball cake pops
Moist cake pops shaped into creepy eyeballs, coated in white chocolate and decorated with red gel for a ghoulishly fun dessert.
8. Spiderweb chocolate tart
A decadent chocolate tart with a spiderweb design piped on top using white chocolate ganache, creating a visually striking and indulgent treat.
9. Pumpkin spice macarons
Delicate pumpkin-flavored macarons filled with a creamy spiced filling, offering a sophisticated and seasonal dessert option.
10. Ghostly oreo truffles
Creamy Oreo cookie truffles shaped into ghostly figures, coated in white chocolate and decorated with mini chocolate chip eyes for a playful and delicious treat.
11. Caramel apple cupcakes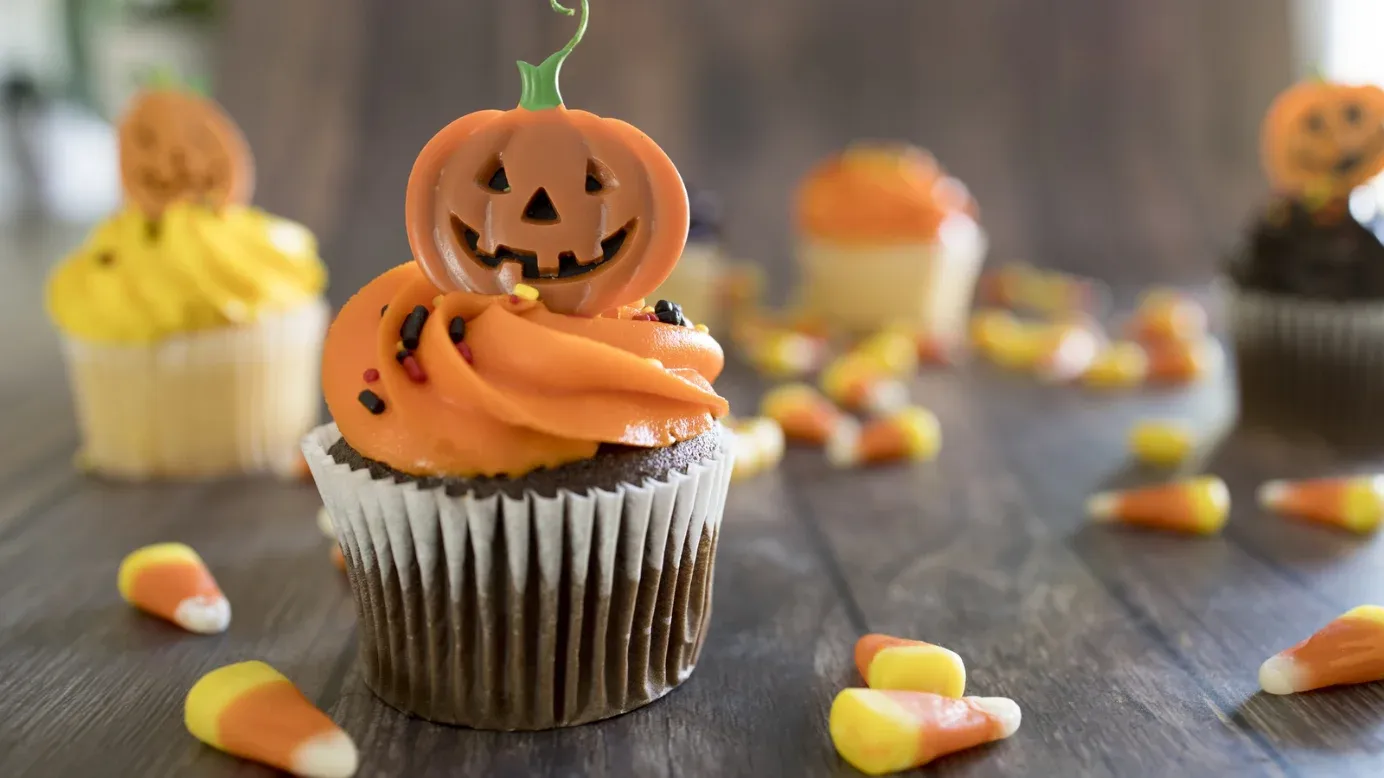 Moist apple-flavored cupcakes filled with gooey caramel and topped with cinnamon-spiced cream cheese frosting, evoking the flavors of a classic autumn treat.
12. Candy corn parfait cups
Layers of orange-flavored gelatin, vanilla pudding, and whipped cream, garnished with candy corn candies for a festive and refreshing dessert.
13. Haunted gingerbread house cookies
Mini gingerbread house cookies decorated with royal icing to resemble haunted houses, providing a charming and interactive dessert option.
14. Witches' cauldron cake pops
Cake pops shaped like bubbling cauldrons, coated in black and green chocolate and decorated with colorful sprinkles for a whimsical Halloween treat.
15. Frankenstein rice krispie treats
Adorable Rice Krispie treats molded into Frankenstein faces, complete with green icing and candy accents for a fun and spooky dessert.
16. Bloody red velvet trifle
Layers of red velvet cake, raspberry sauce, and whipped cream, garnished with raspberry coulis to create a visually striking and indulgent dessert.
17. Candy corn meringue kisses
Light and airy meringue kisses tinted in candy corn colors, offering a delicate and festive sweet treat.
18. Jack-o'-Lantern whoopie pies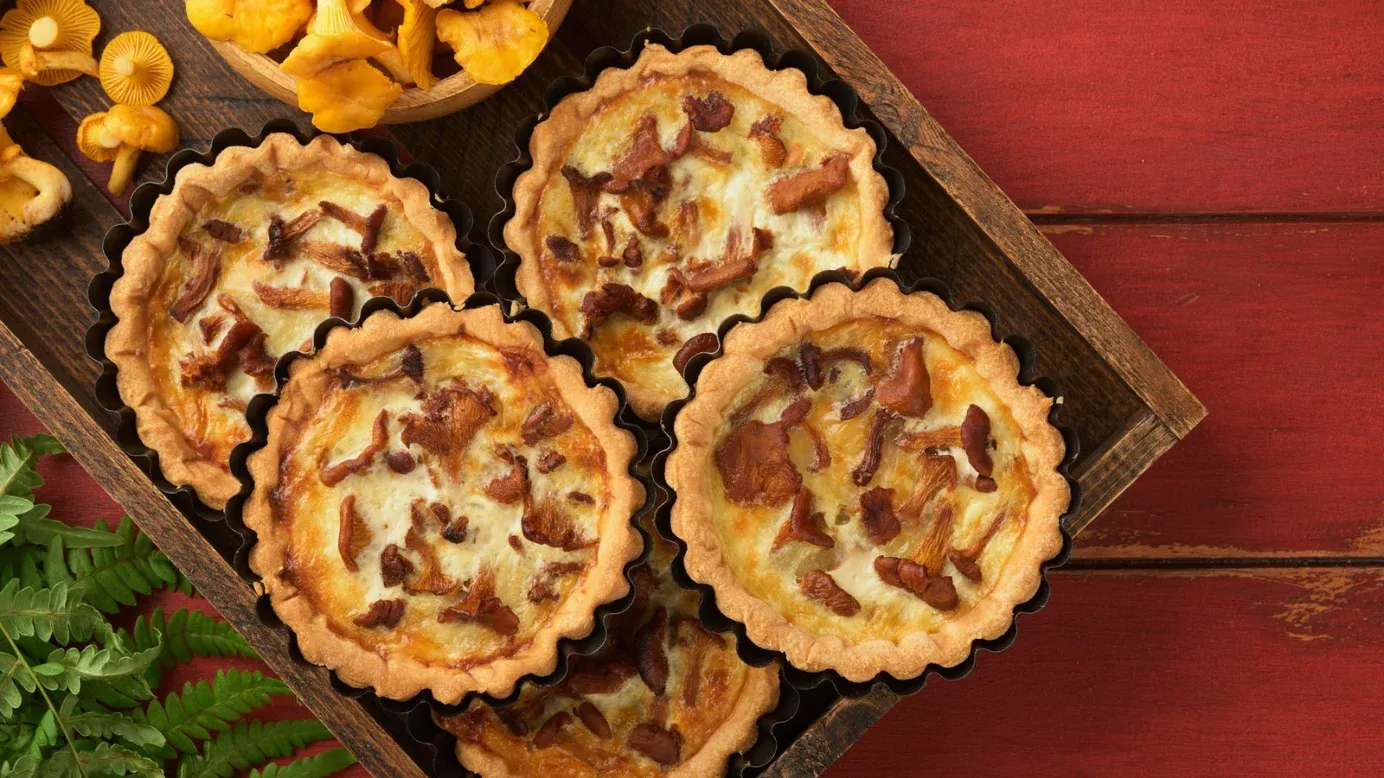 Soft pumpkin-flavored cookies sandwiched with a creamy filling, decorated to resemble grinning jack-o'-lantern faces for a playful and tasty dessert.
19. Haunted haystacks
Crunchy chow mein noodle haystacks coated in chocolate and shaped into spooky spider nests, complete with candy spiders for a whimsical and delightful treat.
20. Monster mash chocolate bark
Dark chocolate bark swirled with colorful candy melts, sprinkled with assorted Halloween candies and edible googly eyes for a playful and visually appealing dessert.
👻 Organizing Halloween snack party

Halloween is all about sharing laughs, making memories, and celebrating together. It's the perfect time to strengthen our bonds and have a blast!

🕸️ How it works:

→ Announcement: We're conjuring up an eventful day filled with spooktacular games like "Stuff Your Mouth," "Magic Rebel Platter Eater," and many more! Whether you're with us virtually or haunting our office, get ready for a ghoulishly good time!

→ Participation: We dare you to don your most fang-tastic ethnic attire and accessories! Join forces with your fellow witches and warlocks to tackle a series of thrilling games. It's time to team up and show your supernatural skills!

→ Engage & encourage: Even if you're working from your crypt, we want you to join in on the otherworldly fun! Be virtually present, cheer on your teammates, and participate with spine-tingling enthusiasm. Let's make this a Halloween to remember!

→ Rewards: As the clock strikes midnight, we'll raise the stakes. The team or individual who reigns supreme in the games will be bewitched with a treasure trove of rewards! From fun goodies to a certificate of otherworldly excellence, there's something for everyone.Get ready to be spellbound by the festivities! 🧙‍♀️🧛‍♂️🦇

🎉 How to join the fun:

Stay tuned for updates on our virtual forum and here. We'll be sharing all the wicked details, including game rules and costume inspiration.

Let's make this Halloween Snack Party the spookiest, most fang-tastic event yet! Get your broomsticks ready, because it's going to be a bewitching time! 🧹👻

Creep it real,

P.S. Get your cackles and potions ready! This is going to be epic! 🕷️🕸️
Leverage Xoxoday Empuls to announce a Halloween snack party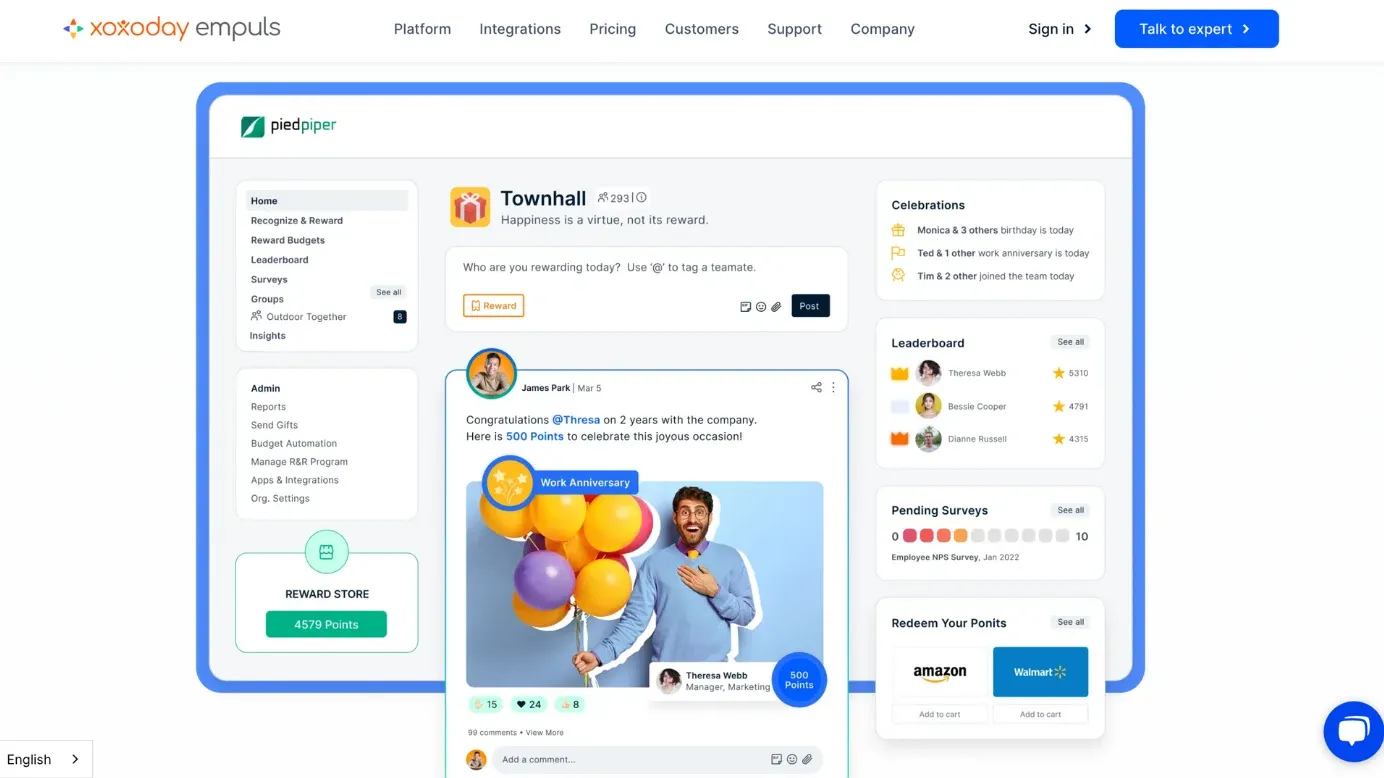 Xoxoday Empuls is your go-to platform for an unforgettable Halloween Snack Party! Dive into the spooky fun and make it a hauntingly good time for all your team members. Here's how:
1. Initiate the party day on Empuls
Craft an eerily enticing post or banner right within the Empuls platform to announce our upcoming Halloween Snack Party. Ensure every employee gets a spine-chilling notification about this thrilling event!
2. Establish dedicated groups
Create a "Halloween Snack Party Specters" group on Empuls. This wickedly convenient hub will let participants share their spooktacular photos, interact with fellow ghouls, and stay in the loop with event details.
3. Event day prompt
Use Empuls' notification and reminder feature to give employees a gentle nudge about the event day. This ensures everyone has enough time to conjure up their scarily spectacular costumes!
4. Foster engagement through gamification
Embrace Empuls' point-based system to incentivize active involvement. Assign points for victorious gameplays, interaction with others' posts (likes, comments), and even for sharing your most bone-chilling content. It's a ghostly good way to boost participation!
5. Implement leaderboard integration
Incorporate a chillingly competitive leaderboard on Empuls, showcasing the most spirited participants. This friendly rivalry serves as an extra incentive for heightened engagement. Who will be crowned the Halloween Party King or Queen?
6. Reward and recognize
Xoxoday Empuls effortlessly integrates a rewards system. Once the hauntingly fun event concludes, honor the winners with Xoxoday points. They can later redeem them for a spooky selection of experiences, gifts, or vouchers from the platform.
7. Close the feedback loop
After the ghostly gathering, use Empuls to share images, summon feedback. Craft a brief survey or poll to unearth what employees relished, spots for potential improvement, and suggestions for future frightful fiestas.
8. Showcase the event highlights
Lastly, craft a post or a digital album within Empuls, capturing the hair-raising moments of the "Halloween Snack Party". This digital keepsake will serve as a haunting reminder of the shared festivities and the spirit of togetherness.
Embrace the eerie and make this Halloween Snack Party one for the books! 🎃👻🕷️
Conclusion
This Halloween party is set to be a hauntingly memorable event!
With 65 delectable snacks and desserts in tow, you're well-prepared to cast a spell of delight over your workplace. From mummy-inspired cookies to vampire-worthy drinks, the spooky spirit is alive and thriving. So, grab your broomsticks and pumpkin spice lattes because this Halloween bash promises to be fang-tastic!
Let the enchantment begin! 🧙‍♀️🍬🍭🧛‍♂️
#HalloweenPartyFun 🎉👻