Table of Contents
As the Festival of Lights approaches, our workplace is about to undergo a magical transformation. With 20 enchanting Hanukkah decorations, we're set to create a festive atmosphere like never before. From dazzling desk decor challenges to outdoor Hanukkah displays, we're embracing the spirit of the holiday with creativity and enthusiasm.
In the office, the air is abuzz with excitement as teams prepare to participate in the Hanukkah desk decor extravaganza. Each desk is set to become a canvas of creativity, adorned with Hanukkah-themed decorations that tell a story of tradition and innovation. The camaraderie among colleagues is palpable as they gear up for the challenge, and Xoxoday Empuls plays a pivotal role in bringing everyone together.
Our "Hanukkah desk decor masters" group on Empuls is a hub of knowledge, tips, and discussions, as employees eagerly exchange ideas on how to make their workspaces shine. The trivia challenges, notifications, and reminders spark a sense of friendly competition and ignite the creative spark in all participants.
So, as we embark on this journey of Hanukkah decoration, let's embrace the magic of the season, honor traditions, and welcome innovation. It's not just a decoration challenge; it's a celebration of creativity, camaraderie, and the enduring spirit of Hanukkah. 🌟🕎✨
Why do we celebrate Hanukkah?
Hanukkah, also known as the Festival of Lights, is celebrated to commemorate a significant historical event in Jewish history. The holiday centers around the rededication of the Second Temple in Jerusalem during the second century BCE.
The celebration of Hanukkah is rooted in the following key historical and cultural elements:
The Maccabean Revolt: In the 2nd century BCE, the land of Judea was under the rule of the Seleucid Empire, which sought to suppress Jewish religious practices. A group of Jewish rebels known as the Maccabees, led by Judah Maccabee, rose up in rebellion against this oppression.
Reclamation of the Second Temple: After a series of successful military campaigns, the Maccabees managed to reclaim Jerusalem and the Second Temple, which had been desecrated by the Seleucids.
The Miracle of the oil: Upon reclaiming the temple, the Maccabees sought to rededicate it. They found only a small amount of sacred oil, enough to light the temple's menorah (a seven-branched candelabrum) for one day. However, the oil miraculously lasted for eight days, allowing time for more oil to be prepared. This event is seen as a symbol of divine intervention and is central to the Hanukkah story.
Celebration of religious freedom: Hanukkah symbolizes the triumph of religious freedom. The Jewish people regained the right to practice their faith without interference, and the Second Temple was rededicated to the worship of God.
Cultural identity and resilience: Hanukkah serves as a reminder of the Jewish people's determination to preserve their religious and cultural identity in the face of adversity. The Maccabees' victory against a powerful empire demonstrates their resilience and commitment to their faith.
Traditions and customs: Over time, Hanukkah has developed a rich set of traditions, including lighting the menorah, playing the dreidel game, enjoying traditional foods like latkes and sufganiyot (jelly-filled doughnuts), and exchanging gifts.
A Time for reflection and celebration: Hanukkah is a time for Jewish communities around the world to come together, reflect on the lessons of the holiday, and celebrate the enduring spirit of the Jewish people.
10 Hanukkah decoration ideas outside office
Here are 10 Hanukkah decoration ideas outside office:
1. Hanukkah string lights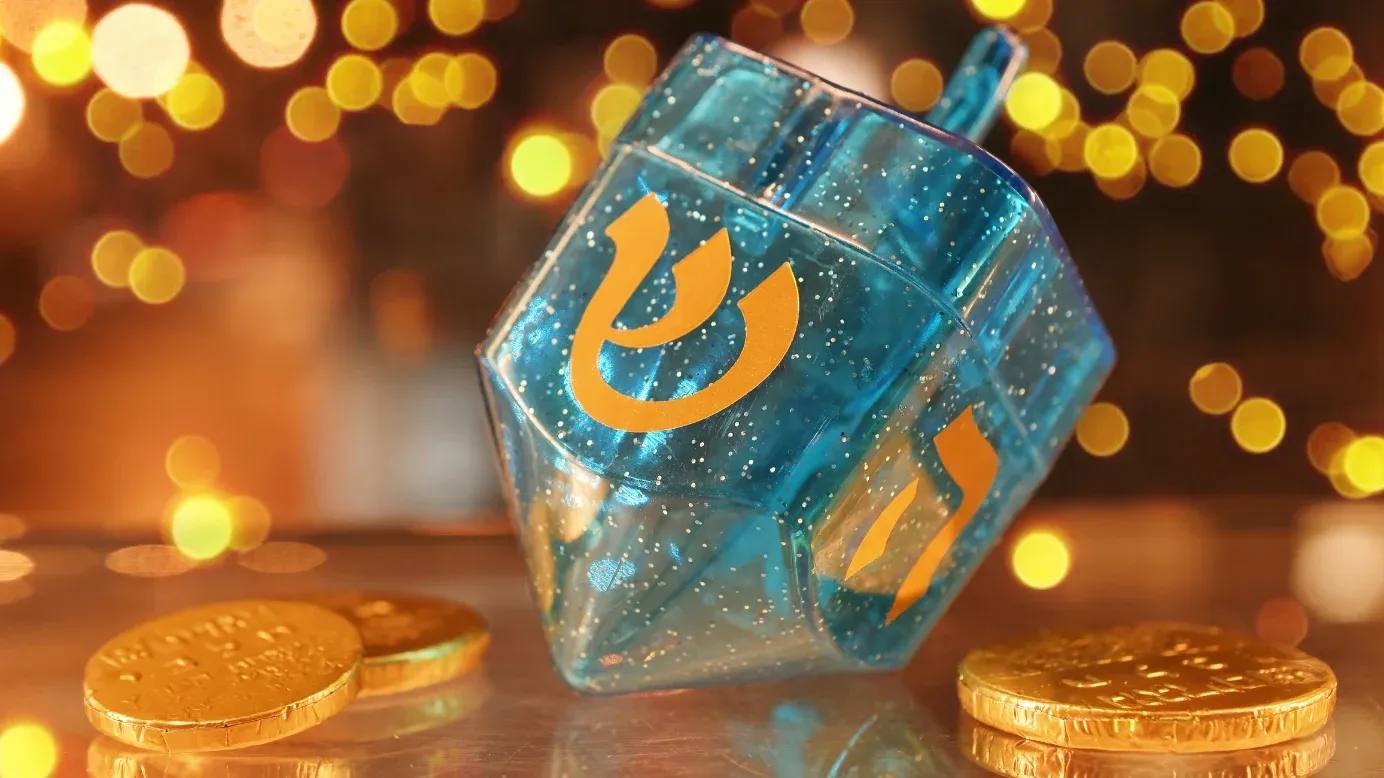 Adorn the exterior of the office with Hanukkah-themed string lights. Opt for blue and white lights to represent the traditional colors of the holiday. You can wrap them around trees, railings, or along the edges of the building for a sparkling display.
2. Giant Hanukkah menorah
Consider setting up a larger-than-life Menorah display outside the office. It could be made of sturdy materials like wood or metal, and you can illuminate it each night to symbolize the progression of the holiday.
3. Festive Hanukkah banners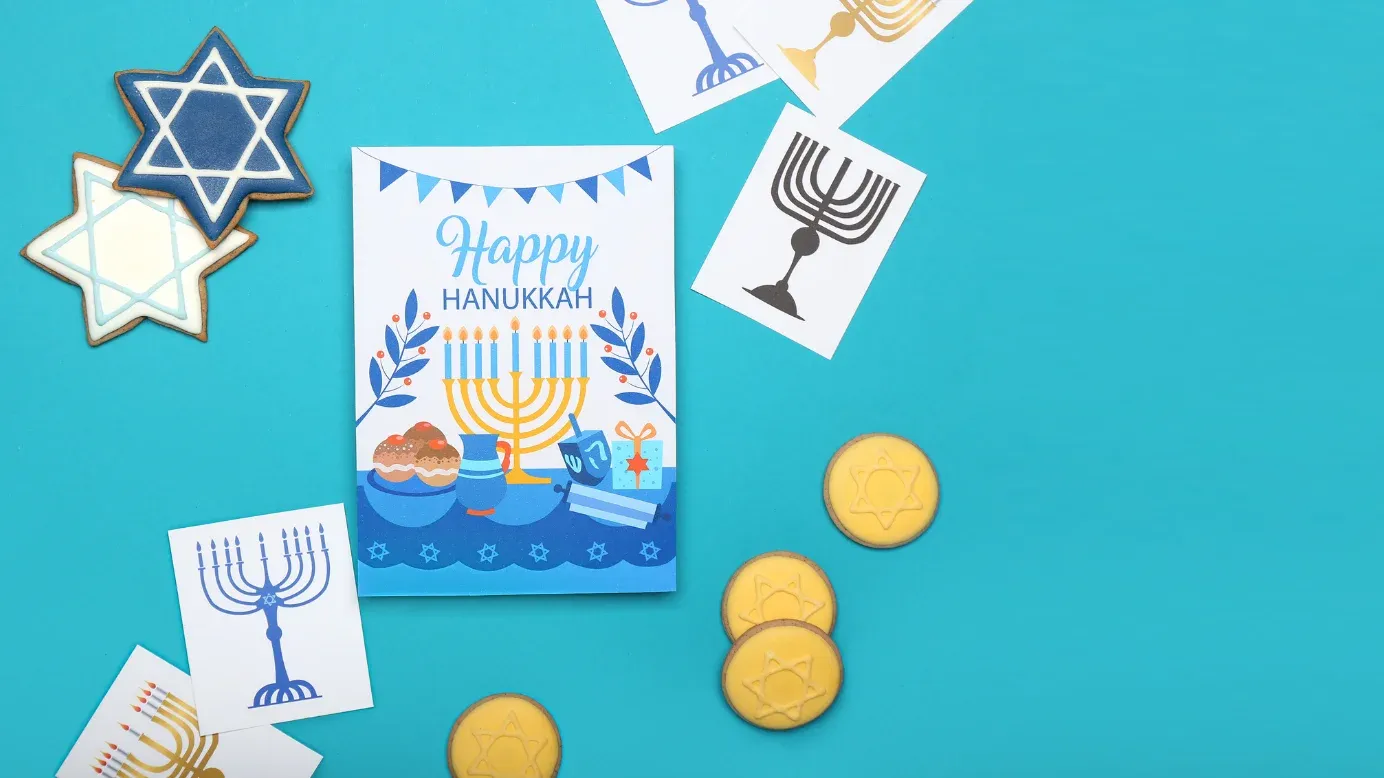 Hang Hanukkah-themed banners with messages of joy and celebration. You can choose designs that incorporate menorahs, dreidels, and other traditional symbols to create a welcoming atmosphere.
4. Lawn ornaments and inflatables
Incorporate Hanukkah-themed lawn ornaments and inflatables to add a playful touch. Look for items like inflatable dreidels, Hanukkah-themed lawn signs, or decorative light-up figures to bring a cheerful ambiance.
5. Hanukkah wreaths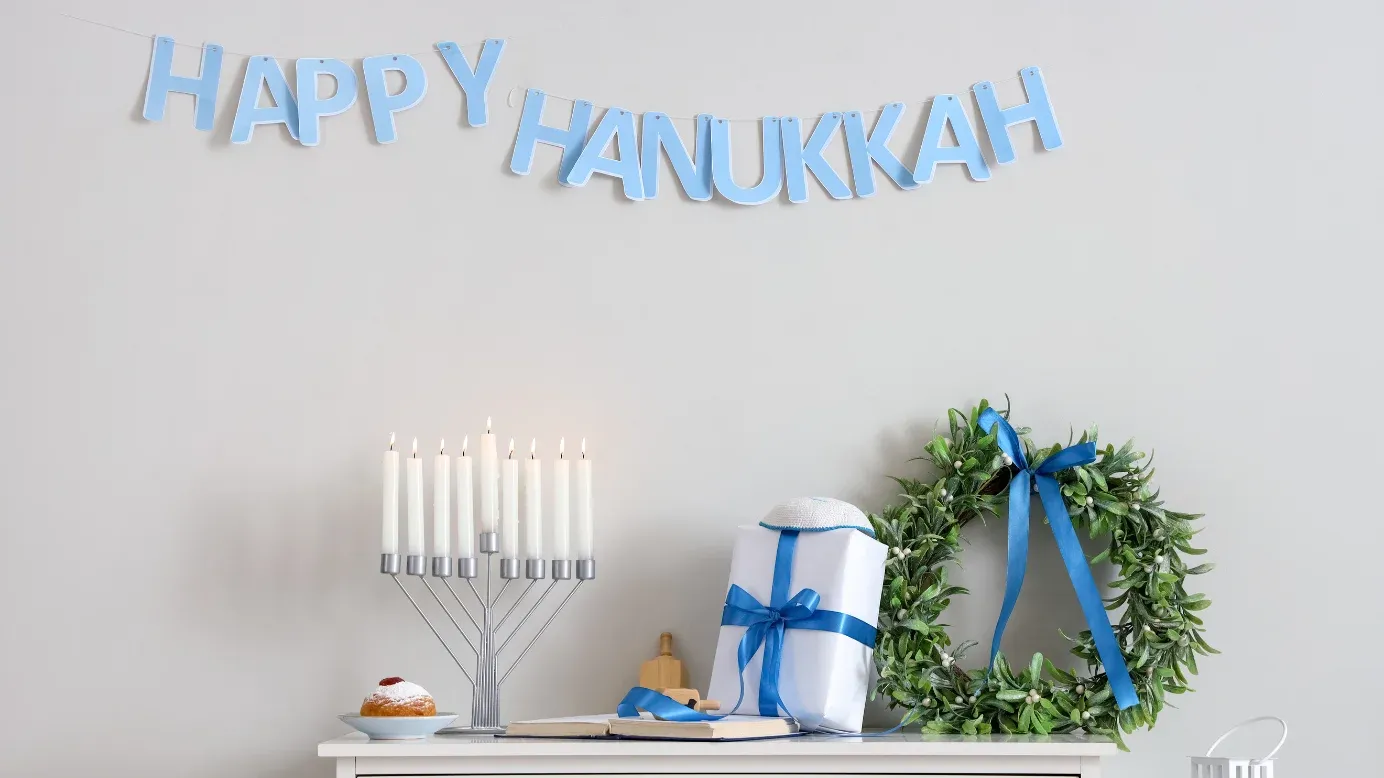 Craft or purchase Hanukkah-themed wreaths to hang on the office doors. Adorn them with blue and white ribbons, artificial candles, and small ornaments to create an inviting entryway.
6. Luminaries and candle bags
Line the walkway leading to the office with Hanukkah luminaries or candle bags. Place tea lights or battery-operated candles inside to create a warm and welcoming path for visitors and employees.
7. Hanukkah topiaries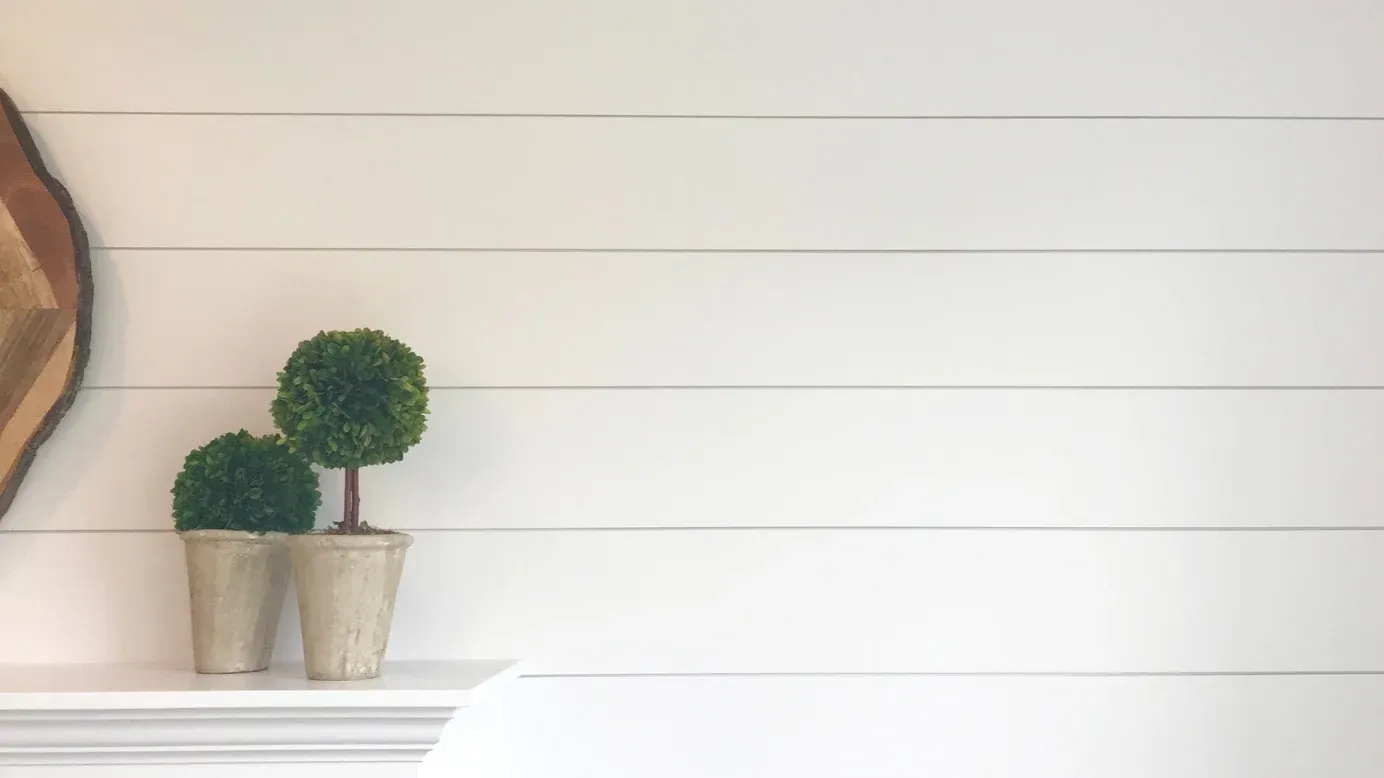 Create Hanukkah-themed topiaries using potted plants or artificial greenery. Arrange them in decorative containers, and adorn them with blue and white ribbons, small ornaments, or even miniature Menorahs.
8. Window decals and clings
Decorate the office windows with Hanukkah-themed decals and clings. Choose designs that include menorahs, Stars of David, and other festive motifs to add a touch of holiday spirit.
9. Giant dreidel display
Construct oversized dreidels using wood or other durable materials. Paint them in vibrant blue and white colors and place them strategically around the office exterior for a playful and eye-catching decoration.
10. Hanukkah pathway markers
Create decorative pathway markers using wooden stakes or PVC pipes. Paint them in blue and white, and add Hanukkah symbols like Stars of David or menorahs. Arrange them along the walkway leading to the office entrance.
10 Hanukkah decoration ideas for office party
Here are 10 Hanukkah decoration ideas for office party
1. Hanukkah balloon arch
Create a stunning entrance with a balloon arch in shades of blue and white, representing the traditional colors of Hanukkah. Include silver accents and star-shaped balloons for an extra festive touch.
2. Hanukkah table centerpieces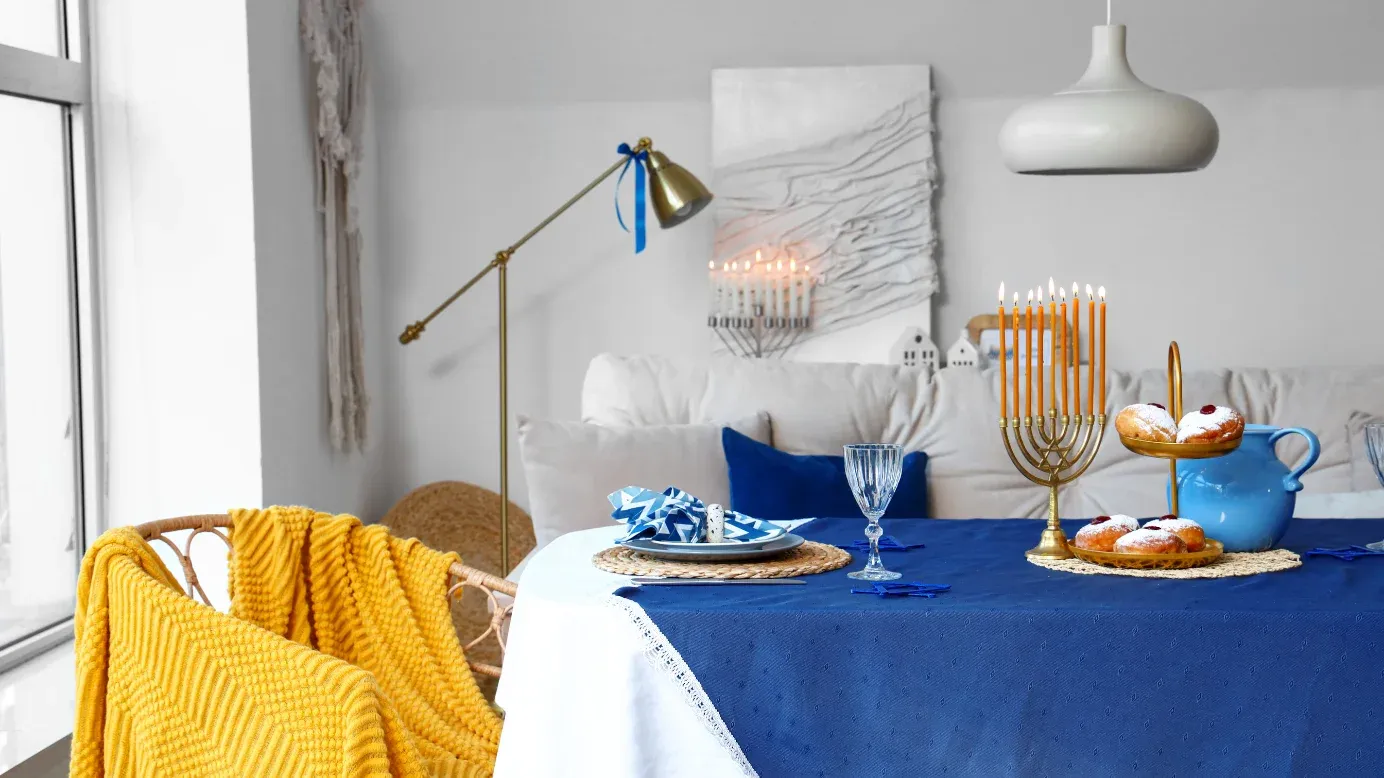 Adorn tables with elegant centerpieces inspired by Hanukkah. Consider arrangements of fresh white flowers, silver candlesticks, and blue votive candles. Add small ornaments like dreidels or gelt for an extra touch of charm.
3. Festive Hanukkah tableware
Set the table with Hanukkah-themed plates, cups, and napkins. Look for designs featuring menorahs, Stars of David, or other holiday motifs to add a special touch to the dining area.
4. Hanukkah garlands
Hang Hanukkah-themed garlands around the office space. Choose ones that incorporate symbols like menorahs, dreidels, and Stars of David for a festive atmosphere.
5. Hanukkah lanterns
Illuminate the space with Hanukkah lanterns. Use battery-operated candles to ensure safety. Hang them from the ceiling or place them on tables for a warm and inviting glow.
6. Star of David cutouts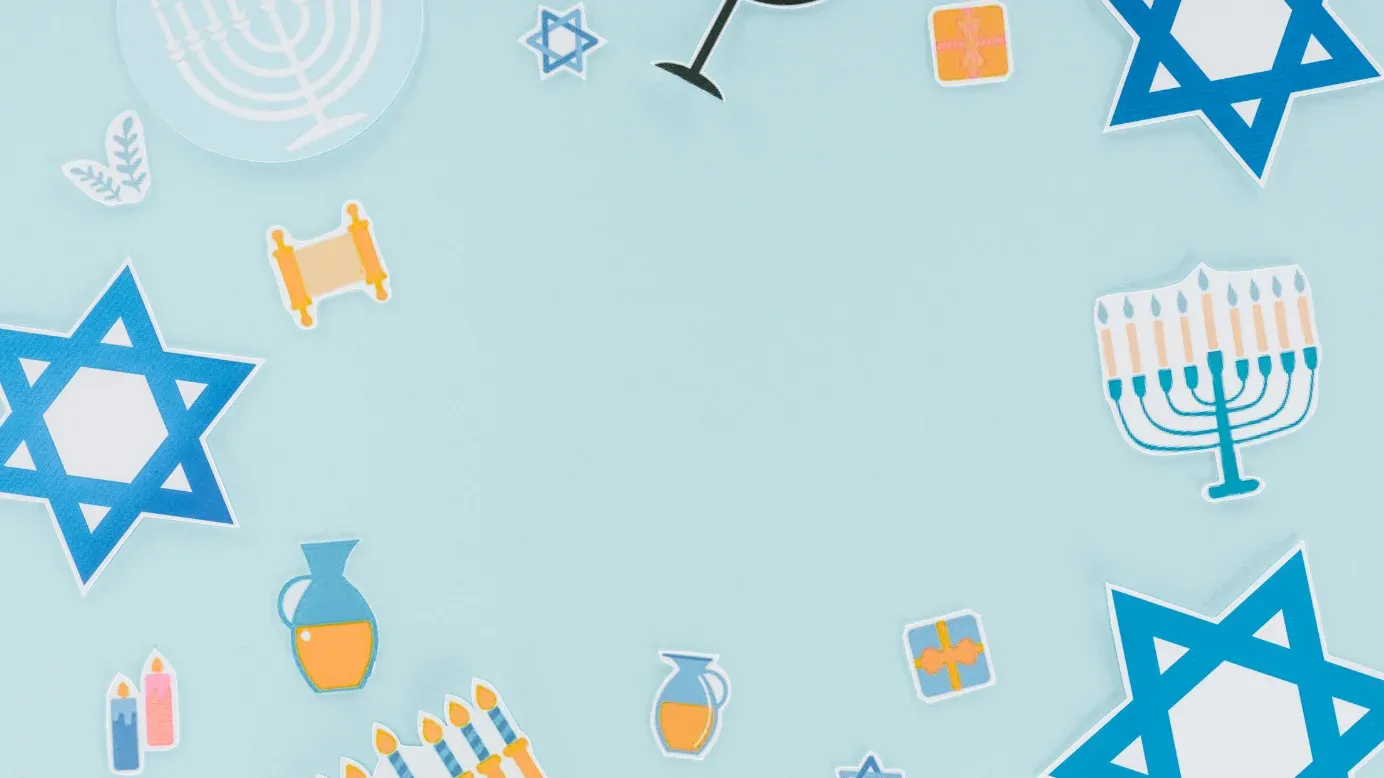 Decorate walls and windows with Star of David cutouts. You can use metallic or glittery paper to add a touch of sparkle. Arrange them creatively to bring a sense of tradition and elegance to the space.
7. Hanukkah banner backdrop
Create a photo-worthy backdrop featuring a Hanukkah banner. This can serve as a focal point for group photos and add a festive touch to the celebration.
8. Hanukkah wall decals
Apply removable Hanukkah-themed wall decals to add a decorative touch to the office space. Consider placing them near common areas or in high-traffic areas for maximum visibility.
9. Hanukkah paper lanterns
Hang paper lanterns in shades of blue and white from the ceiling. Add LED lights to the lanterns for an enchanting display that brightens up the space.
10. Hanukkah floor decals
Apply floor decals with Hanukkah motifs in high-traffic areas. This unexpected decoration element can add a playful touch and enhance the overall atmosphere of the party.
💡
🕎 Hanukkah desk decor challenge: Get ready to light up your workspace with a burst of Hanukkah spirit!

🌟Gather 'round, desk decorators extraordinaire! It's time to infuse your workspace with the dazzling glow of Hanukkah. Get ready for a day of creativity and fun as we transform our desks into festive Hanukkah wonderlands! 🏢

Announcement:
🕎 Brace yourselves for the most dazzling desk decor challenge of the year! 🎉 On the eve of Hanukkah, we're set to witness an explosion of creativity right at our desks - a celebration of lights and festivity like never before! 🕎🌆

Participation:
🌟 Embrace the Hanukkah spirit with festive desk decorations and attire that rival the brilliance of a Menorah! 🌌🌟 Rally your colleagues, whether they're joining in-person or virtually, and let's light up our workspace with an explosion of Hanukkah creativity! 🏆

Engage & encourage:
🎉 We want to see your Hanukkah flair shine through! Encourage your colleagues to take part in this creative challenge, and share the festive spirit with your best Hanukkah desk decor tips! 📸✨

Rewards:
🎁 At the conclusion of our Hanukkah Desk Decor Extravaganza, the individual or team with the most dazzling desk display will be crowned the Hanukkah Decor Champions! 🥇

They'll take home fabulous prizes and, of course, the prestigious title of "Master of Hanukkah Decor!" 🏅

🕎Let's illuminate our workspaces with Hanukkah magic and turn this challenge into a festival of creativity and lights! 🎊🌟
🕎✨ The great Hanukkah desk decor showdown, presented by Xoxoday Empuls: sparkle, shine, and show your festive flair! 🌟🕎
Hey Amazing Team, gear up for a dazzling journey as we transform our workspaces into vibrant Hanukkah wonderlands! Get ready to immerse yourselves in this unforgettable challenge, where creativity knows no bounds. Here's your guide to making the most of our "Hanukkah desk decor extravaganza" using the power of Xoxoday Empuls:
1. 🌟 Unleash the festive magic on Empuls
Let's kickstart the festivities by crafting a show-stopping post or banner right here on Empuls! Get everyone buzzing with excitement as we announce the grand Hanukkah Desk Decor Challenge. Make sure no one misses out on the sparkly spectacle that awaits!
2. 💡 Form your dream team
Introducing the exclusive zone on Empuls - "Hanukkah Desk Decor Masters"! This is where the magic happens. Engage in epic discussions, share tips, and stay in the loop about daily themes. Let the Hanukkah spirit unite us all in creative camaraderie!
3. 🚀 Reminders to ignite the creative spark
It's time to don your creative thinking caps! Empuls' handy notification feature will be our beacon, gently reminding all to dive into this fantastic journey of decoration brilliance. Let's make our desks shine with the essence of Hanukkah!
4. 🎲 Game on, decoration enthusiasts
Empuls is the ultimate arena for spirited competition! Earn points by sharing your decoration journey, engaging with your colleagues' decor responses, and diving into lively decoration discussions. Let the games begin, and may the most creative desk win!
5. 🏆 The Hanukkah decor crown awaits
Let's turn to the trusty polling system to crown our Hanukkah Decor Champions! Everyone gets a say in choosing the most extraordinary displays, and we'll celebrate the top Hanukkah Desk Decor Masters in style!
6. 🎁 Rewards fit for Hanukkah royalty
Xoxoday Empuls brings a treasure trove of rewards! The victorious Hanukkah Decor Champions will receive gift cards and Xoxoday points, opening doors to a world of experiences, presents, and vouchers.
7. 🗣️ Your voice shapes future celebrations
After the grand spectacle, let's hear your thoughts on this spectacular event! Empuls will be our platform for gathering insights, preferences, and ingenious suggestions for upcoming challenges.
Get ready for an unforgettable journey in our Hanukkah Desk Decor Extravaganza! With Xoxoday Empuls, it's not just a challenge; it's a magnificent experience. Join us for a day of creativity, friendly rivalry, and memories that will light up this Hanukkah season! 🌟📚🏆
Conclusion
20 Hanukkah decoration ideas, you have a wealth of creative options to make your workplace truly shine during the Festival of Lights. Whether you're celebrating with traditional elegance or adding a modern twist, Hanukkah decorations can infuse your office space with warmth, joy, and a sense of togetherness.
By incorporating Hanukkah-themed decor, you not only honor the rich cultural and historical significance of the holiday but also create a welcoming and festive atmosphere for colleagues and clients alike. It's a time to reflect on the lessons of Hanukkah - resilience, faith, and the enduring power of hope - and to share the joy of the season with those around you.
So, go ahead and light up your workplace with these creative Hanukkah decorations. Whether it's a giant Menorah, dazzling string lights, or festive banners, these decorations will not only spread the holiday spirit but also strengthen the sense of community and togetherness among your colleagues. Wishing you a bright and joyous Hanukkah celebration in the workplace! 🕎🎉