There are many factors that determine whether a business is successful or not. That includes revenue, market capitalization, number of goals achieved, etc. Every company consists of employees that do their jobs that contribute to corporate success. Thus, it is imperative to understand the significance of employee satisfaction and engaged workers and their effectiveness and impact on business. That is where employee engagement surveys come into the picture. This article will help you figure out "How to create employee engagement survey questions?". It is also important to identify the difference between employee engagement and satisfaction, as every engaged employee is probably satisfied, whereas not every satisfied worker may be fully involved in what they do.
Who is a Satisfied Employees?
A satisfied professional is the one who is ok with his/her salary, place of work, responsibilities, but may not care much about their contribution to the company's success. On the contrary, an engaged employee is a person who is eager to work and motivated to make a contribution with their effort and passion. These people are usually satisfied with not only material values their employers provide them with, but also with moral aspects like relationships with colleagues, a need to be valued, and be helpful. That is why every employer should pay extra attention to the emotional climate of their employees and pay attention to whether they are engaged or not. To measure that, there exist a number of employee engagement survey questions one should ask their workers from time to time.
Let's consider some of the options and move towards understanding how to universalise employee engagement questions and how to create employee engagement surveys.
Survey as a Data Collection Method
The primary purpose of employee engagement surveys is to- Obtain information about the people's opinion, their motives and assessments, on the state of the group and individual consciousness. The data gathered by survey methods express the subjective views of respondents. They need to be compared with information of an objective nature, which must be developed in other ways. The survey should be preceded by the development of a research program, a clear definition of goals, objectives, concepts (categories of analysis), hypotheses, object, and subject, as well as research tools. Each survey involves an ordered set of questions (a questionnaire) that serves to achieve the goal of the research, solve its problems, prove or disprove a hypothesis. The wording of the items must be carefully considered in many ways, but, above all, as a way of fixing categories of analysis.
Rules on How to Design a Questionnaire When Conducting a Survey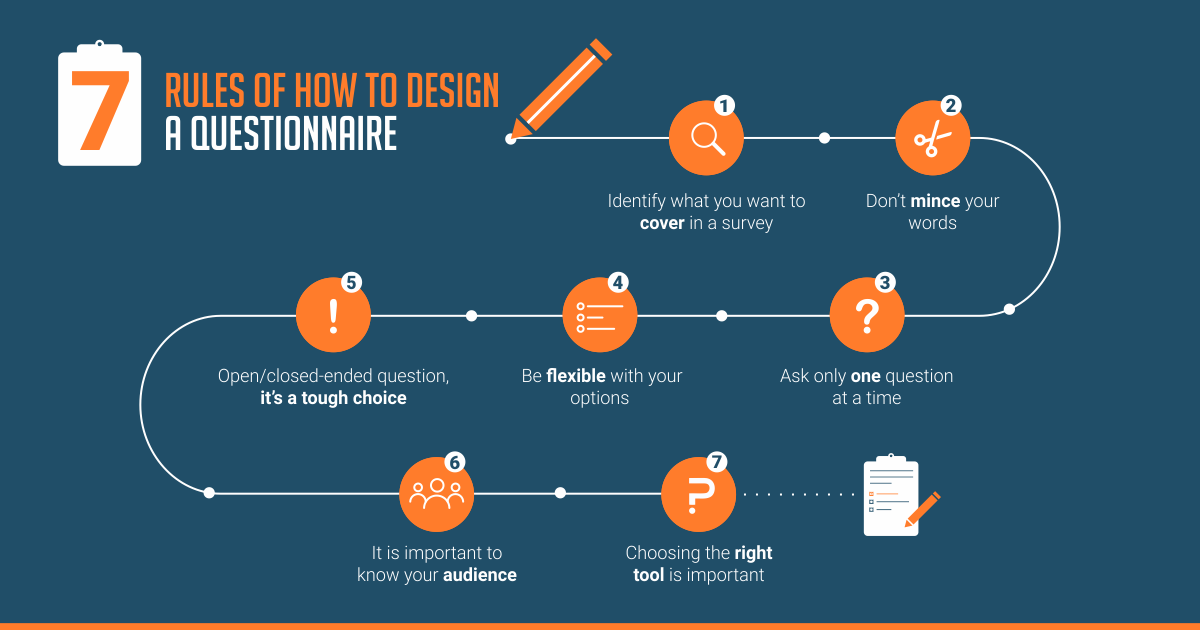 There is a set of rules that you need to consider before you create employee engagement survey:
the respondent should know who is conducting the survey and why;
ensure that the responses are true;
the respondent clearly understands the content of each question;
each survey question has to have one meaning; no several questions in one;
all employee engagement questions need to be designed in a way that implies a reasonable and accurate answer;
all employee engagement questions should be grammatically correct;
the content of the question shouldn't offend the respondent, or demean their dignity;
the interviewer does not impose response options on the respondent, behaves neutrally;
the number of questions is consistent with common sense, does not lead to an excessive intellectual and psychological overload of the respondent;
the entire system of questions and answers is sufficient to obtain the amount of information that is necessary to solve research problems.
The quality of the survey is determined by the content of the questions, the quality of the work of the questionnaires or interviewers and the conditions of the survey.
Types of Employee Engagement Questions
If you are not one of the professionals who provide immigration essay writing services, then you probably may not know that you can use different types of questions in your questionnaire. Closed questions are those that contain one or more possible answers. Closed questions are used when it is necessary to reveal a person's awareness, a person's attitude to a particular problem, or to describe specific aspects of the problem.
Requirements for compiling closed questions:
the list of answers should be exhaustive. It is necessary to foresee all possible answers in advance;
it is desirable to have the least likely among the first answers;
all answer options must be sustained at the same level of specificity;
In open-ended questions, the possible answers are not given to the respondent, and they must independently formulate and write down the answer. It is preferable to use open questions if it is necessary for the respondent to substantiate their opinion, explain why they think so. Semi-closed questions provide an opportunity to evade the pre-proposed answers and indicate your version in a dedicated line. Direct questions are formulated in a personal form (for example, "Do you like your work?"). An indirect question allows the respondent to express from the position of the group, the team; it is used when the personal life of the respondent is affected, their attitude towards negative phenomena.
Formatting Tips
Even though you might want to format your questionnaire as you like, there are several psychological tricks that might grant you as objective results as possible:
It is better to print the questions and answers to them in different font sizes, for respondents to clearly differentiate between them.
Any explanations should also be highlighted (for instance, written in italics).
Allocate enough space for answers to open-ended and semi-closed questions.
Avoid situations, when some variants are moved to the next page, as respondents might consider them as less significant.
How to Create an Employee Engagement Survey?
Now that we've sorted out what a survey is, its aim and its components; let's try to consider an exemplary employee engagement essay. Before you start, you need to understand the aims and objectives clearly. What is it that you want to achieve? If you are a part of management, then you should work together with your team members to plan out the purpose, to ensure that you're all on the same page. Depending on your company's standpoint, you may want to focus on one of the following:
Reasons for decreasing productivity.
How are the new initiatives perceived among the employees?
How are the changes in the company treated?
Of course, there might be other aspects you will like to focus on, but hopefully, you've got an idea of what your priority should be. Consequently, the aim of such a survey is to fulfill the set objectives. A crucial aspect of designing a survey is to make it as simple as possible. Even though the main goal is to ensure the company's success, you should value the time of your employees. Don't make them think too much over complex questions. The clearer a question is, the more accurate the answer is going to be.
So, if you want to gather accurate information, you may use some of the following questions:
Do you like what you do?
Do you look forward to coming to work?
Would you recommend our company to your friends?
Do you see positive survey results of what you do?
Is the work challenging? If yes, do you feel satisfied after coping with the challenges?
Are you free to choose the approach to handling your responsibilities?
Do you have a sense of purpose, while performing your job?
What are the strengths/weaknesses of our company culture?
Where would you like us to improve?‍
Needless to say that you have to keep the survey confidential and anonymous. You need to underline that every opinion matters and the survey results will be measured collectively, without singling anyone out. With that in mind, your employees are even more likely, to be honest with you, and that is what you are looking for, right? At the end of the survey, you should also provide feedback. After carefully analyzing the responses you can work out a strategy to correct the issues that may have arisen. Once you have done that, it would be a good idea to share the findings with your employees and notify them about the areas of improvement you plan to work on.
Choosing From the Best Employee Engagement Survey Providers
Another way of approaching employee engagement surveys is to take the help of experts and go with some of the best employee engagement survey providers that are available in the market. For instance, Empuls is a completely customizable product that helps measure and increase engagement through customized survey questions that suit your organization and best-in-class recognition and reward technology. It's an all in one solution that breaks down the silos that keep people apart and keeps your organization moving ahead.
Conclusion
Increasing employee engagement is an essential aspect of corporate success. It is important to differentiate between job satisfaction and engagement. In order to ensure the stable growth of your company,  it is worth understanding how to create an employee engagement survey and how to run them effectively from time to time. Having reviewed the peculiarities of the data collection method, it is hard to underestimate its benefits.
However, you need to ensure that you utilize the above-mentioned tips when you create employee engagement surveys. In the end, it is not just you who should know the outcome but also your workers. If you are honest with them, they are more likely to be honest with you, too.
Having gathered the results, it is about time you start making positive changes.