25 Icebreaker Games For Work (Remote+In-Office) that Never Fail to be Fun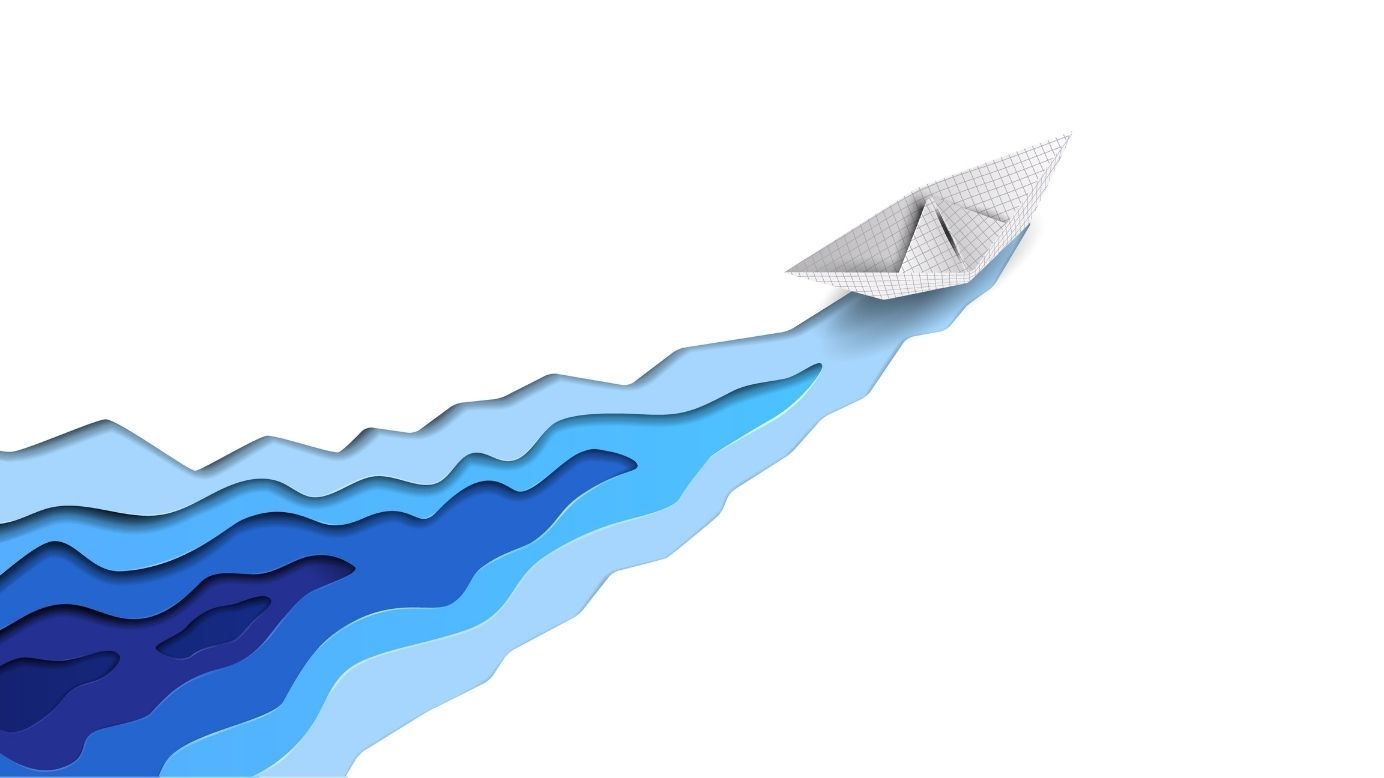 25 Icebreaker Games For Work (Remote+In-Office) that Never Fail to be Fun
Break the ice with these icebreaker games for work for both remote workforce and in-office teams are the perfect antidote to awkwardness and disengaged teams.
Are you a cat or a dog person? Enough to break the ice.
Can you sense scruffiness in the room when the meeting commences? Why does the Zoom Call feel awkward when everyone is waiting for the ball to get rolling? What divine power makes it happen? This elephant in the room is called uncertainty and it happens in every conference room meeting, team video call, and especially, a grouped huddle.
This uncertainty not only stops people from mingling with others but also halts the gravy train of fluid thoughts and nonchalant brainstorming. What's the antidote to this poison of boredom cramps and hesitant nature? Icebreaker games!
What are Icebreaker Games?
Breaking the ice is an interesting (at most times fun) pre-meeting warm-up that gets the morning caffeine kicking and avoids any awkward exchanges in the thought process. A well-oiled team has to be calibrated and icebreaker games bring everyone in the room on the same frequency emotionally and mentally.
How many times in our work-life have we judged a person by their aura and thought "that's one tough chap with whom I sincerely don't want to level my eyes with"? It's very common for aspiring employees in the fresh years of their careers. But one game of truth or dare is all it takes to make them realize that that person is delightfully lighthearted, witty, and helpful.
Employee engagement thrives on the cornerstone of cordial relationships between people- irrespective of their work hierarchy.
Icebreaker games play a crucial role to loosen up the shoulders and allow your team members to stretch their legs-- be it in the conference room or on video conferencing.
At Empuls, we believe that the essence of a tightly knit workforce lies in the cordial relationship. The aspiring newbie Xoxoains are given a proper welcome, be it on a video call or in the office premises, with icebreaker games to acquaint them with the team.
Purpose of Icebreaker Games
Would anyone prefer to sit in a room of people they don't know? Icebreaker games refrain people from fiddling with their phones, doodling on their notebooks, and give them something to talk about. Even between meetings, people are open to sharing their thoughts in a safe space-- which is a headway into discovering new ideas.
At Empuls, we always have a pack of talented interns ready to give it all with hammer and tongs, and these fresh-out-of-college individuals never feel out of place thanks to the ice-breaking strategy that we follow. Be it on our engagement platform or on a video call, or simply face to face, it's all about making them feel at home.
Icebreakers kill the awkward vibe between people in the team meeting.
The team members get their blood flowing as they loosen up with each other.
Interpersonal interaction infuses camaraderie in the organization.
It blooms gamification as a regular practice in the organization's culture.
And of course, they are fun!

Smile! Organizations with happy employees outperform their competition by 20% - USAToday
25 Best Icebreaker Games at Work (Remote & Office)
Let's look at the best icebreaker games at work that never fail to deliver-- be it for your work-from-home squad or a meeting in the conference room. With an internal communication platform like Empuls, your organization's collaboration tool. Empuls plugs in reward and recognition with prominent platforms like:
Microsoft Teams
Slack
G-suite and more!
Inculcate the culture of engagement in your organization with Empuls. Give it a try if you want. Let's carry on with our ice-breaking games.
‍Read our blog on "The 50 Best Icebreaker Questions for Work "
Virtual Icebreaker Games for Remote Workforce on your Internal Communication Platform

BINGO!
This timeless classic is perfect for employees and their families! Nothing beats a fun-filled induction with new joiners like bingo night after their first day at work. The rules are as simple as they can be and we all need little helpers (or senior pathfinders) to guide us through the drawing of lots, numbers, queues, and bingos.
Since the COVID-19 pandemic restricted the world to work from home, our new joiners were made to feel at home with a weekend chit-chat along with a game of bingo, props, and karaoke night. Talk about shaking awkwardness out the window (with work-from-home games)!
Rapidfire UNO!
Everyone knows how to play the legendary card game, UNO. Get around and distribute just 4 cards each and the person down to one card in the next five minutes is crowned the winner. Don't lay out the full stack of cards, however, as the game might go for hours and if this is being done as a pre-meeting icebreaker, that might raise some eyeballs.
The Virtual Grammy Awards
With Empuls, host an award night for your team working remotely! The virtual Grammy awards are all about giving out the best of titles that would ensure the reward and recognition of your team on a public platform. What could be better than Empuls? Here's a peek of virtual awards to offer: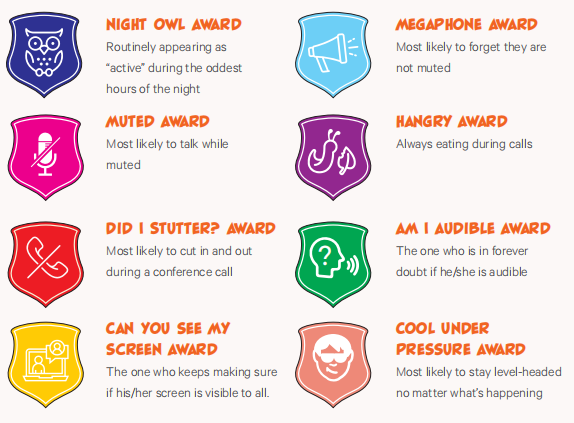 These titles are fun and really relatable. What could be a better way to connect the dots as remote team-building activities?
There's no need to break the ice if your team is on the same page. With Empuls, revolutionize employee engagement for your remote teams. Learn more>>
Pitch Your Movie
Tell your remote workforce to put on the producer's hat, sit on the director's chair, and grab the script writer's notebook. Ask them to make a movie plot and pitch it to a jury of three (every workplace has a movie buff), which will decide the best movie plot from the lot. It's a great icebreaker game to know your employees' likenesses and match them with others who have the same interests -- that too as virtual games to play with coworkers.
Speaker of the House
For the chaps working from home, this one's perfect game to break the ice-- ask your people to introduce themselves through someone in the house-- be it a little kid, the elder ones, spouse, siblings, or the pizza delivery guy at the door! As for those who're stag and home alone, they've got to talk about themselves in the third person by mimicking their favorite personality.
Peep into the Future
Share snippets of a newspaper or magazine and ask your team to highlight all the headlines that might involve your organization in the future. Something like the world's best organization or top innovators' award being the cue. Watch the creative spark unravel!
It Runs in the Family
Ask your teammates to describe their personality trait(s) by matching it with their family's. Not only does it make the individual comfortable by talking about personal stuff at work, but the person in question learns a lot about themselves.
Our Empuls family had special work from home games with kids day and all the parents and children bragged about how their family coexist with work nonchalantly and fuel them to perform better, even if it's from home.
Aliens have landed!
This icebreaker game comes with a lesson. As most remote teams are demographically and culturally diverse, they can be brought on common ground with this game. The rules are simple: Aliens have landed on earth and they want to learn about your organization. They don't speak English and you have to explain your product/service to them with 5 symbols or pictures. When the teams upload their pictures/symbols, you'll get a deep dive into their understanding of the organization. Remember No judgment!‍
Let the Wheel Decide
The internet is full of icebreaker games for work but not all of them are SFW (safe for work). Although cooking up icebreaker games that are not-so-lame isn't rocket science, sometimes we've just got to let the wheel decide. Host virtual team-building icebreaker activities, cast your screen and take a volunteer. Whatever the wheel says, the volunteer does. It's a fun-filled way to break the ice.
Emoji Check-in
This one's similar to the one-word icebreaker, only that in place of words, this one's got emojis. It's a fun-filled feedback system:
Phew! The sprint is finally over. Describe it with an emoji.
How was the workweek? Tell us with an emoji!
How bad are your Monday blues? Send us an emoji to match your expression.
You get the idea. Emoji check-in takes nothing more than the group chat to get the troops ready for a team meeting and break the ice too.
Two Truths & a Lie
The timeless classic is great for parties, dinner, weekend luncheons, virtual team-building games, and it serves the same purpose -- breaking the ice. Give your team 5 minutes to come up with three facts and one facade for themselves and let the others spot the lie! This office icebreaker game can easily be played via video call.
MTV Cribs, but better
We've all watched pop stars and athletes show off their (not so) humble abodes to the camera, and a perfect office icebreaker game would be to let your remote workforce give a tour of their place. From the main door to the washing area and all of it, it's a perfect way to give people lots of things to talk about after the virtual games with coworkers episode of MTV Cribs is over.
Share-a-picture
This one's for people who don't approve of office icebreaker games for work and activities justify their opinion by saying that it takes 'too much time'. This one simply doesn't - as all you have to do is ask the team members to share a picture unrelated to work. Later on call, they've got to tell why they sent that particular picture. When team members share a part of their personal lives, there's a camaraderie to the workplace.
Share your Music Playlist
The type of music a person listens to defines a lot about them. Since apps like Spotify and iTunes Apple Music give the users easy access to share their most-played songs, it'd be a perfect way to break the ice. To make it frolic, you can ask a volunteer to sing their favorite song!
Remote work can be boring and tiring all together. Empuls keeps its employees motivated and engaged. So, to add some fun to the boring remote work-life and engage employees to check out the WFH Engagement Games organized by Empuls.
Icebreaker Games for Work Place
The 'Tough Talk'
WARNING: This icebreaker would only work in an environment where employees absolutely trust their boss/manager in the room - which we feel should be given in any engaged organization.
Ask attendees to volunteer for the role play and give them a situation that involves a tough talk. Some textbook examples can be:
The supervisor-subordinate conversation after the latter was denied promotion
An employee confronting a teammate about the gnarly looks s/he is getting from the latter
Confrontation on finding the employee's work inadequate
This is a highly sensitive matter and it'd be quite tough to pull off, but if done with care, it can be a great way to address the elephant in the room in a humorous way.
Roll the Ball
Most organizations have a gym ball/exercise ball somewhere. Sit people out in the cafeteria and get the big ball rolling. Stick post-it notes with questions on the ball and the person who receives the ball, has to answer the question that lands on their right index finger. As for the questions, think your heart out and expand the horizon!
Take Your Kids to Work Day
It's always a pleasure to catch up with the little ones at work. This icebreaker game never fails to deliver and becomes a carnival of a day. The kids get to witness where their supermoms and superdads get to work while the young ones at work get to mingle with kids and have fun.
Old School Charades
Since we're doing ice-breaker charades: office edition, the best way is to write up names of workplace hotspots: the cafeteria couch that nobody sits on, that succulent plant in the Manager's cubicle, a teammate's lunchbox, and so on. After that, divide the room into distributed teams and let them guess it out. Remember - no talking!
AMA with the Boss
This one really clears the head of all the meeting attendees. Bring in the head of the department, project manager, or the CEO in the room for a short span and allow the attendees to shoot questions about whatever they want to. In most of cases, the questions asked by one person would clarify a lot of doubts.
What's Stressing You Out?
It's as simple as one two three. One, we kick off the meeting with a 5-minute solemn self-contemplation. Two, we write down what's stressing us out on a piece of paper, and three, we tear the paper apart! Not only does bringing your stress to paper make it negligible and minute, but the privacy remains intact on tearing it off.
One-word Icebreaker
What do you feel like? The best way to loosen everyone up is to describe their current mood in one word with a follow-up question. Try not to get into much depth though, as it is for your team members to follow up on them in the cafeteria. (Author's Note: As I'm writing this, I feel ecstatic. Why? Because it's simply a good day!).
Smile and You're Out!
Set a timer of 5-minute and write on the board: Whoever smiles in the next 5 minutes is out! Start the conversation with the weather talk or a funny incident that happened at work and suddenly everything would feel funny - thanks to reverse psychology. Don't knock them out of the meeting though.
The Master Chef Icebreaker
Everyone bonds over food - be it the vegans, the hard-core steak-lovers, or frozen food enthusiasts - it's a common standpoint. The easiest icebreaker game is to ask everyone in the room to note down the Top-5 delicacies that they like/dislike and put them in a bowl. You won't believe how many people bond over their likes (or dislikes).
Stalk the 'gram'
Scatter the people so that they're preferably not sitting near to those they know. Now ask them to open the Instagram handle of the person to the right and give a three-minute peek. After that, give them 5 minutes to question the other person about what they think of their profile. That should get them talking (and increase followers too!)
The Pre-Meet Debate
Run a friendly poll - ranging from Tea or Coffee to Harry Potter or Star Wars, pick a topic according to your team's interests and divide them (physically, if possible) and have a debate on it. That should be enough to loosen them up, if not reach a conclusion. PS: Don't let the topics get too controversial or heated.
The DIY Icebreaker
Just ask the employees to break the ice. It's a lot simpler than it sounds, but an easy way would be to have an inside man/woman. They can start with a joke, an anecdote, how they jumped a red on their way to work, and whatnot. It'd connect like clockwork with time.
Time to Break the Ice!
Now that you have 25 new icebreaker games to try as remote team building activities as well as your huddles in the conference room, make the most of it. After all, there are hardly any people who don't like having fun.

The Employee Internal Communication and Social Network Platform
Empuls is the ultimate employee internal communication and social network platform for small to large organizations. Bring your teams together & experience the community with a central communication hub. Connect employees through interest groups, projects, teams & conversations. Try Empuls Today! Want to know more? Book a demo or start a free trial!
Empuls Newsletter
Join the newsletter to receive the latest updates in your inbox.
---