Table of Contents
The novel coronavirus (COVID-19) spread like wildfire, and the entire world had to remain trapped in homes.
The HR professionals came forward and built the virtual workspace almost overnight. Employees shifted to remote work quickly by adhering to the guidelines issued by HR, ensuring seamless work and employee safety.
The effects of the drastic flips haven't stopped yet, and the new trend of WFH (work from home) yielding higher responsibilities on HR to keep employees engaged, safe, motivated, and productive. To keep the HR professionals motivated, we have compiled a list of the top 10 best HR motivational quotes.
According to the Covid HR-Pulse survey, difficulty coordinating the response in a team has been the biggest challenge HR faced in these times. Even though the challenge may have reduced with time, the burnout hasn't. And a quick dose of motivation can help in propelling HRs.
As Jim Ryun says, "Motivation is what gets you started; habit is what keeps you going."
Best Human Resource Quotes for HR Professionals
Here, we have compiled ten great HR quotes (and their breakdowns) for HR professionals quoted by legendary industrialists to help professionals attain momentum and motivation.
1. Hire people who are better than you are, then leave them to get on with it. Look for people who will aim for the remarkable, who will not settle for the routine. — David Ogilvy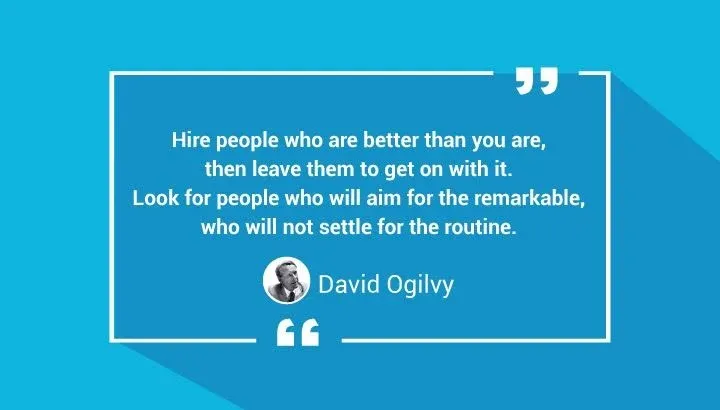 David Ogilvy was a British advertising tycoon who founded Ogilvy & Mather and created hugely successful campaigns for Dove, Shell, and Rolls Royce in his time. He is also known as the "Father of Advertising."
Ogilvy believed in hiring remarkable people and leaving them alone with their work. By saying remarkable, he meant people who don't settle for routine or believe in doing exceptional work.
HubSpot has been producing exceptional content for years, and its hiring process shows its resonance with the quote. HubSpot says that hiring an extraordinary talent has nothing to do with an individual's background, location, ethnicity, color, religion, etc.
Thus, it always focuses on behavioral interview questions in the hiring process. For example, to test humility in a candidate, they may ask — "Tell us an instance when you made someone else look brilliant."
2. Train people well enough so they can leave. Treat them well enough, so they don't want to. — Sir Richard Branson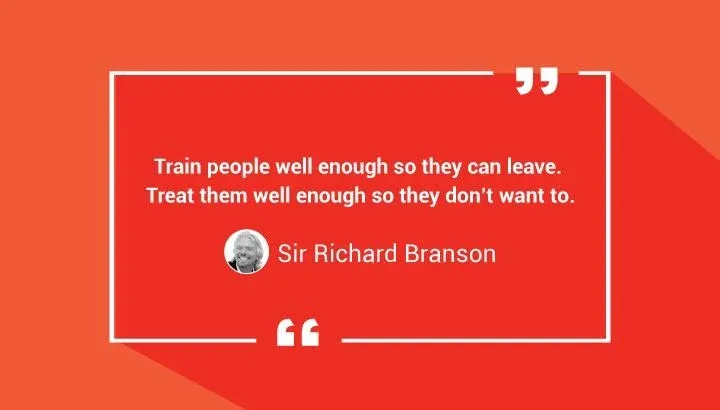 Richard Branson, the founder of Virgin Group, is an English industrialist, investor, author, and philanthropist.
He says that the success of a company lies in its employees. Therefore, the company must invest in the employees' training and make them a fantastic company asset.
However, other competitors may attract your asset cum employees in the name of fancy perks. Richard says, treat your employees well, and they will stay.
Researchers at the University of Pennsylvania found that the companies who invest 10% of employees' revenue notice productivity up by 8.5%. Meanwhile, the same investment in capital improvements led to 3.9% productivity gains.
3. When people are financially invested, they want a return. When people are emotionally invested, they want to contribute. — Simon Sinek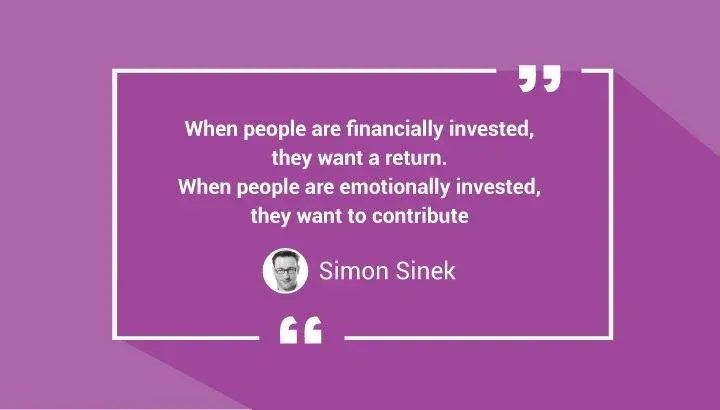 Simon Sinek is a British-born American author and a motivational speaker. His golden circle concept reached the masses with his TED talk and the first book, "Start with Why," which describes the influence of successful leaders/organizations.
When people invest monetarily, they seek profit via monetary returns. However, when people are emotionally attached/invested, they care for you instead of seeking profits. And this behavior resonates with human core values that allow them to contribute.
Megan Welch, Senior Vice President of HR at Capital One, shares the same perspective. She said in an interview that looking after the company's employees has been their leading focus, and it has led the firm to the list of top workplaces continuously.
4. You cannot mandate productivity; you must provide the tools to let people become their best. — Steve Jobs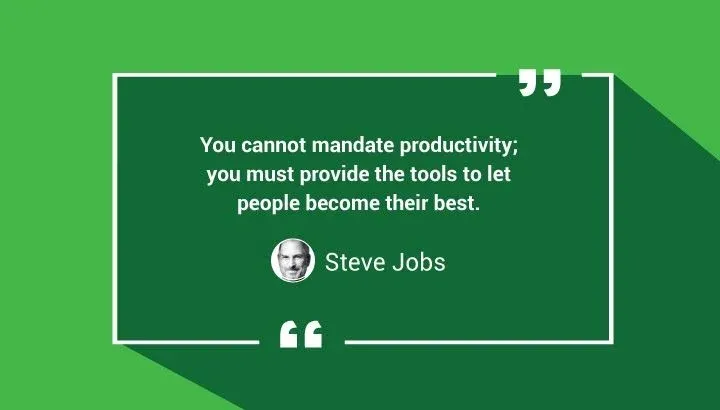 The chairman, CEO, and founder of Apple, Steve Jobs, was a serial entrepreneur who founded Next and Pixar and took them to more tremendous success.
Steve believed that productivity doesn't grow forcibly. And if you want to improve productivity, you must make the growth easy by providing the right tools, which pushes the employees to become better.
Walter Isaacson shared an incident of Steve in an HBR article. He said that Jobs stopped the random production of computers and peripherals when he returned to Apple.
Instead of forcing productivity on older array production, he set new goals.
Steve took a marker and created a grid on a whiteboard and wrote Desktop, Portable, Consumer, and Pro, and then he announced to focus on the production of those four products.
5. No person will do a great business who wants to do it all himself or get all the credit. — Andrew Carnegie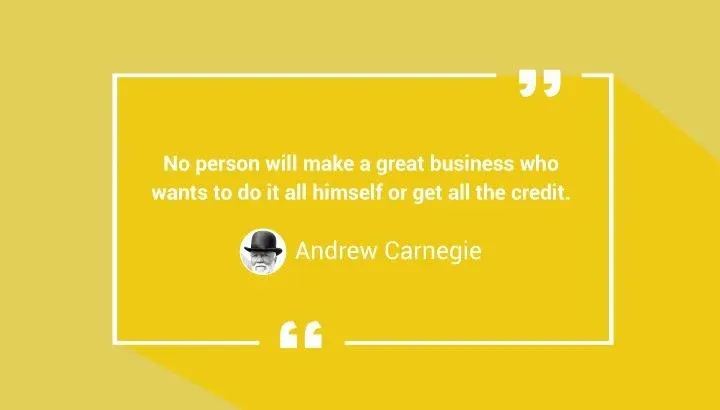 Andrew Carnegie was a Scottish-American industrialist. He became one of the wealthiest Americans in the late 19th century when he led the American steel industry's expansion.
Carnegie's tombstone has a statement inscribed on it that simplifies the above quote better. It reads, "Here lies a man who knew how to enlist the service of better men than himself."
Every business becomes excellent when people work together. Facebook and Instagram Ads for eCommerce are best for generating business leads.
Instagram was first named Burbn and got inspired by the success of Foursquare, a location-sharing app. Later, Kevin onboarded Mike when he decided to provide the best app and research the market. In the end, they rebranded Burbn as Instagram - a photo-sharing app.
It might not be possible if Kevin had thought of doing it all alone.
6. One machine can do the work of fifty ordinary men. No machine can do the work of one extraordinary man. — Elbert Hubbard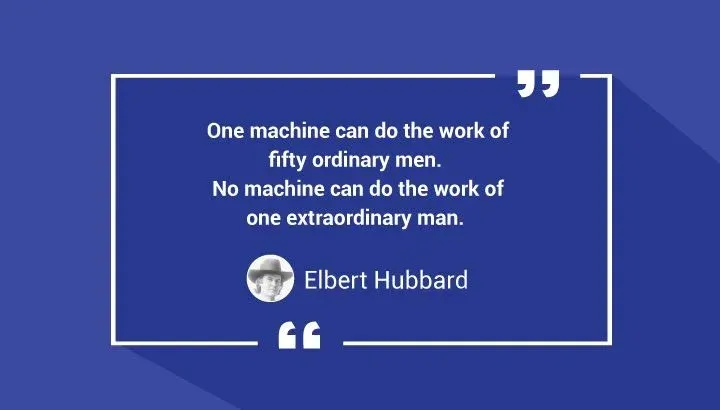 Elbert Hubbard was an American writer, publisher, artist, and philosopher. He was also the founder of the Roycroft artisan community, founded in 1895.
From the above quote, Hubbard meant that an extraordinary human far exceeds the machine, even though a machine can work faster than ordinary men.
We can say Hubbard believed that it's intelligence that rules efficiency.
7. Leadership is not about a title or a designation. It's about impact, influence, and inspiration. Impact involves getting results, influence is about spreading the passion you have for your work, and you have to inspire teammates and customers. — Robin S. Sharma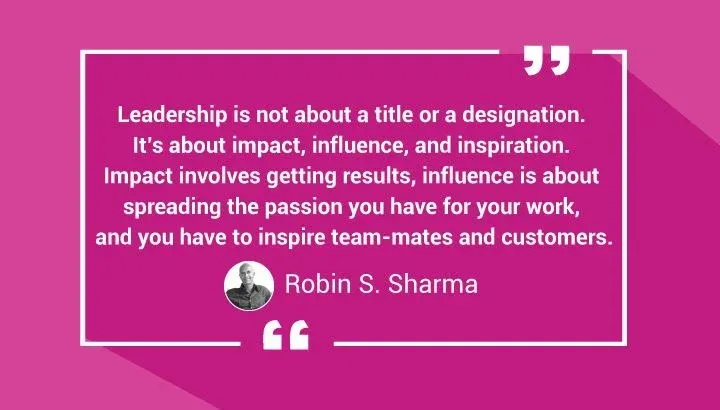 Robin Sharma is a former litigation lawyer who is now a motivational speaker and writer. One of his bestsellers, "The Monk Who Sold His Ferrari," shares Robin's real-life experiences after leaving his career as a lawyer.
Robin says that leading a person or group is not about someone's designation but a choice. It's a choice to make an impact that gets you results, a choice that influences and inspires others for the same passion you have.
Blackbaud does the same; it impacts, influences, and inspires. The company provides cloud-based software that helps nonprofits, educational institutions, and more. However, Blackbaud is also known for its mission to help others, which resides in its culture and employee values.
The company's culture inspires philanthropy in its employees to volunteer to give back to the community. The company holds a Signature Grant Making Program program, where a Blackbaud employee makes a granting decision by reading the applications and visiting on site and a team.
8. Allow people to be themselves. People want to be GREAT, GREAT companies let them be GREAT. — Arte Nathan
Arte Nathan has spent 30 years of his life as a Chief HR Professional at Steve Wynn's gaming companies. Also, he has built his reputation as a thought leader in Las Vegas' HR industry.
He believed that people want to be great, and when they get enough freedom of being themselves, they perform better and achieve greater heights. And those companies who accept this fact become great too.
Motley Fool is a great example here, says an article on HBR. Tom and David Gardner, the founders, got inspired by a character's foolishness in Shakespeare's play, "As You Like It." The brothers adopted the character's style of expressing himself — speaking honestly about his opinions and beliefs — and implementing it into its culture.
9. A lot of people have gone further than they thought they could because someone else thought they could. — Zig Ziglar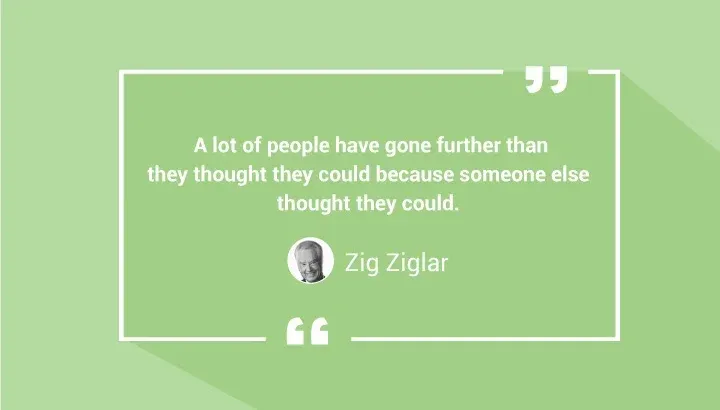 Zig Ziglar was an American author, salesman, and one of the world's most popular motivational speakers.
Ziglar emphasized that believing in other people's ability could reap significant benefits than not believing at all with his quote. Also, people tend to perform better (more than they could imagine) if they know that someone else believes in them.
CEO Jim Hooker found success in his venture (a marketing firm, Televerde) because he believed and valued convicted women, the largcompany'sf the company's staff.
10. Recently, I was asked if I was going to fire an employee who made a mistake that cost the company 600,000. No, I replied, I just spent 600,000 training him. Why would I want somebody to hire his experience? — Thomas J. Watson, Sr.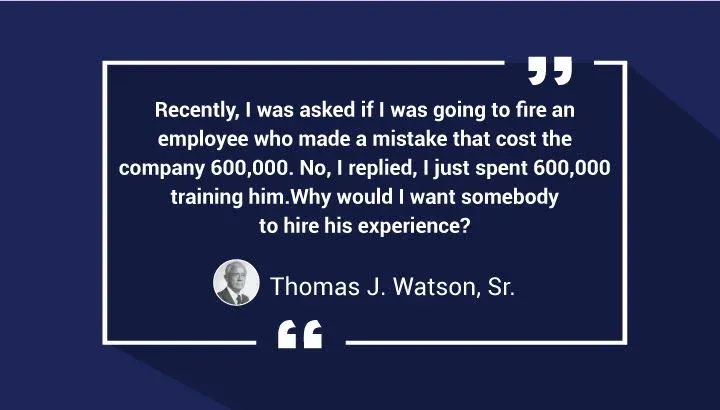 Thomas J. Watson, Sr. was an American businIBM'sn who led IBM's astounding growth as a Chairman and CEO of the company.
With the above quote, we can say that Thomas was a firm believer in learning from mistakes. According to Watson, eliminating such an employee (who learned by costing 600,000 to the company) will give other companies an advantage over him. It is like pcompetitor'sur competitor's training cost.
One of the firm believers we had was Alan Mulally. The Ford Motor Company was close to declaring bankruptcy when Alan Mulally took over as CEO. He asked for the color-coded reports from his Vice Prescompany'sr the company's position, where green showed good, yellow for caution, and red for problem areas.
On the meeting day, all of the functional heads appeared with green colored reports, to which"Mulally said, "you guys know that we lost a few billion dollars last year? Is that'sanything that's "ot going well?"
One of the vice presidents, Mark Fields, spoke that Ford Edge has some technical problems and it won't be ready for the scheduled distribution. Mulally clapped to Field's response, even though the Vice Presidents were supposed to defend the problems in the past.
Conclusion
The HR professionals have become exhausted because of work stress and personal problems, and the best we can do is look after each other in this unprecedented time.
The pandemic has led the professionals to go beyond their duties and made them jump into rapid action. Meanwhile, being solely responsible for employee motivation, they must take care of themselves too.
HR must not avoid their health and well-being because motivation also has limitations. Plenty of sleep, a good diet, and an uplifting & motivating community are the primary sources of HR well-being.
We understand what it takes to power a community to uplift employees' morale and satisfaction. Empuls does it by establishing an active community collaboration and keeping the members informed with the company's news & updates.