Employees are the most significant assets of any organization. The ones who have been associated with us for a long time are the most important. Today, people are more mobile and potentially more likely to change jobs regularly. Retaining them is a tough job.
Long service employees possess valuable business knowledge, work experience, and problem-solving perspective that are hard to replace.
If and when they quit, organizations lose all the tacit understanding that they carry away along with them. Median employee tenure for men was 4.3 Years, and for women,  4.0 Years in January 2018.
Thus, appreciating them through long service awards and recognizing them becomes crucial. Length of service is also one of the top five recognition programs.
What is a long service award?
Employee long service awards vary from organization to organization. Long service awards are a way of saying thank you to the employees and recognizing their contributions over a period of years.
Employees are no more rewarded with gold watches or carriage clocks. Instead, the new trends are the use of gift vouchers, electrical goods, experience gifting, etc. Long service awards have become an essential recognition offering.
Today most of the companies offer them. Studies tell us that such employee recognition improves employee engagement, boosts productivity, and increases profits too.
Engaging tenured employees in your company with long service awards
Loyal employees spend a considerable time of life in their organization. Their sense of ownership and commitment is so strong that simple monetary rewards or traditional gifts fall short when it comes to appreciating their contribution.
Intricately designed and well-thought-through ideas for long service awards would allow the employer to say a genuine and heartfelt 'Thank You' to employees for their unwavering loyalty.
It is possible to inspire loyal performers to stay on board and save time and money in reinventing talent for the business. Organizations can choose to recognize loyalty and longevity with an award for significant milestones.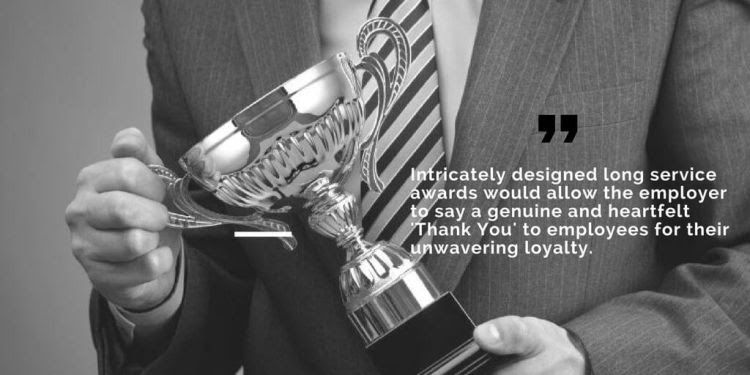 Employees want to make every moment of their lives count and render every memory of their past cherishable and worth sharing like a story.
They want to look back at their past with pride, enjoy every moment in the present and leave the future full of adventure and uncertainty.
They love to be open to life, meet new people, have lots of fun, and regret nothing at the end of the day.
1. Celebrate early employee milestones
A 5-year starting milestone is outdated and no longer used.
Furthermore, a recent survey has shown that 1/3rd of new hires quit their jobs within 6 months of starting.
It's no longer the norm to put in multiple years at the first job out of college in the same profile. In the gig economy, more and more individuals opt for the self-employed or freelance route.
Which makes employees that do stay with a company even more invaluable. Instead of waiting for a five, ten, or twenty-year work anniversary—rethink your timeframe for employee long service awards.
What's the lifecycle of your employees? On average, how long do they stay with the company? Use this data to refigure the timelines for long service awards.
Also, consider smaller annual rewards which will show appreciation on a consistent basis. Annual rewards combined with employee-long service awards can significantly boost your employee retention rate.
If your HR team doesn't have the bandwidth to rework your current program, outsource to an employee rewards system that will do the hard work for you.
2. Enable management communication
Most of the organizations run employee-long service awards programs. But communicating it in a better way can drive them more efficient results. The long service awards program recognizes the time employees' spent with your company.
Do you wish to make your recognition program more effective and inspiring? If your answer is yes, then give personalized awards to your employees. Make sure that your awards are tied back to your organization's values.
While celebrating your employee's longevity, your managers should reflect on the values the employee excels in showing. They should talk about the extra milestones the employee has achieved since the last service awards.
3. Make it social
Long service anniversaries are a big deal. Especially when employees seem to be hopping from one job to another within short intervals. Educate your employees about what is long service award is and your long service awards offerings.
Your offerings should excite them. Give a shout-out and recognize long service employees. You could do it at all-employee meetings and at special occasions. By doing this you are showcasing yourself as a caring employer.
CEO, President, or Division Head must present the long service awards to their employees. Again this depends upon the size of your organization. Getting the news out could prove to be engaging.
Research states that employees who are highly engaged are happy and more productive. They also don't look for jobs elsewhere. What does this show? It indicates that this leads to a reduced turnover. This further would help a company to save a lot of money every year.
4. Engage employees with experiences
Try and reward your employees with experiences. What if you got a skydiving or jet skiing experience from your company? Wouldn't you love to recall these memories for your life? Definitely, yes!
Experiences like these form the best moments and the best moments promote happiness. Since we spend most of our waking hours at work, happiness is necessary. It helps to promote a positive work culture.
According to Incentive Research Foundation, 42% of long service awards program owners are increasing the number of 'experiential rewards' within their current offering.
Experiential travel rewards[emphasis added] create lasting memories and positive associations with the organization that provided the reward.
The emphasis is on offering genuine, unique, customized experiences for employees delivered throughout the program. Giving an employee an experiential gift as a reward becomes very personal.
5. A proactive approach towards long service awards
Every company should operate a long service awards program. But this again may be different for each organization. As every organization has a different vision, values, and goals.
When you invest in long service awards for an employee it has a positive impact on retention. It also has an impact on employee well-being, employee engagement, and culture
6. It's time to personalize and offer a choice
When selecting rewards for employees, HR and management teams should focus on personalization. Think–what would that specific employee want the most? This is especially true for long service awards.
Each employee has offered unique value to your company during their tenure and you want to recognize that with individualized rewards. Employees even value the ability to choose their rewards and recognition.
When you give experiences for a long service award, the possibilities are endless—a hotel stay, a concert, sporting event, etc etc. Unless your HR team intimately knows all employees, it would be difficult to identify the correct experience for each individual.
This is why offering the ability to select experiences for themselves is best practice.
The annual Deloitte Human Capital survey said it best; "talent today wants a custom rewards experience that reflects how they live, work, and communicate—not a one-size-fits-all approach rooted in the past."
Take the time and effort to show employees that you truly appreciate their hard work and dedication. If your company creates an individualized and dynamic rewards program, you'll not only boost the morale of current staff but also give your organization an advantage in today's job market.
Develop an amazing rewards program with unique ways to celebrate longtime employees and use it as PR (but not in the tired 'employee of the month' fashion).
Such changes in your corporate culture will not only bolster the engagement of current employees but also help to attract new talent.
7. Streamlining the award process
Automation is a wonderful thing, and employee recognition for Long Service is no exception. The use of a rewards and recognition platform should enable you to automate most of the long service rewards.
Creative long service awards ideas
1. Gift cards or vouchers
Many prefer to receive gift cards or vouchers as a reward and a long service award is not an exception. These vouchers or cards come in various forms like an electronic voucher or plastic card.
You can load both with monetary value. Gift cards give employees the flexibility to choose their own reward. Further, personalizing your gift card with the organization's brand and the employee's name over it exemplifies its impact.
Gift cards and vouchers serve two purposes:
One they have a monetary value which is an obvious way to show how valued the employee is for you. It also reflects on the thought that as an employer you do care for your employees.
The other is that it gives an opportunity for the employee to select their own gifts. This prevents you from giving inappropriate gifts to your employees. This curtails the risk of whether the gift is liked or not by the employee.
2. Electrical items
Today the world has seen a lot of advancements in technology. Everyone wants to have electrical items like iPads, 3D Televisions, high-tech phones, and high-tech watches too.
When employers offer the staff a flexible choice of reward, chances are that employees may have electrical goods at the top of their wish lists.
3. Sabbaticals holidays/travel voucher
Tough competition in the market makes life very stressful for employees in any organization. It's time for employers to think for their employees. Who would not love to have a little time away?
Employers usually prefer to reward an employee with extra paid holidays or travel vouchers. They offer such rewards when they have completed say around 10, 20, or 30 long years of service.
A travel voucher seems like a significant gesture. It's a reward given to employees who have completed a long tenure. Employees can redeem the travel voucher for different purposes.
They could use it for a weekend away, an overnight stay, or even a family package holiday. This will also let your employees share their rewards with their loved ones.
4. Wellness kit
When you are single things are different. The story of a married person with the family is altogether a different situation. You have pressure coming from all ends – work, children, spouse, money, savings, and the list can go on and on.
Give your employees an opportunity to stay healthy. Try to keep them associated with your brand for a longer tenure. Employers can reward their staff with a wellness kit.
This will let your employees become health conscious. It will also pamper your employees. With this, they become aware of the fact that they do matter a lot to your organization. This will energize and revitalize their spirits to enhance their performance.
5. Employee memorabilia
One of the most popular employee years of service gift ideas is to create portraits or images of an employer's memorabilia such as pens. Plaques or trophies are alternatives of recognition used by employers today.
Use designed plaques that display the organization's brand, culture. Also, it should signify employees' achievements. Employers could even offer employees luxury gifts such as premium watches, cufflinks, and case cards.
Emboss the employee's name on the gift. This will give a personal touch and a valued feeling to your employees.
6. Experience boxes
Of the many employee years of service gift ideas,  experience boxes are the most exciting ones.  Experience boxes come with an array of themes and exciting experiences.
This could be anything from a helicopter ride to a romantic candlelight dinner in a five-star hotel. It can also range from paragliding to snorkeling and wellness retreats.
Experience boxes can have the employee's name cared about it. This would give the experience box a personalized touch as well as a rich look to the gift.
Long Service Awards for completion of 10 Years in one company is a big achievement for both the employee and the company. Here's how Accenture rewarded one of their employees for successfully completing 10 years.
Why are long service awards important?
The idea of giving long service awards, trophies, mementos, etc. is not about recognition. It's something far beyond that.
1. Employee recognition and appreciation
Long service awards serve as a great way to thank your employees. It's more like appreciation awards for employees.  It's an occasion where you can appreciate their commitment level towards your company.
2. Motivates employees
Motivated employees strive hard to deliver productive results even under pressure. Employers use long service awards to motivate employees to exceed their own accomplishments.
3. Employee satisfaction
A satisfied employee's efforts never go unnoticed. Have you thought about whose efforts are there behind your satisfied customer? It's your employees' efforts. Behind every satisfied customer, there is a motivated and loyal employee.
4. Employee retention
If you want to retain the talents you need to recognize them. You need to offer them opportunities to grow. Long service awards serve as a platform for employers. Through the long service awards program, they can appreciate the loyalty of their employees.
5. Strengthening an organization's culture
What does the implementation of a long service awards program in an organization convey? It conveys the willingness of an organization. Willingness to recognize an individual and their contribution towards the business.
6. Permanent productivity
One of our goals when designing an effective, unique long service award program is to help retain the key talent that has stayed in the organization for so long. This is great for retention, but productivity also benefits.
A study by the University of Warwick found that happy workers were approximately 12% more productive.
Long service awards to avoid
The number of unique long service awards is as diverse as the people who receive them; however, poor tenure recognition ideas are easy to list.
1. Bonuses
On the surface, this long service award may seem logical. Everyone has expenses, and a little extra cash gives people a chance to indulge. Unfortunately, it does nothing to express gratitude.
Money is fleeting. The effects wear off once the funds are gone, making it ineffective from both a practical and financial standpoint.
In the words of the IRF: "Cash is easy. It requires little thought, it can be transferred electronically, everyone is certain of its worth and recipients can spend it on whatever they most want".
However, they warn that this leads to "mental accounting." This means that the money is spent on necessities, causing recipients to perceive the bonus as part of their salary.
While making an extra credit card payment or getting car repairs might bring peace f mind, it hardly feels like a reward. Further compounding the problem is the level of entitlement cash rewards can generate.
Employees who receive a 5% bonus at ten years might expect a 10% reward at 20. This snowballs into collective dissatisfaction if all eligible employees do not receive what they expect: "…if cash rewards are removed, motivation, performance, and engagement among past recipients may drop even below levels that existed before the reward was introduced…"
2. Raises
While raises are a more permanent financial reward, they can still backfire. Pay increases should be based on merit, not tenure. An employee who spends 20 years putting in minimal effort does not deserve a raise more than a newer worker who does an exemplary job.
3. Fixed prizes
Although this has been covered, it is a critical point that deserves to be summarized. A long service award should never be limited to a small pool of options – or worse, just one.
The simple reason is that not everyone values the same things. For instance, giving an iPad to someone who barely understands technology will not serve many purposes.
Odds are the individual will simply sell it, the message of gratitude completely lost on them.
Partnering with Empuls for long service awards
Elegant Packaging: We provide customized, memorable, and long-lasting gift and experience boxes to your employees for their long service awards.
Reporting and Tracking: We believe in maintaining transparency with our clients. With the help of the dashboard, you can track the deliveries.
Dedicated Customer Service: We offer you constant and dedicated customer support to give your customers a flawless experience.
Quick Turnaround Time: We see that your reward program goes live within a span of a few days.
Personalized Rewards: Make appreciation awards for employees more special. Give your employees a personalized touch with our personalized long service rewards. Our gift boxes come in various shapes, sizes, and colors. It also has the company's brand logo and the employee's name embossed on it.
Bottom Line
Finding, engaging, and retaining employees is a major concern in the current workforce.
When polled, 37% of the management-level staff recognized employee reward programs as very important. Yet, only 9%  feel they are prepared to take on the challenge of employee rewards.
While employee appreciation programs might have made recent cultural shifts, that doesn't mean it has to be difficult to figure out.
Recognize and reward 🥇🏆 employees consistently along their career path with your company, don't wait for far-off milestones. Utilize an integrated rewards system to set up consistent benchmarks.
Even if you choose to recognize smaller milestones, don't let that diminish long service awards. Work anniversaries should be celebrated with unique and dynamic long service awards that reflect an employee's true values.
Build a culture of employee appreciation with Empuls. Automate rewards and incentives delivery by connecting your applications with RaaS APIs. Want to know more? Book a demo or start a free trial.