Table of Contents
If employees are the heartbeat of a company, then experience is the blood that keeps the heart beating. But what happens when the 'blood' turns rank or flow erratically? The heartbeat stutters and the body (business) suffers. The way you treat your employees, i.e., the experiences you provide them at each stage of their lifecycle can make or break your company.
Companies must ensure an uninterrupted flow of employee-focused experiences that keep their workforce engaged and productive.
There is a gap between employee needs and employer action as 1 in 3 companies do not regularly act on employee feedback (LinkedIn). Thus, it is vital to understand the pillars of employee experience and design a compelling experience strategy to thrive in a competitive market.
Why Should You Drive Good Employee Experiences
When employee satisfaction is high, customer satisfaction and financial growth follow.
Josh Bersin
Since employee experience is directly proportional to productivity and revenue generation, it makes sense to enhance the interactions with your employee at every stage of their lifecycle. Motivate, stimulate and inspire your employees with a robust experience framework to transform into The Irresistible Organization and climb to the top echelons of the Best Employers' Lists.
According to Gallup's State of the American Workplace report, brand reputation and talent acquisition are two reasons the employee experience has gained greater significance in the modern world where the employee is a consumer of the workplace.
12 Key Pillars of Employee Experience
Your employees are your most invaluable assets. To protect and grow your assets, you must understand the compendium of elements that form the core of your employee experience strategy.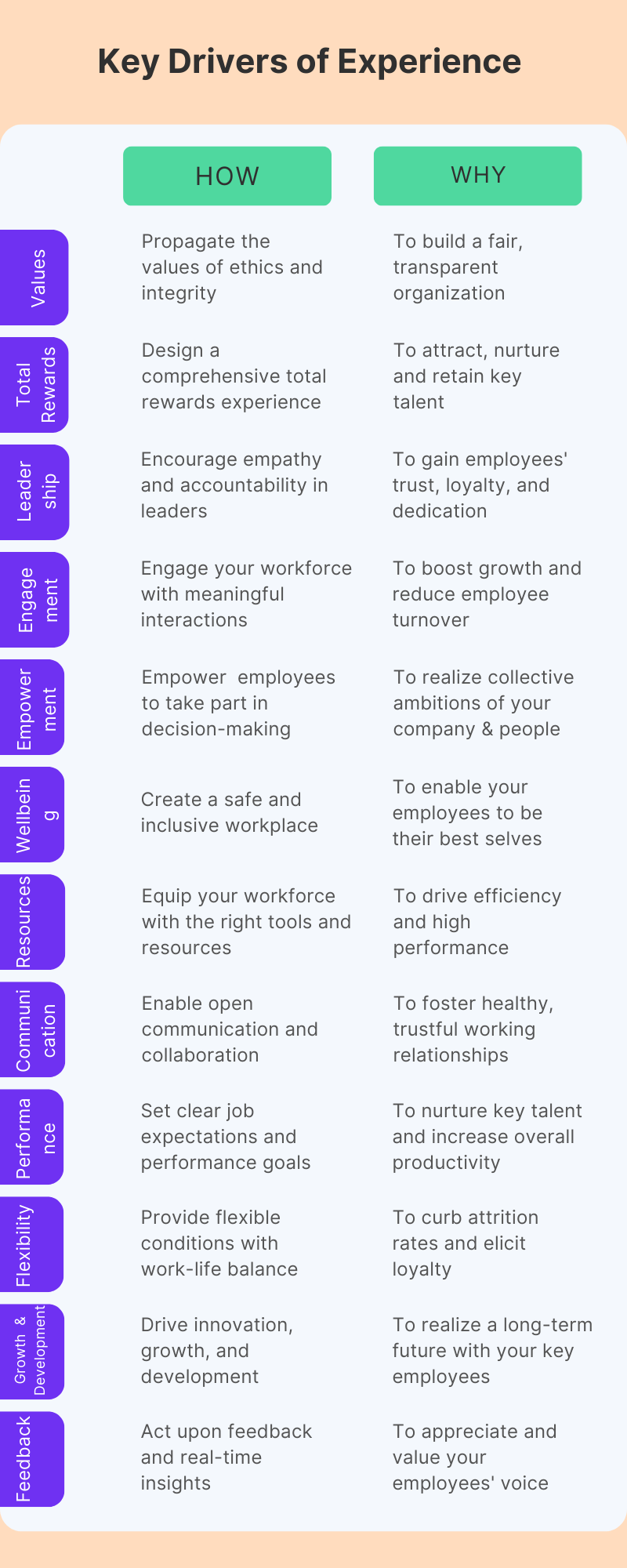 1. Values
Build an employee-centric culture where good values, respect, ethics, and integrity are at the core of the organization's purpose. Create a culture where decisions are based on sound principles and implement good values to improve the employee experience at work and make work more meaningful.
2. Total Rewards
Offer your employees the right combination of compensation, benefits, and rewards focused on their emotional, mental, physical, social, and financial wellbeing. An excellent total rewards experience is optimal to attract, nurture, and retain key talent.
3. Leadership
Employees who experience empathy from their company leadership are most likely to build healthy, long-term relationships based on mutual trust and respect. Employees who trust their leaders are most likely to be resilient and respond positively to difficult situations.
4. Engagement
Engage your employees by providing timely recognition and positive experiences throughout their lifecycle. The higher the engagement rates, the better the organizational outcomes like customer satisfaction, retention, annual revenue, and overall performance.
5. Empowerment
Empower your employees to voice their opinions and participate in business decisions. Empowered employees are highly performant and fuel the accelerated growth of your organization through their skills and contributions.
6. Wellbeing
Design your experience program to cater to your employees' physical, social, and psychological needs to encourage connectivity to the organization. How you take care of your employees is reflected in how they care for your customers.
7. Resources
Provide your employees with the right resources – specialized tools, training, processes, and knowledge sources– to deliver successful outcomes that drive business growth and customer satisfaction.
8. Communication
Enable effective communication between peers, teams, and leadership to nurture an open and collaborative work environment. Communication is the key to building a connected organization.
9. Performance
Sustain a high-performance culture by clearly indicating job expectations and outcomes, and rewarding good performance. Determine the KPIs to align employees with your long-term organizational goals strategically.
10. Flexibility
Boost productivity and enhance organizational commitment by offering employees a flexible working schedule with an excellent work-life balance. Flexibility is one of the critical considerations in the longevity of your relationship with your employees.
11. Growth and Development
Invest in your employees' continued growth and development to drive performance. Have conversations around career aspirations so you can provide tailored training, learning, and upskilling opportunities to nurture and develop your key talent.
12. Feedback
Gather feedback to capture employee sentiments, identify actionable insights, and work on areas of improvement. Feel the pulse of your employees at every stage in their lifecycle to measure and improve engagement.
Two Companies Driving Great Employee Experiences
These two companies are paving the way with a robust strategy that combines all or most of the elements that drive great employee experiences!
1. Workday
Workday, currently known as one of the Best Workplaces for Millennials, boasts a great culture which prioritizes employee experiences. Apart from financial benefits, the company also offers its employees
Employee Stock purchase plans that allow every Workday employee to buy company shares at a discount.
Internal career development and skill enhancement opportunities with frequent week-long workforce development events, good work-life balance and flexible work schedules to fit around their employee's needs
Rewards in the form of fun experiences like family events, Bring Your Dog to Workday parties, discounted tickets and experiences, clubs and cantinas/bars with game tables in offices.
CSR initiatives in the form of community outreach programs and sponsorship of community-run.
An employee-centric wellness program called 'total wellbeing' that caters to the social, physical and psychological needs of their employees with healthy food options, discounted fitness and sports club memberships, game rooms, ongoing health assessments, annual flu shots etc.
An inclusive workplace that supports a diverse workforce (Workday has signed the White House Equal Pay Pledge, Business Statement for Transgender Equality and  CEO Action for Diversity & Inclusion Pledge)
But if that doesn't seem enough, their exhaustive list of offerings also includes childcare,  housekeeping, mailing, automotive, banking, and other personal services.
2. SAP
SAP is another example of a company that advocates its employee's interests which have kept it on the Best Places to Work list since 2017. The company lives by the rule ' of innovation, inclusion, and diversity in its employee experience strategy and has divided its program offerings into the following categories:
Health programs like the Global Mindfulness Practice program, Run Your Way program, Corporate Oncology Program for Employees (COPE), Healthy Leadership and Employee Assistance Program, which measure the employees work-life balance and wellbeing with the Business health culture index (BHCI). Additionally SAP offers its employees remote and flexible work schedules and conducts frequent:

Health check-ups
Ergonomic consultation
Cancer screening
Second medical opinions
Financial wellness enablement sessions
On-site fitness centers and activity classes
Getting Started
At the University of Pennsylvania, researchers discovered that businesses that spent 10% of their revenue on capital improvements saw a 3.9% productivity increase, but those that invested 10% of their revenue on employees saw an 8.5% increase in productivity. (
Source
:
LinkedIn
)
Once you understand the drivers of good experience, it's time to initiate the right changes in your organization by following a simple 4-step process:
Listen: Feel the pulse of your workforce and get feedback through employee surveys.
Gauge: Review the feedback and identify the areas of improvement.
Strategize: Align the findings with business goals and create a plan of action.
Act: Act upon the gathered insights and measure the outcomes.
Empower your employees to be their best selves by elevating the experience at every stage of their lifecycle. You will be richly rewarded.
Your employees "are" your company, so the more productive and engaged they are, the faster your company will grow. - Josh Bersin