How Reward and Recognition Programs Impact the Two Genders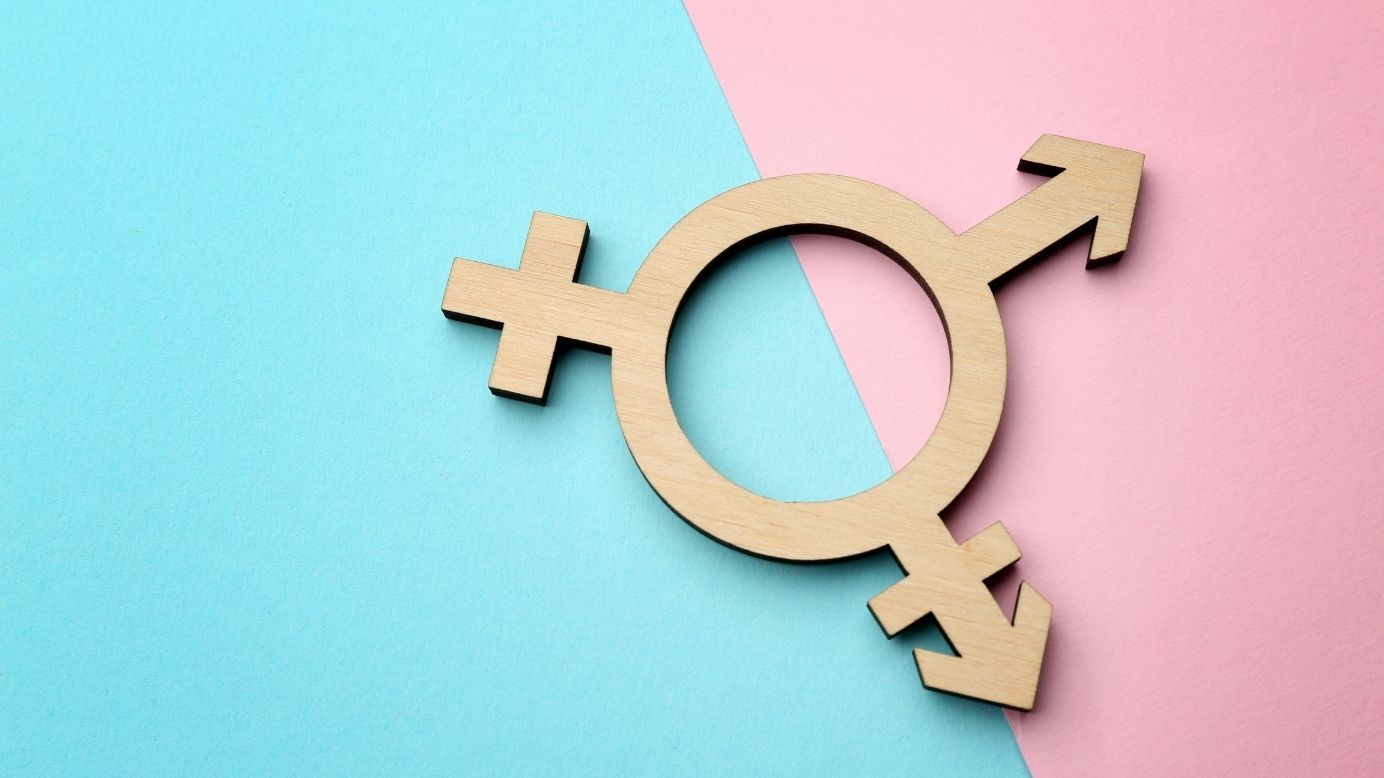 How Reward and Recognition Programs Impact the Two Genders
Various Statistical Analysis on How Reward and Recognition Programs Impact the Male and Female Employees in an Organization
Everyone desires recognition and everyone appreciates the awards. Determining the proper rewards and recognition program is tough enough for companies. The company needs to balance the worker's desire for income with their need for the reward ad recognition program. But, there is a seminal difference in the way men and women give and respond to employee recognition.
Perceived Differences in Reward and Recognition Programs Between Genders
According to P&MM Employee Recognition Analysis, women give and receive more recognition, while men are more likely to give recognition in the form of a higher monetary value. Men become more engaged when there is a monetary reward involved whereas women tend to be better at just saying thank you. More than 74% of all recognition received by men has a monetary value, compared to 64% of women. The analysis pointed out that there was a 'pay gap' in the employee recognition schemes with more men being recognized with monetary awards rather than a thank you gesture. And this is echoed in the way in which men are more likely to offer a high-value monetary award to their team.
An Employee Recognition Survey by the American Psychological Association (APA) in 2014 showed that while employee recognition on the job was equally important to men and women (87%), men were more likely than women to report being satisfied with their employer's recognition practices (54% vs. 46%).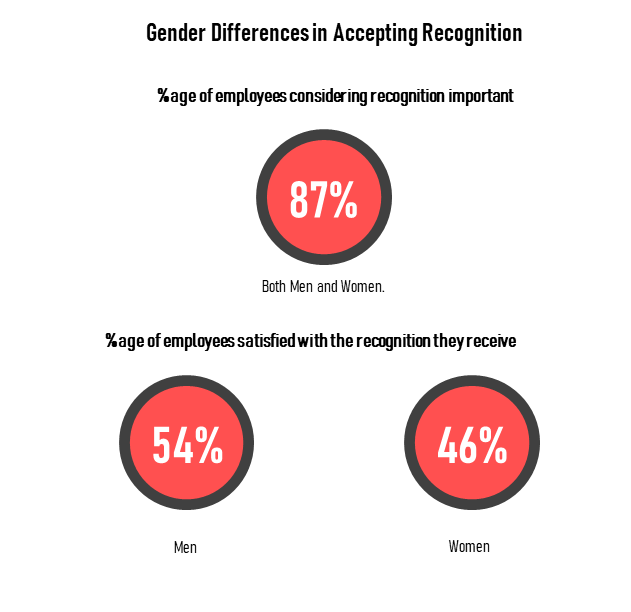 Even as both men and women reported the same levels of job satisfaction, men cited slightly higher levels of motivation, feeling valued by their employer and working harder because of the recognition they receive. About 52% of men believe that recognition is provided fairly in the organisation as opposed to 42% of women. About 56% of men say their supervisor provides recognition effectively compared with only 47% of women echoing the same sentiments. APA's survey echoed the P&MM survey's points about how women valued appreciation, whether it was written or verbal.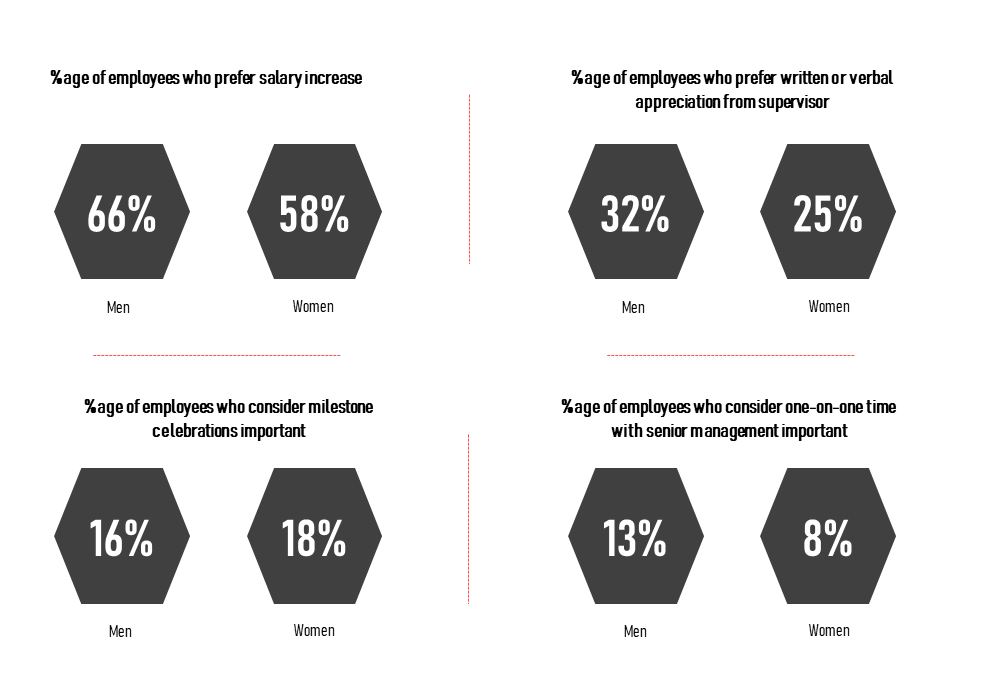 Women were more likely than men to say that salary increases (66% vs. 58%), verbal or written appreciation from a supervisor (32% vs. 25%) and gift cards or gift certificates (31% vs. 24%) were important to them. Women were more likely than men to say that celebrations of major life events or personal milestones are important to them (16% vs. 8%), while men were more likely than women to cite one-on-one time with senior management as important (13% vs. 8%). These two surveys point out one very interesting thing: Men seek recognition for the work they do and are likely to be engaged if it is a monetary one. They are likely to pass on recognition in the monetary form as well. By contrast, women seek appreciation for the work they do and are equally engaged with non-monetary rewards as well. This behavioral change between men and women is key because it could also point to some other inherent challenges such as taking up leadership roles.
Organisational Efforts to Bridge This Gender Gap in Rewards and Recognition
Challenges that are mentioned above lead companies to design unique reward and recognition programs. In 2014, American Express designed and created Reach Out in collaboration with four other leading organisations in India—Microsoft, PepsiCo, PwC and Tata Sons. The program provided a development platform for senior women leaders to Share, Network and Learn from leaders and peers across these organisations and enabled greater career success for the nominated cohort of 31 high potential diverse women at senior levels. The interactive format amplified the opportunity to network and facilitate experiential learning & development through a combination Workshops, Focused Peer Learning Circles and Group Coaching by executive leaders across partner organisations.
Usually, men tend to showcase more confidence than women in performance-oriented settings. George Washington University Law Professor Charles Craver, in an essay titled The Impact of Gender on Bargaining Interactions, writes,
"Even when minimally prepared, men believe they can 'wing it' and get through successfully. On the other hand, no matter how thoroughly prepared women are, they tend to feel unprepared."
Men also score more promotions than women because they are more likely to seek out time with senior management. According to a Harvard Business Review paper Why Men Still Get More Promotions than Women,
"They are more likely more likely to be mentored by senior executives and women are much more likely to have junior mentors. As upper management is still male dominated, and as we saw above that men tend to pass on recognition they have received, male employees are in a better position to receive promotions."
John Gray and Barbara Annis write in their book Work With Me: The 8 Blind Spots Between Men and Women in Business - men and women primarily seek different modes of appreciation. While a man feels appreciated if he's singled out to do a task, a woman prefers being acknowledged as part of a team that accomplished the task. So, men want their accomplishments to be noted, while women want their efforts to be understood and appreciated. Gray is a Consultant and Corporate Coach while Annis is a Corporate Consultant and author. For the book, they conducted more than 1 lakh interviews with executives at 60 big corporations and from workshops they run at companies. Unfortunately, these trends also reinforce stereotypical traits like empathy for women and aggressiveness for men.
A case in point is ICICI Bank's iWork@home programmer. Companies offering work from home and flexi work options to employees is nothing new. But, when the work from home option is specifically aimed at women, it reinforces stereotypes. Of course, it remains to be seen what kind of impact programmers like iWork@home will have on women employees as it was just introduced this year.
Women are traditionally seen as caregivers, even today. Juggling family and work is tough on both men and women, but women have it worse. Indeed, some of the best companies for women in India are those that promote the growth of women and provide them opportunities that lets them balance work and home commitments. Globally, Apple and Facebook are offering to freeze eggs for their women employees in order to attract more female employees; the jury is still out on whether this is a good move.
Hence, if women are expected to play different roles in the workplace and at home than men, then they are likely to also look for different rewards from their work, such as pay, intellectual challenge, flexibility, work/life balance etc.
Effective rewards and recognition programs can ignite purpose and potential in your team. With Empuls, you can start an RnR program that's candid, social, frictionless & fun. Want to know more? Book a demo or start a free trial.
Empuls Newsletter
Join the newsletter to receive the latest updates in your inbox.
---