What if there was a way to measure just one factor of the employee experience at your company - and that one factor had the power to make your employees more productive, care more about their work, and go above and beyond to delight your customers?
It almost sounds too good to be true! But it's not - that's exactly what a high level of employee engagement can do for your business. So what is employee engagement, how can you measure it, and who can you trust to help you along the way to increase engagement levels? That's exactly what we'll be covering in this blog post. Let's get started!
What is Employee Engagement?
Employee engagement is a metric that has been getting increased importance in the last decade. It measures how engaged your employee are at their jobs - how much they care about doing excellent work, how challenged and satisfied they feel by their work every day, and how much they feel they are contributing to the organization.
Employee engagement is a vital measure because engaged employees are not just happier, but they also provide plenty of benefits to your organization overall. That's why this measure has become something executives across the world are measuring and working to raise. Engaged employees understand why their work matters and the big-picture goals of the company. Disengaged employees feel like their work is a drag - they dread coming to work in the morning.
But don't just take our word for it. There are plenty of statistics that back up these statements. Here are just a few of the most stunning ones.
This list could go on and on, but the point remains the same - employee engagement is vital to your business's success and is beneficial for your employees themselves. But sadly, only 13% of employees globally are actually engaged at work. So how do you measure this metric?
How Do You Measure Employee Engagement?
Measuring employee engagement is important because otherwise, you really won't know how your business is doing in creating an environment where employees thrive. But it's also challenging because there's not just one simple question or number that will tell you where your organization stands.
The best way to get a complete measure is with an employee engagement survey. This is a series of questions you ask your employees to answer - yearly, quarterly, or even monthly regularly. These questions are designed to measure the employee experience's multiple facets to figure out how engaged your employees are.
Harvard Business Review offers a complete rundown of factors you may want to measure when you're trying to get a sense of employee engagement levels. For most organizations, though, running an employee survey is the best and most accessible way to measure engagement.
You can certainly design and run an employee engagement survey yourself - with plenty of tools out there that make creating your own survey easy, it's possible. But how will you know that the questions you're asking are the ones that will truly guide you to the answers? How will you balance creating a survey that gets you plenty of data with creating a survey your employees will actually answer? And how will you know what your results really mean?
That's why working with an experienced employee engagement survey vendor is essential. With so many options available today, it can be challenging to pick the one that's right for you. That's why we have a guide for everything you need to know when picking the best employee engagement survey provider.
How Should You Select an Employee Engagement Survey Vendor?
The best employee engagement survey vendors have one thing in common - they are partners, not just platforms. They should be able to clearly demonstrate how they will save you time, save you money, and save you effort as well.
When you are looking for a employee engagement survey provider for your organization, there are three key areas to consider in your search.
Expertise:
Does the vendor have experience with engagement surveys?
Is the design of the survey grounded in research?
Can the vendor help you interpret survey results?
Does the vendor provide a plan for post-survey action and coaching?
Technology:
Does the vendor offer technical support at every phase of the project?
Can the vendor integrate the system into your existing IT environment?
Does the vendor have plenty of experience providing IT solutions for a company of your size and scale?
Ease of Use:
Is the survey easy to use and intuitive for respondents to answer?
How quickly can you access results and reports?
Is the reporting provided easy to use and intuitive?
Are the results clear and meaningful, and able to be segmented into different groups?
While cost is an important factor if you settle for a product that saves money in the short-term, what costs are you incurring over the longer term? After all, as we discussed above, a lack of employee engagement costs businesses hundreds of billions of dollars every year. You need to invest in the best employee engagement survey platform for your needs.
Consider Empuls, the Best Employee Engagement Survey Vendor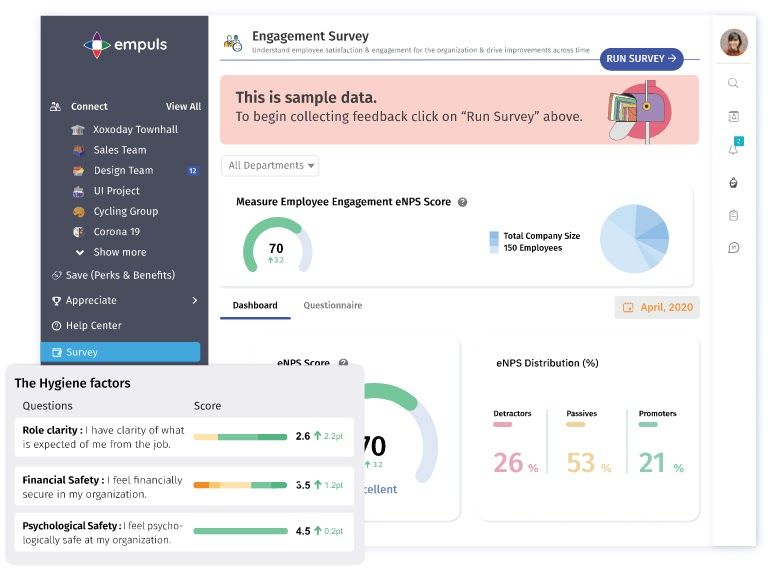 If you're looking for a solution that meets all of the above criteria and many more, you should consider using Empuls as an employee engagement survey vendor. With Empuls, you can have a complete, custom solution to measure engagement using surveys and take action on improvements as well. It's all one solution that breaks down the silos that keep people apart and keeps your organization moving ahead.
Let's look at some of the features of Empuls for employee engagement surveys.
1. It creates a concise map of your culture with just a few short questions.
Empuls joined forces with SHRM, the leading authority in all things employee culture, to create a short but highly effective pulse survey. You no longer need to send out a lengthy survey once per year and wonder how your employees are doing in between - you can survey them fast and frequently, so you always know what's going on in your organization. And with the speed of change these days, that's vital.
2. It integrates with the systems your employees already use every day.
You can integrate Empuls with Slack to make your engagement survey efforts more effective. For example, you can use Slack to run real-time employee engagement pulse surveys right in the system itself to get a quick picture of how employees feel at any given time. You can also send Slack reminders to employees to complete longer engagement surveys, so your survey participation rate is substantial.
3. You can measure what really matters and understand at a deep level.
When you run an employee engagement survey, you need to understand what all the information you gather means truly. Empuls takes you through the core engagement drivers, creating interactive dashboards with detailed insights on your organization's health. You'll quickly spot anomalies and areas where action needs to be taken.
4. You can get an immediate action plan and nudges to follow up.
Once your engagement survey has run, figuring out what to do next can be tricky. But with Empuls, you'll get expert-approved actions to take to do more of what's working well, fix what's going wrong, and set your team on the right path. It will even nudge managers and leaders to be proactive instead of waiting until engagement has gotten dangerously low.
These are just a few of the many benefits of using Empuls as your employee engagement survey vendor. Get the perfect mix of automation, customization, and integration in one easy-to-use platform. You can start your free trial, or schedule a demo to see what Empuls can do for your organization today.
Finding the Best Employee Engagement Survey Company
Employee engagement is a critical metric for your organization to know - but figuring out how to measure and what to do with your results is complicated. Don't go it alone! Finding a trusted partner to implement the right survey, ask the real questions you need to know and provide clear and thorough data will put you on the road to increasing employee engagement rates.
That means your organization will be set up for success, today and in the future. Choosing an employee engagement survey company can be easy when you go with the trusted experts at Empuls. They'll be here for you, from designing the survey cadence and delivery that works for your organization to implement an actionable solution based on your results. Book your demo today and see for yourself!