People management has come a long way from managing payslips to managing the office floor and transitioning the culture through thick and thin. One isn't born with the accolade of "people person," but it takes the culture around them to build one.
Education blooms the most prominent leaders of tomorrow, and as for the people who manage the people, there are many top HR certifications in the world that polish them into the best.
These HR certifications are compiled by thought leaders and masterminds in the world of people science, behavioral schematics, work culture ethics, and psychological studies.
They are accredited by the best institutes that are innovators of people policies that shaped today's work culture, and finally—they are taught by experts all across the world.
Why are HR certifications important?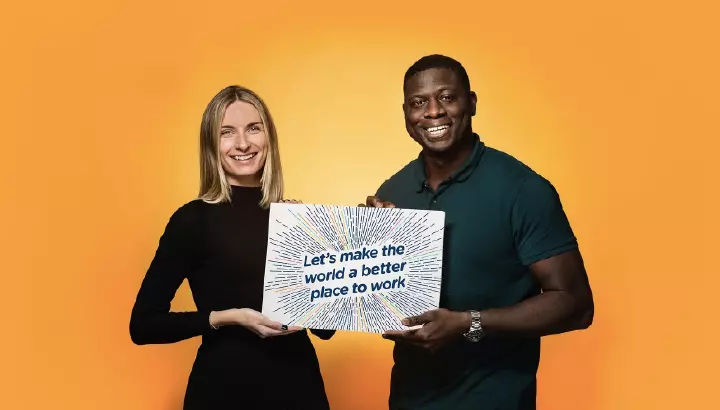 These HR certification courses for HR professionals aren't just degrees that spice up the resume while applying for a job (check also Resume Guide for Human Resources Managers describing in detail what to include in each section of resume with examples).
According to the Value of Certification Survey from the HR Certification Institute (HRCI),  these certifications equip learners with substantial knowledge about what the future holds in the field of managing people, especially when the future lurks with the next level of automation:
HR certifications are crucial when considering an applicant for HR roles starting from the hiring part.
Certified HR professionals bring a sense of trust and confidence to the cubicles—especially from colleagues that are non-certified and in the field of HR.
Various organizations consider hiring certified professionals the turning point that works to their advantage.
Certified HR professionals are specialized in efficient financial performance when it comes to costs, making it a great plus point.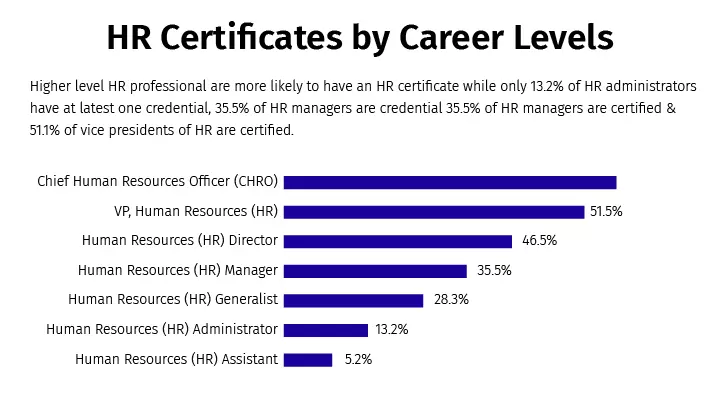 Let's not forget the fact that an HR certification unlocks a bag full of opportunities in one's personal and professional career. We are going to go through the best Human Resource certification institutes throughout the globe and how they can help your career with the mightiest of leaps.
Best HR certifications for professionals across the globe
Let's have a look at the best HR certifications for entry-level, intermediate level, and senior levels.
1. The HR Certification Institute (HRCI)
With over 45 years of experience in the field of Human Resource Certifications, the HRCI has a formidable recognition in the community of HR professionals all across the map. Every year, almost 15,000 professionals—give or take— get certified for one of eight certifications that the institute has to offer. Here's how the courses line up:
Associate Professional in Human Resources®: The APHR is the perfect fit for professionals looking to embark on their journey in the field of HR. There's also an Associate Professional in Human Resources—International™ for international students who are outside the US.
Professional in Human Resources®: For HR professionals looking to upskill themselves in the intricacies of what people management is about, a PHR certification is the perfect step up.
This certification is extensively taught in statutes and laws of the state of California (Professional in Human Resources—California®) as well as internationally (Professional in Human Resources — International™) independent of the geographic region.
Senior Professional in Human Resources®: In the high-paced people culture, strategizing and policymaking are crucial aspects to work on for any HR professional. Along with solidifying credibility as an HR leader, the International course (Senior Professional in Human Resources—International™) is for all geographies and highlights the local HR practices.
Global Professional in Human Resources®: This one's for Mister and Miss worldwide—the GPHR certification validates the expertise of professionals in HR practices on a global scale—making them eligible for multinational HR roles.
2. The Society of Human Resource Management (SHRM)
Every HR professional has this institute's name on their tongue, in their browser bookmarks, and in their minds. The Society for Human Resource Management is the pioneer in people management since its inception in 1948.
Assisting thousands of professionals in managing millions of people. SHRM came up with a competency-based certification program in 2014.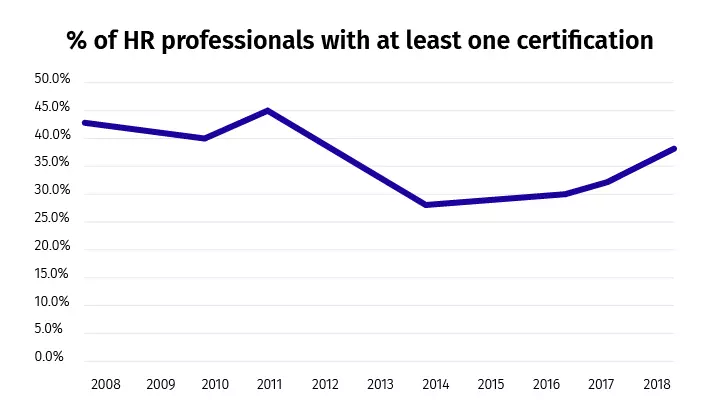 With this certification program, HR practitioners are equipped with knowledge that's relevant to their jobs, and the skills are versatile enough to work across all industries. With a pinpoint focus on the advancement of personnel, these courses are accredited by the Buros Center for Tested and of course— backed by SHRM. Let's look at the two certifications offered.
Entry & Intermediate level
SHRM Certified Professional®: New and budding HR professionals can don the SHRM-CP badge on their crests with this certification. With learnings in human behavioral competencies for a better outlook towards creating a stellar culture as well as HR expertise on different fronts, the SHRM-CP is a great certificate to have for entry and mid-level professionals.
SHRM Senior Certified Professional®: For the HR professionals with a huge amount of experience in people management, the SHRM-SCP brings in layers of knowledge about how to revolutionize culture from the very top to the last employee. This certification is a great value add—not just on the resume—but in the professional's thought process.
3. World at Work
With compensation being an indispensable part of today's culture, this is a top HR certification that covers all about compensation management. World at Work, a prominent not-for-profit association of professionals specializing in compensation and rewards, provides avenues in the form of certifications for the ones designing and delivering end-to-end reward programs. Let's look at their best compensation-based HR certifications.
Certified Compensation Professional®: The CCP certification from World at Work has been the benchmark of understanding compensation metrics since the 1970s. Offering knowledge in integrating compensation programs with business strategies, crafting basic and variable paycheck programs, and complying with legal requirements, this certification sets up an HR professional for everything related to payroll.
Certified Benefits Professional®: Employee benefits can't be missed in today's work culture and this entry-level certification in CBP will set up the professionals with the prowess to develop benefits programs in accordance with the business strategy in such a way that it impacts employee engagement and retention.
Certified Sales Compensation Professional®: Sales are always a game of motivating your force to gain a competitive edge and are often fueled by incentives, rewards, and perks. The CSCP certification teaches all about crafting the perfect sales compensation plan for the critical gear of any enterprise to attract, motivate, and engage sales teams into exemplary performance.
Certified Executive Compensation Professional®: This is a much-advanced version of the Certified Compensation Professional® course for entry-level professionals. Teaching all compensation intricacies to make you a hands-on expert in compensation management, has got a final phase for senior-level HR professionals too.
Advanced Certified Compensation Professional®: For veterans in the field of HR management, the ACCP moves over the core competencies and ground setup to compensation management strategy formulation from a long-term perspective. This is the final level of World at Work's most prominent course of Certified Compensation Professional®.
Global Remuneration Professional®: This one's ideally for intermediate level as well as veteran professionals looking to cross borders for work. The GRP equips the professionals with noteworthy statutes and norms that are globally crucial for compensation and payroll management.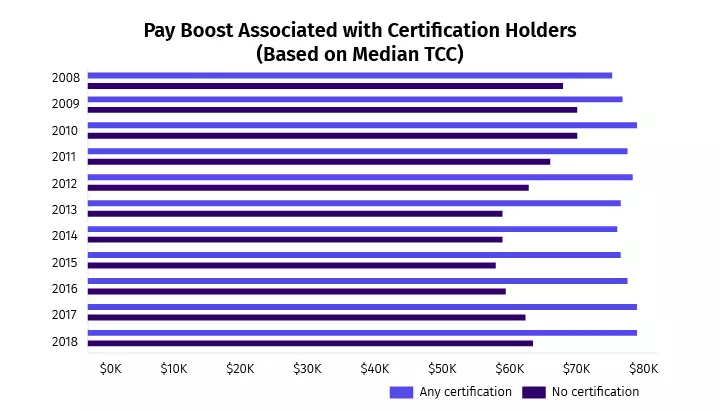 4. Talent Management Institute
Another top institute that has set a benchmark of its own when it comes to grooming talent, the Talent Management Institute has its own HR certifications that not only assist the high-flying newbie HR professionals but are a handful for industry leaders too. TMI's three major certifications are for HR generalists to bolster the pair of eyes scouting for talent. TMI's groundwork is laid into 180+ countries and here's how its three courses line up.
Talent Management Practitioner™: For professionals and HR grads fresh out of college, the TMP certification is an amazing step up. On becoming a TMI-certified Talent Management Practitioner, professionals re-engineer their conventional teachings in what the corporate world needs out of them.
Intermediate & Senior level
Senior Talent Management Practitioner™: A course for both executives, as well as veteran professionals in HR, being an STMP, adds a sharp edge to an individual's profile. It addresses the shift of textbook HR to a talent-oriented approach and is a major plus point for experienced ones who are looking to change with the paradigm. Once a professional becomes STMP from Talent Management Institute, they pre-qualify for its TIM-Wharton fellowship programs.
5. Association for Talent Development
Formed back in the 1940s, the Association for Talent Development has a professional membership, and it assists enterprises in grooming the skill sets of employees. Apart from their major duty of upskilling their clients' workforces, they have two certification courses that suit best intermediate and senior HR professionals. These certifications call for at least three years of experience in the field.
Associate Professional in Talent Development:  The APTD certification helps cater to professionals' expertise in their early careers. Supervisory-level HR professionals with over three years of experience are eligible for this certification. Most of them are without any formal training and development in talent management and ATD helps overcome that with this course.
Certified Professional in Talent Development: For professionals having at least five years' worth of experience in talent management, this certification is insightful in delving deep into a professional's knowledge and skill application on all talent development fronts.
Ready to grab your HR certification?
If you are a high-flying HR professional looking to scale up into your profession, this was a list of top 5 HR certification institutes that offer amazing courses for newbies, intermediates, as well as pros. Decide on one of these and select whichever suits your career trajectory best.