Leaving the Past Behind: A Paradigm Shift in R&R Programs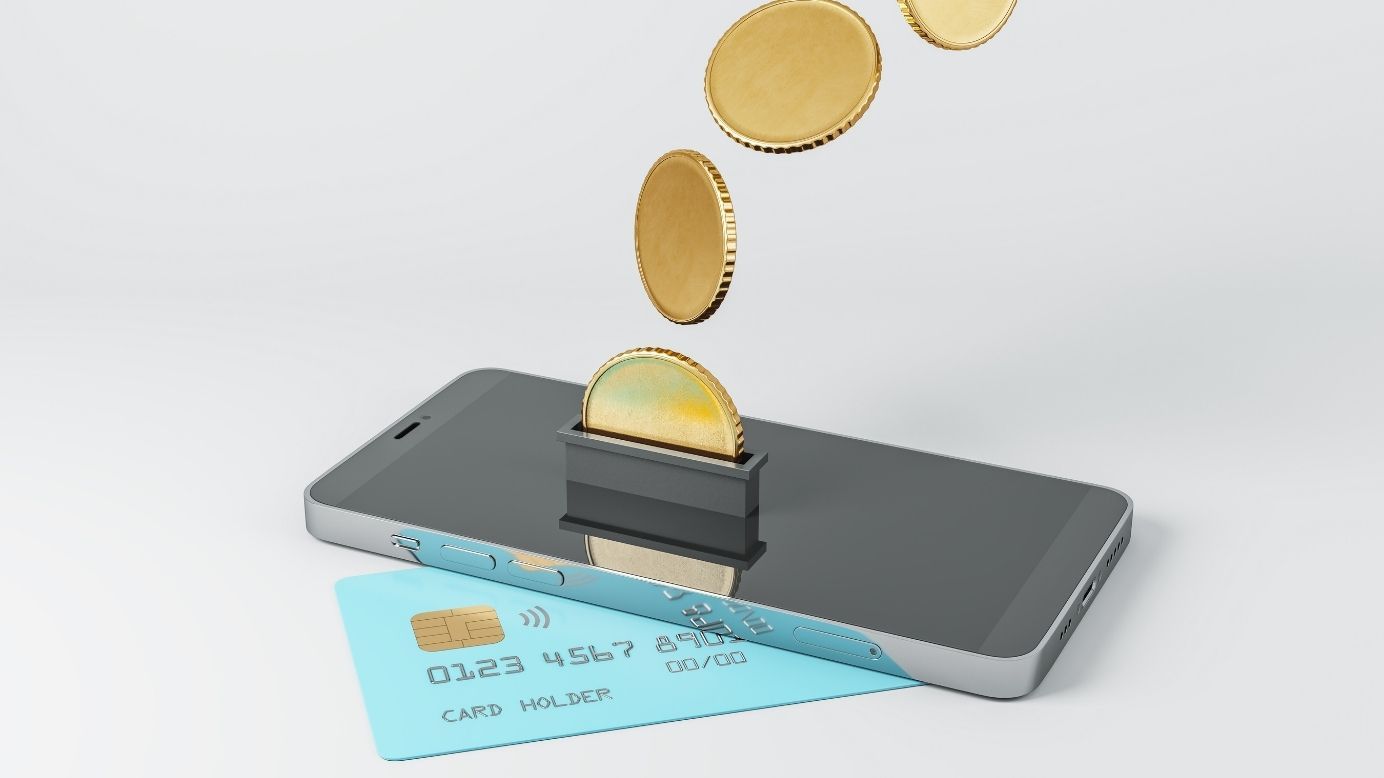 Leaving the Past Behind: A Paradigm Shift in R&R Programs
Here is how the switch from traditional rewards to modern rewards is fueling the modern workforce and is winning the hand-down.
Table of Contents
The move from traditional to modern rewards and recognition programsR&R signaled a paradigm shift in our understanding and appreciation of the modern workforce.
While die-hard traditionalists might argue that annual bonuses and commemorative service awards are still relevant, you get the gist.
What finally sounded the death-knell for old rewards practices was the realization that modern, digital rewards and recognition programs could offer much more, on a global scale, compared to outdated, localized ones.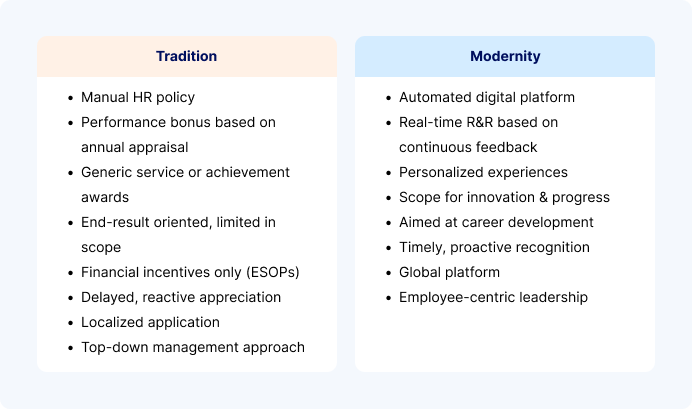 💡
"Next-generation tools such as artificial intelligence, machine learning, and advanced analytics are being leveraged to develop and deliver recognition that's more meaningful, personalized, and timely." |
Forbes
Why did Traditional Rewards give way to a Modern, Digital R&R?
Employees everywhere have been up-in-arms against traditional R&R for years, but most companies turned a blind eye to it, choosing to jump "to well-intentioned quick fixes that fell flat." | McKinsey
In a Harvard Business Review article, David Novak highlighted the example of his oncologist at a renowned hospital who received a plastic keychain to mark 40 years in service at the same medical center!
💡
"It's no wonder most workplaces suffer from a "recognition deficit." |
HBR
This glaring inflexibility of traditional R&R leading to high talent turnover forced organizations worldwide to recalibrate their rewards and recognition programs. It was finally time for traditional rewards to kick the bucket!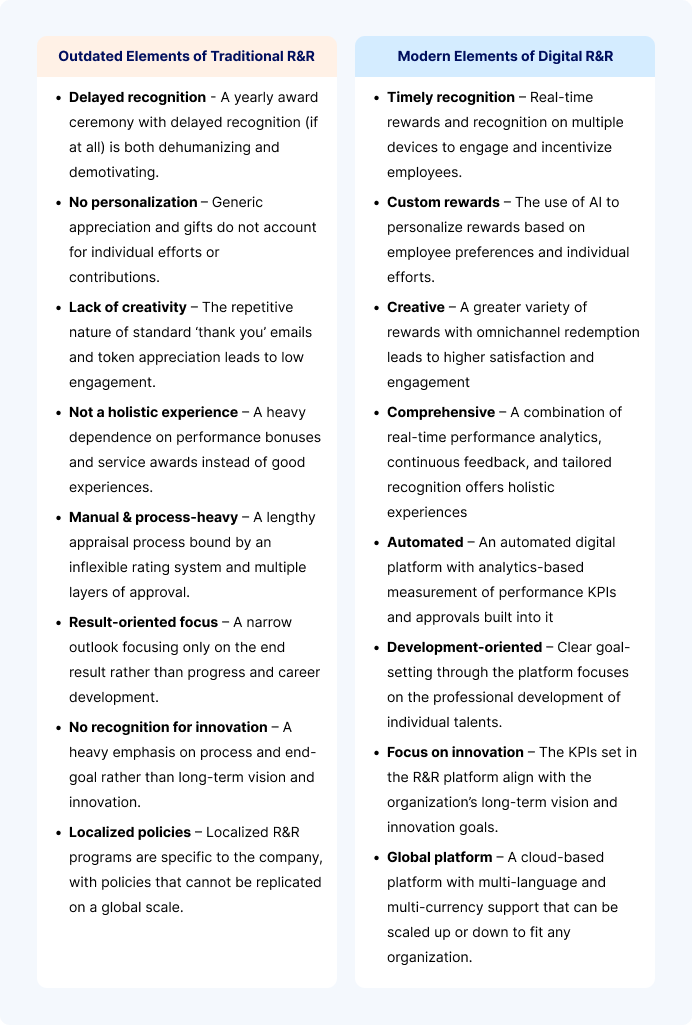 Transforming R&R with a Global, Digital Platform
Modern R&R caters to the nuances of the new workforce, and there are two ways to approach this evolution.
1. Physical Rewards Process vs. Digital Rewards Platform
Conventional rewards are limited in scope and lack the convenience and versatility of a digital R&R platform.
The top-down approach in the traditional rewards process places more importance on perceived abilities, whereas a digital platform measures performance metrics using real-time data, leaving no room for bias and error.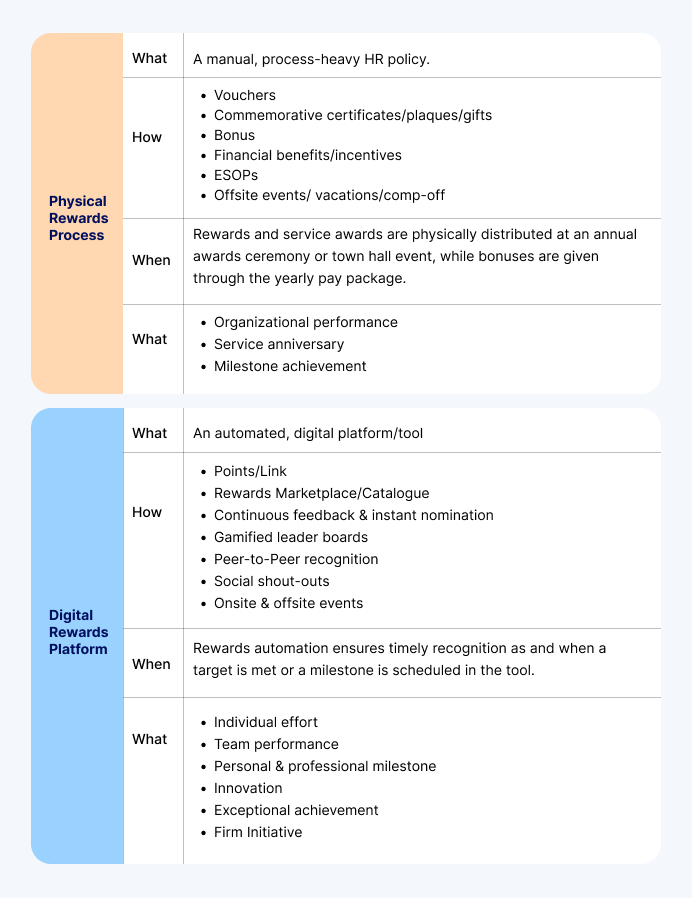 2.  Local vs Global Rewards Program
Local R&R programs have restricted applications than a global platform with a broader reach.
While small businesses still rely on local rewards programs due to the manual nature of their operations and lower employee strength, large enterprises with a diverse workforce spread over various locations and hybrid operations (in office and remote working) rely on scalable global platforms with rewards automation.
The availability of multiple SaaS platforms in the market has made it possible for organizations of every size to take their reward programs digital so they can appeal to their multi-generational workforce.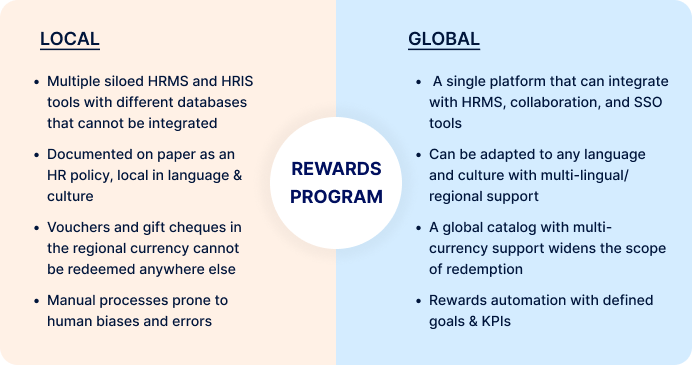 3.  Examples in real-time

Bottomline!
Needless to say, a digital program with its modern approach to R&R wins hand-down. By recognizing the immense value employees bring to their work and highlighting the best of this talent, a global rewards platform improves the company's bottom line.
The old practices cannot match the simplicity, cost, and time-effectiveness of modern rewards and recognition programs, and more importantly, they fall short of the expectations of a dynamic workforce looking for personalized, real-time R&R experiences!
💡
Digital can be harnessed to improve your recognition programs, personalize, and eventually (through the use of data), individualize. |
Forbes
Empuls Newsletter
Join the newsletter to receive the latest updates in your inbox.
---