Table of Contents
The move from traditional to modern rewards and recognition programsR&R signaled a paradigm shift in our understanding and appreciation of the modern workforce.
While die-hard traditionalists might argue that annual bonuses and commemorative service awards are still relevant, you get the gist.
What finally sounded the death-knell for old rewards practices was the realization that modern, digital rewards and recognition programs could offer much more, on a global scale, compared to outdated, localized ones.
Traditional Rewards System
Manual HR policy
Performance bonus based on annual appraisal
Generic service or achievement awards
End-result oriented, limited in scope
Financial incentives only (ESOPs)
Delayed, reactive appreciation
Localized application
Top-down management approach
Modern Rewards System
Automated digital platform
Real-time R&R based on continuous feedback
Personalized experiences
Scope for innovation and progress
Aimed at career development
Timely, proactive recognition
Global platform
Employee-centric leadership
💡
"Next-generation tools such as artificial intelligence, machine learning, and advanced analytics are being leveraged to develop and deliver recognition that's more meaningful, personalized, and timely." (
Source
:
Forbes
)
Why did Traditional Rewards give way to a Modern, Digital R&R?
Employees everywhere have been up-in-arms against traditional R&R for years, but most companies turned a blind eye to it, choosing to jump "to well-intentioned quick fixes that fell flat." | McKinsey
In a Harvard Business Review article, David Novak highlighted the example of his oncologist at a renowned hospital who received a plastic keychain to mark 40 years in service at the same medical center!
💡
"It's no wonder most workplaces suffer from a "recognition deficit." (
Source
:
HBR
)
This glaring inflexibility of traditional R&R leading to high talent turnover forced organizations worldwide to recalibrate their rewards and recognition programs. It was finally time for traditional rewards to kick the bucket!
Outdated Elements of Traditional R&R
Delayed recognition – A yearly award ceremony with delayed recognition (if at all) is both dehumanizing and demotivating.
No personalization – Generic appreciation and gifts do not account for individual efforts or contributions.
Lack of creativity – The repetitive nature of standard 'thank you' emails and token appreciation leads to low engagement.
Not a holistic experience – A heavy dependence on performance bonuses and service awards instead of good experiences.
Manual and process-heavy – A lengthy appraisal process bound by an inflexible rating system and multiple layers of approval.
Result-oriented focus – A narrow outlook focusing only on the end result rather than progress and career development.
No recognition for innovation – A heavy emphasis on process and end-goal rather than long-term vision and innovation.
Localized policies – Localized R&R programs are specific to the company, with policies that cannot be replicated on a global scale.
Modern Elements of Digital R&R
Timely recognition – Real-time rewards and recognition on multiple devices to engage and incentivize employees.
Custom rewards – The use of AI to personalize rewards based on employee preferences and individual efforts.
Creative – A greater variety of rewards with omnichannel redemption leads to higher satisfaction and engagement
Comprehensive  – A combination of real-time performance analytics, continuous feedback, and tailored recognition offers holistic experiences
Automated – An automated digital platform with analytics-based measurement of performance KPIs and approvals built into it
Development-oriented – Clear goal-setting through the platform focuses on the professional development of individual talents.
Focus on innovation – The KPIs set in the R&R platform align with the organization's long-term vision and innovation goals.- Global platform – A cloud-based platform with multi-language and multi-currency support that can be scaled up or down to fit any organization.
Transforming R&R with a Global, Digital Platform
Modern R&R caters to the nuances of the new workforce, and there are two ways to approach this evolution.
1. Physical Rewards Process vs. Digital Rewards Platform
Conventional rewards are limited in scope and lack the convenience and versatility of a digital R&R platform.
The top-down approach in the traditional rewards process places more importance on perceived abilities, whereas a digital platform measures performance metrics using real-time data, leaving no room for bias and error.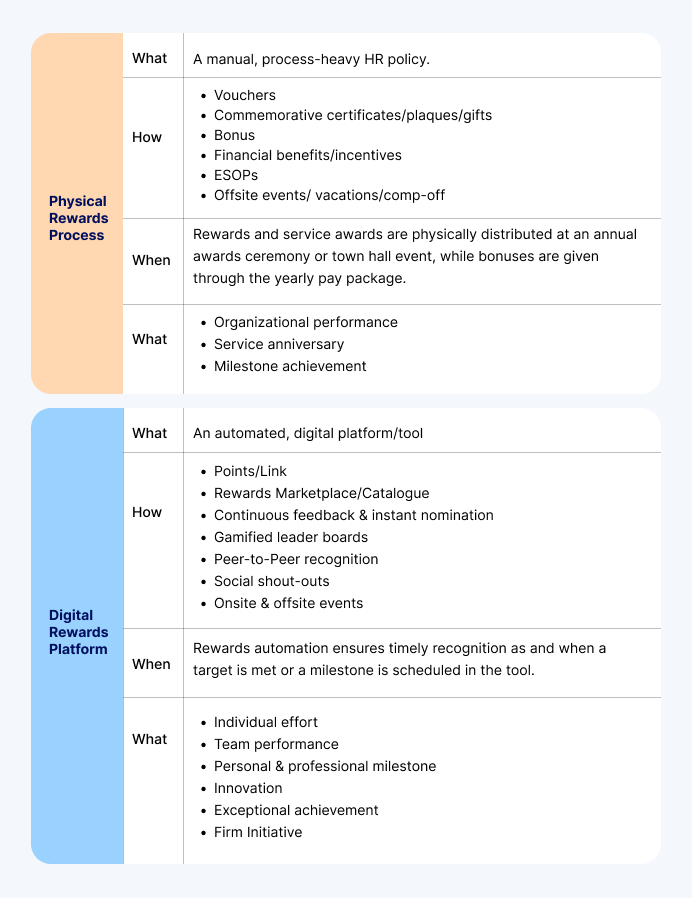 2.  Local vs Global Rewards Program
Local R&R programs have restricted applications than a global platform with a broader reach.
While small businesses still rely on local rewards programs due to the manual nature of their operations and lower employee strength, large enterprises with a diverse workforce spread over various locations and hybrid operations (in office and remote working) rely on scalable global platforms with rewards automation.
The availability of multiple SaaS platforms in the market has made it possible for organizations of every size to take their reward programs digital so they can appeal to their multi-generational workforce.
Local rewards program
Multiple siloed HRMS and HRIS tools with different databases that cannot be integrated.
Documented on paper as an HR policy, local in language and culture.
Vouchers and gift cheques in the regional currency cannot be redeemed anywhere else.
Manual processes prone to human biases and errors
Global rewards program
A single platform that can integrate with HRMS, collaboration, and SSO tools.
Can be adapted to any language and culture with multi-lingual/regional support.
A global catalog with multi-currency support widens the scope of redemption.
Rewards automation with defined goals & KPIs.
3.  Examples in real-time
Physical Rewards: E.On still swears by physical, but with heartfelt "thank you" notes incorporated into their Buzz recognition program.
Digital Rewards: Unilever's global digital reward system, uFlexReward, analyzes individual preferences to offer tailored benefits to fit employees' needs.
Local rewards programs: All U.S. employees of HP Inc with at least 10 hours of volunteer work per quarter under their belt receive a $50 Good Card.
Global rewards platform: Apple customizes its paid-time-off according to an employee's location and job role and meets regional, cultural, and personal preferences.
Bottomline!
Needless to say, a digital program with its modern approach to R&R wins hand-down. By recognizing the immense value employees bring to their work and highlighting the best of this talent, a global rewards platform improves the company's bottom line.
The old practices cannot match the simplicity, cost, and time-effectiveness of modern rewards and recognition programs, and more importantly, they fall short of the expectations of a dynamic workforce looking for personalized, real-time R&R experiences!
💡
Digital can be harnessed to improve your recognition programs, personalize, and eventually (through the use of data), individualize. |
Forbes