What connects Apple, Warby Parker, and Gong? Yes, they are all disruptors of the status quo. In the context of this blog, they created waves with their employee rewards and recognition programs.  
Each one of them is a forerunner in using one or multiple forms of rewards and recognition to motivate their employees, and most importantly, to align and nudge their people towards the work culture they seek to build. But first, it's time to understand the meaning and definition of employee recognition and rewards.
Overview of Employee Recognition and Rewards in theWorkplace
Employee recognition and rewards are often used interchangeably. Rewards and Recognition (R&R) are positive feedback systems in a workplace that acknowledge and appreciate the efforts and contributions of employees in a just and timely manner.
What are employee rewards?
Employee rewards are tangible or formal ways of applauding employees. Organizations can reward employees for completing a project or reaching a milestone through awards, bonuses, gifts, vouchers, etc. Employee rewards carry a financial element.
Having a system of rewards encourages employees to continue performing well in their jobs. It helps the company maintain harmony and a healthy relationship between the employer and employees. The system is essential because it influences how people feel, how they behave, what they think and how they work. People work for money there's no denying it, but most often than not, money is not the only thing that motivates people to perform better. Rewards motivate employees and help them go the extra mile.
What is employee recognition?
Employee recognition, on the other hand, is intangible gestures or expressions of appreciation. They are usually in the form of notes, messages, or even verbal thank yous. Employee recognition does not carry a financial element.
Employee recognition is a symbolic expression to the employee(s) for a job well done. It is a way of telling the employees that you appreciate their efforts and contributions. A simple thank you note for the extra effort made towards achieving a goal can go a long way in boosting morale and motivation.
Other forms of R&R include perks and savings options, points, experiences, and activities, such as employee or team celebrations. Take a look at our blog, where we have covered the different categories of R&R in detail.
Together, R&R are essential for enhancing employee motivation. Motivation, in turn, is a crucial pillar of employee engagement that increases employee satisfaction when used suitably and meaningfully. Without motivation, even the best of employees may underperform.
Apart from playing a vital role in keeping up employee motivation, R&R can also be suitably leveraged by a company to reinforce positive behaviors, align with the company's core values, and create the desired workplace culture.
Rewarding and recognizing a high-performing employee not only motivates them but also leads to the alignment of goals with values, consequently resulting in profitability.
Getting back to Apple: When Tim Cook's mail to his employees for Thanksgiving got leaked in 2011, it made the breaking news. Cook had thanked his employees for all their hard work and announced three additional days off with pay to reward and recognize their efforts. This meant that the Apple employees got extra time with their loved ones.

Even though Apple has a history of being a springhead of innovation, this was a unique instance of applying innovation beyond the business realm. It was the first time the working world had heard of extra holidays with pay being announced.

This one act did multiple things at the same time. For the employees of Apple, it acted as a reward for exhibiting the desired behaviour and served as a motivation to work even better for the company. For other firms, it was an example of thinking out of the box to enhance employee motivation.

For techies and non-techies, Apple became an even more shiny place where they aspired to work - one which espoused creativity across all its functions!
The Science Behind Employee Recognition and Rewards
While Tim Cook, being a shrewd businessman,  identified and leveraged a form of employee rewards and recognition to the benefit of his organization, there is a scientific basis for the sound effects of a timely, appropriate, and genuine R&R system in a workplace.
From a psychological perspective, when we study Maslow's Hierarchy of needs, we can see that after our fundamental necessities of safety and survival are met, we all require a sense of love and belonging that leads to a sense of esteem that culminates in self-actualization. In the modern workplace context, this translates to having the feeling of working in a team for an organization where one is regularly recognized, rewarded, and appreciated, leading to career development and growth.
From the perspective of behavioural sciences, considering the works of Stajkovic and Luthans (1997) in the organizational modification theory, it has been shown that positive reinforcements lead to a desired positive organizational behaviour. These positive reinforcements can be financial, non-financial, social, or a combination of these three.
A meta-analysis done by both these researchers on all the organizational behavior studies of twenty years showed that using rewards and recognition increased the overall performance by 15% across all sectors.
"Teams that had both high trust and high purpose blew away the competition" - Dr. Paul Zak.
Impact of Employee Rewards on Employee Experience
Time for Warby Parker now. Warby Parker, the first online eyewear brand in the USA, began its journey in 2010. Within a decade, they have evolved into an affordable designer eyewear brand with social consciousness as their way of business. In about 11 years, Warby Parker has over 1400 employees and 397 million USD in annual revenues.
Apart from making good eyewear less expensive and easily accessible to the masses, Warby Parker also runs a program called, Buy a pair, gift a pair program, where they donate a pair of glasses for every pair sold.
One of the things that have set the tone for Warby Parker's growth has been its focus on providing a great employee experience to ensure people continued to work with their startup as they expanded.
Gallup defines employee experience as " The employee experience is the journey an employee takes with your organization. It includes every interaction that happens along the employee life cycle, plus the experiences that involve an employee's role, workspace, manager and wellbeing."
Gallup's employee experience framework identifies seven stages of an employee's life cycle: attract, hire, onboard, engage, perform, develop, and depart.
How Warby Parkers Use Rewards and Recognition for Employee Motivation?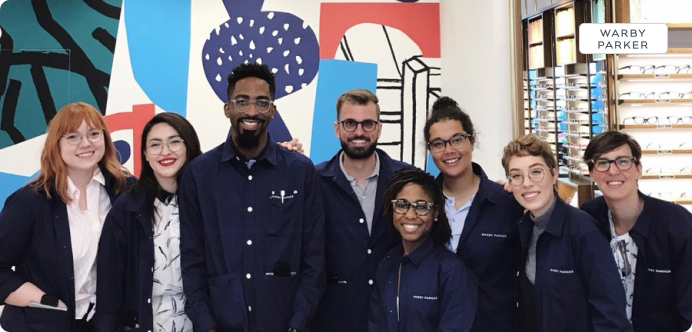 Starting from the onboarding stage till departing, Warby Parker has used various forms of rewards and recognition to keep its employees motivated. Here's a glimpse:
1. Onboarding
At Warby Parker, the onboarding experience is seamless and fun. Apart from the employee handbook, a new employee is also given a copy of Jack Kerouac's Dharma Bums to understand the origin of the company name.
Their desk has a helium balloon flying high for two weeks, saying, "Nice to meet you!" A cue for others to drop in and introduce themselves.
Training is always conducted by the senior leaders.
2. Engage, perform and develop
Celebrations:
Apart from awarding every milestone, professional and personal, with rewards, Warby uses helium balloons to let other employees know about it so that they can come by and congratulate their colleagues.
Warby Parker has organized street parades with bands and employees walking together to celebrate organizational milestones, such as turning five or hitting 1000 employees.
Aligning with the organization's purpose:
Core values: Every employee act resonating with their core values are celebrated through an award given under the Blue-Footed Booby Award.
An incentive to learn: To encourage employees to acquire cross-functional competencies, they have an award called Breakfast with Champions that rewards people for getting cross-skilled.
To foster a culture of shared and mission-driven purpose, the company offers the following perks and benefits:
Employees who complete three years at Warbys are allowed to travel to international locations and meet the beneficiaries of the Buy a Pair, Gift a Pair program.
Employees are also given two paid days off to volunteer in the company's community programs every year.
The company gives every store staff the funds to donate to local orgs when they hit key sales targets.
To promote their value of engaging with the customer, Warby's has a Customer Connection program that ensures team members from every department regularly take shifts in Warby Parker's retail locations.
Importantly, Warby Parker seeks employee feedback on their experience through weekly, monthly, and bi-annual feedback sessions. They make sure to act on them as well!
As can be seen, Warby Parker has not just embraced multiple modes of employee R&R but has also spread them across multiple stages of employee experience, and the various facets of employee engagement.
Every employee engagement model, be it
Gallup's Q12
or
Deloitte
, has mentioned a culture of recognition and rewards as an essential aspect of employee engagement. Rewards and recognition have also been scientifically proven to
improve employee engagement
, and hence, the employee experience, leading to a host of benefits.
Organizations like Warby Parker have a comprehensive R&R strategy in place to actively recognize, appreciate, and reward employees for achieving desired business outcomes, consequently creating a positive and differentiated employee experience.
When an R&R strategy also encompasses pay (fixed and variables), benefits, learning and development, perks, and incentives (that enable long-term wealth creation), it is called a total rewards package.   Here is a quick point about the different terms: bonus, incentives, rewards, awards, perks, and benefits. These are seemingly used interchangeably.
However, there are subtle differences between them all. You can read about them in our next blog on the differences between benefits, perks, gifts, awards, incentives, and rewards.
Still, wondering if R&R will align with your company's culture? Then it's time to read how Gong does it.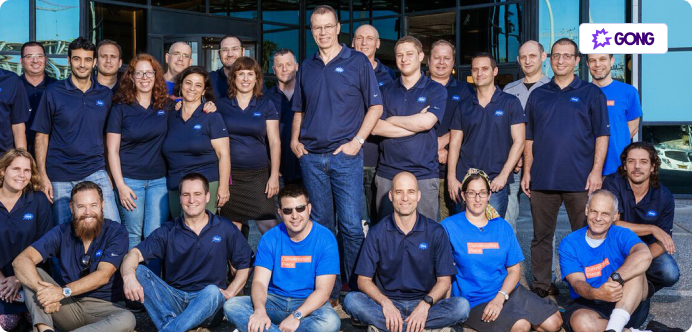 Gong is a SaaS firm that has a patented revenue intelligence platform. Gong's platform analyzes all of a company's customer-facing interactions (email, phone, and web conferencing) and delivers reality-based insights to close deals better. Founded in 2015, Gong is a relatively new kid on the block but has leveraged R&R effectively to keep attracting great talent.
They have also ensured that their R&R strategy nudges people towards the culture they want. Gong has eight principles that form the pillars of its culture. To embed these principles in their employees, they have instituted an award called "Outstanding Gongsters (OG)."
OG is a recognition given across their multiple departments to give a shoutout to folks who have exemplified any of the eight principles. The folks who are recognized are featured on the OG page on their website, and it is heavily promoted. They genuinely believe that a little recognition should go a long way in keeping people happy!
Interestingly, creating raving fans is one of their principles. While Gong has created a huge fan club of many of its users, their celebration of their "Gongsters" has created more fans, both users, and prospective employees.
Diversity and inclusion are important tenets of Gong's culture, and to enable the same, they have Gong circles and events. Their efforts have led to Gong being certified as a "Great place to work" for two years continuously in the SF area. Growing from 45 employees to 700 now, Gong is on a growth trajectory and well served by its R&R strategy.
Not Yet Convinced if R&R can Work for You? Here's Some Data that Can Move the Needle.
Industry experts, through their research, have found out that from a business perspective, not having an R&R program would prove costly.
Gallup's State of the Global Workplace: 2021 Report shows that the productivity loss of disengaged employees would amount to 18% of their annual salary. For example, the annual disengagement costs incurred by a 10,000-employee company, with an average salary of 50,000 USD, is 60.3 million USD.
From the perspective of culture, R&R boosts the trust and happiness quotients.
According to Gallup, workplace employee recognition is a low-cost, high-impact employee engagement tool that enables productivity, increases loyalty, decreases attrition, and serves as a tool to align everyone with a company's culture and values.  Also, according to an SHRM study, 70% of organizations tie their recognition programs to their organizational culture and values.
Evidently, from both a business and culture standpoint, rewards and recognition are vital structures whose presence increases profits and decreases employee turnover. They also serve as flexible mechanisms to promote the alignment of purposes and values. As long as your organization has humans driven by the need for motivation, R&R will work for your company.