Table of Contents
In these last few years, a volatile economic environment driven by mass resignations has forced companies to rearrange their priorities concerning their employees. This has certainly propelled the agenda of employee engagement and satisfaction to the forefront but with a new emphasis on experience.
Consider these two examples:
When Michelle and Max, two
Accenture
employees, started a fund-raiser among their colleagues for the new civil rights program using Accenture's MyGiving platform, it was picked up by the organization's U.S. Corporate Citizenship team. Accenture matched the $20,000 donations from its employees dollar for dollar, proving its commitment to its employees, their causes, and communities.
An anonymous Bank of America employee wrote:
"The way the management team, senior executives, and leadership team reacted to the pandemic and the systemic racism issues this year showed me how great our company is and how much our leaders truly care about our people. I was especially proud of our $1 billion initiative to fight systemic racism at a time when other companies were offering platitudes, were silent, or took smaller actions."
The common thread running through these two narratives is 'experience'—an experience these employees had at their respective organizations and the strong impression it left on their minds. Employee experience has changed from a 'gimmick' to a 'business imperative.'
From HR to IT and up to the CEO, everyone is focused on remodeling their company culture by creating authentic experiences for their employees.
💡
A study by
Deloitte
in 2017 found that 42% of executives rated employee experience "very important," and 38% rated it as "important." Today, this percentage has gone up.
Before we delve into how and why employee experience drives transformative organizational change, it is crucial to understand what employee experience is all about.
Definition of employee experience
Several definitions of employee experience exist but at a fundamental level,
Employee experience is the journey an employee takes with an organization. It includes every interaction that happens along the employee life cycle. (Source: Gallup)
Starting from the time a potential candidate applies for a role in your company until the time they leave, the sum of all the interactions they have makes up the entirety of their experience.
Let's break this down.
All the interactions between the employer and the employee during the employee's tenure at the company.
It starts from the time a candidate applies for a role in the company right up until the time they leave.
An employee-centric, inclusive culture, empathetic leadership, and personalized R&R offerings.
It is the new KPI for increased revenue, shareholder returns, higher productivity, and service excellence.
Experience makes an employee feel good about working at their company, and:
Makes them feel valued (sense of purpose)
Engenders a sense of belonging, and
Fosters commitment
Employees that do not get good experiences don't think twice about quitting.
💡
According to
McKinsey
, 54% of employees quit because they didn't feel valued by their organizations.
From engagement to experience
Not long ago, employee experience was a relatively new term, and companies were still focused on improving engagement to boost productivity. Studies show that although the old engagement model is still important in the overall scheme of things, it is no longer the critical factor driving employee satisfaction and productivity. Instead, employee experience is the new KPI for HRs and company leaders to measure business performance.

To track this shift from the traditional models of engagement to the revolutionary concept of experience, it is necessary to understand the factors driving the paradigm shift. Both employee engagement and experience impact productivity, turnover, and business profitability, but there is a difference:
Employee Engagement is an employee's commitment to their work and their involvement in achieving the company's goals.

Employee Experience is the journey an employee takes with the organization, and engagement is intrinsic to every stage of that journey.
Engagement used to be the key to unlocking high performance and efficiency. The Great Resignation changed all that. Suddenly, people were quitting in droves, citing dissatisfaction and a feeling of being undervalued. The spotlight is on the employee with the question: how to keep them happy and stop the mass exodus?
The answer lay in building a new kind of inclusive workplace where employees are engaged with positive experiences to reach peak productivity levels.
Some of the factors driving this shift include:
Changing expectations: The modern workforce is different from the previous generations and expects to be treated the same way the company treats its customers. The primary task is not money or job satisfaction but personalized and positive experiences during their journey with the company.
Economic digitization and disruption: The accelerated pace of digitization and economic disruption has caused a massive change in companies, forcing them to scale up and down in response to market trends. This, in turn, has implications for employees regarding their overall experiences at the companies.
Multi-generational workforce: Given the workplace diversity, companies have had to gain a deeper understanding of the social, psychological, and behavioral differences between millennials and generation Z to shape the right experiences.
The war for talent: With more jobs in the market than candidates, you can determine the outcome of the war for talent only in one way: experience. Companies that will provide the best employee experiences will be able to attract and retain the top talent in the industry.
The advent of social media: The rise of social media has evened the playing field for employees. To counteract the threat of damaging reviews and protecting their reputation, companies are scrambling to provide great experiences to their employees.
💡
Providing top-notch EX is not just lip service; it requires a profound reorientation away from a traditional top-down model to one based on the fundamentals of design thinking. (
Source:
McKinsey
)
5 Stages of employee experience
Employee experience "spans all business functions and touches all issues." — John Bersin
Employee experience encompasses the social, behavioral, and psychological aspects of the employee lifecycle and spans the following stages:
1. Hiring
It starts with a candidate being attracted to your company's job ad and covers the entire length of the recruitment process right up until the offer letter is accepted.
Since most job seekers lookup company information and work culture on platforms like Glassdoor, it is vital to offer your existing employees an experience that will lead to great reviews and referrals.
Negative experiences equal negative reviews, which could turn off potential new talent. Some of the key considerations during this stage are:
Are your job ads catchy enough to attract the top talent in the market?
How long is the hiring process?
Is your interview process engaging and efficient?
What is the rate of acceptance?
How did the candidate rate the entire recruitment experience?
2. Onboarding
Official acceptance of the offer signals the start of the employee's lifecycle. New hires are formally introduced to the company culture and get up to speed with the work, processes, and technologies.
At this stage, it's vital to establish trust and ensure that they fully transition into the expectations of the new role. A great onboarding experience helps new employees quickly ramp up, become productive, and in the long run, create meaningful relationships with the brand. It would help if you considered the following:
Does your purpose align with that of your new employees?
What is the ramp-up time?
What are you doing to integrate them into the company culture?
Are they able to establish trust, collaborate and work innovatively within their teams?
3. Engagement
The new employees are settled in and ramped up, but what next? This is when the company has to bring out the big guns—engagement.
Engagement will keep your employees motivated, performant, and hungry for more. This is where you need to ensure that you provide the best working conditions and experiences and continually measure their engagement:
Is the work interesting and purpose-driven?
Do you treat their contributions as valuable?
Do they have the right resources and technologies to work efficiently?
Is the workplace safe, supportive, and comfortable?
Are they able to work flexibly and efficiently?
What is the engagement rate/score?
4. Performance and development
This is an ongoing part of the employee's lifecycle during their entire tenure with the company. Every employee develops at a different pace and across various skills. This is where the company must help every employee to develop, grow, support career aspirations, upskill, train and enable them to be their productive best through positive social experiences.
A strong retention strategy can inspire employees, keep their development on track and align them with the company's vision. This is the time to introspect:
Are you providing the right incentives and opportunities for learning, upskilling, and development?
Have you set clear KPIs and KRAs to measure performance?
What is the rate of productivity?
Do you have a personalized R&R program to reward and recognize your employees?
Do your employees feel valued and have a sense of belonging?
What is your retention strategy to reduce recruitment costs?
5. Exit
Despite providing the right engagement and experiences, some employees will part ways with the organization due to several factors. The reasons could be due to personal circumstances, family, relocation, retirement, career change, etc.
But just because an employee has decided to depart, the company cannot slack off on its experience initiatives. This is the most crucial stage as happy employees become the strongest brand advocates and leave the best reviews about their experiences at the company.
A good exit survey may help the company identify gaps and areas of improvement for existing and future employees, which can reduce attrition. Some points to keep in mind at this stage:
Do you have a good exit survey/interview in place?
What is your exit employee's impression of the company and its culture?
Were you able to get candid feedback about their reasons for leaving?
Employee experience as a KPI
The kind of experience that a company creates for its employees, whether positive or negative, is immediately reflected in business performance. When companies focus on positive experiences, they are rewarded with improved customer experience, reduced absenteeism, low turnover rates, and increased profitability.
💡
Employee Experience is well over a $15 Billion market today, and it leverages more than $200 billion in training, wellbeing, and other benefits. —
Josh Bersin
But what constitutes a 'great experience?'
While it differs from company to company, some of the most common indicators of great employee experience include:
Clear goals and values aimed at employee engagement
An outstanding R&R program with personalized rewards
Inclusive, transparent, and supportive workplace
Leadership based on empathy and trust
Work-life balance and flexible working arrangements
Career development with upskilling and training
Social, community building, and environmental focus
Improved HR capabilities and access to advanced technologies
In his report, Josh Bersin put together a comprehensive experience framework to show how companies can use employee experience as a KPI to elevate their existing status from an average to 'an irresistible organization.'
The employee experience checklist
Given the multiple levels of interaction between an employer and employee, it is no wonder that some companies flounder when it comes to creating a comprehensive employee experience strategy.
McKinsey carried out a study to understand the dynamics of this changing relationship and proposed a simple framework comprising nine elements and divided it into Social, Work, and Organizational experiences that can be used as a checklist to assess the state of the employee experience in an organization.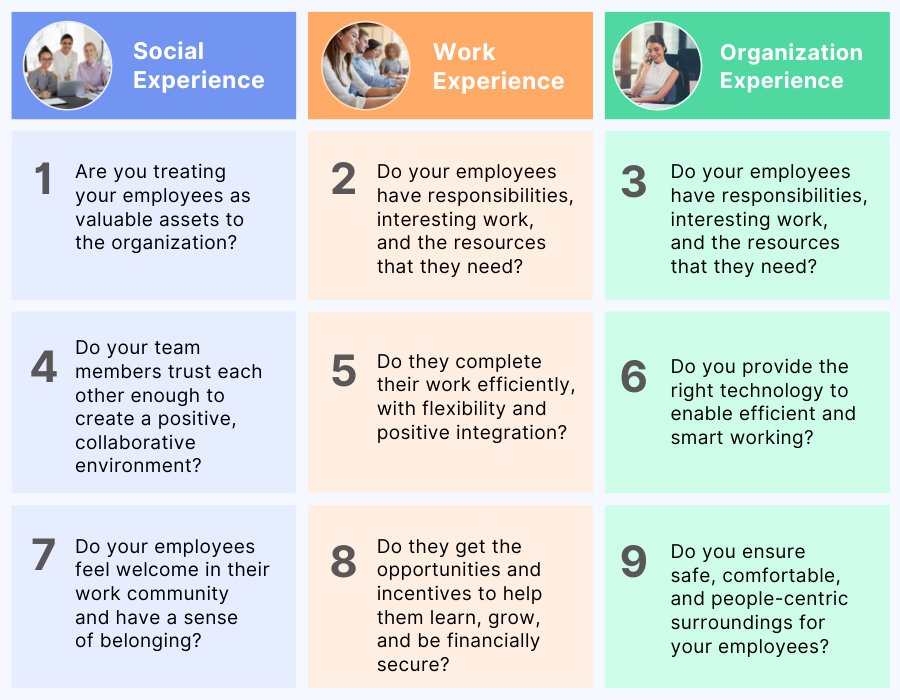 Examples of great employee experience
Based on Bersin's report, while most companies are still at Level 1 of the Employee Experience Maturity Model and working to improve different aspects of their experience program, some have already made their mark.
The following examples show us that some companies go above and beyond to take care of their employees.
CHG Healthcare Services: When Grant Olsen from CHG's creative team lost his home to a massive wildfire, coworkers, and colleagues reached out within minutes for the family's rescue to offer their support and a place to stay. The company's CEO Scott Beck was not far behind in offering his support and assurance of help from the company.
SAP America: SAP features high on the list of companies offering the best employee experiences. When COVID force closed several thousand schools across the U.S, it impacted food security in low-income households, especially those who relied on school meals. With the backing of the company and its nonprofit partner GENYOUth, Sarah Marshall, an SAP employee, took the lead in creating the SAP4KidsProgram, which connects free providers to families in need.
These are just two examples of employee experience done right. For more such stories please read our blog on companies that offer outstanding employee experiences.
The impact of employee experience
💡
80% of employees said that EX initiatives improve their productivity and quality of work. (
Source:
Forrester
)
Employee experience is directly proportional to business performance. If you build a people-first culture based on caring, generosity, employee development, work-life balance, and commitment to wellbeing, it will reflect on your business.
In other words, a healthy investment in employee experience will yield rich dividends. Companies with the right experience strategies are:
2.4x more likely to delight customers
5.2x more likely to be a great place to work
5.1x more likely to engage and retain employees (31% retention intent)
4.3x more likely to innovate effectively (47% high performers)
Towards an employee-centric future
💡
77% of HR leaders said EX initiatives have increased revenue whereas 61% have seen improved profitability. (
Source:
Forbes
)
A strong experience strategy driven by the right experience platform will accelerate your business profits. Combine that with an all-in-one ROX (Return on Experience) calculator to measure and calculate your Experience ROI, and you will be able to curate the right experience initiatives to attract, engage, develop, and retain the best talent in the market!
Given the overwhelming statistics and studies favoring good employee experiences, it's time to shed your old engagement model and transform it into an inclusive, people-centric experience strategy.
Hope this article has given you enough reason to join the employee experience revolution today!