"To win in the marketplace you must first win in the workplace."
–Doug Conant, American Business Leader (former CEO of Campbell Soup Company and President of Nabisco Foods)
But who will drive employee R&R initiatives in the "right" way? Should it be HR, or should it be an organization-wide effort?
There is no denying that HR oversees the administration and implementation of your reward and recognition program.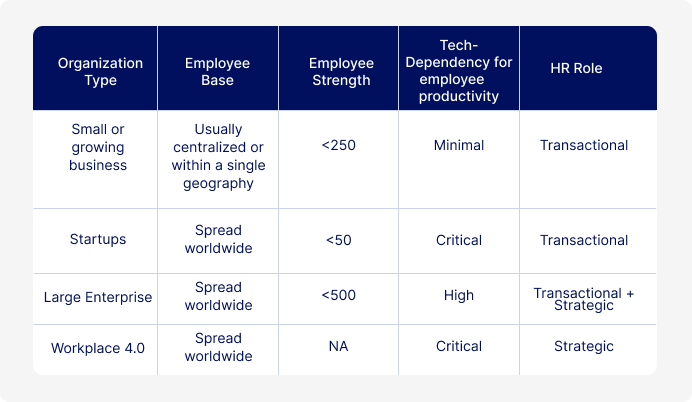 As evident from this grid, HR has greater visibility into organizational performance in SMBs and startups, but in larger enterprises, it becomes challenging due to scale. In all these cases, though, HR can still fulfill its traditional role of driving R&R programs meaningfully.  
In Workplace 4.0, however, HR is key to organizational success. As HR moves to a strategic role, it must identify who can take the mantle of driving R&R initiatives on a day-to-day basis.
A modern R&R program should be a digital-first, collaborative effort between HR, functional managers, team leaders, and employees.
What is the role of HR in rewards and recognition programs?
HR's first strategic step would be to define the R&R framework. Here are some crucial questions to ask:
Which employee behaviors does the organization want to encourage through R&R?
What are the criteria for eligibility?
How should the winners be determined?
What should the categories be?
What should the actual rewards be?
Should R&R programs be entirely online or a mix of online and offline initiatives?
Should HR depend on legacy tech or leverage SaaS models?
What should be the frequency of the program?
Who can participate in giving and receiving recognition?
If you thought HR defines this framework in isolation, STOP.
Suppose the idea is to promote workplace democracy, HR can consider looping in managers, team leaders, and employee 'influencers.' (Remember that solitary voice shouting "Whoopee!" at employee Town Halls as everyone else begins to cheer?)
You now have your committee - your champions for driving R&R initiatives from the forefront.
Enter the rewards and recognition committee.
What does a reward and recognition committee do?
This merry band that has come together now is your typical R&R committee; collaborators who understand what makes your organization tick, can identify what makes your company culture unique, and highlight those 'critical' behaviors that drive this cohesive unit to success!
Having this well-chosen R&R committee sends a clear message: "We are serious about our employee recognition because we truly value your contributions."
Once the rewards and recognition framework has been defined, it's time for the committee to step in and take over by:
1. Popularizing R&R initiatives
Water cooler conversations (now that some companies are welcoming employees back to 'safe' office spaces) and Slack/MS Teams chats (for those working remotely) are great places to engage in conversations around R&R.
2. Using clear and consistent communication
The success of any R&R program hinges on how the workforce perceives it.
"Effective communication is 20% what you know and 80% how you feel about what you know." –Jim Rohn, an American entrepreneur and motivational speaker.
💡
Fun Fact:
Use emails, newsletters, Town Halls, and company platforms such as
social intranet to help employees
understand how R&R can enable everyone to celebrate day-to-day work. Don't forget your company's social handles to popularize R&R initiatives for greater buy-in.
3. Promoting necessary cultural changes
Anytime the Committee notices disinterest and smirks when R&Rs are being spoken of, or nominations don't come on time, or managers and leads aren't promoting them, "It's Time to Step Up and Step In." Address outcries of favoritism or any hidden biases. Rally your troops!
4. Increasing adoption by marrying tech tools and human understanding
Data analytics tools provide insights on participation levels across teams and geographies. The well-networked committee can glean interesting insights, such as the direct relationship between recognition, employee performance, and manager approval ratings.
💡
Fun Fact: Universities, especially top-notch American universities, including the University of Washington, Texas A&M University, University of Michigan, University of Kansas, and Indiana State University, have been using R&R Committees since the late 1990s as an effective driver to incentivize teaching staff performance.
5. Gathering feedback to improve r&r programs
Given the hybrid working models that are prevalent now, using automated tools that conduct online surveys periodically will help create a continuous process of measuring and improving R&R initiatives using employee feedback surveys.
💡
Fun Fact:
The Swedish House Mafia (your R&R Committee) serves as the 'ears on the ground.' Their pointed questions in polls and surveys can elicit pointed feedback from your employees about formats, merits, eligibility criteria, etc. And voila, you know where to
implement improvement in the R&R program
!
Will the Swedish House Mafia make the role of managers redundant?
Managers are still best-placed to identify top performers, consistently productive workers, and 'unsung heroes' in their teams. However, managers themselves need to be trained on the merit of meritocracy.
Training could include understanding routine KPIs, identifying behavioral changes, and implementing tactical measures to benefit the organization.
Managers can be champions of the R&R program and use it effectively to increase employee satisfaction and productivity. Here's how:
1. Identifying 'good behavior' that builds culture
Is it passion or innovation or consistent performance? Is it participation or being a team player that's invaluable? Is it about displaying organizational values?
2. Instilling discipline and method
Ensuring team leaders send nominations on time, every time; guiding and mentoring TLs to follow specific processes, etc., can help create a disciplined approach.
3. Encouraging TLs and cohorts to adopt technology
In traditional industries such as manufacturing, there's a reluctance to embrace even the simplest technologies – including online surveys – and here's where the manager takes charge.
4. Building awareness about eligibility criteria
" I haven't done enough. It was just a paper published in a journal," or" I just contributed an idea but someone else built it," are real doubts that employees have. As a manager, you can show how employee actions or initiatives contribute to the company's overall growth and how such initiatives can lead to R&R nominations.
And finally, the employee. This quote sums it all up!
"No company, small or large, can win over the long run without energized employees who believe in the mission and understand how to achieve it." –Jack Welch, former CEO, General Electric
When employees understand how R&R programs benefit them, help them improve workplace productivity, and increase their efficiencies, they will become the champions of R&R initiatives and all that an organization strives to achieve.
Recognizing fellow team members can be the first step to building trust between peers. This is the foundation of high-performing teams. As peers work together, they can share a firsthand account of the exemplary behaviors and performance delivered at work.
By encouraging every employee to appreciate peers, you can build a culture of recognition and gratitude at your organization.