Table of Contents
Table of Contents
Work anniversary wishes are a unique way of cheering and motivating your employees, colleagues, and coworkers for their hard work and completing a milestone in the organization.
Work Anniversary is an achievement worth celebrating a thousand times over. They are considered an integral milestone of the employees' contribution to the organization. It even brings out a sense of ownership in them.
Let's face it, spending a year or two or five (and so on) walking into the same office, looking up to the faces of the same people, and delivering exceptional results deserves a formidable credit.
There are two kinds of people in our workplace - one who takes work anniversaries as a positive motivator, while the other uses the data to count the months spent at work.
These people can be motivated and pushed into a positive mood with just one happy work anniversary wish. While many send personalized gifts and write wishes for work-buddies, it's sometimes best to stick to a decent work anniversary message for your colleagues and coworkers.
Why is a work anniversary wish important?
Before going on to the best anniversary wishes, let's understand the importance of work anniversaries in the first place.
1. Work anniversary wishes excite the employee like it's day one.
‍Remember how zestful and enthusiastic you were when you walked into the office for the first time? That feeling is irreplaceable, and work anniversaries should rekindle the day-one spark in the employee.
2. Employees take a trip down the memory cubicle.
Remember the first time you couldn't work the coffee machine? Or when you accidentally walked into the wrong bathroom? These memories only feel like yesterday, and employees discuss the golden moments with their peers as a sweet reminisce.
3. Work anniversary wishes remind us of what strong teams are built of.
‍The process gets work done, but people work the process. Smart organizations know that their people give them the name they brag about, and work anniversaries are about acknowledging these very people (PS: Acknowledging people isn't a yearly affair).
4. Work anniversary wishes help remind people what they love about work.
The organization's culture and values keep people on the job, and the commemorations on one's work anniversary make them realize why s/he is here in the first place. After all, the employer-employee relationship is a rather two-sided affair.
Work anniversary wishes for different cultures
There are different cultures, and every culture commemorates occasions in its distinct style. While work anniversary occasions in Singapore celebrate the employees' dedication to their workplace and devotion to what they do, the culture in India respects their inquisitive nature to make the most of the given resources to obtain results with innovative thinking.
According to demography, let's go through some cultures and understand what work anniversaries mean to them.
1. Work anniversaries in India are very much celebrated. In addition to timely congratulations here and there from work anniversary messages to colleagues, the employee's work anniversary is presented with a token of appreciation to commemorate his their solicited service for the organization's success all this time.‍
2. Work culture in the USA is all about celebrating little things at work - work anniversaries are, of course, a major achievement. The person's immediate superior(s) and subordinate(s) often drop handwritten notes along with candies to instill a sense of achievement in the employee. On the occasion of five, ten, and more years of anniversary, people pitch in for a gift.‍
3. The work culture in China honors loyalty above the highest of moral principles and work anniversaries are an indicator of the employees' loyalty towards the organization through thick and thin. It's followed with great enthusiasm but in a very professional manner.‍
4. The United Arab Emirates aka Dubai is a hub of locals and expatriates working together to achieve great things and work anniversaries are honored with speeches, gifts, and sometimes a dinner party! The reason is to celebrate the milestone the way it should be - with grandeur - especially in case of employees who have a decade/more in the bag, making work anniversary messages for coworkers more special.‍
5. The Australian culture commemorates work anniversaries with great enthusiasm as they cherish the bond of working together for a long time. That brings out more in terms of results as well as cordial relationships than any successful work mechanism, thanks to work anniversary messages to colleagues.
50 Heart-warming work anniversary wishes for the tone of your choice
Coming to the most important part of the employees' work anniversary wishes that walk straight into their hearts. Here are the 50 happy work anniversary wishes for colleagues & employees.
Professional work anniversary wishes
1. Congratulations on yet another year wherein you set an example of hard work and dedication. Happy Work Anniversary, pal!
2. Words are not enough to thank you for everything that you have done so far for us. Allow me to extend my humblest of greetings on the occasion of your work anniversary. Kudos to you!
3. For all these years you have done a lot for the betterment of our organization and we'll always be indebted for all your efforts and hardships. From watching cricket games together to cracking huge deals, you have been insurmountable. Thank you for your dedicated service. Kudos!
4. You have shown everyone the true meaning of dedication and loyalty by confirming your association with our organization for a long time. Today's milestone goes out to you and your reserved parking spot out in the front! Cheers to your - years of service.
5. I have watched you try and fail, learn, and grow over these years. You don't know what a blessing it is to have an employee like you. Your invaluable contribution means a lot to us. Wishing you all the best on your work anniversary.
6. Today I'm looking back to when I first recruited you. And since then you have managed to come a long way and thrive. I am immensely proud that you stood by our side when the tides were high, and winds were low. Congrats on your work anniversary!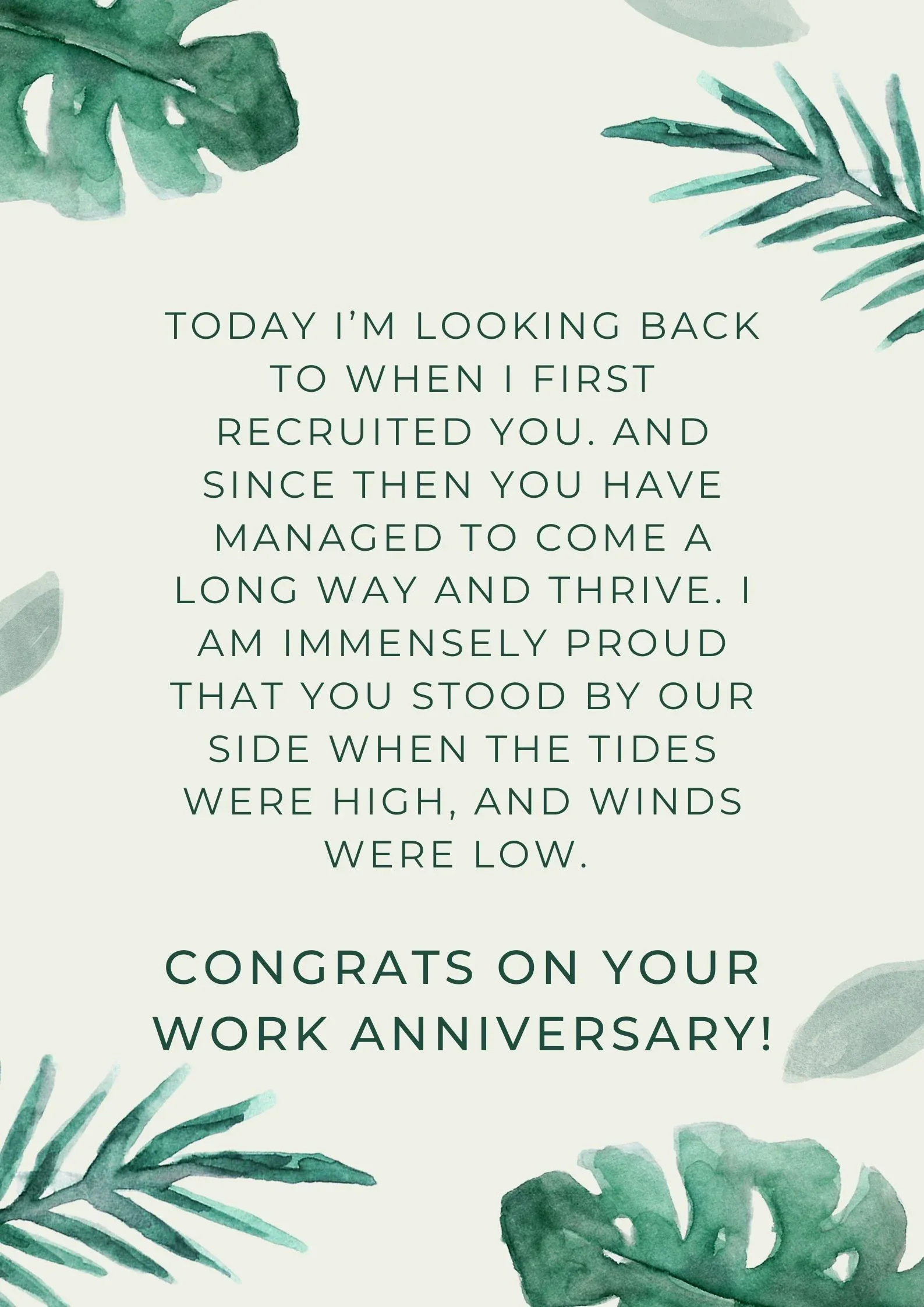 7. There are a few men or women like you who can actually show utmost dedication at their jobs. And you have been showing the same for the past - years. We congratulate you on completing these many years in our organization and wish you a very happy work anniversary.
8. It's already been - years since we started working as team members. Here, I would like to express my best of wishes and I want to thank you for everything you have done for this organization we proudly call as a family. Cheers on completing your - year work anniversary.
9. Your work ethics are commendable and so are you as an inspiring individual. We are glad to have you amongst us. Kudos to your amazing years of work!
10. We can take inspiration from the passion, hard work, and loyalty that you have displayed throughout these years of service. Congratulations on your Work Anniversary!
Funny work anniversary wishes
11. Every organization should have an employee like you. You're special with those crafty skills and an optimism fit for today's world. I can't say enough to extend my warm greetings on your Work Anniversary today. And yeah - we can't get enough of your Dabba lunch every day!
12. Has it really been - years since you started here? I guess time flies when you're having fun. Thanks to your high regard for service, integrity, and honesty, this organization is where it is today. Happy work anniversary!
13. Happy work anniversary to a co-worker who has many talents, including the spooky ability to sense when there are jalebis in the break room.
14. Congrats on surviving another year at your job. Lesser mortals would have gone insane by now.
15. It's your Work Anniversary! Now, get back to work! Only kidding, Happy Anniversary, and here's hoping for many more.
16. I think everyone would say that you are a gift to this company. Your dedication and contributions would be hard to replace. Please don't regift yourself somewhere else.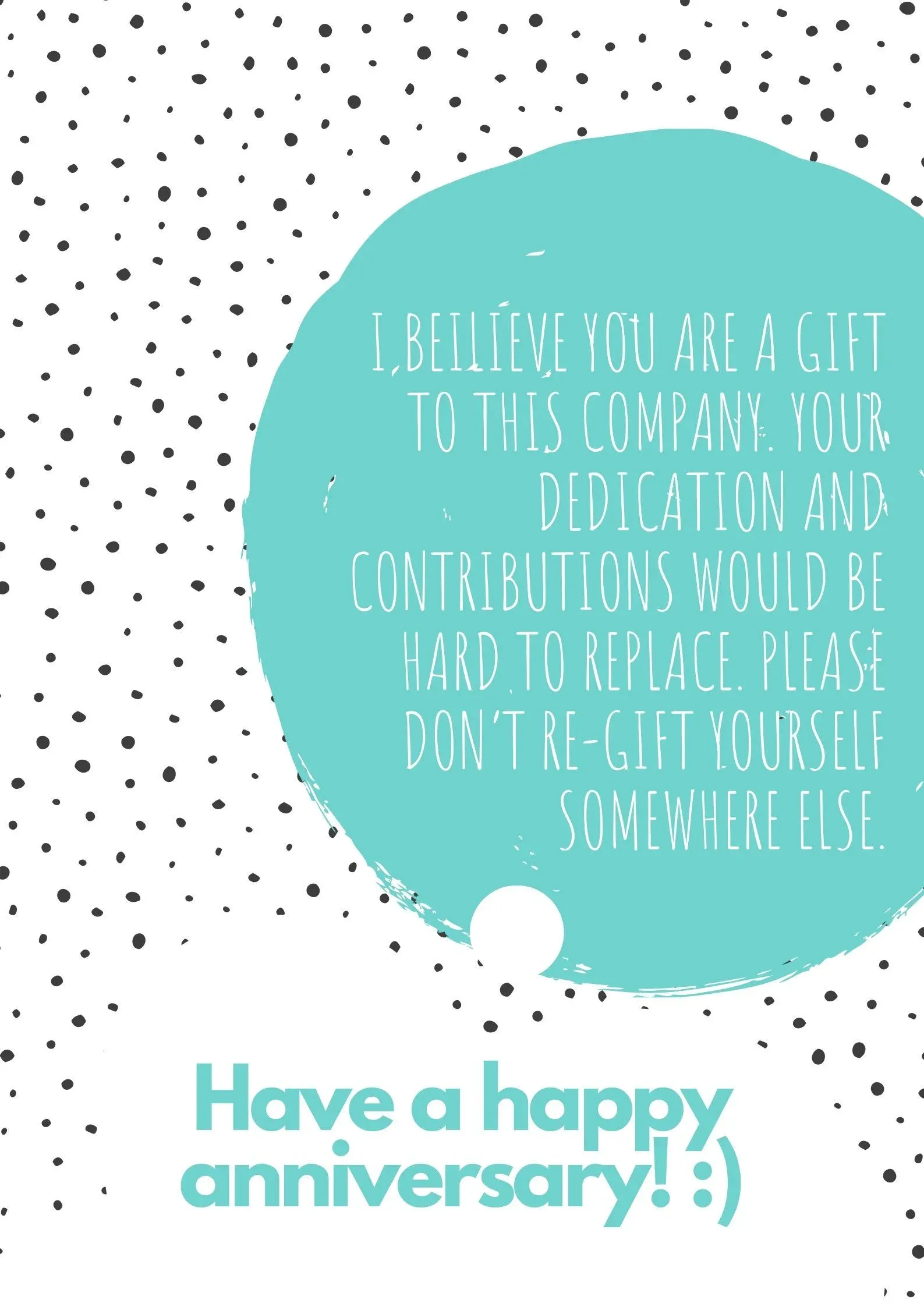 17. I hope you celebrate many more anniversaries here because I don't like my chances of getting a better boss than you.
18. Today we honor a great man, a person of integrity who has made countless contributions to this organization. A true genius! But, that should be enough praise about me, let's talk about you, for it's your work anniversary!
19. We wouldn't want to say "Take it Easy" because we know you're such a workaholic. Happy 12 years of slogging.
20. You are an inspiration to others. Your dedication to your work is exemplary. Also, the fact that you smuggle donuts to your desk deserves all the credit. Thank you for being the catalyst for change in our organization. Happy work anniversary!
Encouraging work anniversary wishes
21. Your fine attention to detail at work over these 8 years has turned you into a precious gem than an ordinary employee for us. And here I take this moment to congratulate you on your milestone and wish you a happy eight work anniversary!
22. Today is your Work Anniversary, and we all just wanted to express how much we enjoy having you with us. They say the best way to know people is to work with them side to side. And we think you're a keeper.
23.   Finding a co-worker like you is a matter of utmost pride. To this very date, you inspire me even when it's been a long time since we started to work together. Happy Work Anniversary, Mate!
24. The one thing which you have earned in this work more than your salary all these years is respect and morals. It's your - work anniversary and your work ethic along with dedication purely showcases the values of our culture, it really means a lot. Happy Work Anniversary!
25. Hey there! A year ago, today, we came across a person who's not only a very skilled professional but the humblest person. Cheer up sir/ ma'am because that special slogger is You! Thank you for being part of our organization.
26. It feels just like yesterday since you started working with us, mate! Whereas it has already been a year. I must acknowledge that you have come a long way as a professional in our organization and we appreciate your efforts. With our best compliments on your one-year anniversary, we hope that we hit the grind together for more years to come.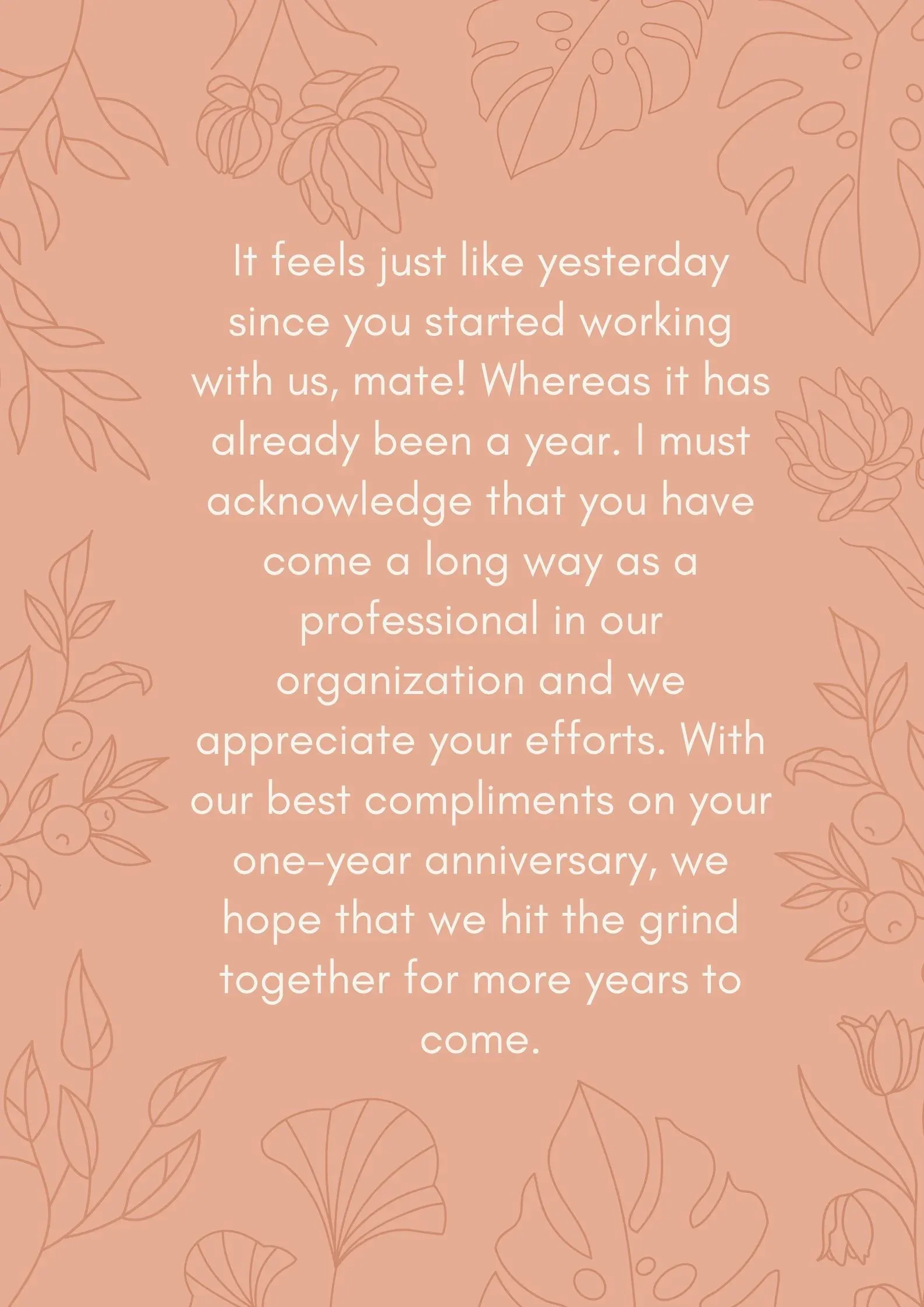 27. Employees like you are the pride and joy of a company. We are proud to have you with us. On the way forward, you are a master of whatever you do and much more. Wishing you a happy - work anniversary.
28. Self-motivated, disciplined, and focused all the words in the thesaurus aren't enough to describe an employee like you. Today is the day we recognize your loyalty and perseverance. Happy Work Anniversary!
29. The energy and vibe you bring along with your positive attitude make us hold our heads high with pride. We are truly blessed to have a person like you by our side. Wishing you a happy work anniversary.
30. You have set an exemplary standard for all of us with your work ethics and your dedication. Thank you for everything you have done for us all these years. I wish you a Happy Work Anniversary!
Emotional work anniversary wishes
31. I feel privileged to share office space with you. Your ability to create an excellent work environment for employees makes you truly special. Stay blessed and have a happy work anniversary.
32. You are adored, admired, respected, and loved because of your simplicity and your helpful attitude. We shine because of you. Thank you for being our light. Have a fun-filled work anniversary.
33. It's tough to stay put in the same place for a very long time. However, maybe the word "Tough" is for mere mortals like us. You have sailed together with us through thick and thin. Congratulations are in order as you achieve this incredible milestone. We wish you the very best for times to come.
34. The change that has come about in us is because of your struggle and perseverance. You shaped us to achieve the impossible. Thank you, Sir. Have an awesome work anniversary celebration.
35. Your dedication and passion for your work make you what you are, one in a million. Keep raising the bar with your creativity. Have a happy work anniversary.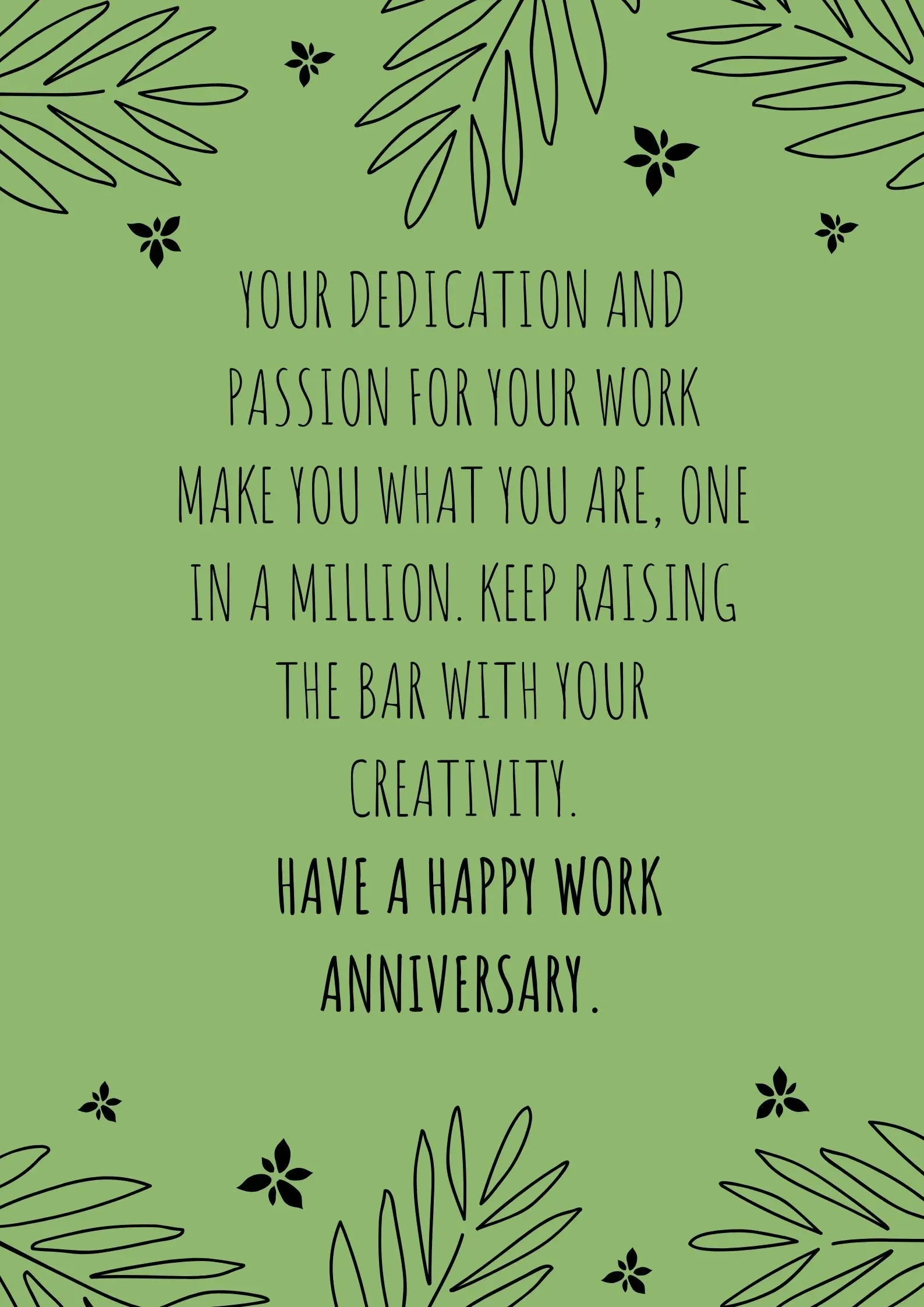 36. Your down-to-earth attitude makes you what you are, a winner. You inspire and motivate like no other. Thank you for taking us forward. Wishing you a happy work anniversary.
37. Work-life is not a sprint. It's a marathon for the pursuit of greatness, intellect, and wisdom. And believe me, you're one hell of a runner. Conveying my best work anniversary wishes to you, Let's keep on working for the big picture in times to come. Good Luck!
38. Imagining an efficient team without you seems totally vague ever since you started working with us. On your Work Anniversary, I wanted to appreciate and thank you for everything you have achieved with this organization and in life.
39. Let me say how privileged I am to have you as my employee. All these years you have done a commendable job and I value everything you have done for us so far. My best wishes on your work anniversary. Good luck!
40. That you have been here for 25 years says it all. Your creative vision and analytical prowess have made this organization an exemplary place to work, making your immense contribution worth it. Thank you for being a guide and mentor. I wish you a happy work anniversary!‍
Warm work anniversary wishes
41. Wow! I can't believe there were days when we just started here together and look where we are now. All these times, rather bring tears in my eyes. Please accept the heartiest of my wishes to embark on this milestone in the journey of your professional life. I wish you a delighted work anniversary!
42. We have been through some dark and bright times, and every workplace needs someone who stands out from the rest in these times. You have been an inspiration for everyone - a true thalaivan. Thank you for being the person we look up to every single day. Happy work anniversary!
43. Filled with a positive vibe, confidence, honesty, and fearlessness we couldn't have found anyone better than you for our team. Happy Work Anniversary!
44. From all of us… happy anniversary! Thank you for your hard work, your generosity, and your contagious enthusiasm.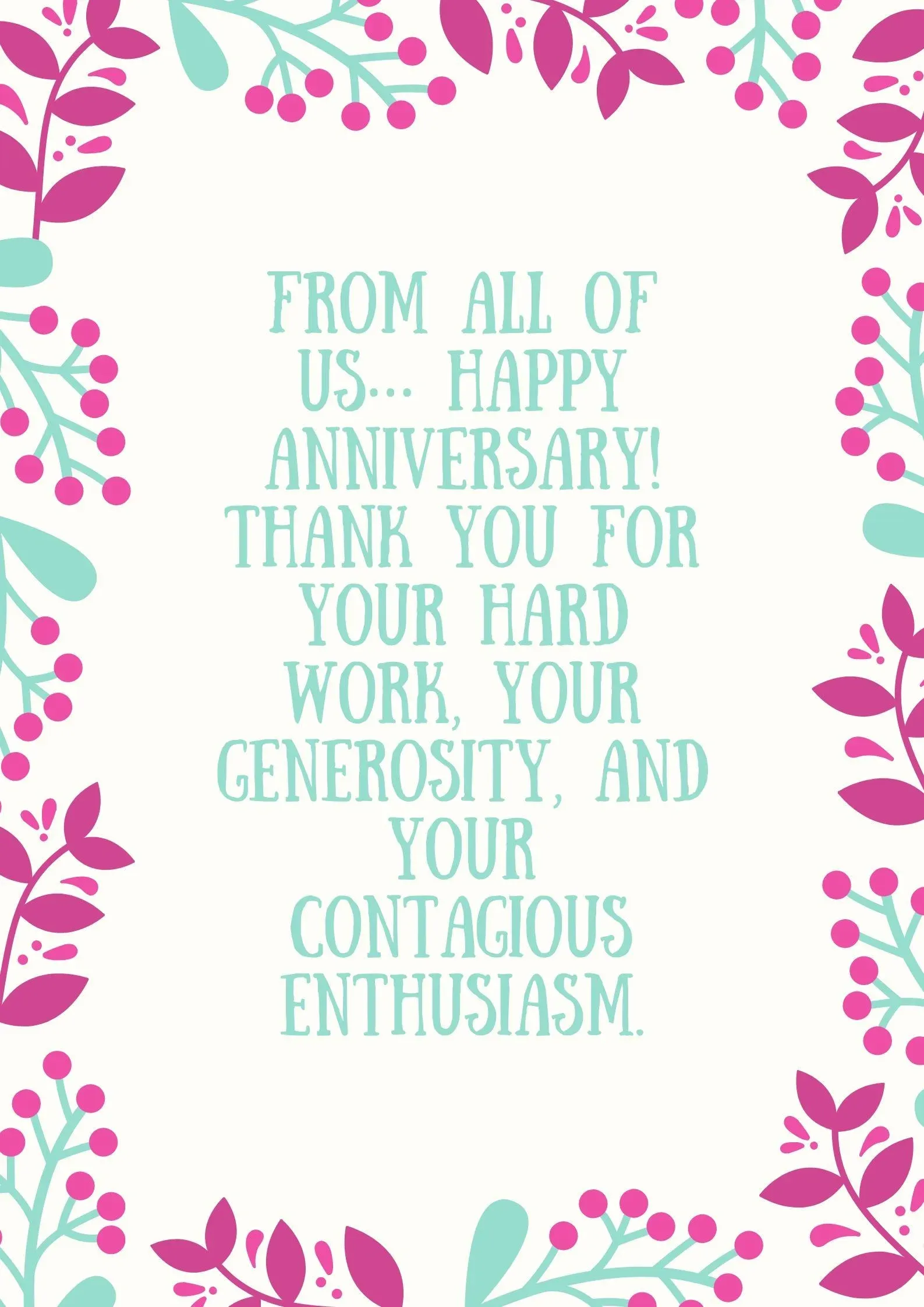 45. Happy anniversary! The company has changed a lot in the 20 years you've been here. I'm sure you've seen and done it all. And yet you still treat every day like it's your first day on the job. Thanks for all the hard work that began 20 years ago and continues to this very day.
46. It was really a blessing for us to have come across someone who loves English breakfast more than anything, and of course, has your caliber and loyalty. On this day, you have achieved yet another milestone. Kudos to all these years of your great work.
47. Nothing in this world is more valuable to an employer than an employee who is both loyal and hardworking. You have never left a moment without mesmerizing me with your confidence and guts to get the work done. My heartiest wishes on the time that is your work anniversary. Congratulations!
48. In a short span of time, you have achieved so much. If there were an exemplary personality to showcase that hard work takes you places, you'd be it. A very happy anniversary!
49. Nothing in this world compares to a person's loyalty and dedication towards his or her profession. Mate, you have set an example for each person in this room and we all wish you a very happy work anniversary.
50. Your never-say-die attitude and passion inspire us to achieve the impossible. Thank you for pushing us to the limits. We couldn't ask for a better boss. Have a happy 15th work anniversary.
With this employee recognition tool, make work anniversaries even more special
Anniversaries are sacred. However, it's not always about handing over a bouquet and getting it over with, but a proper recognition system that goes beyond anything else.
An employee recognition tool such as Empuls maintains the sanctity of work anniversaries as the HR can automate work anniversary awards for long service as well as milestones per year.
How to wish an employee a "happy work anniversary"?
We are now past a phase where sugar and brownies would be the perfect work anniversary gift. In these times, a perfect work anniversary wish should be crisp, concise, to the point, and sometimes, quirky.
There's no scope of forgetting work anniversaries, no matter who the employee in question is. Long service awards are a crucial source of employee engagement and a simple wish is an intangible award often left overrated.
Sometimes, a handwritten note should be enough, while in other cases, you can top it off with a speech in front of the team, a small token of appreciation, or a word of thanks.
But in all these cases, one factor stays constant - making the work anniversary wish. That was it - the list of best wishes for your co-workers, peers, employees, and bosses on their work anniversary.
Remember recognizing your employees' contribution in terms of the time they've given you is the best motivator!
Trending Articles
Retirement Wishes and Messages
Farewell Gift Ideas for Colleagues
Games for Womens Day Celebration
Promotion Letter Sample Templates
Sample Resignation Letters for Employees
Birthday Wishes For Employees
Best Compliments for Coworkers
Subject Line for a Resignation Letter
Thank You Messages for Colleagues
Appreciation Messages for Colleagues