Table of Contents
Table of Contents
Compliments for coworkers for a good job are the best way to motivate them and show them gratitude, appreciation, and encouragement.
Everyone knows that receiving a compliment can brighten up your day. The smallest compliments, like "great job!" can make you feel valued and appreciated.
So much so that a CareerBuilder survey showed that 50% of the employees believe that turnover would go down drastically if their managers recognized their efforts more frequently.
Unfortunately, workdays are often hectic, and we forget that some quick words can significantly impact morale.
Without spending so much as a cent, you can improve upon relationships in the workplace tenfold with just a few kind words to recognize your coworkers' hard work.
When we speak of compliments for coworkers, we often relate the term to a manager complimenting the subordinates and tend to overlook compliments for managers.
Both are giving and receiving compliments are essential for building and maintaining workplace relationships!
However, it is easier said than done. And most of the time, we are stuck thinking about how to compliment a coworker for a job well done.  
So, to give you some inspiration, we have compiled a set of 70 great examples of compliments for coworkers, compliments for managers, and compliments for your peers.
The Importance of Compliments for Coworkers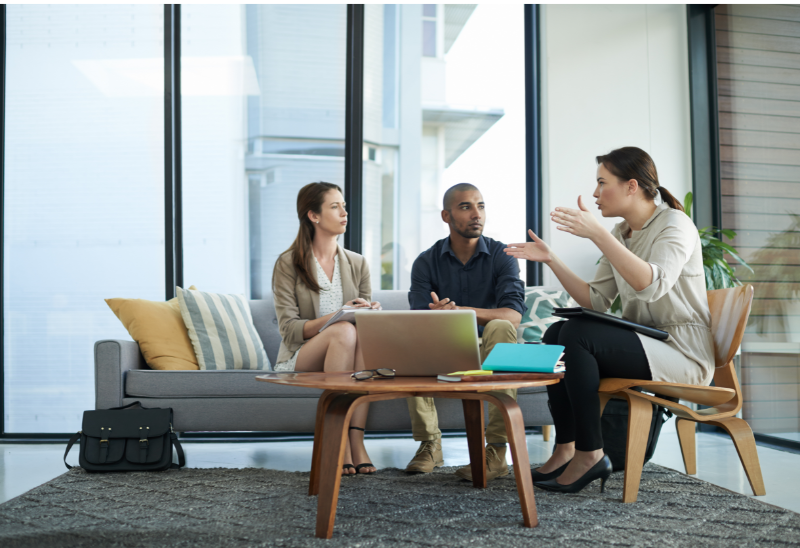 It is important not to take your coworkers, employees, or managers for granted. Everyone wants to feel recognized and appreciated for their accomplishments.
Writing good things only in the performance reviews is not something appreciated because the managers do it once in a while. If people feel like their hard work and efforts are not being seen, they may become demotivated.
This is why compliments can play such a massive role in improving the overall environment of your workplace. They may seem like words, but they can boost morale and improve your business's overall workings in ways you never thought possible!
For example, complimenting someone on their continued efforts despite obstacles can push them further in the right direction. This, in turn, can have a positive outcome for all team members.
Increasing motivation has obvious desirable effects: improved staff relationships, happier coworkers, and, of course, greater employee retention.
Complimenting your coworkers, employees, and colleagues is a great way of expressing gratitude, appreciation, and encouragement.
Keep reading to find out more about giving compliments, and remember never to underestimate the power of words!
How to Compliment a Coworker for a Job Well Done?
Giving a compliment sincerely and constructively is not as easy as you may think. Because almost 70% of people find both giving and receiving compliments to be something embarrassing and even awkward, you'll want to make sure that it has a positive outcome too.
The best kind of compliment will be said so that the receiver feels both deserving of your words and motivates them to continue their good work.
Giving compliments behind doors and over mails is old fashioned, now it is recommended that you give compliments during team meetings and public speaking activities.
Harvard Business Review proposes a checklist for giving a compliment:
be authentic
being specific
acknowledge the process
and share the impact.
This means that not only do you have to mean what you say (because people can spot an empty compliment from a mile away), you should also acknowledge the reason for the compliment.
The best way to achieve this is to focus on the impact that the person has made, rather than merely state what they have done.
For example, instead of saying, "that was great work," try something like "your <contribution> towards <project> has really helped the team by <impact>. Great job!"
List of Compliments for Coworkers at the Workplace
Here are 70 examples of compliments for coworkers for you to use as a reference if ever you are at a loss for words.
Remember to tweak them accordingly to include specifics, process, and impact!
Compliments for managers
1. Thank you for all of your guidance. It has helped me to improve my strengths.
2. Your work ethic and efforts really motivate and inspire me!
3. I admire the way you deal with the obstacles thrown your way.
4. The support that you show to all of your employees is extremely appreciated.
5. Your positive attitude has had a huge impact on the team as a whole.
6. The way you deal with your employees makes us feel understood, listened to, and secure.
7. Your ability to turn any problem into a solution is admirable and inspiring.
8. One of the things I admire most is your ability to stay calm and collected in a crisis.
9. Thank you for always lending a helping hand.
10. I really appreciate the constant constructive feedback that I receive from you.
11. Your attention to detail really makes our jobs go a lot smoother.
12. As a manager, you set a fantastic example for all of us to follow.
13. Working with you has helped me to hone in on my passion for this line of work.
14. Your efforts have really gone a long way towards ensuring a positive outcome for your employees.
15. I admire that you can delegate responsibilities in a fair manner.
Compliments for employees
16. We love having such a hardworking employee working for us!
17. You are an awesome employee. It's obvious how you pay attention to details.
18. I am extremely lucky to have hired you.
19. Thank you for always contributing to team meetings - it has not gone unnoticed.
20. We admire your positive attitude when obstacles are thrown your way.
21. The role that you play in the success of your projects is crucial.
22. Thank you for the consistent initiative and perseverance that you show.
23. It's incredible how you play a crucial role in our company's success.
24. Well done on taking responsibility for your mistakes and working hard to make them right. It has really paid off.
25. You show professionalism and passion in everything that you do.
26. We have really enjoyed seeing what you have to offer, and we can't wait to see more.
27. You embody the spirit of our company, and we are grateful to have found you.
28. Your unique perspective on things has opened our eyes to new possibilities and solutions.
29. You have set the bar high for people who want to be in a position like yours.
30. The skills and strengths that you bring to the table are second to none.
31. Thank you for listening to the feedback we give you and working on it.
32. You are an extremely reliable employee I have got and you always get the job done well and on time.
33. Your attention to detail is evident in everything that you do.
34. Your confidence is infectious!
35. Thank you for exceeding our expectations.
36. The suggestions that you present really have a positive outcome thank you!
37. Your creativity and new ideas really help the company as a whole.
Professional compliments for coworkers
38. Each and every one of you is an invaluable member of this team.
39. The way that you all respect each other's opinions and ideas is admirable.
40. Everyone's ideas work seamlessly with each other - keep it up!
41. We have noticed how you have all helped one another as a team to grow and improve.
42. We can see that you have put a lot of effort into your work.
43. Thank you for cooperating so well.
44. Collectively, you have all made this project work.
45. We couldn't have done this without all of you.
46. The success of this team is obvious, and each one of you has had a huge impact.
47. The way you all take responsibility for your individual projects is admirable.
48. Each person's attention to detail has led to a fantastic result!
49. Thank you for always giving each other room to speak and contribute.
50. We admire and appreciate how you are always willing to help your fellow teammates rather than put them down.
51. The teamwork you have all shown is exemplary.
52. Well done on working so hard together!
Compliments for your peers
53. Thank you for always speaking up in team meetings and coming up with a unique perspective.
54. You are amazing at cheering people up and making them feel more motivated.
55. I really admire the attitude you have when faced with new challenges.
56. The way that you dealt with that obstacle despite the circumstances was extremely inspiring.
57. I am so lucky to have been placed alongside you.
58. We are definitely on each other's wavelength when it comes to our work ethics.
59. I know that I can always rely on you.
60. Thank you for the advice you offer me, I really appreciate it, and it has helped me a lot.
61. That was fantastic work, we can definitely all learn from you!
62. I appreciate the fact that you are always willing to listen and lend a helping hand.
63. You are great at communication.
64. You are so great to work with.
65. I appreciate the fact that you are so trustworthy, and that you trust me too.
66. The questions that you ask are really thought-provoking.
67. The way that you come up with new ideas so quickly is so desirable.
68. Thank you for taking responsibility and never throwing others under the bus.
69. I know I can always come to you if I need help - you are so tech-savvy!
70. I couldn't imagine working here without you.
71. I love the creativity that you consistently show!
72. Thank you for setting a great example for your team members and coworkers.
73. Thanks for showing amazing initiative - it has really inspired me.
74. Your enthusiasm and passion for work are truly inspiring.
75. I really enjoy working with you, and you have such positive energy!
76. Even though the going gets tough, you continue to keep calm and come up with a better solution.
An Employee Recognition Provider to Rescue
As you can see, there are loads of ways to share compliments for coworkers, and each way can be tailored to fit in with the specifics of what the person has achieved.
Keep these compliments in mind next time you want to show appreciation to somebody you work with.
It can help lift their spirits and boost their workplace productivity as they can see their work is being appreciated.
Sharing compliments can be made simpler and more efficient using an employee recognition provider platform.
An employee engagement platform like Empuls, which provides a powerful social intranet platform, can easily share on-the-fly compliments with coworkers.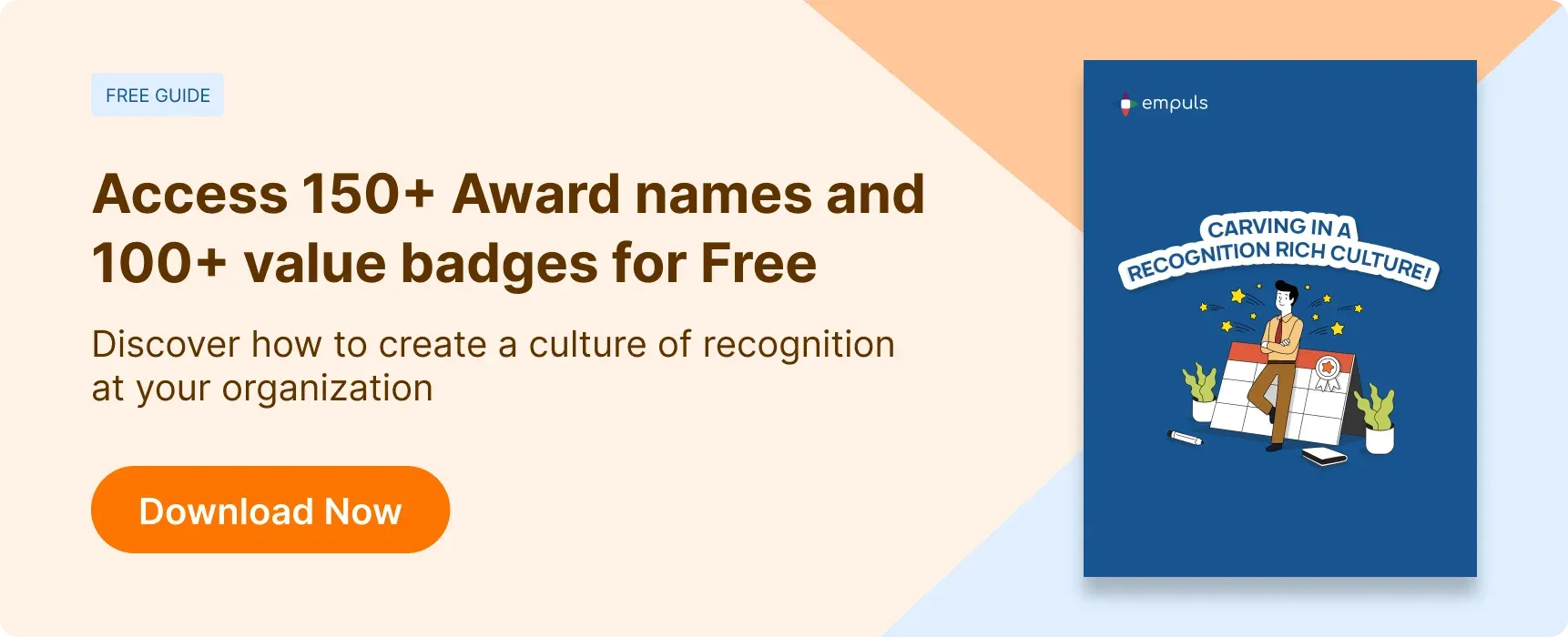 Trending Articles
Thank You Message for Birthday Wishes
Farewell Message for Colleague
Birthday Wishes for Colleague
Thanks Message to Boss for Appreciation
Feedback to Managers
Thank You Message for Work Anniversary Wishes
Resignation Letter for Personal Reasons
Creative Award Titles for Employees
Appreciation Messages for Colleagues