Table of Contents
Corporate Diwali gift cards have revolutionized how businesses express their appreciation during the festive season, combining tradition with the modern convenience of personalized gifting.
Businesses everywhere seek that perfect gesture to express gratitude and warm wishes to their employees, clients, and partners. There's a growing trend towards gifts that offer flexibility and personalization in the myriad of options available. That's where the concept of corporate Diwali gift cards.
Gone are the days when corporate gifting was a routine, one-size-fits-all affair. Today's corporate landscape recognizes the unique preferences and lifestyles of its recipients. With the festival of lights signifying prosperity, wisdom, and joy, what better way to celebrate than by giving the power of choice?
Gift cards strike the perfect balance between thoughtfulness and practicality. They allow the recipient to select something that resonates with their taste, ensuring that the gesture is always well-received. And in the corporate world, where understanding and valuing individuality is paramount, such tokens become even more significant.
Let's explore corporate Diwali gift cards, their benefits, uniqueness, and why they might just be the perfect festive gesture for your business this year.
🎁
Festivals are a great way to connect with people and show them that you care. This festive season, bring joy to people around you by crafting customized campaigns with a holistic catalog spanning 100+ countries and 20+ reward categories, including fast fashion, jewelry, sweets, and others. Now, automate the process of rewarding and manage campaigns seamlessly now with
Xoxoday Festive Solution
.
Why giving a gift of choice is the best idea?
Corporate gifting is a powerful tool to acknowledge, appreciate, and strengthen relationships, be it with employees, clients, or partners. The act, however, can be tricky — what's cherished by one might not hold the same value for another.
Here's where the gift of choice becomes profoundly significant:
1. Acknowledging individuality
In a diverse corporate landscape, the gift of choice acknowledges that each individual has unique tastes and preferences. It sends a message that the company recognizes and respects this individuality.
2. Enhanced appreciation
Standardized gifts, while often appreciated, can sometimes lack personal resonance. Allowing someone to choose their own gift ensures a higher level of appreciation, as the recipient gets something they genuinely desire.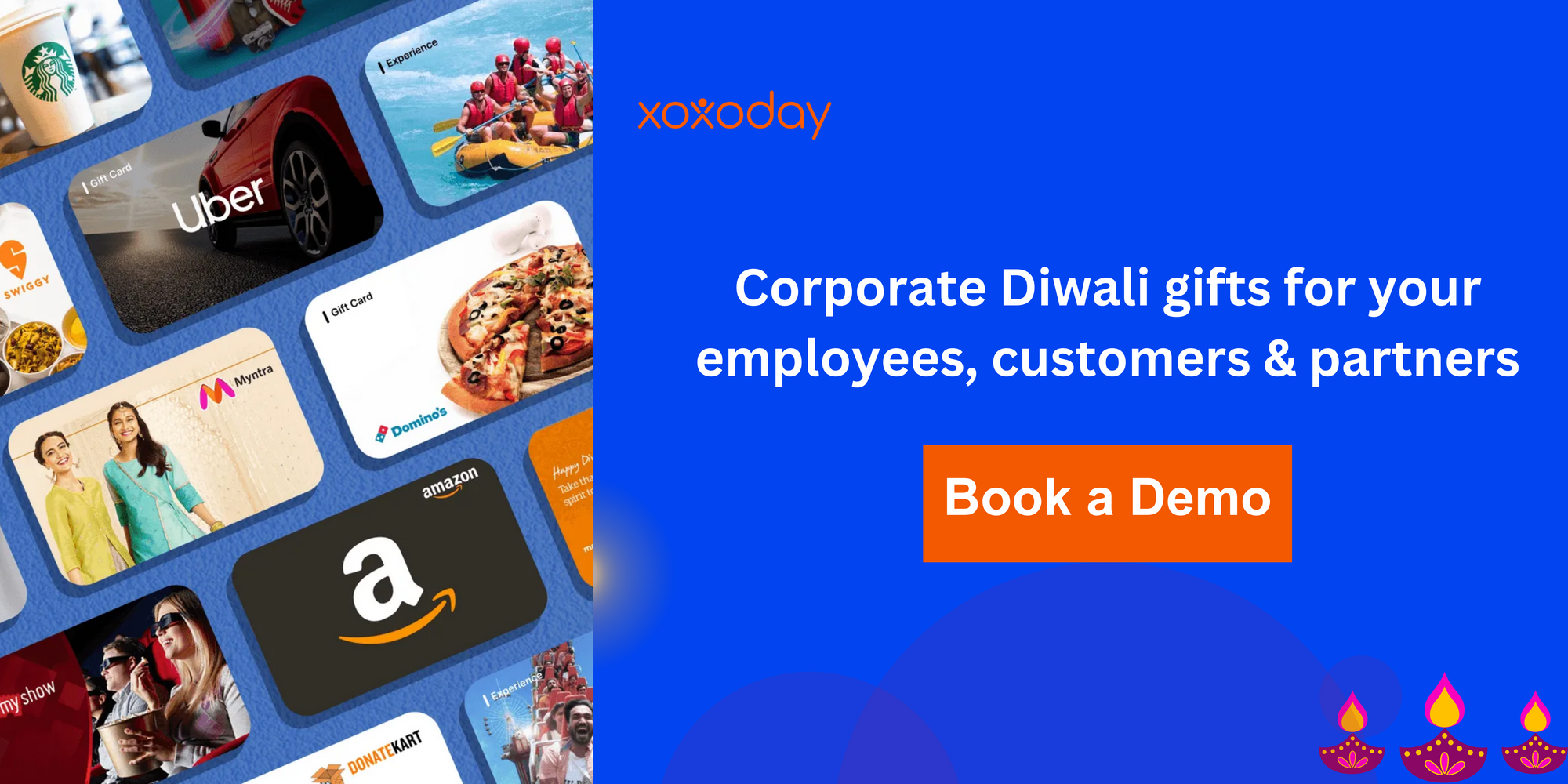 3. Reduction in redundancy
One-size-fits-all rarely ever fits all in the real world. By giving the gift of choice, companies can eliminate the risk of redundant gifting — where multiple entities end up giving the same gift to a recipient.
4. Building stronger bonds
Offering choice shows thoughtfulness and a deeper level of understanding. It signifies that the company is invested in ensuring the happiness and satisfaction of its stakeholders, thereby strengthening corporate bonds.
5. Efficiency and ease
From a logistical perspective, choosing gift cards or choice-based vouchers can streamline the gifting process, ensuring timely deliveries and reducing complexities related to size, color, or type preferences.
6. Eco-friendly
Choice-based gifting can reduce waste. Instead of receiving unwanted items that may be discarded, recipients select what they truly want, contributing to a more sustainable gifting approach.
In the corporate realm, where relationships and impressions play pivotal roles, the gift of choice is more than just a trend. It's a thoughtful strategy that respects individuality, fosters appreciation, and paves the way for stronger, more genuine connections.
🎁
This Diwali, delight everyone around you. From your client to your colleague and loyal employees, make it a point to delight them with
personalized corporate Diwali gifts
this festive season. Amidst the Diwali Sparkles, Let your appreciation shine the brightest with unique gift cards.
Now, let's explore some amazing Diwali gift card ideas that you can considering giving this festive season.
1. Jewellery gift cards and vouchers from renowned brands
Jewellery, a symbol of opulence and beauty, makes for an evergreen gift. Gifting jewellery, especially during Diwali, aligns with traditions of wealth and prosperity. It's a gesture that signifies wishing prosperity for the recipient.
Sending Jewellery gift vouchers allow recipients to purchase pieces from their favorite jewellery brands. It allows the recipient to indulge in some sparkle and shine with digital vouchers from top jewellery brands. They can choose from a range of necklaces, earrings, bracelets, and more, making it a memorable Diwali gift.
Some of the popular Jewellery gift cards and vouchers that you can consider giving this Diwali are:
1. Tanishq gift card
Tanishq, a venture of the Tata Group, is one of India's most trusted jewellery brands. They offer a vast range of beautifully crafted jewelry, from intricate traditional designs to modern wearable art. Gifting a Tanishq Diwali gift card ensures class, reliability, and a wide variety of choices. It's suitable for all age groups and preferences.
2. Melorra gift card
Melorra is known for its trendy and lightweight jewellery designs that are in sync with global fashion trends. Their pieces are primarily catered to the modern, urban woman. Ideal for the younger workforce or those who prefer contemporary designs. You can give a Melorra gift card to your employees because it offers a fresh take on jewellery, blending tradition with current styles.
3. Candere gift card
A Kalyan Jewellers company, Candere has made its mark by bringing premium jewelry online, ensuring certified and exclusive designs. Gifting Candere gift card will allow recipients to explore a diverse range of designs, from wedding collections to everyday wear, all with the assurance of quality.
4. Kalyan gift card
Kalyan Jewellers is one of India's largest jewelry chain stores, offering a wide array of traditional and modern jewelry. With its vast presence across the country and a rich legacy, a Kalyan gift card promises authenticity, trust, and myriad design options.
5. Estele gift card
Estele is known for its premium quality fashion jewelry, blending both contemporary and classic styles. For those who love fashion-forward pieces without the hefty price tag of solid gold or diamonds, Estele gift card offers stylish alternatives that resonate with current trends.
6. Giva gift card
Giva offers sterling silver jewelry with a focus on minimalistic designs. Their pieces are modern, elegant, and cater to a clientele looking for understated beauty. Giva gift card is perfect for the recipeint who appreciate subtlety and elegance in their jewelry. The brand's commitment to ethical sourcing is also a commendable feature.
7. Malabar gift card
Malabar Gold & Diamonds is a well-established brand with a significant presence not only in India but also overseas. They offer a vast collection, from gold and diamond jewelry to platinum and silver. With its reputation for purity, authenticity, and design, a Malabar gift card guarantees a premium shopping experience, catering to a broad demographic.
Gifting jewelry gift cards for Diwali is an excellent way to show appreciation. Jewelry holds sentimental value and is also seen as a symbol of prosperity, aligning perfectly with the spirit of the festival. By choosing renowned brands, you ensure quality, variety, and a memorable gifting experience for your employees.
2. Fashion & lifestyle gift cards and vouchers
Personal style and home ambiance play a crucial role in individual expression and comfort. Gifting fashion and lifestyle gift vouchers empowers the recipient to make choices that resonate with them.The recipient will have the freedom to choose from a range of products that they need or desire, ensuring that the gift is both practical and enjoyable.
Allow your recipients to elevate their style or refresh their home ambiance with vouchers from leading fashion and lifestyle retailers. Whether it's the latest apparel or chic home decor, let them pick what resonates with them.
You can collaborate with brands that offer sustainable or artisanal products. A themed lookbook or style guide related to the festive season could accompany the voucher, offering inspiration.
Some of the popular fashion & lifestyle gift cards and vouchers that you can consider giving this Diwali are:
1. Myntra gift card
Myntra is one of India's leading online fashion platforms, boasting a vast selection of apparel, footwear, and accessories. Offering a diverse range of brands and styles, a Myntra gift card caters to a broad spectrum of fashion preferences, making it a versatile choice.
2. Amazon gift card
Amazon is a global e-commerce giant, offering not just fashion & lifestyle products but virtually anything one could wish for. Its vast product range ensures that every employee can find something they desire, making Amazon gift card a flexible and universally appreciated gift.
3. Flipkart gift card
Flipkart, another major player in India's e-commerce sector, offers an extensive range of fashion, electronics, and other lifestyle products. Its wide assortment ensures variety, allowing employees to choose products that resonate most with them. Giving a Flipkart gift card definitely make it a perfect gift for Diwali.
4. Kate Spade gift card
Kate Spade is a luxury fashion design house known for its playful sophistication. With a gift card from Kate Spade, one can explore a range of elegant handbags, stylish apparel, and accessories that make a statement. Perfect for the fashion-forward individual!
5. Adidas gift card
A brand synonymous with sport and style, Adidas offers a wide range of athletic wear, sportswear, and lifestyle products. Adidas gift card is perfect for those who appreciate fitness, quality, and the latest trends in athletic fashion.
6. Westside gift card
Westside is one of India's leading fashion retailers. With a wide variety of trendy apparel, accessories, and even home decor, Westside gift card ensures that everyone finds something they adore. Perfect for those who love to shop from a diverse range of brands and styles.
7. Jack & Jones gift card
Catering to the modern man, Jack & Jones presents a mix of tailored, casual, and athletic wear. Jack & Jones gift card would be a fitting choice for someone who enjoys a blend of classic and contemporary menswear.
8. Banana Republic gift card
Banana Republic stands as a symbol of refined, modern dressing for men and women. With its classic and versatile designs, a Banana Republic gift card from this brand allows the recipient to elevate their wardrobe, making it apt for corporate settings and beyond.
🎁
This Diwali, delight everyone around you. From your client to your colleague and loyal employees, make it a point to delight them with
personalized corporate Diwali gifts
this festive season. Amidst the Diwali Sparkles, Let your appreciation shine the brightest with unique gift cards.
3. Online entertainment subscriptions gift cards and vouchers
After long hours of work, everyone looks forward to unwinding. An entertainment subscription is akin to gifting hours of relaxation and joy. It caters to diverse tastes, ensuring that every recipent finds something they love. It's a gift that keeps on giving, providing entertainment long after Diwali is over.
Gift the joy of entertainment with subscriptions to popular streaming platforms like Netflix, Disney+, or Amazon Prime. This way, they can unwind and relax with their favorite shows and movies during the festive season.
Here's a curated list of online entertainment subscription gift cards that would be ideal for corporate gifting:
1. Netflix gift card
Netflix is a premier streaming platform offering a vast library of movies, TV shows, documentaries, and original programming spanning various genres and languages. Gift the joy of binge-watching and exploring world-class content with Netflix gift card.
2. Amazon Prime Video gift card
Amazon Prime Video provides subscribers with access to a diverse range of movies, TV series, and critically acclaimed original content. Beyond entertainment, Prime membership also offers benefits for shopping on Amazon, making it a versatile gift. Giving a Amazon Prime Video gift card will make an amazing gift for the one who likes to binge watch.
3. Spotify Premium gift card
For the music lovers! Spotify Premium offers ad-free music streaming with access to millions of songs, curated playlists, and exclusive podcasts. Let your recipients dive into the world of music without interruptions with Spotify gift card.
4. Apple Music gift card
Apple Music boasts a massive library of songs, exclusive releases, and curated playlists. Ideal for those who appreciate quality music and are integrated into the Apple ecosystem. Give a gift of Apple Music gift card to your recipients.
5. Disney+ gift card
Disney+ is a dream for fans of Disney, Pixar, Marvel, Star Wars, and National Geographic. The platform offers a vast array of classic and new content for all ages. A magical Disney gift card for movie and series enthusiasts!
6. Hulu gift card
Hulu is a streaming service known for its vast library of films, TV shows, and exclusive originals. With options to watch current-season TV episodes and a collection of acclaimed films, Hulu gift card a versatile gift for anyone.
7. Audible gift card
For those who love books but are always on the move, Audible is a gift of stories. With thousands of audiobooks, podcasts, and exclusive content, it's perfect for bookworms and lifelong learners.
8. YouTube Premium gift card
Say goodbye to ads! YouTube Premium offers ad-free viewing, access to YouTube Originals, and also includes a subscription to YouTube Music. Ideal for those who spend a lot of time on the world's largest video platform.
4. Gourmet food & beverage gift cards
Diwali is synonymous with delicious food and sweets. Food is an integral part of any celebration. Offering gourmet experiences elevates the festive mood and makes for a memorable gift.
Offer digital vouchers for gourmet food delivery, artisanal chocolates, or specialty beverages, ensuring their celebrations are filled with delightful flavors. It caters to the universal love for good food and offers a chance for employees to indulge in cuisines or dishes they might not typically explore.
Some of the popular Gourmet food & beverage gift cards and vouchers that you can consider giving this Diwali are:
1. Williams-Sonoma gift card
Renowned for its premium kitchenware, Williams-Sonoma also offers a selection of gourmet foods, specialty ingredients, and beverages. Williams-Sonoma gift card perfect for those who appreciate culinary excellence and seek unique flavors.
2. Godiva Chocolatier gift card
Godiva stands as a symbol of luxury in the world of chocolates. Godiva gift card is an invitation to indulge in rich, decadent chocolates, truffles, and more. An elegant choice for those with a sweet tooth.
3. Harrods Food Halls gift card
London's iconic department store, Harrods, is famous for its Food Halls, which showcase a range of gourmet products from around the world. This is a premium choice for someone who enjoys global delicacies.
4. Fortnum & Mason gift card
Synonymous with luxury teas, hampers, and fine foods, Fortnum & Mason offers a classic British gourmet experience. It's an exquisite treat for tea lovers and those who value tradition and quality.
5. Laithwaite's Wine gift card
For wine enthusiasts, Laithwaite's offers a curated selection of wines from around the world. This gift card allows recipients to explore and select the perfect bottle to savor.
6. Blue Bottle Coffee gift card
Blue Bottle Coffee is known for its premium, freshly roasted coffee beans. Ideal for coffee connoisseurs, this card promises an exceptional coffee experience.
7. Murray's Cheese gift card
For those passionate about artisanal cheeses, Murray's Cheese offers a diverse range from classic cheddars to exotic varieties. It's a delightful exploration of taste and texture.
8. Blue Apron or HelloFresh gift card
For those who love cooking, a subscription box that sends gourmet recipes and the exact amount of ingredients required to make them is a delightful gift. These platforms offer a variety of meals, catering to different cuisines and dietary preferences.
9. Teabox gift card
For tea enthusiasts, Teabox offers a wide selection of premium, fresh teas from India's best gardens. They curate a beautiful range of teas and present them in exquisitely designed packages, making it a perfect gift for Diwali.
10. Laithwaites Wine or The Wine Collective gift card
If your corporate circle appreciates wine, consider a gift card from a renowned wine club or retailer. These platforms offer curated selections from global vineyards and can provide an educational aspect to wine tasting.
5. Food & Restaurant gift cards and vouchers
Food & restaurant gift cards are a stellar choice for Diwali corporate gifts because they resonate with the essence of the festival. Diwali, a time of feasting and celebration, inherently values the joy of sharing food.
These vouchers not only offer recipients the freedom to savor their favorite cuisines but also promote togetherness, as they often lead to memorable dining experiences with loved ones.
Moreover, they're versatile and convenient, catering to diverse tastes and eliminating the guesswork from gift-giving. In the corporate world, where personal preferences may be varied, these gift cards symbolize a thoughtful gesture of appreciation and festivity.
Here's a curated list of Food & Restaurant gift card ideas suitable for corporate gifting:
1. Starbucks gift card
A globally recognized brand, Starbucks is a great choice for those who enjoy a good cup of coffee or tea. It's also suitable for anyone, irrespective of dietary preferences, as Starbucks offers a range of beverages and snacks, including vegan and vegetarian options. A Starbucks gift card is perfect for those morning coffee runs or afternoon tea breaks.
2. McDonald's gift card
While it might not be the fanciest option, it is a globally recognized brand. McDonald's gift cards can be a hit, especially among those who love a quick bite now and then. Plus, they're available in many denominations, making it easy to fit a variety of corporate gift budgets.
3. Olive Garden gift card
Olive Garden is beloved for its rich Italian menu featuring classics like pasta, salads, and their signature breadsticks. It's a delightful gift for those who savor Italian flavors. If you're looking to give the gift of a sit-down dining experience, an Olive Garden gift card is a good choice. The restaurant is known for its Italian specialties and offers a range of pasta dishes, salads, and breadsticks that many enjoy.
4. Domino's Pizza gift card
Ideal for a quick meal or a pizza party, Domino's offers a range of delicious pizzas, sides, and desserts. Domino's Pizza gift card is perfect for the busy professional or for team celebrations.
5. Whole Foods Market gift card
For the health-conscious and gourmet food enthusiasts, Whole Foods Market offers organic produce, premium meats, and a wide range of specialty items. This card is a treat for those who value quality ingredients.
6. DoorDash or Uber Eats gift card
Perfect for those busy days or cozy nights in. Instead of committing to one restaurant, you could provide a gift card for food delivery services like DoorDash or Uber Eats. This allows the recipient to choose from a wide variety of local restaurants, giving them flexibility in their dining choice.
7. Red Lobster gift card
A treat for seafood lovers, Red Lobster offers a wide variety of dishes from the ocean's bounty. The recipient can indulge in everything from lobster tails to crab legs.
8. Chipotle Mexican Grill gift card
For those who love flavorful, freshly made Mexican-inspired food, Chipotle is the go-to. With a focus on sustainable sourcing, it's a thoughtful gift for the environmentally conscious eater.
9. Cheesecake Factory gift card
Known for its extensive menu and delectable cheesecakes, a gift card from Cheesecake Factory promises a delightful dining experience and a treat for the sweet tooth. It's a suitable choice if you're looking to give a slightly upscale dining gift.
Gifting Food & Restaurant cards in a corporate setting can be a wonderful way to show appreciation, as it caters to one of everyone's primary indulgences: good food. It's a gesture that's bound to be appreciated by all.
6. Home & Living gift cards and vouchers
Home & Living gift cards align perfectly with this tradition, allowing recipients to choose items that enhance their living spaces or cater to their personal needs. Whether it's elegant décor, functional gadgets, or cozy furnishings, such vouchers empower individuals to refresh their surroundings in ways that resonate with their personal tastes.
As corporate gifts, these cards demonstrate a thoughtful recognition of the significance of home during the festive season, ensuring the gift is both meaningful and useful.
Here's a selection of Home & Living gift card ideas suitable for corporate gifting:
1. IKEA gift card
IKEA is renowned for its stylish, functional, and affordable furniture and home decor products. Offering a vast selection of home furnishings, an IKEA gift card is perfect for those looking to refresh or set up their living spaces.
2. Bed Bath & Beyond gift card
With a vast array of bedding, bath accessories, kitchen gadgets, and home essentials, a gift card from Bed Bath & Beyond allows recipients to choose the perfect item for their home.
3. Home Depot gift card
For DIY enthusiasts or those looking to make home improvements, Home Depot offers a broad range of home improvement goods, gardening essentials, and tools. It's a versatile gift that can contribute to a home project.
4. Pottery Barn gift card
Pottery Barn is synonymous with elegant home furnishings and decor. Their range spans from luxurious bedding to timeless furniture pieces, making it ideal for those with a penchant for classy home aesthetics.
5. Wayfair gift card
Wayfair boasts a vast online catalog of home goods, furniture, and decor items catering to varied tastes and budgets. This card provides the freedom to select the perfect piece from thousands of options.
6. Williams-Sonoma gift card
Perfect for the culinary enthusiasts, Williams-Sonoma offers premium cookware, gourmet foods, and kitchen gadgets. It's a delightful gift for those passionate about cooking and baking.
7. Crate & Barrel gift card
Crate & Barrel is all about contemporary, stylish furnishings and decor. From unique furniture designs to quirky kitchen essentials, it's a treat for those who love modern home aesthetics.
8. Anthropologie gift card
Anthropologie is known for its bohemian, chic, and unique home goods, clothing, and accessories. Their eclectic home collection is perfect for those looking for unique pieces that stand out.
Gifting Home & Living cards in a corporate setting is not just thoughtful but also practical. It allows recipients to choose items they genuinely need or desire, ensuring the gift is both appreciated and put to good use.
7. Travel gift cards and vouchers
Corporate gifting during Diwali is a wonderful way to express appreciation to employees, clients, and partners. Travel-themed gift cards and vouchers can be thoughtful and exciting presents, offering the recipients the chance to explore new destinations or enjoy relaxing getaways.
Here are some travel gift cards and vouchers you can consider for corporate Diwali gifts:
1. MakeMyTrip gift card
MakeMyTrip is a well-known online travel platform that offers flights, hotels, and holiday packages. Their gift cards allow recipients to plan their travel according to their preferences. Whether it's a relaxing getaway or an adventurous trip, MakeMyTrip provides a wide range of options.
2. Cleartrip gift card
Cleartrip is another popular travel portal that offers flights, hotels, and activities. Their gift cards can be redeemed for various travel services, making it a versatile gift option for your employees or clients.
3. Yatra gift voucher
Yatra is a comprehensive travel platform offering flights, hotels, holiday packages, and more. Yatra gift vouchers give recipients the freedom to choose from a variety of travel options, ensuring a personalized travel experience.
4. Goibibo travel gift card
Goibibo is known for its user-friendly interface and extensive travel services. Their travel gift cards can be used to book flights, hotels, buses, and even holiday packages, giving recipients a wide range of choices.
5. Thomas Cook gift card
Thomas Cook offers a range of travel-related services, including flights, hotels, forex, and travel insurance. A Thomas Cook gift card could be a valuable gift for those who want a seamless travel experience from start to finish.
6. Fabhotels gift card
Fabhotels is a rapidly growing budget hotel chain in India. With a presence in more than 40 Indian cities, Fabhotels offers quality stays at affordable prices. Fabhotels gift cards can be used to book stays across any of their properties in India. Recipients can easily redeem the gift card on the Fabhotels website or app.
These are ideal for corporates who are looking to provide their employees or clients with comfortable yet budget-friendly stays for business trips, or individuals who often travel within India.
7. Hyatt Hotels Gift Card
Hyatt is a global brand with luxury hotels, resorts, and vacation properties spread across numerous countries. Hyatt gift cards can be used at participating hotels around the world, giving the recipient a wide array of options.
Apart from room bookings, these gift cards can also be used for dining, spa services, and other hotel amenities. It's a perfect gift for those who appreciate luxury stays and international travelers, or corporates wanting to give their employees a premium experience.
8. Marriott gift cards
Marriott International is a leading global lodging company with a wide portfolio of hotel brands ranging from luxury to budget. Marriott gift cards can be used at any of Marriott's properties around the world, including their luxury, premium, and select service hotels. Recipients can use the gift card for accommodations, dining, spa treatments, golf, and more.
Marriott gift cards are ideal for corporate gifts, especially for executives and clients, as well as for families and individuals who enjoy a mix of luxury and comfort during their travels.
8. Health & Wellness gift cards
In the hustle and bustle of the corporate world, prioritizing health and wellness often takes a backseat. Gifting Health & Wellness gift cards during Diwali, a festival symbolizing new beginnings and the victory of light over darkness, send a thoughtful message of care and well-being.
It emphasizes the importance of physical and mental health, encouraging recipients to take a break, rejuvenate, and focus on their well-being. Such gift cards can cater to various preferences, from spa treatments and fitness classes to nutritional supplements and holistic therapies.
In a corporate context, these gifts not only show appreciation but also an investment in the holistic well-being of the recipient, aligning with the rejuvenating spirit of the festival.
Here are some branded Health & Wellness gift card suggestions that would make excellent Diwali corporate gifts:
1. Lululemon gift card
Recognized globally for its high-quality activewear, a Lululemon gift card is ideal for those looking to enhance their fitness wardrobe, whether for yoga, running, or other activities.
2. Peloton gift card
With a gift card to Peloton, recipients can explore a range of premium fitness classes — from cycling and running to strength and yoga. It's perfect for fitness enthusiasts or those looking to embark on a new wellness journey.
3. Sephora gift card
While primarily known for beauty, Sephora also offers a variety of skincare and wellness products from top brands. A gift card here allows recipients to choose products tailored to their skincare needs and wellness routines.
4. Gaiam gift card
A brand synonymous with yoga and meditation, a Gaiam gift card can be used to purchase high-quality yoga mats, props, and meditation aids, catering to both beginners and seasoned practitioners.
5. 23andMe gift card
Offering insights into genetics and health predispositions, a 23andMe gift card can be an intriguing and valuable gift. By understanding their genetic makeup, recipients can make informed decisions about their health and wellness.
Gifting branded health & wellness vouchers for Diwali shows not only a gesture of goodwill but also a company's commitment to promoting a holistic and healthy lifestyle for its recipients.
9. Cash & prepaid gift cards
During Diwali, the act of gifting is a cherished tradition that conveys appreciation, respect, and goodwill. Cash and prepaid gift cards stand out as exemplary corporate gifts because they marry tradition with modern convenience.
They offer the ultimate freedom of choice, allowing recipients to decide how they'd like to celebrate or what they'd like to purchase. For corporations, these gift cards simplify the gifting process, ensuring that every employee or client receives something of value without the challenge of individualized gift selection.
Moreover, in a diverse corporate setting with varied personal tastes and needs, such cards ensure universal appeal. In essence, cash and prepaid gift cards reflect both the festive generosity of Diwali and the practical considerations of the corporate world.
1. Visa or Mastercard gift card
These are prepaid cards that can be used anywhere their respective networks are accepted. They offer the flexibility of cash without the need for carrying physical money. Recipients can use these cards for shopping, dining, entertainment, and more, providing the freedom to choose their own gift.
2. Amazon gift card
Given the vast inventory of products available on Amazon, this is almost as good as cash. Whether the recipient is looking for electronics, books, clothing, or any other items, an Amazon gift card provides a wide array of choices.
3. American Express gift card
Like Visa and Mastercard, the American Express Gift Card is a prepaid card that can be used anywhere American Express is accepted. It combines the flexibility of cash with the convenience and security of a card, allowing recipients to indulge in their preferred way.
4. PayPal digital gift
This allows you to send prepaid amounts directly to someone's PayPal account, from which they can either transfer to their bank or use for online purchases. Given the increasing number of retailers accepting PayPal, this gives a significant amount of freedom to the recipient.
Gifting cash or prepaid cards during Diwali signifies trust and respect. It gives recipients the autonomy to decide how they want to treat themselves, making it a universally appreciated corporate gift.
10. Charity and donations gift cards
Opting for charity and donation gift cards as corporate gifts captures the essence of this spirit. Such gift cards empower recipients to support causes they're passionate about, allowing them to make a positive difference in the world.
For corporations, it's an opportunity to demonstrate social responsibility and encourage philanthropy among employees and clients. Gifting donation cards creates a ripple effect of goodwill, transforming the traditional gift-giving gesture into a broader communal impact.
As the festival emphasizes renewal, prosperity, and the betterment of society, what better way to honour it than by supporting charitable endeavours that aim to uplift and improve the lives of others?
1. JustGiving gift card
JustGiving is a global online fundraising platform that allows recipients to donate to any charity of their choice. Giving a JustGiving gift card empowers the recipient to support a cause they are passionate about, from health to education to environmental protection.
2. GlobalGiving gift card
This platform connects donors with grassroots projects around the world. A gift card from GlobalGiving enables recipients to select from a wide variety of projects, ensuring their donation impacts an area they deeply care about.
3. CharityChoice gift card
With CharityChoice, recipients can choose to support one of their thousands of participating charities, spanning various sectors and causes. This card offers a broad spectrum of choices, ensuring everyone can find a cause that resonates with them.
4. Points for Good gift card
The "Points for Good" gift card offers a unique and meaningful way to celebrate occasions like Diwali. Instead of traditional gifts, this card allows you to allocate certain points that recipients can direct towards causes close to their hearts. With this card, you're not just giving a present, but the power to make a difference.
Conclusion
Corporate Diwali gift cards offer a versatile and thoughtful way to elevate your gifting game during the festive season. With 74 options, something suits every recipient's taste and preferences.
These gift cards convey your best wishes and allow the recipients to pick the perfect gift for themselves, ensuring that your gesture is both meaningful and practical.
Whether it's for employees, clients, or business partners, consider incorporating these corporate Diwali gift cards into your gifting strategy to make this Diwali season truly special for everyone. Happy Diwali!