Table of Contents
The year gone by was a rollercoaster ride. From new beginnings to new projects, mishaps to detours, and in-office friendship to frenemies, it was a wild ride. The year coming on has a crucial impact on new objectives, goals, and accomplishments as the new year is the best time to take up new avenues. But every year comes with a glimmer of hope and optimism.
Even those for whom the new year is just a new date, make them feel the excitement that the coming year has to bring with these motivational New Year messages for employees, colleagues, and coworkers as per the tone of your choice.
Let's look at some beautiful, creative, professional, and warm sweet and salty new year greetings messages for employees.
Warm New Year messages for employees
1. We all set a journey into this new year with high hopes and a million dreams. Here's to the ones that we fulfilled and for the ones that didn't, the next year is here to make it happen. Happy New Year!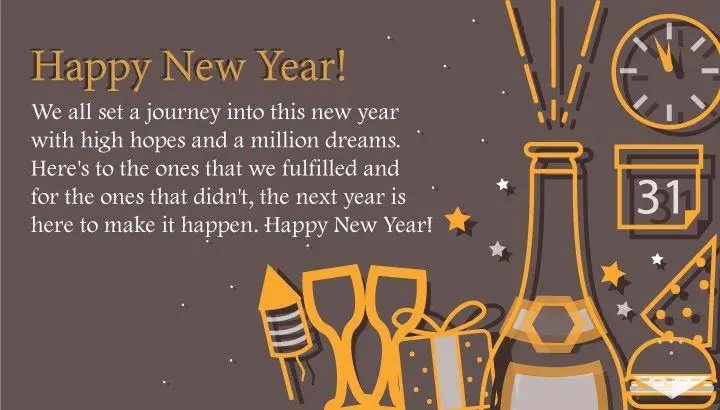 2. May excellent responsibilities come to you with awesome opportunities and a wide range of comforts to make your life grand in the coming New Year. Best wishes from my end!
3. Here's to wishing all of you a happy and prosperous new year. All of you have things on your bucket list and I know that you have all that it takes to accomplish them. Happy New Year to every one of you!
4. For my work family, these New Year wishes come straight from the person whose job you made so easy! I wish your new year would be the most fruitful of all. Have an amazing 365 days.
5. Hello, my beloved work family! You have stuck by me through thick and thin last year and I couldn't have made it without you. Thank you for making this year as great as it can be and here's a toast for a Happy New Year that lies ahead!
6. As one year comes to an end, a new one starts, let me wish you joy and ease of heart. May you have a prodigious New Year and make this one special for every person who you hold dear. Cheers!
7. Here's a toast to the year gone by! It taught us lots of lessons-- harsh and soft-- but most importantly, we stuck together through thick and thin. Cheers to what the coming year brings for us!
8. It's the New Year and I can't help but thank all of you for your awesome contributions that brought us where we are. Wishing for more of the same from every one of you. Happy New Year!
9. I hope that your work quotient, as well as happiness scale off the charts and you conquer all those goals that are on your bucket list. We hope that we can work towards greatness in the year that's coming. Cheers!
10. It's New Year's Eve and before all of you go into party mode, I'd like to wish you all a very Happy New Year. Live it up, cherish it with your beloved, and have loads of fun. See you at work!
11. All set to gear up for the coming year. Let's do it with frolic! Now that we take a break from work duties to spend time with our beloved friends and family, I wish you all a very Happy New Year. Looking forward to seeing you back here soon!
12. Happy New year! I know you have stuck by us as a team and boy you have done it ever so well, but I wish that you come back stronger and take the whole place by a storm the next year. Happy New Year!
13. The new year is nearly here and boy the last one just swung by! We owe all the success to you all and I wish you all a very happy new year. May this one be as amazing as the last.
14. It's time to revel in the spirit of the new year and I know all of you are still not off the Christmas spirit, and you shouldn't get out of it too! Have a great weekend and an amazing new year. Cheers!
15. Christmas comes but once a year. Then we celebrate with New Year's cheer. Office parties and lots of wine. Enjoying festivities of this special time. Before the year ends, let me say. Happy New and enjoy each new day.
16. New Year Greetings all-round the workspace. Stay safe and take this new year's wish straight from my heart. While the last year was great, we can always make it better-- be it in work or personal life. Have an amazing New Year!
17. May your seeds of hard work bloom into an amazing fruit of success that's as sweet as your favorite dessert. I wish you all the success and prosperity in the coming new year.
18. With the new year coming your way, I send you a gift of my prayers and prosperity. I wish with all my heart that we grow together and reach astronomical levels like we always do. Have an amazing New Year!
19. Would we have achieved great success without you? Well, that's debatable, but you sure made last year better than everything else. Thank you so much and I wish you a very happy new year!
Short New Year messages for employees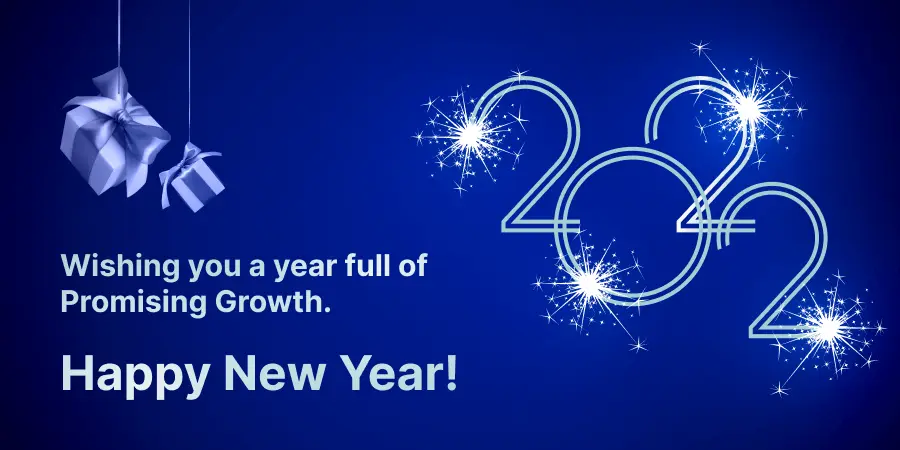 1. Here's to wishing you the heartiest of a happy new year that comes with a lot of expectations. Cheers!
2. Let's ensure that in the coming year, you get all the things you ask for-- as long as it's not a raise, ha-ha! Just kidding, you deserve it all. Happy New Year!
3. A new year is like a new dawn and we can ensure that our sun rises and sets with success at all times. I wish all of you a very happy new year. Cheers!
4. For someone like our team, this New Year will surely be the best as was the last one. I wish you all the best in the 12 months coming to us. Cheers!
5. Here's a message from ours to yours wishing you and your family a happy new year! Have a great party, relax, and take it easy in the coming year. You're amazing!
6. In a pool of New Year wishes to employees, here's mine too. I wish you all a miraculous New Year's Day, a cozy winter, an exciting summer, and a picturesque spring.
7. This new year comes with a clean slate. Let's decorate it with greatness, success, and splashes of fun and frolic. I wish you all a very happy new year!
8. Now's the time to check our engines, fill in some oil with a party mood and finally, get back up and running in the coming year! A happy new year to everyone.
Here's to a Happy New Year!
This coming year, convey to your work colleagues, employees, and peers that you care with motivational new year wishes for colleagues and fellow employees.
Trending Articles
Work Anniversary Wishes for Employees
Workplace Safety Quotes to Motivate
Employee Appreciation Day Greetings
Motivational Quotes for Healthcare Workers
Job Application Email Templates
Resignation Acceptance Letter Samples
Resignation Letter Due to Health Issues
Retirement Wishes and Messages
Farewell Gifts for Colleagues