Sending warm corporate new year wishes to your colleagues and coworkers is a great way to celebrate the beginning of a new year. As the year is almost ending, it's time to celebrate the coming year with your colleagues. There are plenty of ways for you to bring in 2023 with style, and we have got some exclusive corporate New Year wishes for your colleagues and coworkers with you. In this article, we have covered 24 creative corporate wishes you can send to your colleagues on January 1st.
Happy New Year wishes for colleagues and coworkers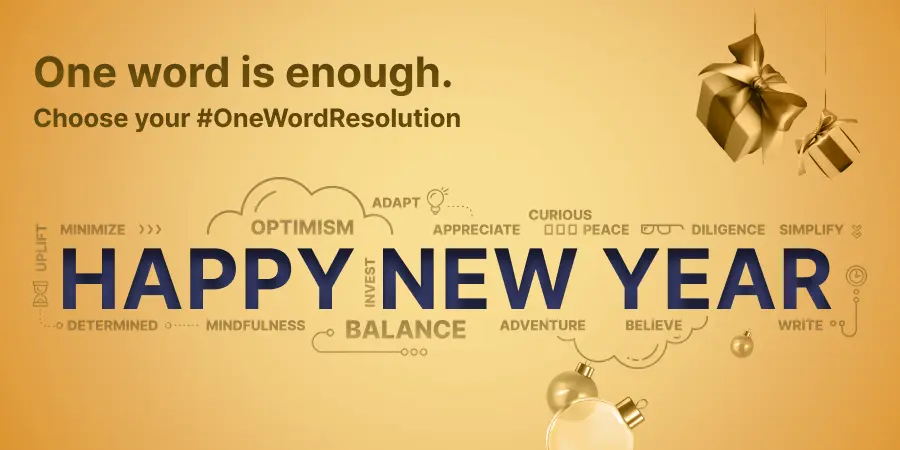 1. Here's a Happy New Year Wish from me to all my colleagues. If it wasn't for your efforts and hard work, this workplace would've been a lot less fun! Let's hope for more of the same in the coming year.
2. As we are all set to begin another year, I want my valuable colleagues who are always hustling for our growth, and we wish that the new dawn becomes a year of better performances with your awesomeness. Wishing you a very Happy New Year.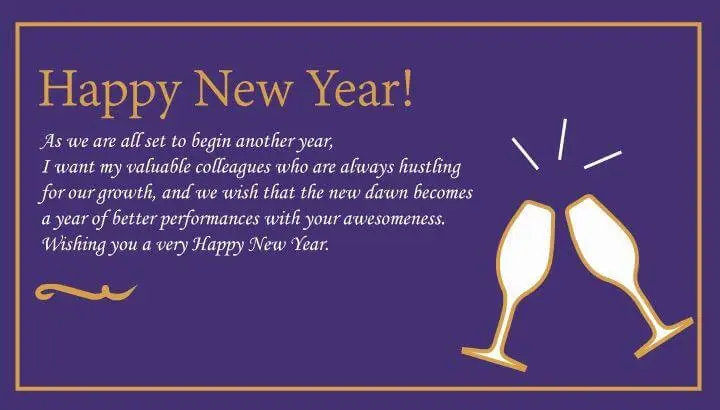 3. Happy New Year to you my treasured companions. The last one was amazing, and I say that with regards to all that happened, but as for the next, I pray that it's even better. Let the new year begin!
4. What an astounding colleague you have been. Such great strife from you I have seen. Now we are bidding adieu to the passing year. And Aloha to happiness that will be everlasting. I wish you a happy new year!
5. Last year, I could count on you like four, three, two! Thank you for being there and making my work-life easier. I wish you a happy new year in the 52 weeks to come.
6. I know your spirit. For you, the new year is a chance to equip yourself with new skills and pounce on new opportunities to perform and grow. Let's aim for success altogether as a team and on our terms too. Happy new year!
7. If it weren't for you, my team, it wouldn't have been the same last year. You bring great things to the table and I can't be happier. I wish you all the greatness in the coming year. Have a brilliant year and enjoy lots of good cheers.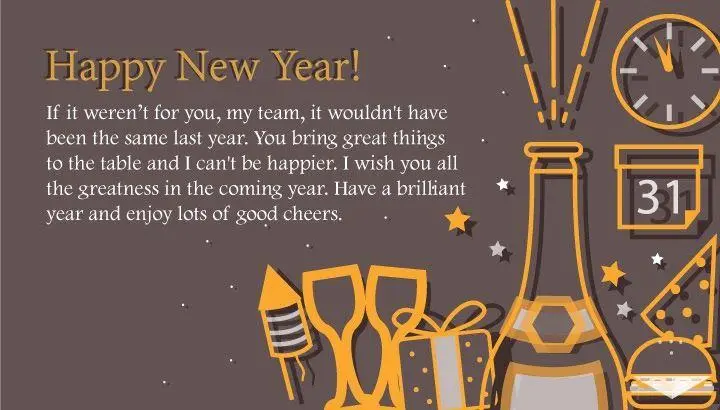 8. Just like every new year, this one comes with new aspirations and projects. Let's continue our strife to success and shock everyone with our relentless work ethic. Wishing all my employees my favourite colleague a very happy and prosperous new year.
9. Happy new year to colleagues of mine. May you prosper and let that talent shine. Thank you for the amazing work you have done, for in my eyes you are truly the number one.
10. Thank you for the successful year that couldn't have been without you. We will meet again in the New Year with lots of hopes and new reasons for strife. Cheers!
Professional New Year wishes for coworkers
11. Working with me can be a tricky test, I am not going to cover it up. But despite all my quirks, you have everything it takes to be the swashbuckler of this team. The caliber of work you've given is no less than supreme. You have brought nothing less than quality to my team, and I wish you a great New Year, and may we continue to achieve great things. Happy new year!
12. I know that the coming year has lots of projects, tasks, goals, and KRAs to work on but let's just take a minute to wish each other a very happy and prosperous New Year. No matter how many goals we set, they are impossible to be accomplished if it's not for all of you. Thank you for making this place what it is, and I wish you a very happy New Year.
13. This new year comes forth with a new dawn in life. I hope it brings you stellar opportunities in life, a superb one full of laughs and free of worries. Have a happy new year.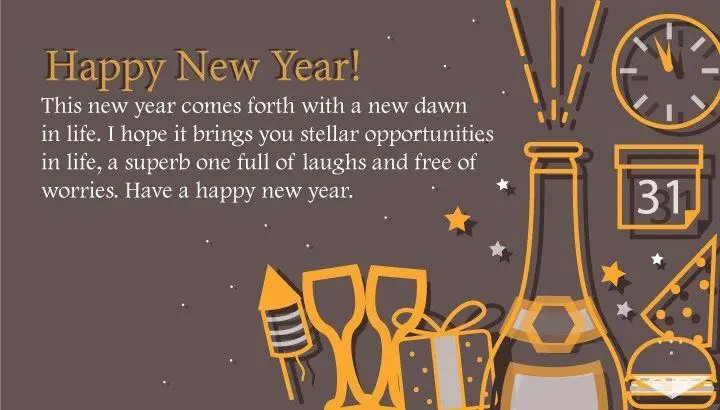 14. May the coming year bring you amazing vibes, great companionship, and a great time at work ahead. I hope that you excel like a rocket and achieve amazing results next year. Wish you and your family a Happy New Year!
15. The New Year is coming, and we have so much to say, but let me just sum it up with one New Year wish for my employees. You have been the best team I could ever ask for, bringing so much worth to this workspace each day. This New Year promises to bring so many amazing things. And for this reason, we just can't wait for it to arrive. Have a prosperous New Year and make the joy everlasting. Hold onto your great memories of the year that's gone by.
16. You went the extra mile on countless instances, and I can't thank you enough for it. Now that the new year is coming over, I wish you the best and keep hustling as you do. You are amazing at it. Cheers!
17. Now that the new year has begun, I want to take this moment to extend my greetings straight from the heart for this festive season. I appreciate you all for all the achievements and accomplishments in the last year. Be it our work-related targets or personal ones, it has been great. As the new year is upon us, I thank all for your support and dedication, and especially to those who burned the night oil and got things done. Happy New Year!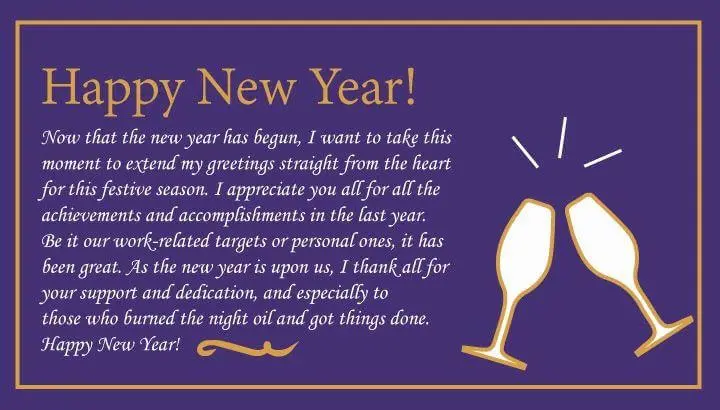 18. This organization is nothing without you all and hence we send this New Year wishes to our employees, cherishing the moments gone by and the year that's all set to come. Happy New Year!
19. One thing that the New Year always brings forth is hope and, on that note, I'd like to wish all of you a very happy New Year. May your invaluable contributions bring forth excellence to you as well as this organization. Happy New Year!
20. A virtuous year is one where we stick by as a family and achieve everything together. I wish my team a very happy new year from the bottom of my heart. May you get everything you wish for!
21. Our success is defined by your hard work and we dedicate our growth to you. We look forward to more success stories like the year that went by in the year that's on the way. Here's to a happy New Year!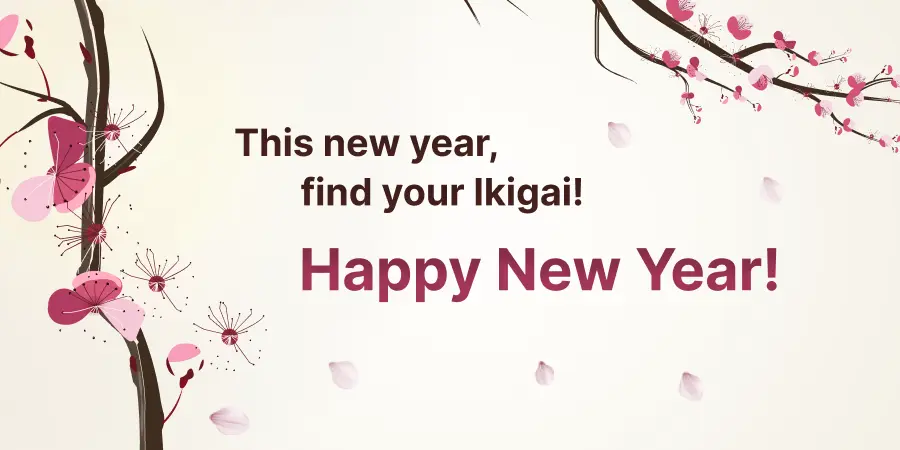 22. Let's hope that this new year, your happiness upscales off the charts and your all-formidable work ethic stays just the way it is. We are all very proud of you. Here's to a happy new year that's coming on!
23. We are all cordially ecstatic to announce that this new year, we are giving your prayers in the form of prosperity, happiness, and well wishes for your beloved family and friends. We hope that the coming year has many interesting things ahead and our best wishes are to each of you. Happy New Year!
24. You have been a great example for others at work-- irrespective of what you do, and I can't thank you enough. Here's to wishing you a very happy new year! Stay amazing!
25. I want to wish you a Happy New year for the upcoming year with lots of inspiration and creativity in all your works, great connections and progress in your profession.
Conclusion
Someone once said that every day is a new beginning. Well, a new year is even more of a blank slate. I hope your 2023 is filled with plenty of opportunities and successes. And I hope you take advantage of them all and make the most of this fresh start.