Impact Of Employee Rewards and Recognition in the Workplace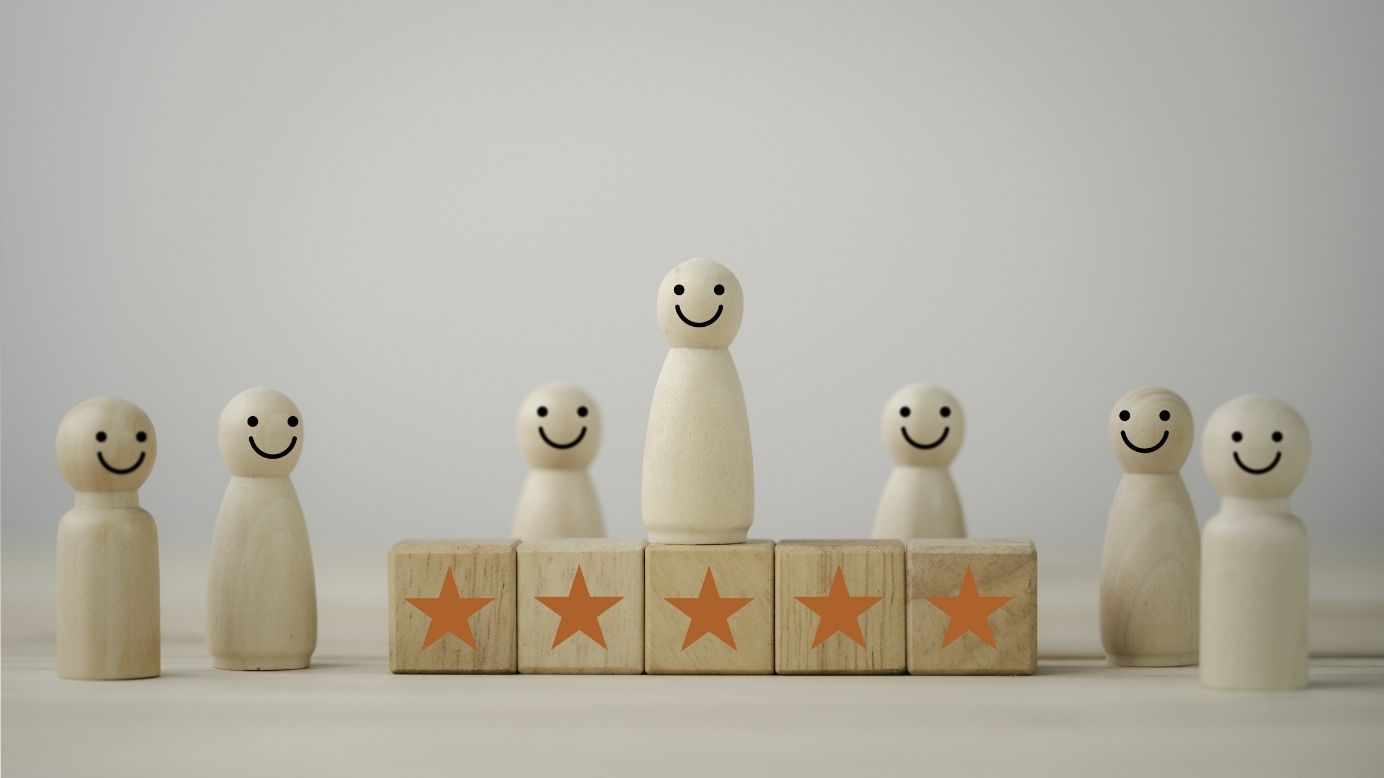 Impact Of Employee Rewards and Recognition in the Workplace
How does employee rewards and recognition impact the employee experience? Know all about how integral rewards and recognition is in the employee experience.
Table of Contents
When Chris Kempczinski was appointed the new CEO of McDonald's  in November 2019, the first thing he did was to send out a heartwarming email to all his employees. The mail started off with 'I am particularly fortunate to be surrounded by such a talented team' and ended with 'Thank you for your commitment to McDonald's and for all you do every day, across more than 100 markets, to drive us forward and help us reach our incredible potential.' In this article, we discuss the incredible impact of employee rewards and recognition in the workplace. Great leaders like Chris would vouch for the role recognition plays in driving employee motivation and the overall employee experience. We set out to prove this correlation - by understanding the fabric of employee experience and how recognition fits into it, using  popular employee experience models.
Weaving Employee Rewards and Recognition into Employee Experience

Leveraging Technology for Employee Rewards and Recognition
The 'Designing employee experience' report by the IBM Institute for Business Value sorts employee experiences into three different spheres.
When employees conduct work that requires collaboration with other employees - their social spheres intersect the work spheres. Employee 'social platforms' use technology to publish, document and retrieve work discussions easily - facilitating this intersection. As per Capterra listings, about 50% of these employee social platforms available in the market have 'social recognition' as a key feature.
The above mentioned report further lists the five strategies to improve employee experience, namely:
Personalisation
Transparency
Simplicity
Authenticity
Responsiveness
Interestingly, 'Social recognition' - with the use of technology - facilitates each of these strategies. Social Recognition using technology is:
It is personalised owing to a range of recognition modes - like peer-to-peer, instant, or value-based.
It is transparent because it is presented in front of a virtual company town hall that consists of the entire organisation.
It is simple because it is as easy as posting on social media.
It is authentic because it comes from people who have experienced the reason for recognition.
It is responsive because it is a technique of positive reinforcement that conveys 'you are doing a good job and keep doing it'.
Role of Rewards and Recognition in the 'Purpose Economy'

PwC's employee experience model is based on Aaron Hurst's definition of Purpose Economy. The study states that the new era of work - the fourth industrial revolution - transforms the Employee Value Proposition (EVP) from 'employee engagement' to 'a personal sense of purpose and meaning for employees'.
What does this 'sense of purpose and meaning' mean and how does it impact the employer?
The report goes on to explain that this 'sense of purpose' has three parts to it:
Employers can help create the ambience for this 'sense of purpose' - by giving employees opportunities to collaborate, clarity on goals and feedback on how well they are progressing towards it.
How is recognition tied with this 'sense of purpose'?
While the employees themselves hold the key to most of the fulfilment they shall achieve in their role, 'recognition' is one lever that the organisation can control. For instance:
Organisations can recognise 'behaviors that promote relationships and growth' to help modify the purpose-led culture.
'Recognizing individuals for a job well done' can promote 'a sense of belonging and connection to others'.
'Rewarding/recognising delivery of results as well as efforts' affirms the employee's 'ability to make an impact' on the organisational goals.
How rewards and recognition helps create a positive work environment?
Deloitte uses design thinking to define, rather re-define, employee experience. In their report 'Reimagine and craft employee experience', they've used the design-thinking framework to craft employee experience for 'higher engagement, satisfaction and strategic alignment'.
Using this framework, Bersin by Deloitte developed The Simply Irresistible Organization™ model that defines the 'irresistible employee experience'.
This model has 'Meaningful work', 'Supportive management', 'Positive work environment', 'Growth opportunity' and 'Trust in leadership' as its pillars - overlaid with 'Collaboration and connection'. (See Fig)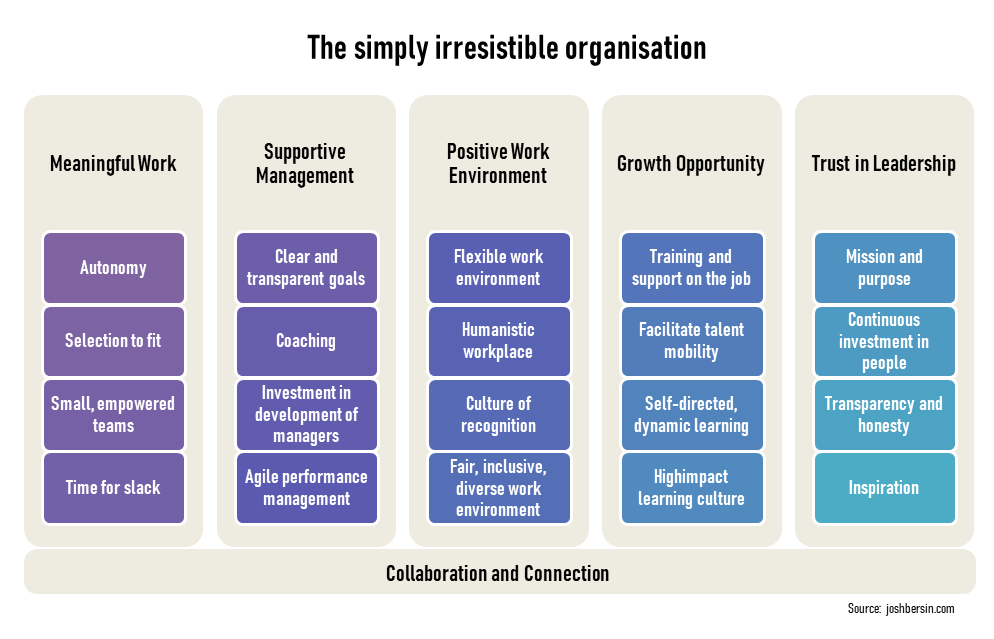 Panning into the Positive work environment pillar, Bersin identifies 'culture of recognition' as one of its four components. Looking further closely, recognition even helps create a 'humanistic workplace' by providing avenues for employees to appreciate  each other's efforts and create bonds. Recognition also helps make workplaces 'fair', by giving opportunities to appreciate good work - irrespective of the 'who' and 'what' of it.  All in all, the impact of rewards and recognition on employee performance can be huge.

Implementing a High Impact Employee Recognition Plan
A dearer recognition does not make it the better recognition. Gallup's study on employee recognition states that honest, authentic and individualized recognition renders the best value.  If a recognition fits this bill, its monetary value becomes trivial - this kind of recognition can even be as small as a thank-you note. The trick is to make this recognition an employee moment that matters.
Who should give the recognition?
In a recent workplace survey,  employees claimed that the most memorable recognition comes from their manager (28%), followed by the C-suite (24%), their boss's boss (12%), customers (10%) and peers (9%) - shedding light on how even the C-suite should get busy 'Recognising'.
How should the recognition be given?
During the same survey, employees list the following as the most impactful of recognition modes.
Public recognition that includes an award or  a certificate
Private one-on-one recognition from the boss, peers or customers
Performance-based recognition
Promotions or increase in job responsibilities
Monetary awards (Note that this is the last of the options)
What should the frequency of this recognition be?
Impact of recognition on employee performance is noted to be high by the experts when recognition is as frequent as once in seven days. This timeliness conveys the significance of employee achievement and helps reinforce values that the organisation wants to drive. If this frequency seems implausible, it can be modulated by introducing weekly contests or performance drives. Empuls can help in automating many recognition workflows. Technology can help automating the recognition process for these performance based achievements. Not achieving this frequency benchmark is venial - but what's cardinal is to never, ever miss recognising a significant employee milestone.

When should Employees be Recognised?
The recognition strategy  should be carefully congruent with the purpose, brand and culture of the company and most importantly, fit into the Employee lifecycle.
The lifecycle of an Employee
The employment cycle, also known as employee lifecycle, is complicated and may vary from organisation to organisation. To keep it simple, employee lifecycle can be defined as the different stages of an employee/employer relationship. In general, it's a series of phases an employee goes through while being employed by a company, institution, government or a non-profit organization. The cycle comprises 7 segments/phases (these may overlap in some cases).
Stage 1: Attraction
When a particular company posts an ad for hiring and candidates apply for the job role.
Stage 2: Recruitment
After profile screening, preliminary tests and interviews, a candidate are chosen.
Stage 3: Onboarding
Through the onboarding process, a candidate becomes an employee. This involves agreements, documentation, salary negotiations, etc.
Stage 4: Enablement
This stage involves orientation, employee's alignment with personal and company goals, team building and team interaction.
Stage 5: Development
At this stage, the employee is well aware of what is expected of him/her and starts performing. He/she might hone an existing skill or acquire new skills in the process.
Stage 6: Retention
Some employees may reach their saturation point. Company culture and employee engagement strategies play a key role in retaining employees for the next tenure.
Stage 7: Separation
Some employees will leave because of retirement or a better job. Exit interviews, employee experience surveys and feedback helps both employees and organisation to understand what went wrong or what could be done better. Impact of rewards and recognition on employee motivation can be noted throughout the employee lifecycle. Below given are a few R&R inclusions that will ensure growth and development throughout their lifecycle.

Types of Employee Rewards

Spot Awards
This award is to recognize special contributions, as they occur during a specific project/task. They are immediate and are used for instant gratification. ‍The impact of this reward system on employee motivation can be huge.
Service award
This award recognizes an employee's hard work and loyalty by rewarding the time they have served in your organisation (like 1, 5, 10 years).
Occasion award
Such awards recognise special events in employees' lifelike their first day on the job, birthday, marriage or work anniversary, etc.
Monthly award
It's a type of reward that is given to employees who exceed expectations and show excellent workmanship, at the end of the month (employee of the month award).
Annual awards
It's a type of reward that is given to employees who exceed expectations and show excellent workmanship, at the end of the year.
Value-based recognition
A kind of reward that is given to an employee who perfectly understands and demonstrates the company values.
Non-monetary
Recognition, praise or reward given to employees which do not involve direct money.  This can also be in the form of convenience or security.
Peer to peer
This kind of reward is given to employees by their peers, colleagues, and team members. The impact of this reward system on employee motivation is tremendous. ‍‍
A Party
Employees love parties. Have a small party within your office premises with good food and beverages with some loud music and cakes and tell thank you for all your hard work. Office parties also give them time to interact with other teams and colleagues.
Lunch/Dinner
Team lunches or dinners have always proven to increase morale between employees. The manager should also definitely be part of the program and convey the achievements of the team etc.
Time Away
Reward your employees with some time off specially your middle level managers & senior managers. Gift them some exciting vouchers for planning a getaway and have some family time to re-energize themselves once in awhile.
Family Day
Host a family day program and invite employee families for an evening of fun and good food.‍
Feedback
Take your employees for a personal cup of tea and let them open up about what they would want to change in the organization to create a better environment and implementing these changes will boost the confidence and encourage the employee to strive more for the organization.
Career Break
Give your full time employees who have completed 2 or more years with your company, a long term off up to 6 months for anyone who is taking up higher studies or trying out a new business idea or have to take care of a sick family member.
Wellness Programs
Create health awareness and well being programs for your employees & their families to adopt healthier lifestyles. Gift them fitness & spa vouchers or diet programs to improve their overall health.
Higher Education
Provide financial assistance for your employees who are willing to take up their higher studies. Setup weekend programs, certificate courses and professional development programs to help them pursue their dreams while working.
Story Of Alex Pritchet
Alex Pritchet - a mother of two years old, finally took the decision to go back to the workforce. She was a seasoned saleswoman before pregnancy and hence had no problem in finding a new job. She took a job in a renowned e-commerce company, which was thankfully just a few blocks away from her home.
The first half of her first day went on orientation, meeting team members, signing agreements and documentation, etc. In the second half, she was guided to her cubicle, where a "Congratulations! On new job" card and a $20 gift card on Hamleys were waiting for her. This kind of reward is called Occasion Award. The personalisation of gift card based on her 'mother status' connected Alex with the company emotionally.  Alex felt welcomed into the fold right away, while the employees around her cubicle, got to know about her and broke the ice immediately. Such a positive start motivated Alex to work hard, and she was able to exceed her sales goals within 2 months. Her manager decided to nominate her for Spot Award. One of her colleagues even nominated her for the peer-to-peer award as she helped him with complicated paperwork. Both the awards make her feel appreciated. This helped in building her trust in the company. It also reinforced a positive image of her colleagues and company in her mind.
A sudden increase in work (post 6 months) started making her feel overwhelmed. She was spending less time with her family and was having difficulty in maintaining a work-life balance. Meanwhile, the employee of the month award went to another deserving employee who did excellent work that month. It would have made other employees feel jealous or disheartened. But, it did the opposite of Alex. She knew the company was being fair so instead of blaming others, she started doing some introspection. The problem was - she was racing against time. Alex decided to find a solution to this and worked on some strategies that helped her manage time. Once she mastered the skill, she looked around and found out that her colleagues too were suffering from a similar issue. She started having informal gatherings and shared what she learned. Everyone started calling her company's in-house time management guru. Her Superiors and HR head were super impressed by her initiative and decided to reward her with a value-based recognition award. It was gifted to her in the form a badge that said, "Girl with Galactic Gratitude". This kind of award rewards employees who understand and demonstrate values core to the company culture. And Alex's zeal to not only help herself but also others helped her getting respect from peers and helped her become a "team player".
At the end of the year, she received the annual award. It was expected because she was the model employee every company wants. She is not only a great performer but also a good team player. The annual award was a cherry on the top to all the award she collected over the years. She realised the company was fair and supportive, where she can learn and thrive. This ultimately made her stick for more years and helped the company in keeping their high retention score. During the fourth year of the company, she got promoted and became the head of the sales team. The same year,  she also received non-monetary rewards in the form of gym membership and creche facilities for her child who had turned six. Alex is now a VP of sales. She has finished 11 years in the company and received a long service award. Her child is now a  high school senior. She will be working for 5 more years and retire early.
Moral of the Article
A happy employee is not a myth. They exist and thrive in companies that understand their worth and cherish them. Hope this article has made you understand the impact of rewards and recognition on employee performance, experience, motivation and importance of rewards in the life of an employee along with the effects it can have in your organisation. Now everything depends on you! What are you going to do about it? To sum things up, let us look at a case of how a market leader used recognition to transform their employee experience (social sphere/ sense of connection).
HRs of Luminous India wanted to nurture the culture of collaboration to avoid departmental silos - so as to remain agile to dynamic market demands. They created cross departmental peer-to-peer recognitions and drove it across the organisation. This initiative thrived - the employees reinforced their collaboration efforts and celebrated achievements together. The success of this initiative is also attributed to how it aligned with what each of them believed Luminous was - a lean, high-performing and humane company.

Empuls Newsletter
Join the newsletter to receive the latest updates in your inbox.
---