Table of Contents
When Hubspot topped Glassdoor's list of Best Places to Work (in 2020) and dethroned the overarching giants like Facebook and Google, many in the industry stared at them with disbelief and a slight surprise.
But Katie Burke, Hubspot's Chief People Officer, exuded the disposition of EXPECTANCY, as she knew that this wasn't a miracle that happened over one night. It was a soothing culmination of Hubspot's single-minded mission to keep its most valuable asset—employees—feeling valued, energetic, happy, and motivated.
The journey began in 2019 when Hubspot cast in stone its now-famous Culture Code, emphasizing values defined by the acronym HEART: Humble, Empathetic, Adaptable, Remarkable, and Transparent.
Hubspot had twin focuses in mind with this culture code: one to enable global inclusion and the second to turn into a mission-focused organization. However, Hubspot is too seasoned to know that this focus can go off-radar if employees don't circle themselves around it enthusiastically. So they implemented the best elixir for it that this world has ever seen: recognition.
Why Did HubSpot Choose "Recognition"
Overused to the point that it has become a classic cliché, the truth is that—people don't quit their jobs; they quit managers. The desire to feel valued and appreciated is so pertinent and ingrained in humans that it can go into the list of most archaic and oldest known sentiments to humanity.
According to William James, a well-known psychologist, the deepest principle in human nature is the craving to be appreciated.
The fact of the matter is, that we all want to matter, and employees are no exceptions to it. Like all mortals, they despise the environment where appreciation is scarce, and they need to work hard to remember the last time they had received a warm and encouraging pat on their backs.
It's hardly a surprise that, like Hubspot, all the business magnates and experts alike are never short of words in eulogizing the sheer illuminating power of recognition.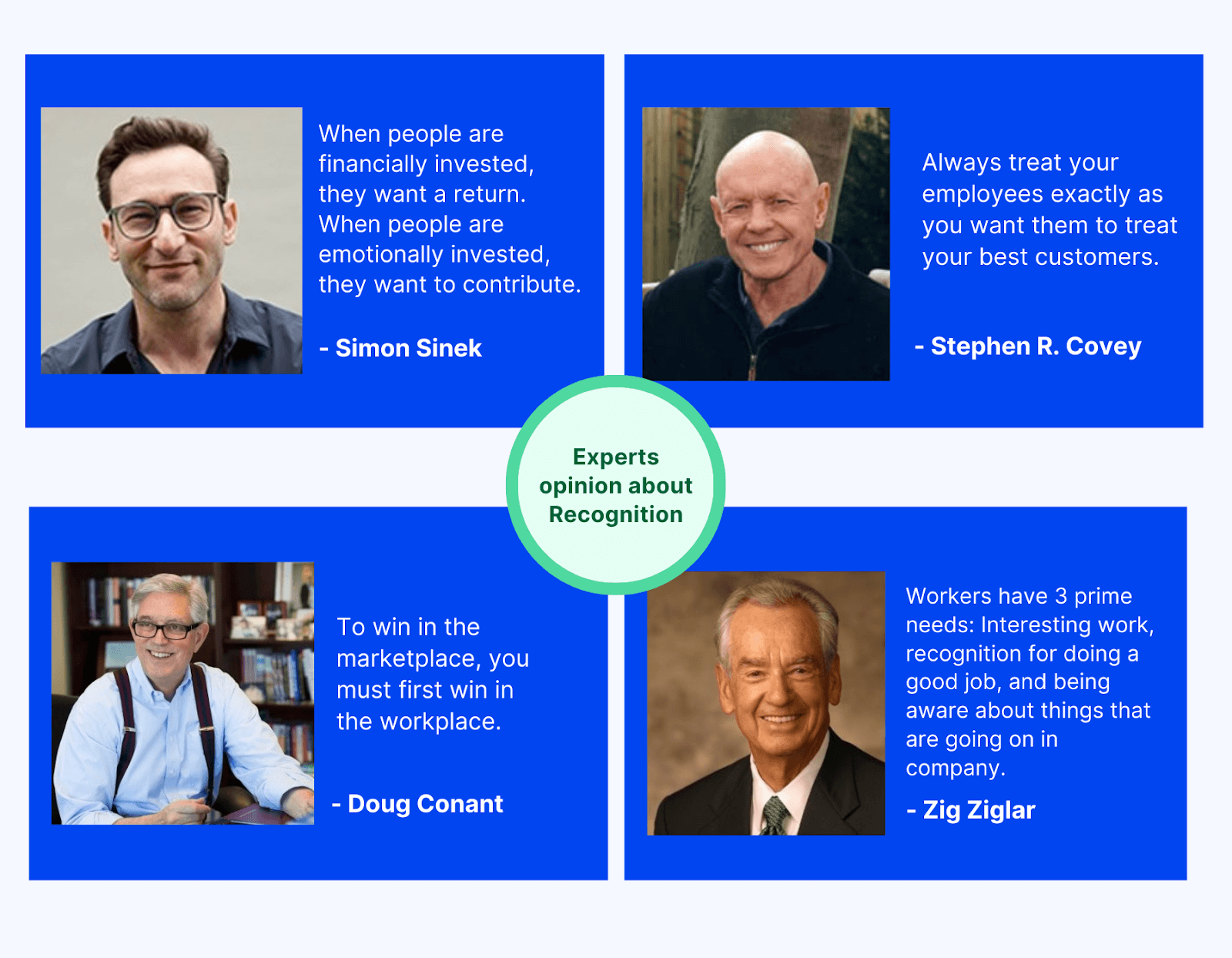 When you are on the brink of believing that only business magnates and marketing gurus tail the long list of eulogizers of recognition, then Oprah Winfrey is a pleasant outlier.
How deeply entrenched is the human need for appreciation, even among the most powerful and celebrated people on this planet, fluorescently emanated when she delivered her commencement speech at Harvard not long ago:
I have to say that the most critical lesson I learned in 25 years every single day to people is that there is a common denominator in our human experience. In every interview, the common denominator that I found was that—we want to be validated and understood. I have done more than 35000 interviews in my career. Once that camera shuts off, everyone turns to me and inevitably, in their way, asks — "Was that okay?"

I heard it from President George Bush. I heard it from President Barack Obama. I have heard it from heroes and homemakers. I have heard it from victims and perpetrators of crimes. And I have heard it from Beyonce in all of her Beyonce-ness. We all want to know one thing: "Was that okay?" "Do you see me?" "Did you hear from me?" "Did I say anything mean to you?"
The Importance and Benefits of Employee Rewards and Recognition
Employee rewards and recognition is vital to improve organizational values, encourage friendly competition, improve employee happiness & satisfaction, increase customer satisfaction and motivate employees to go the extra mile.

Let us now understand the benefits of employee rewards and recognition and how they positively affect an organization regardless of its domain and magnitude.
1. Unprecedented boost in productivity
Even a cursory glance at our personal and professional life is potent enough to reveal the axiomatic fact that what gets rewarded gets repeated. That's primarily and plainly because rewards and recognition, in essence, acknowledge the rightness and the effectiveness of a person's contribution.
Since it's a reflex of the sound mind to repeat what is best and effective, it's unsurprising to see countless studies voicing how rewards boost the repetition of mission-critical tasks. Its concrete reflection in numbers further proves the case beyond any doubt:
Also, note that the Company's bottom line is the pleasant beneficiary of the positive vibes that recognition germinates. Bain & Company mentions that the best companies are 40% more productive than the rest and have 30% to 50% higher operating margins than their industry peers.
💡
According to
HBR
, If satisfied employees are productive at an index of 100, then engaged employees produce work at 144. But here's the real kicker: inspired employees score 225 on this scale. From a quantitative perspective, it takes two and a quarter of satisfied employees to produce the same output as one inspired employee.
2. Ups the ante of happiness
Employees spend 40+ hours at work each week. That comes up to 2000 hours per year. Naturally, their state of mind in those hours will decide whether they will be an asset for you or a burning liability. The solution, perhaps the only one, is to make them happy. One delightful and psychologically proven recipe for happiness is recognition.
Here's how it works:
Your brain's hypothalamus & dopamine receptors are positively affected when someone recognizes and appreciates you.
While the hypothalamus is in charge of dopamine production and takes care of other essential bodily functions, dopamine is the chemical responsible for the sense of happiness and the removal of depression.
Recognition activates the hypothalamus regularly, resulting in more dopamine production and happiness. Since happiness is the glue that keeps us more alert, satisfied, engaged, and motivated, it helps boost employee morale.
3. Retains the best talents
From posting a job description and screening piles of resumes to interviewing candidates and negotiating packages, the cost of finding the right employee is always incremental. More or less, the average cost per hire ends up in a ballpark of $4425.
All these efforts go up in smoke within the blink of an eye if an employee quits without giving a hint. It's a double-body blow, as the turnover cost is high too. Since recognition inherently makes employees feel wanted and valued, it's the only antidote to this misery.
The fact that lack of recognition and engagement contributes to 44% of employees changing jobs further substantiates the effectiveness of this antidote, albeit with other positive numbers from a survey report by SHRM:
69% say that rewards and recognition are among the top factors that make employees stay with their current employers.
A recognized employee is 63% more likely to stay at his current job for the next 3 - 6 months.
4. Skyrockets employee engagement
Gallup found that only one-third of people have felt that their efforts were appreciated in the last seven days. Believe it or not, employee recognition and employee engagement share a symbiotic relationship. The more recognition employees get, the more engaged they become.
The more engaged they are, the more recognition they get. The fact is, recognition gives meaning to the tasks and thoughts that employees put in at work, keeping them emotionally and intellectually glued to work.
The worth of engaged employees is always measured in gold, as the positive outcomes generated by it trickle down to everything that defines an organization's success.
According to a Gallup's report on employee engagement and performance, developing highly engaged teams results in less adverse outcomes, more favourable outcomes, and tremendous success for your organization.
5. Greater pull for talent pool
Top-performing employees want something that's beyond salary. They look for a complete package that includes these essential factors—rewards, recognition, compensation, benefits, and a healthy working environment.
Employee recognition programs are one of the primary reasons professionals choose to join a company. Failing to plan and implement a proper R&R program could result in not being able to attract top talents.
Mountainous compensations and exhilarating job roles aren't the only sole pullers of talent. Candidates evaluate two critical things: company culture and the depth of relationships between employees, managers, and peers.
Don't believe us? Then check out this research report from Glassdoor.
Since the world is yet to see a better, delightful, and humane way than recognition to healthify workplace relationships, it can seriously become the key magnet that attracts the best talent from the local and international market.
6. An organic rise in employee advocacy
Employees who aren't recognized enough find it challenging to comprehend and narrate what makes their organization mention-worthy. The consistent ignorance of their hard work might make them believe that favouritism is rampant and fairness doesn't exist.
It's not a coincidence that recognized employees are 2.6x more likely to think that promotions are fair. Naturally, only those who believe that the company is honest will be ready to become the megaphone for companies' efforts to build a strong employer brand.
7. Incubates the innovation
In a study aimed at decoding what fosters innovation at workplaces, Monash University and LaTrobe University in Australia found that the better the employers treat their employees, the higher is the quantity and quality of groundbreaking ideas.
The fact is, innovation is an organic phenomenon that has to be coaxed rather than extracted. Therefore, it's an outcome of a positive, safe, encouraging, and appreciative environment. As recognition ticks off all the ket prerequisites, a windfall of studies has backed this claim of heightened innovation.
💡
According to
Great Place to Work
, employees who feel recognized at work are 2.2x more likely to say that innovating thinking is embraced.
8. Pithily instils the meaning and purpose
57% of younger Americans craving to participate in something that made a tangible difference in society is a testimony to man's ceaseless quest for meaning and purpose. Employees are no exception and the best way to inculcate this sense is to make them understand how their contributions are vital in shaping the bigger picture of an organization through timely recognition.
Note that it's easy to get caught up in the daily grinding of office work and family issues. Appreciation through rewards and recognition reminds employees that they all are marching towards the same critical mission, and every individual is equally valuable.
9. Greater and better customer experience
"Take care of your employees and they will take care of your business." — Richard Branson, Founder of The Virgin Group
When Deloitte surveyed executives all across the globe, 80% marked Employee Experience (EX) as an essential or significant factor for business strategy. The rationale behind this overwhelmingly accepted importance of EX is a simple fact that employee experience owns the customer experience.
When employees are treated well and humanely, it enables them to engage in their work and contributes to a greater purpose. They go beyond the drafted call of duty and transfer that feeling to customers. Remember, nothing ignites employees' sense of meaning and engagement than euphoric recognition in its most superficial or grandiose form.
10. Offsetting workplace loneliness subtly
Experts are already raising alarms about how working from home (after the pandemic) has thrown employees into the dark corridors of loneliness and isolation. Also, the "smoking" habit of the modern age has gone to the extent that Former US Surgeon General Vivek Murthy called it "the most common pathology."
Loneliness detrimentally affects employees' physical and mental well-being, causing stratospheric workplace costs. It stems from the fact that lonelier workers are less productive, more prone to quit before the stipulated time, and feel less satisfied with their jobs — costing employers up to £45 billion a year.
Social support, then, appears as the only silver bullet. Research outcomes bring to light how heart-to-heart talks with colleagues, words of praise, and peer recognition can create lasting bonds among people. Over time, these prosocial nudges will become cornerstones of a healthier, supportive, and collaborative work culture.
Looking at all these elemental and future-impacting effects of recognition, it won't be far-fetched to say that employee recognition will create better workplace performance—more than financial rewards. It ticks most of the checkboxes that are vital performance indicators of any organization.
Summing this section, here's what you need to know:
Examples of Companies Creating an Impact with their Employee Rewards and Recognition Program
Explore how Ideas Collide and Sherwoods create a massive impact through their unique employee rewards and recognition programs.
1. Ideas Collide
Ideas Collide, a design agency, mercurially enhanced employee morale by the strategic implementation of a employee recognition program.
With a sound awareness that individual employee contributions may get lost on large projects, Ideas Collide added a recognition and rewards program, which enabled them to highlight daily contributions and nominate employees for various awards.
A pleasant outcome, Ideas Collide observed a 65% increase in employee recognition. Interestingly, 92% of employees felt acknowledged by their peers, and 84% reported feeling recognized by their boss.
2. Sherwoods
UK accounting services company Sherwoods boasts a workforce spread across five diverse locations. Though employees work together, they rarely get enough facetime, making employees feel isolated and spaced out.
As a final resort, they launched a peer recognition program, only to achieve 100% employee engagement, with the team sending each other 947 encouraging eCards over 18 months.
Importance of recognition in numbers
Let's look at some data points as to how a culture of recognition can positively impact an organization's success.
According to Deloitte:
Organizations with a recognition culture had 31% lower voluntary turnover than those without it.
Organizations with sophisticated recognition are 12 times more likely to have positive business outcomes.
According to SHRM:
Organizations that practice a culture of recognition experience 28.6% fewer frustration levels than the ones that don't.
When companies spend 1% of payroll on recognition, 85% notice a positive impact on employee engagement.
According to Psychometrics:
When asked what leaders could do more to improve engagement, 58% replied, "give more recognition."
Recognition matters now more than ever. But companies are still struggling with it.
Despite the undisputed benefits that employee recognition bestows upon organizations, it is clear that companies continue to struggle with creating a culture of gratitude. A survey found that 65% of employees haven't received recognition for good work in the last year.
To add salt to the wound, 59% of employees believe that less human connection makes them anxious and isolated. This gloom has been further exacerbated due to hybrid and remote ways of working.
If you are unsure about where to begin and how to get into the groove of the appreciation culture, Emplus can become a good starting point.
Trending Articles
Farewell Messages for your Employees
Thank You Messages for Boss
Personal Resignation Letter
Employee Recognition Award Titles
Effective Self Appraisal Comments
Thank You Messages for Colleagues
Resignation letter subject line