Christmas is a wonderful time to share your joy with the people you love. Surprises are a unique way to show that you care. If you are contemplating how to surprise your colleague, we present you with some wonderful ideas.
13 Amazing Ways to Surprise your Colleagues on Christmas
Who does not like surprises? Everyone loves to be surprised with gifts on important occasions. You can surprise your colleagues and coworkers at Christmas with unique and memorable gifts. If you are exploring ways to do this, the following are some great ideas.
1. Send an anonymous thank you message
Keep them guessing! Send an anonymous message thanking your colleague. This is the best time to let them know how much they have been helpful. A personalized DIY card would add more value than a store-bought one here.
Pour in your heartfelt thanks and wish them the best with some creative Christmas messages. Maintain anonymity until you finally give a clue. They will be really surprised and glad that you still remember their gesture. An email message will not hold intimacy like a handmade one. So try to be creative and gift a handwritten card to your coworker.
2. Give them a small personalized gift
It doesn't matter if the gift is small or big; the gesture is important. Personalized gifts always have a special place. With your interactions over time, you would know your coworker's likes and preferences. Is there anything your colleague has been yearning for recently? Why not surprise them with that? Your friend would be elated to receive this as a Christmas gift.
3. Send personalized Christmas cards
Hearty wishes for Christmas with exotic cards can make your colleague's celebration special. A variety of Christmas cards are available during the season. Red, green, white, and bright, these cards are a great way to express your wishes.
You can choose e-cards too. With lovely animations, these cards specially welcome the season. Schedule your cards to be delivered on Christmas. This will be a surprise in their memory for a long time. Be their secret Santa!
4. Offer help on a project they are stuck
Who said gifts have to be something in kind? Your good gesture can be an amazing gift for your coworker. Are you working on the same project where the deadline is approaching? If your colleague is stuck with some part of the work, you can lend a helping hand.
This will enable timely project completion and also make your teammate happy. There cannot be an any better gift than this before Christmas. Your teammate can enjoy the holiday season happily because of your help.
5. Bring them their favorite homemade meal
Good food becomes more enjoyable when shared with close friends. Do you remember any special dish from your lunch that your colleague liked? You must be surprised to find out that this could be the best gift for your coworker.
Prepare their favorite meal and share it during the break. Your team is sure going to enjoy the moment. Rather than any fancy gifts, these moments remain closer to the heart. They would be overwhelmed by your gift idea. It would be a good time to spend with the team on Christmas eve.
6. Decorate their desk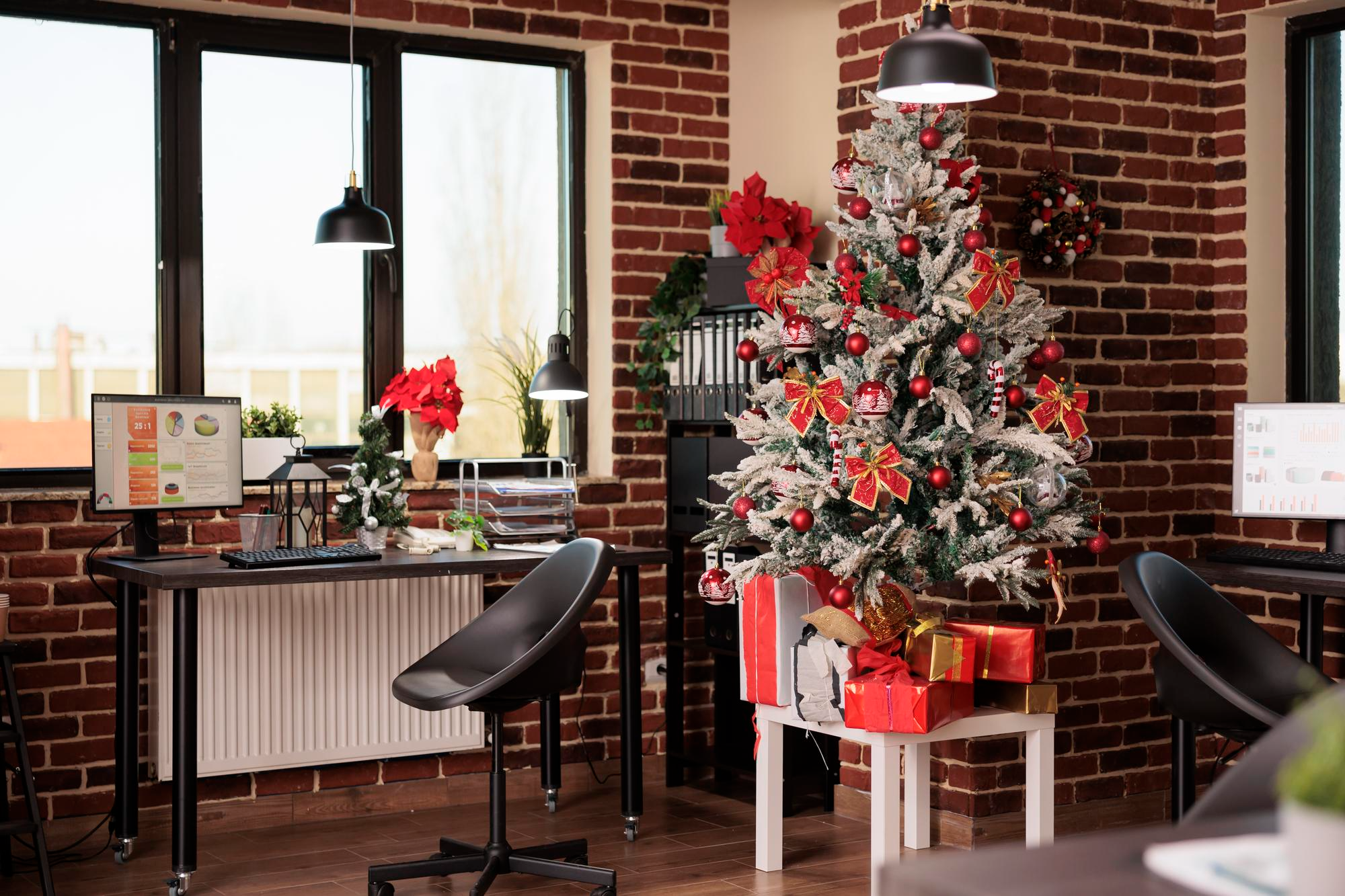 Surprise your coworker by cleaning, organizing, and decorating their desk. Plan this well, so you do not leave any hints for them. Start a little early to the office and get the decoration work done before the colleague arrives.
It is good to see an organized and decorated desk. Buy them flowers, a new vase, frames with their favorite quote, etc., to make the desk beautiful. You could also gift them a personalized photo frame with pictures taken during team outings.
7. Share an insightful book you love
Sharing knowledge is special since it only gets multiplied the more you share. Gift your colleague a book that you love, and think would be appropriate for them too. For example, if you feel your colleague should concentrate more on savings, a book on financial planning can be greatly helpful.
Think about what would be really useful to your teammate. It should also be as per their liking. Let them know you care with this special Christmas gift.
8. Gift them subscriptions to OTTs
Is your colleague a movie buff? Gifting them an OTT subscription would be the best choice, then. Get them a popular subscription plan so that they can enjoy their Christmas vacation watching their favorite shows and movies.
This is a very thoughtful gift and would be relished by your coworker. There is nothing better than gifting as per the tastes of the recipient.
9. Give them a spa day out
Do you think your colleague is all exhausted and needs a break this Christmas? You should consider gifting them a day at the spa. Let them relax with all the massages and therapies there.
Your colleague will return rejuvenated after Christmas. They would be thanking you for such a wonderful thought. Caring for your colleague and gifting them appropriately finds more value. You could also accompany your colleague and spend the day together at the spa.
10. Give them vouchers for their favorite movie
Get your coworker a ticket for the premiere show of their favorite upcoming movie. They would be extremely happy to get this as a Christmas gift.
Gifts like these have a special value since they are well thought of. If your colleague has been longing to watch a movie at the premiere, this would be the right time to gift them the vouchers.
11. Buy them a live plant
Gifting a live plant is a wonderful thought. Plants symbolize growth. You wish them growth by gifting them plants. "As the plant grows, so do you" is the thought conveyed when someone gifts a live plant.
Gift them plants appropriate to where they live. If they live in an apartment with minimum flow of sunlight, you could go for plants that survive with less sunlight. Indoor plants are also a good idea.
12. Donate to a charity in their name
Has your coworker ever expressed intentions to contribute to charity? You could take this as an opportunity and donate on behalf of the coworker. There cannot be a better gift since you have done something the colleague values a lot.
You could request the organization to send a wish to your colleague's email on Christmas. It would be a cherished memory for your colleagues.
13. Give up something highly coveted
Sharing your prized possession is a great way to impress your colleagues this Christmas. Most people think of getting gifts from stores. Giving up something for the sake of gifting your friend is not something people usually explore. This is a different way to give surprise gifts to your colleague. You are creating a lifelong memory by sharing this gift that carries more value.
Key takeaways
Gifts strengthen the bond between you and your coworkers. Think differently and explore unique gifts that can make their day special. Gifts need not be extravagant; but something meaningful, which adds to their life. Thoughtful gifts convey that you appreciate their care for you and are mindful of their interests.
The above-mentioned list answers your question about how to surprise your colleague? with some incredible ideas. Go ahead and surprise your colleagues this Christmas with the moments they will remember forever!