It's that time of year again. Thanksgiving is right around the corner, and you're probably looking for some 'thanksgiving messages' to share with your colleagues and coworkers. It's not easy coming up with the perfect Thanksgiving message. And, even if you do, sometimes it can feel weird, artificial, or fake.
You've made it through the long, busy year and are on your way to the holiday party. This is your opportunity to share gratitude with your colleagues. These Thanksgiving messages for colleagues and coworkers will help you uniquely give thanks.
33 Heartwarming Thanksgiving Messages for Colleagues and Coworkers
Colleagues are special people who make us look forward to being at work with renewed enthusiasm every day. You can send your them a simple thank you message to show your appreciation for their support. Here's a list of great thanksgiving messages for colleagues you can choose from:
1. Happy Thanksgiving to my dear colleague and friend who keeps me sane every day! Working with you is fun and uplifting, and I can't be happier working alongside an amazing human like you.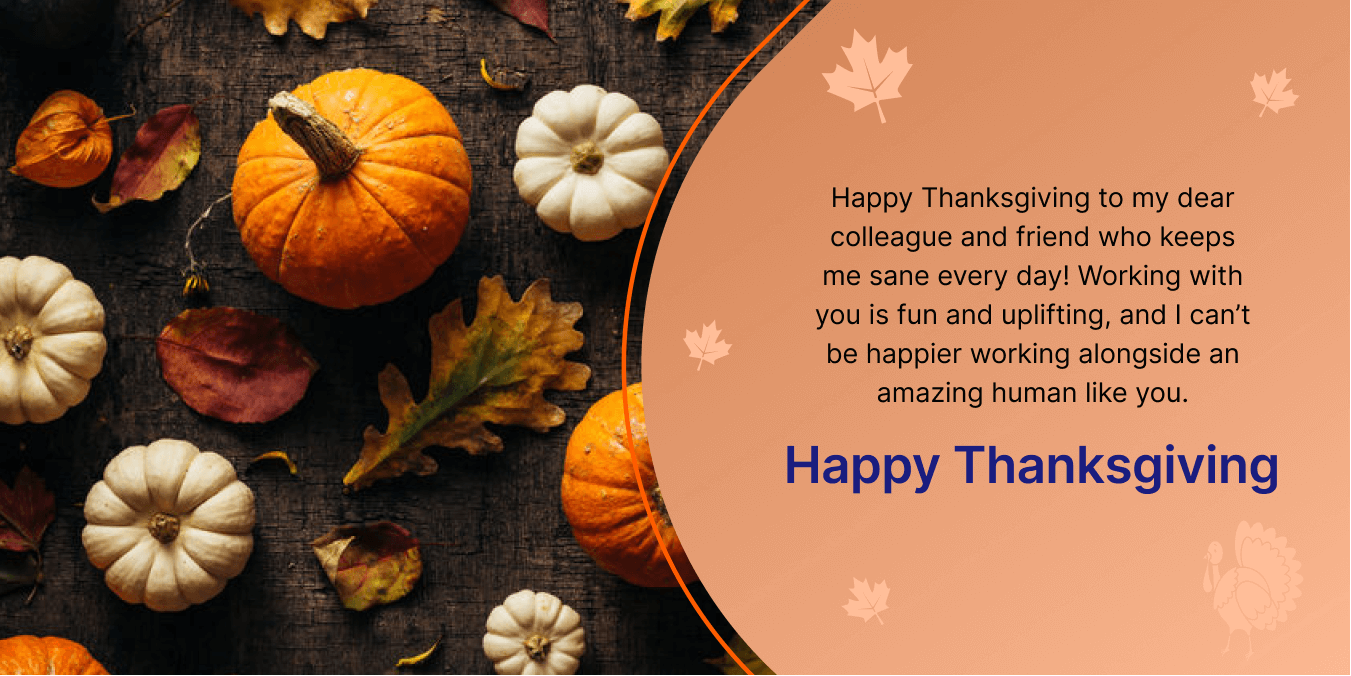 2. Happy Thanksgiving to one of the most positive people I have known in my life. Your enthusiasm fills the room and inspires us all to work to our fullest potential. Thank you for being an amazing colleague, friend, and person!
3. This holiday season is an opportunity for me to express how much your presence is uplifting in the office. I hope you have a wonderful Thanksgiving and holiday with your family.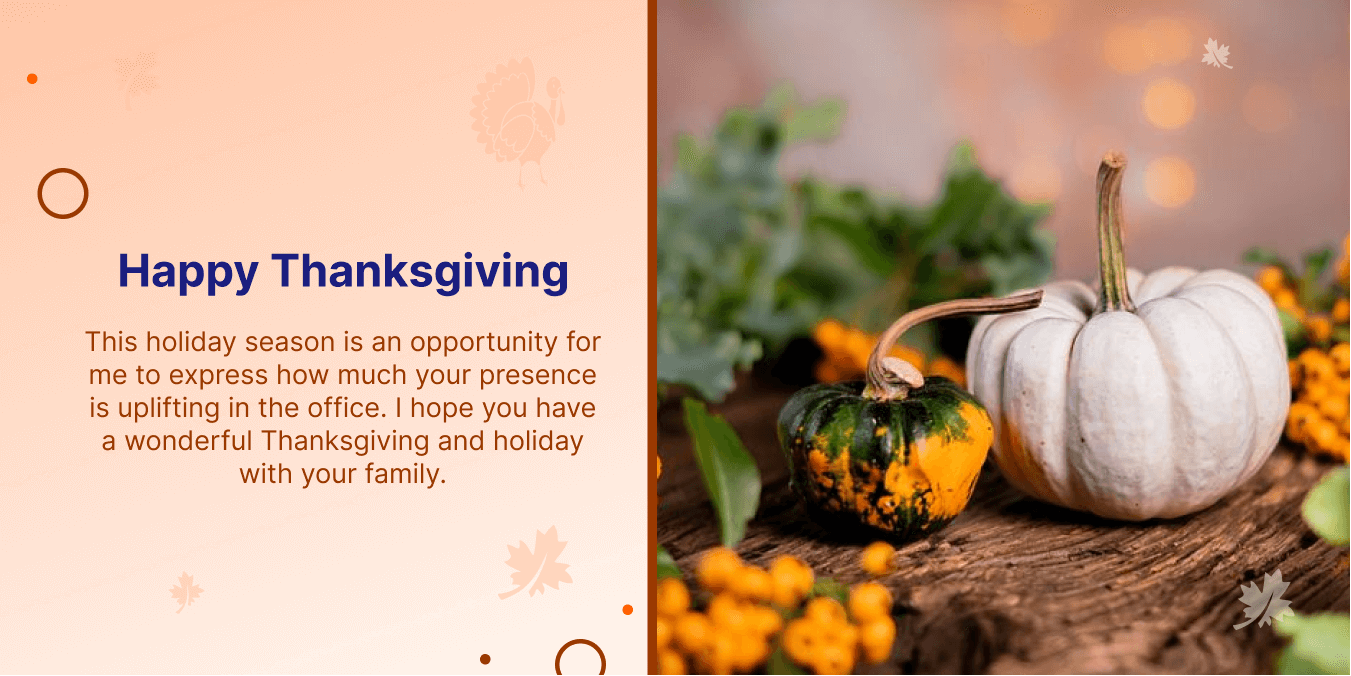 4. The positive attitude each one of you brings to this place makes all the difference to my workday. Thanks for being my coworkers and having my back all the time. May you have a wonderful day and a great holiday ahead. Happy Thanksgiving!
5. You are such an amazing coworker. Thank you for being patient with me while I was learning the ropes and thank you for sticking around to help me out in times of need. Happy Thanksgiving!
6. This holiday season, I'm especially thankful to you for all the support you offered me over the months. Helpful people are gems who need to be treasured in life, and you are a rare one! So happy thanksgiving! May you have a wonderful time during the holidays and a great year ahead.
7. Wishing you a wonderful time with family and friends this Thanksgiving season. I'm thankful to have an amazing colleague like you who makes the work a fun and inspiring place.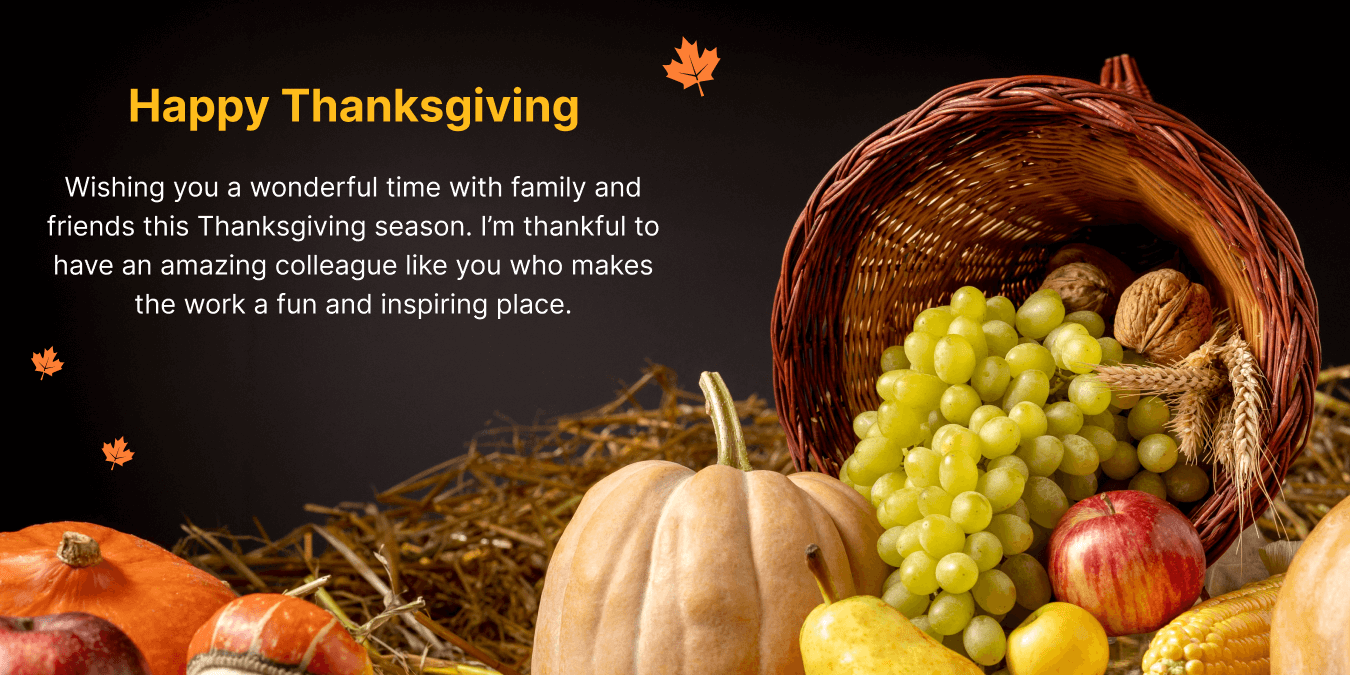 8. Your continuous guidance, encouragement, and support helped me make it this far! Thank you so much for being a mentor and friend. May you have a wonderful time this thanksgiving and holiday season.
9. The occasion of thanksgiving is all about appreciating the wonderful people we have in our lives. Therefore here's my message conveying my gratitude for all the help and support. I wish you a happy thanksgiving and a wonderful holiday season.
10. After all the hard work we have put into a successful work year, we deserve a great holiday season and lots of fun. Happy Thanksgiving to all my beloved colleagues who make my day every day!
11. The workplace is as only as good as the people who make it special. You are one such person in the office who makes a lot of difference to everyone's day. Thank you for being who you are!
12. I consider myself lucky to have had amazing colleagues everywhere I have worked; you have been one of the best! I look forward to working with you for a long time to come. Happy Thanksgiving, my friend; I hope you have a wonderful holiday season.
13. Great colleagues can make all the difference even to an otherwise dull working atmosphere. You are one such person I can always count on to make my day brighter and more interesting. Happy Thanksgiving. I hope you have all the fun the year had in store for you.
14. On this occasion, lets us give thanks for all the blessings we have in our lives, our friendship and the amazing work we do together. Happy Thanksgiving, everyone!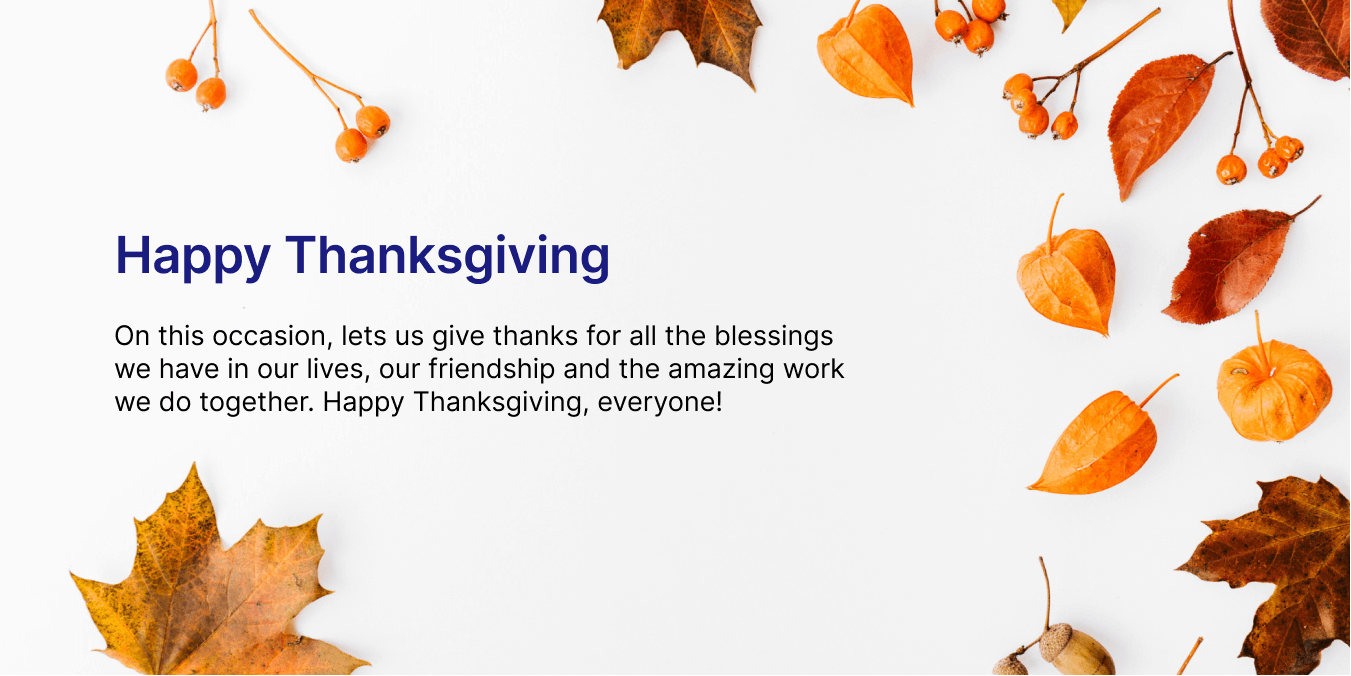 15. My Thanksgiving won't be complete without wishing the most supportive coworker I've had so far! Thank you for caring for me wholeheartedly and guiding me during times of need and despair. Working with you fills me with confidence and hope. Have a wonderful thanksgiving.
16. A happy Thanksgiving to all my wonderful colleagues. May your day be full of fun with family and friends, and may your life be blessed with health and prosperity.
17. You are truly fortunate if you are home with your family cozily watching a movie and having plenty to eat on the table. May this good fortune stay with you for the rest of your life. Happy Thanksgiving!
18. I'm thankful for all the blessing in my life from my family and friend. I am especially grateful to have wonderful colleagues who make my life so much better. Happy thanksgiving y'all!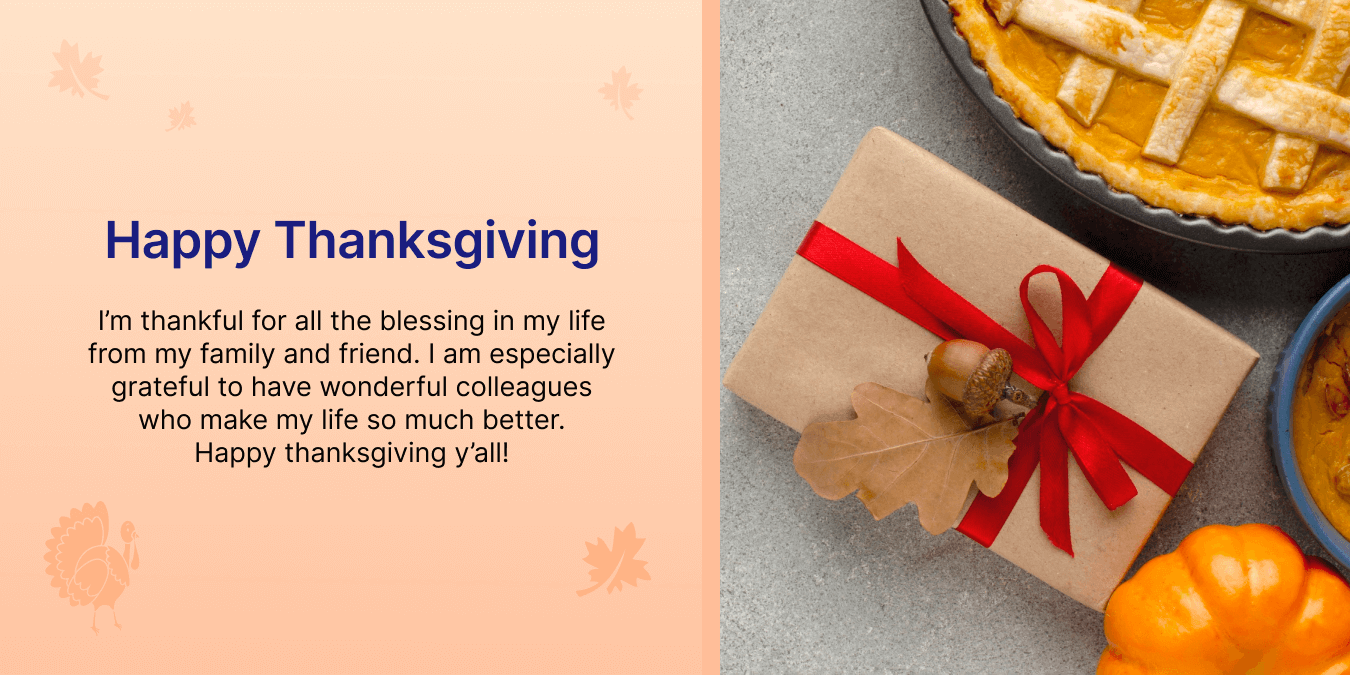 19. If you are grateful for what you have, you will be blessed with more! On this occasion, I give thanks to all my wonderful colleagues, who are nothing short of a blessing in my life. Happy Thanksgiving, everyone!
20. I am blessed to have such competent coworkers in my life.  Being with you all motivates me to challenge myself every day and reach new heights. Thank you for filling up our office with all the positive energy.
21. You are not only my colleague at work but also my savior and best friend! I have grown so much, all thanks to your support and kindness. Happy Thanksgiving, my friend!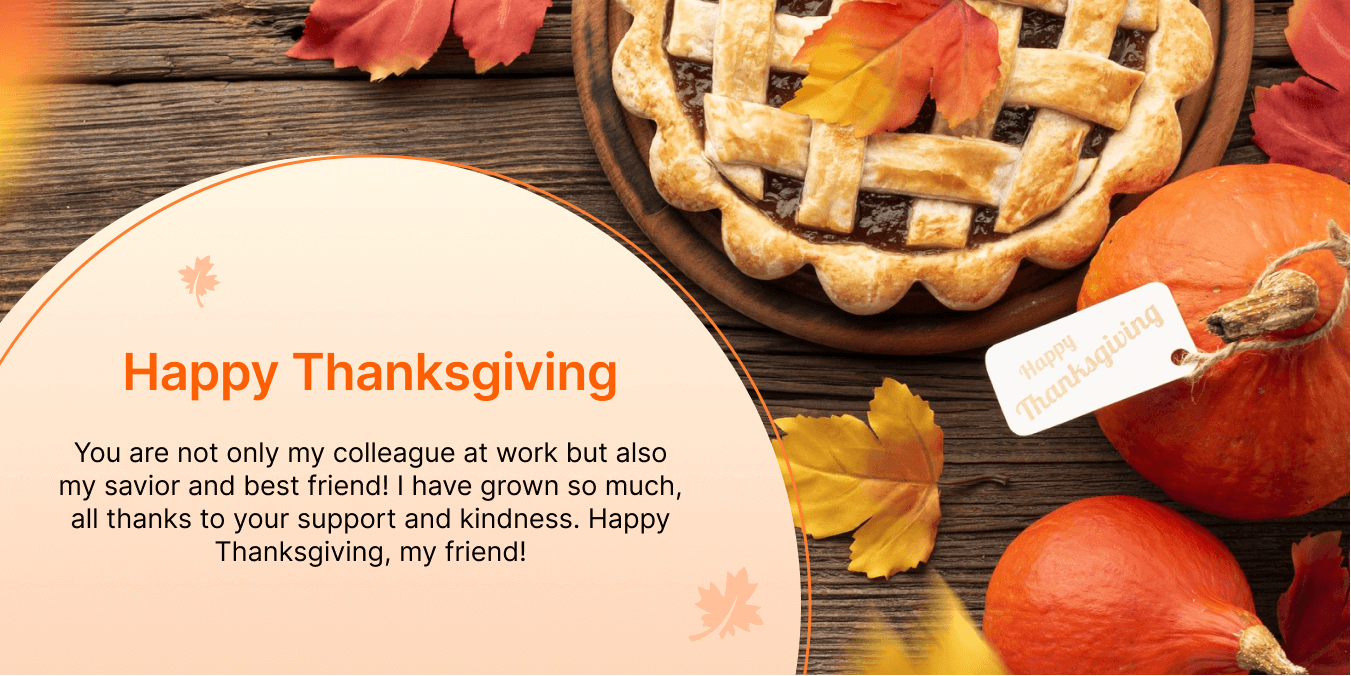 22. We couldn't be more grateful for an experienced mentor like you. Every day spent around you is a day of learning. Happy Thanksgiving!
23. Wishing you and your family a happy thanksgiving! May your day be filled with joy, laughter, and all the blessings in the world.
24. Warm greetings to all my coworkers on the occasion of thanksgiving! May we have many more years of fun working together as a team.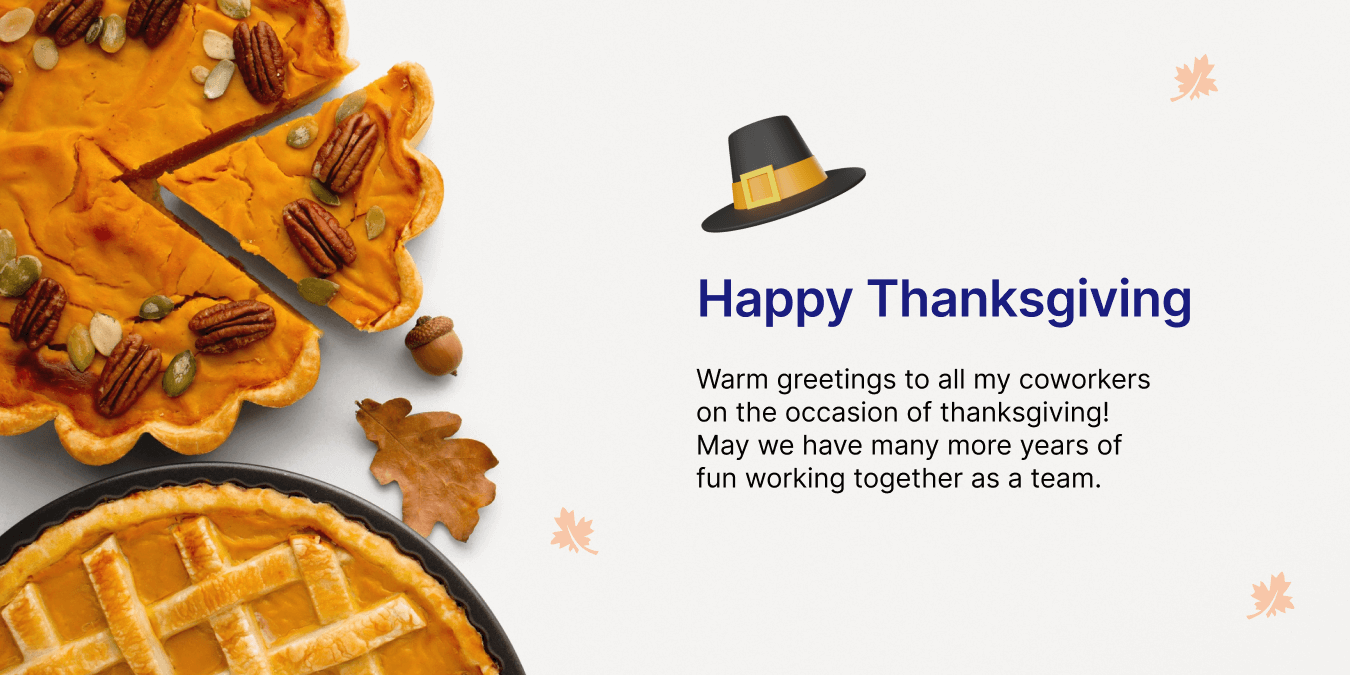 25. I feel blessed to work in an organization that cares so much about us and coworkers who are so supportive at every step. It's a privilege to learn, work and grow with you all. Happy Thanksgiving!
26. You've been a colleague, a friend, and a pillar of support throughout my journey. I give special thanks on this occasion to you and the rest of the team for being the best people ever! Happy Thanksgiving.
27. Here's wishing you a happy thanksgiving! Hope you spend time with family, friends, and people who matter on this occasion. May the rest of the year be joyful and blessed.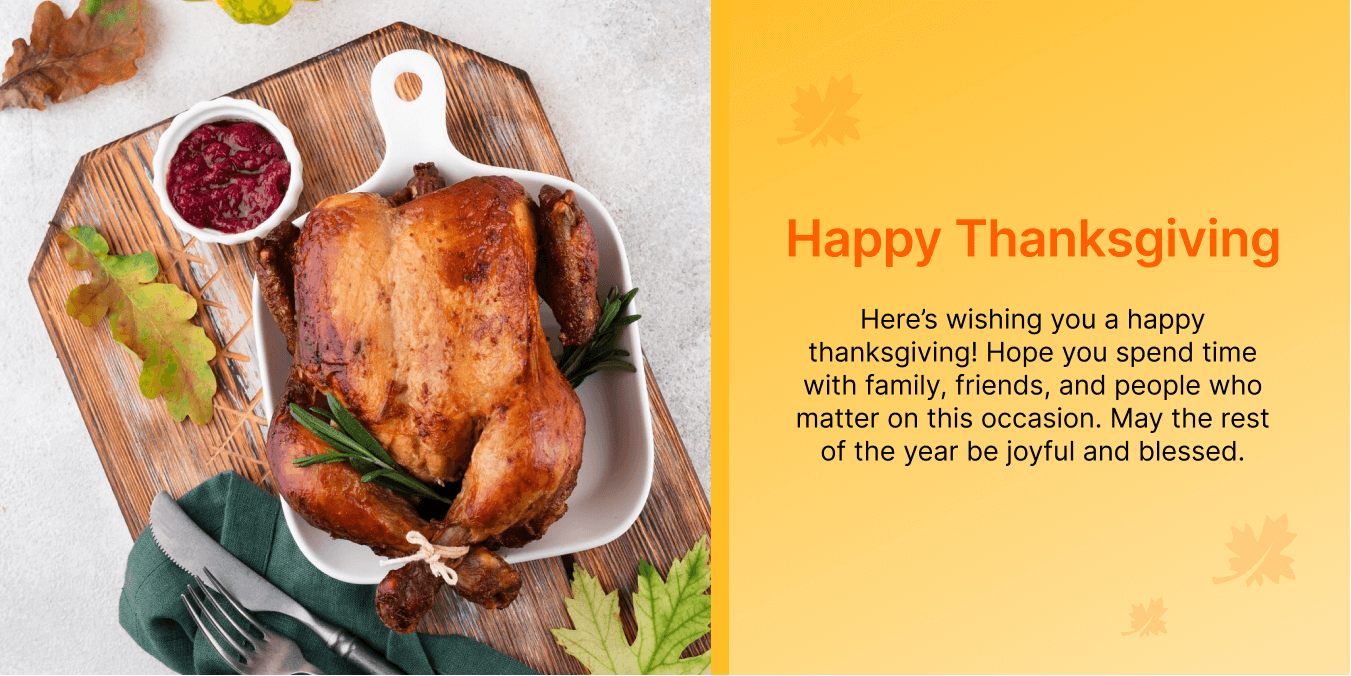 28. Let us pray today that the success, peace, and prosperity we enjoy; stay with us for the rest of our lives. Thank you so much for being my teammates and allowing me to become a valued community member. Happy Thanksgiving to you all.
29. Happy thanksgiving y'all! Have fun with family and relatives, and don't forget to count your blessings as you do.
30. On this Thanksgiving day, I send you and your family my warmest wishes for the season. May the divine light in your life forever shine bright and guide you through all your endeavors.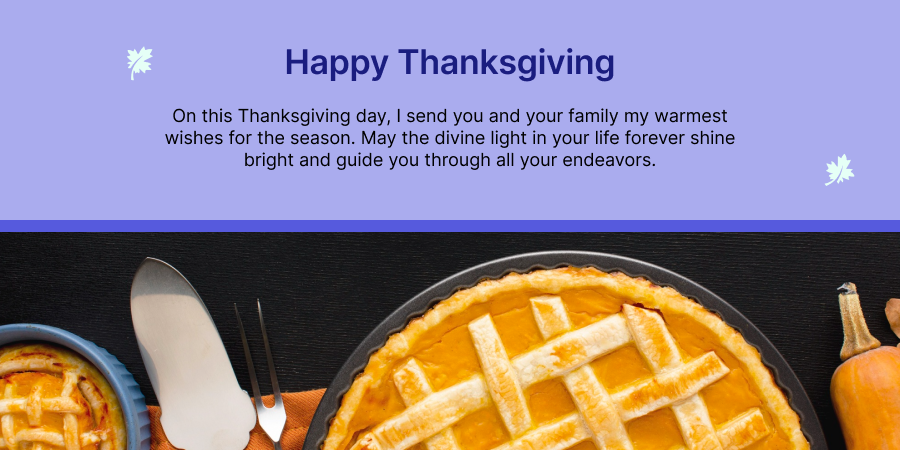 31. I couldn't be more grateful to work with a team as energetic and fun as you all. I wish this remains the same for a long time to come. Happy Thanksgiving to you all!
32. Having colleagues like you is a blessing in life. Thanks for being around. Happy Thanksgiving!
33. To the best team, I have had the privilege to work with, thank you for all the fantastic times and days. Have a blessed thanksgiving.
Conclusion
Being grateful for your colleagues' work is one of the best ways to keep them engaged and productive in their jobs. From the copywriter tied down by tight deadlines to the creative director struggling to meet his client's expectations, acknowledging the value they bring to a project will make them feel appreciated and likely improve their performance. As you send these Thanksgiving messages, remember that you're not just offering a warm holiday greeting but also partaking in a valuable workplace tradition!