Thanksgiving is a special day to express gratitude for all the good things and people in life, including your colleagues and coworkers. As an organization sending a thanksgiving message to employees is essential to show them that you care and they are valued.
We understand that coming up with a touching thanksgiving message is easier said than done, so we have put together this list to make things easier. Continue reading to pick a thanksgiving message that appeals to you.
Uplifting Thanksgiving Messages for Employees at Work
Here are some happy thanksgiving messages to employees to show them how valued they are as members of your organization.
Thanksgiving is a time to reflect on the things we are most grateful for, and on the top of the list are our employees. We are what we are because of you, so thank you for all your love, effort, and dedication!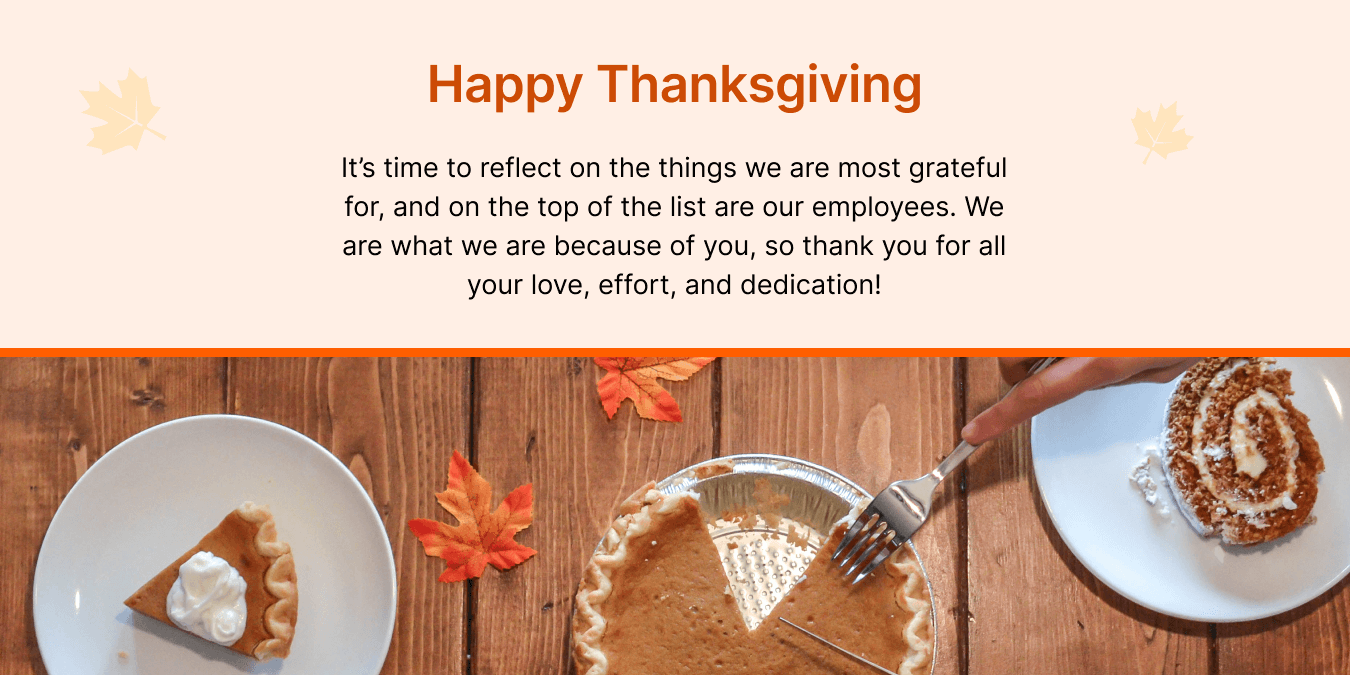 2. Thanksgiving is the time to kick back, relax and enjoy with the family, but here at work, we are thankful to you for another wonderful year. We keep you in our hearts as we give thanks for all the blessings in life and the wonderful things yet to come. Happy Thanksgiving!
3. Thank you for all the hard work every day and your dedication to serving our clients and making the company what it is. Thank you for your generosity and willingness to go above and beyond when needed. We couldn't be what we are without you. Happy Thanksgiving!
4. It is our good fortune that we hired a group as talented and committed as you are. The milestones we achieved were only possible because of your hard work and dedication. This Thanksgiving, we are appreciative of all that makes our company great. May your day be filled with happiness, gratitude, and fun!
5. This holiday season, we want to extend our gratitude for all your hard work, willingness, and generosity throughout the year. Your efforts have made it possible for us to reach the heights we now boast of. We wish you a Happy Thanksgiving!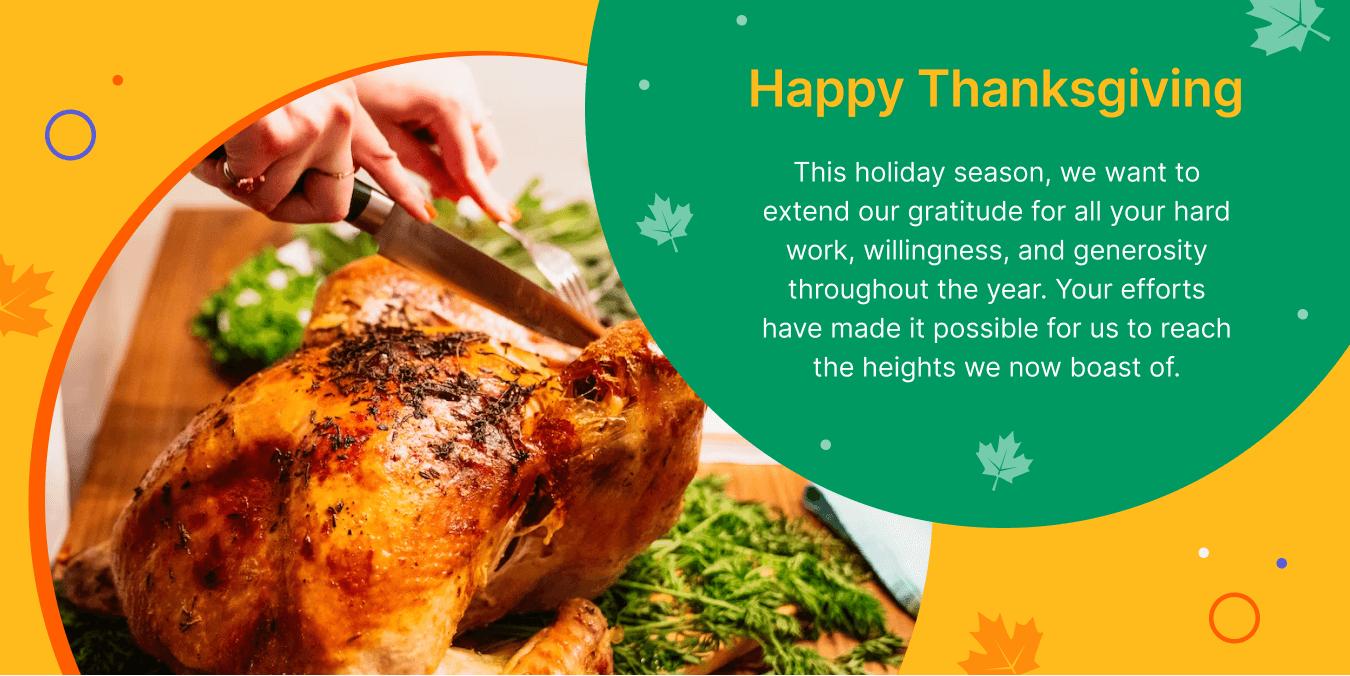 6. We wish all the members of our company a great thanksgiving and an amazing holiday season ahead. Kick back, and enjoy your well-deserved break with family and friends. Make great memories, and stay safe!
7. On this day, we want you to know how much your hard work and dedication to the company is appreciated. You have done an outstanding job and are part of the success we are today. We are thankful to have you in our family! Happy Thanksgiving!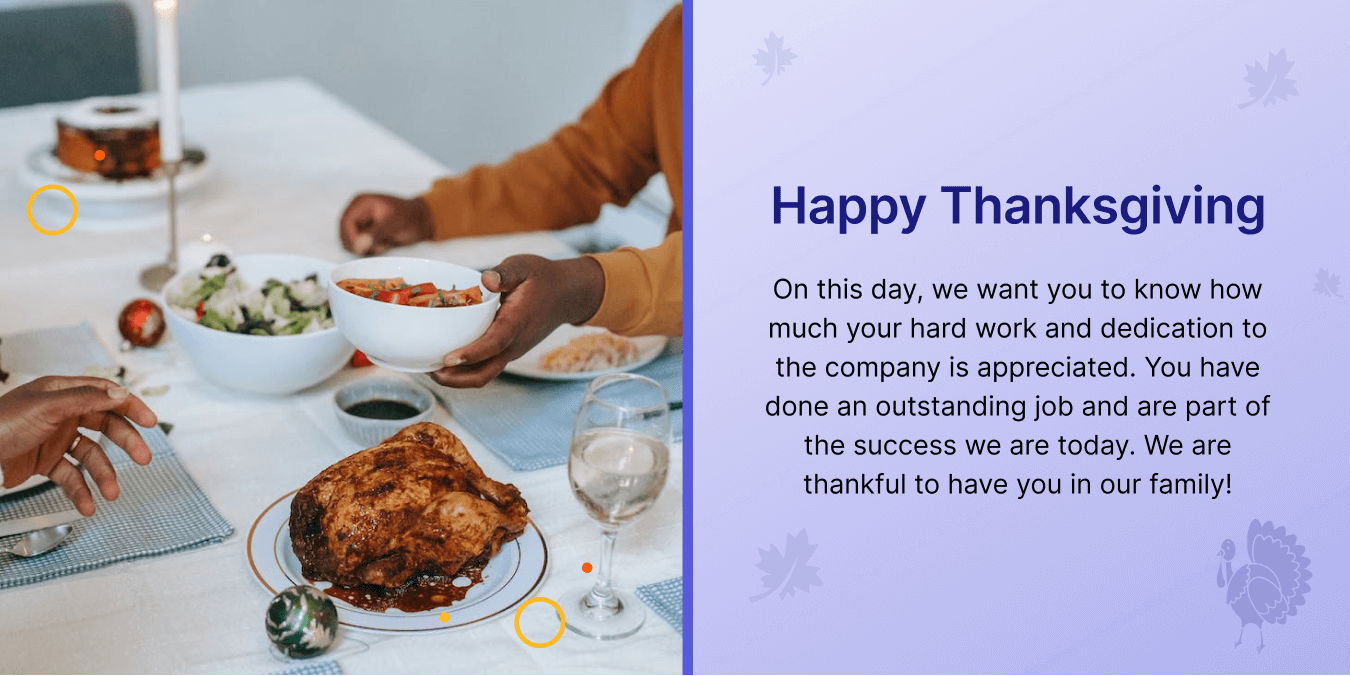 8. On this blessed day, we want you all to know how thankful we are to have people as gifted and hard-working as you are. We owe our success to your efforts and dedication. Have a well-deserved break, and we wish you a wonderful Thanksgiving with your friends and family.
9. You stood by us through thick and thin, through sickness and health, and through COVID and lockdown to ensure the wheels of our machinery kept spinning. You are the unsung heroes who helped us make it through our coldest winter. This Thanksgiving, we'd like you to know that you are our biggest blessing.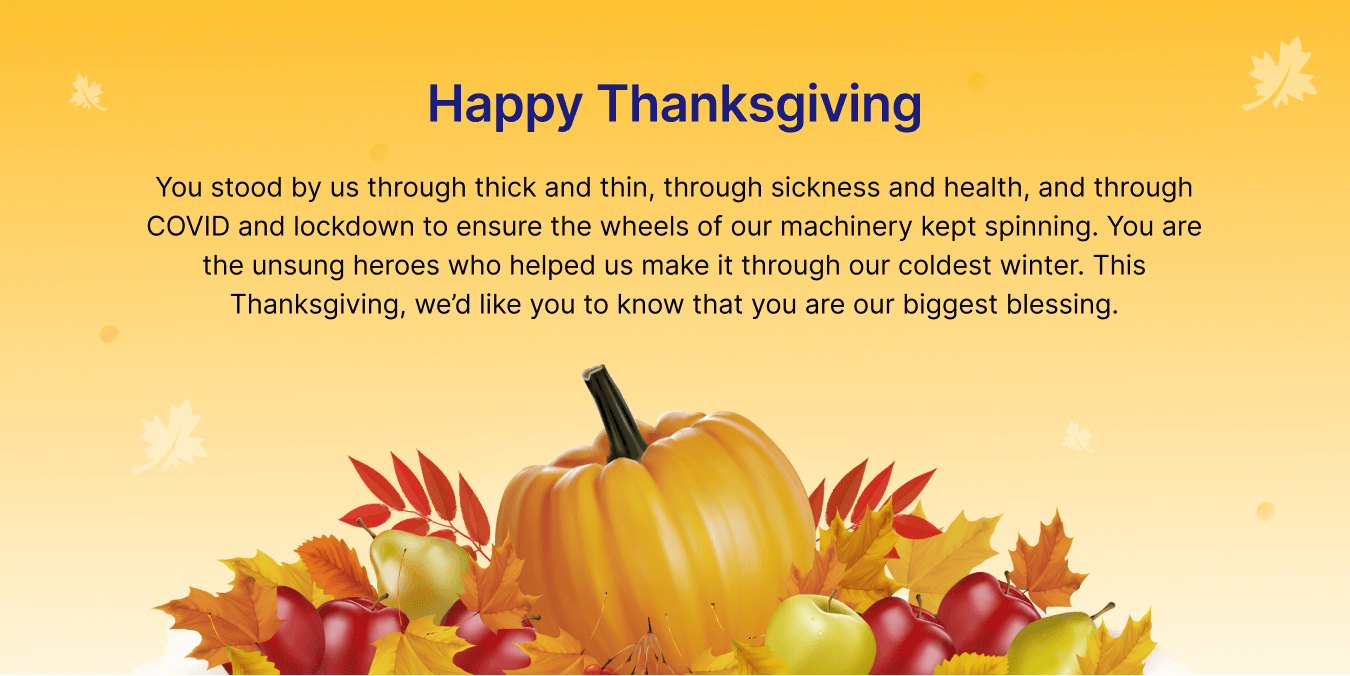 10. Every Thanksgiving is an opportunity for us to show our employees how much they matter to us and how valuable their contribution is. So we take this opportunity to express our gratitude for all that you have done. Happy Thanksgiving!
11. It has been a long year for everyone. This holiday season, we'd like to remind you that we wouldn't have made it without you. We are lucky to have you work for us and couldn't be more appreciative on this Thanksgiving.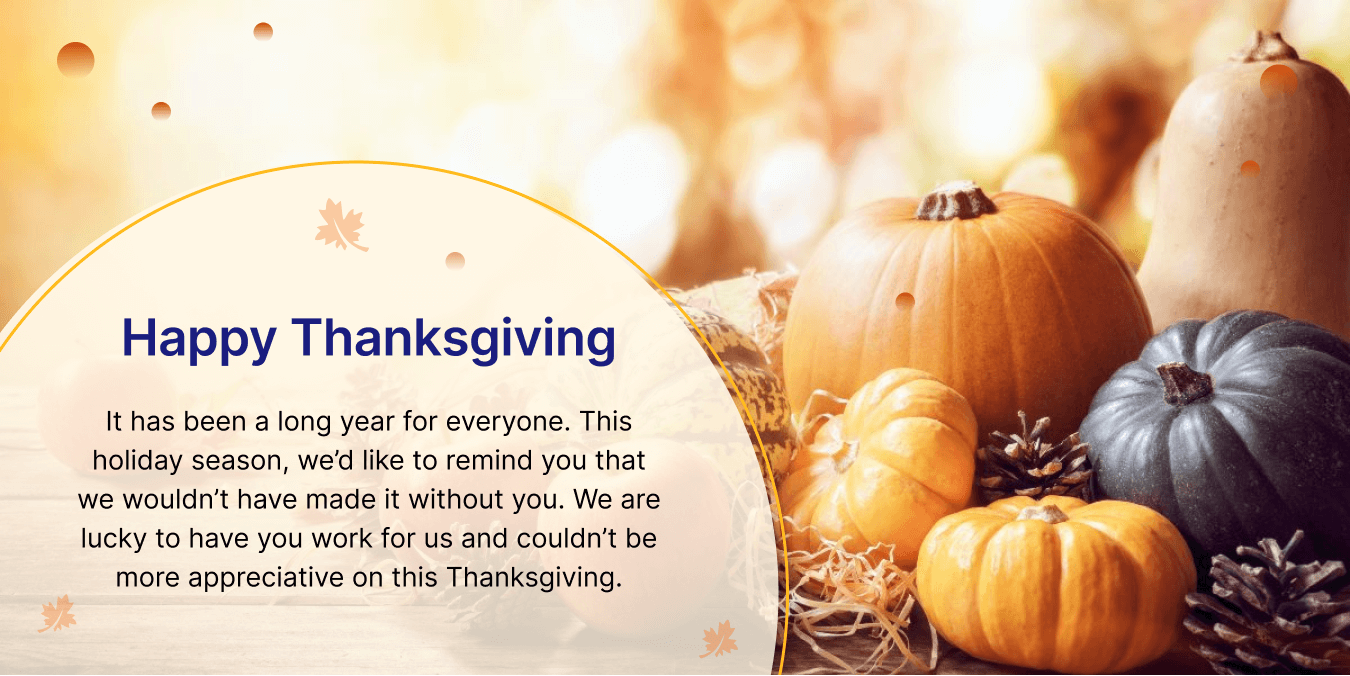 12. Thanksgiving is an opportunity for community members to appreciate every person's contribution. The same goes for our company; we are immensely thankful for your presence, efforts, and loyalty. Happy Thanksgiving!
13. Since Thanksgiving is a time to stop and reflect, we can see that we made the best choice by hiring you as an employee of our organization. We look forward to many more productive years together. Happy Thanksgiving!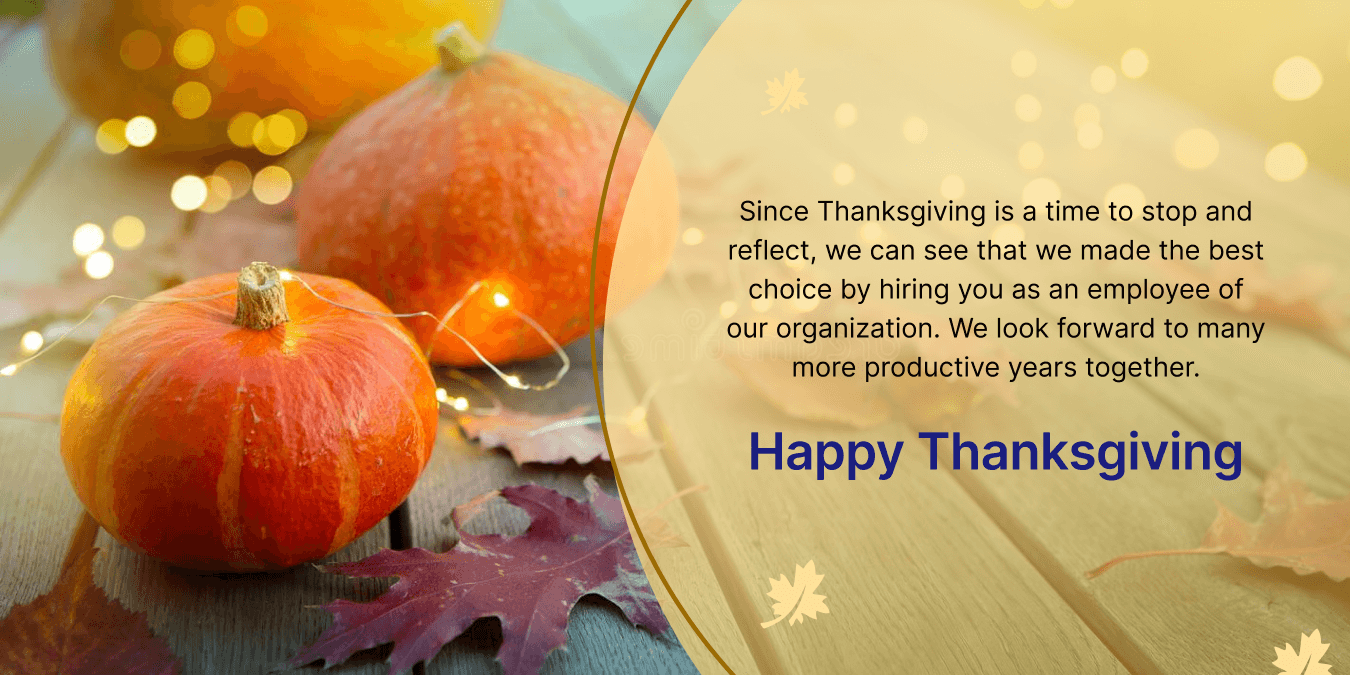 14. This holiday season, we would like you to know that we appreciate all your hard work, overtime, and dedication to your job. We are proud to have such incredible people working with us. Happy Thanksgiving!
15. The best part about thanksgiving is the opportunity to honor all our amazing employees. We appreciate the hard work and dedication that you put into the organization and are thankful for everything you are to us. May you have an amazing holiday season and happy thanksgiving!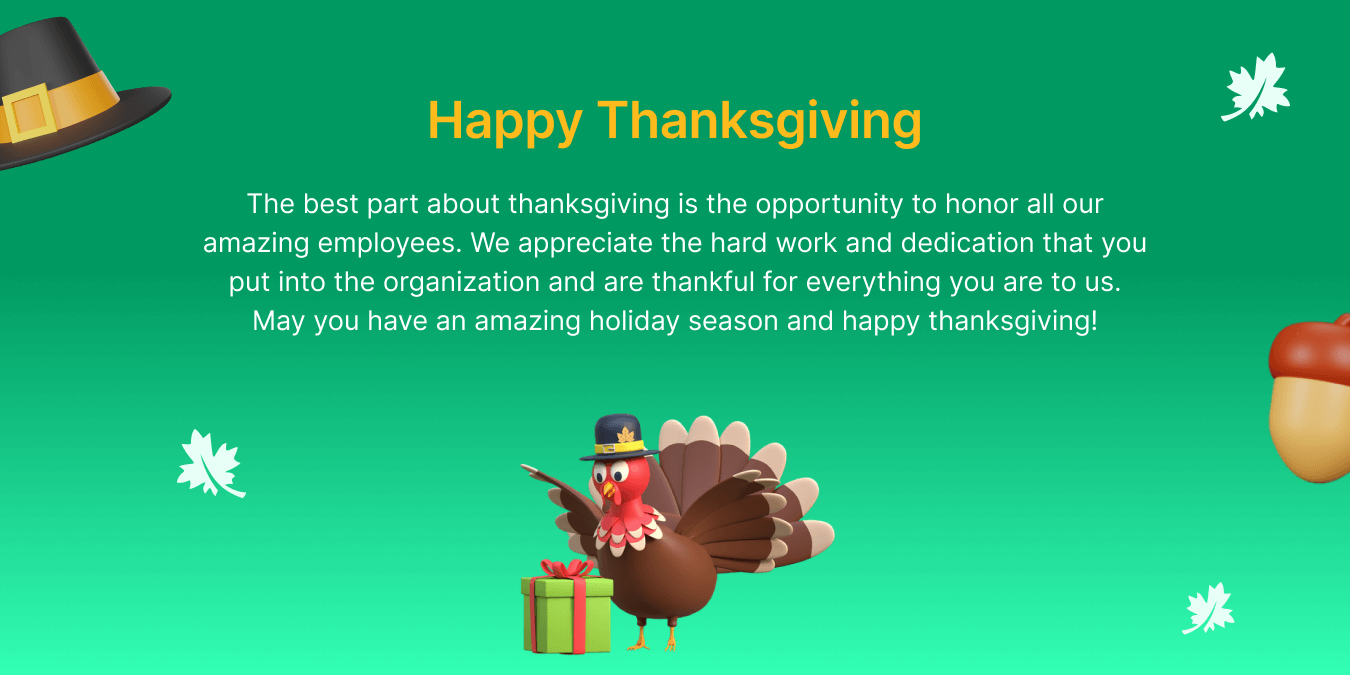 16. When we look back and think of everything that made us successful, the one thing that stands above all is you. Your contribution took us to the heights we are at today and made us a respected organization. Thank you for all the great work and love, happy thanksgiving!
17. This holiday season, we are thankful to all our employees for bringing in so much positivity and success. We couldn't have asked for better people to make our business the brilliant success that it is. Thanks for all the effort, and have a great holiday!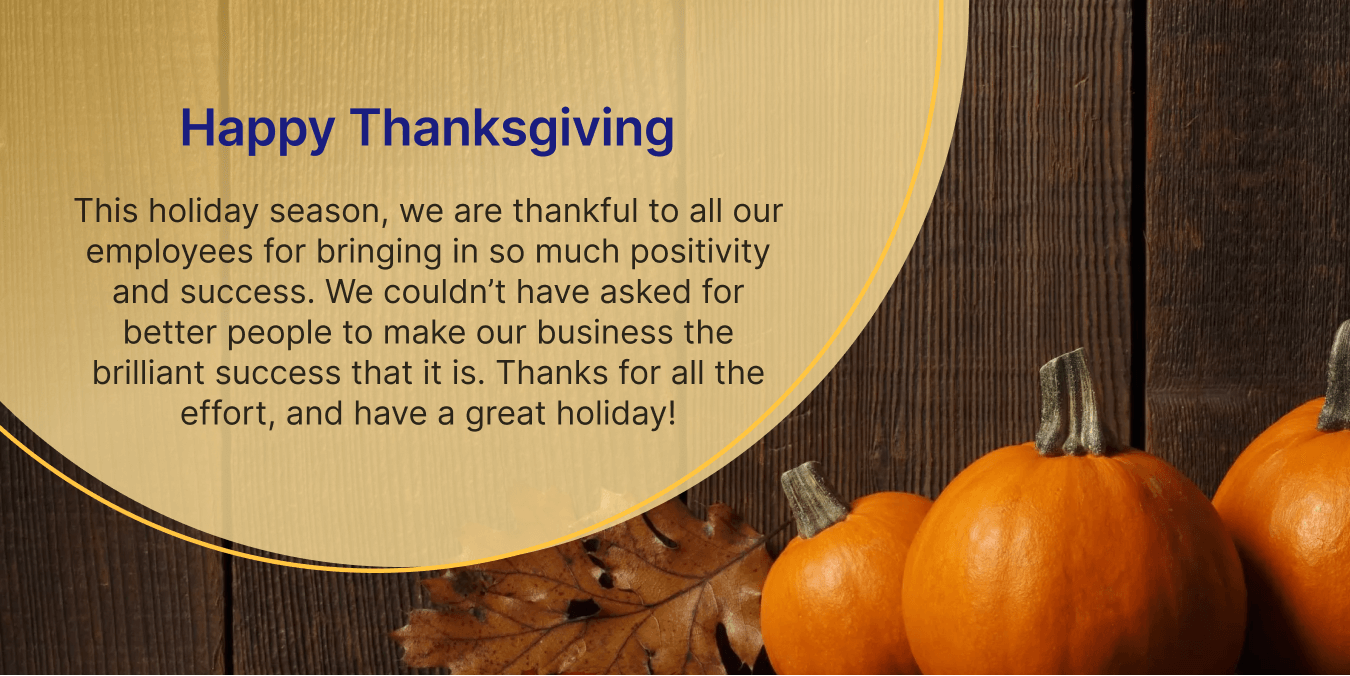 18. Your willingness to take on great challenges and responsibility is highly admirable. We thank you for the great service you have given us, and we pray to continue our wonderful friendship this holiday season. Happy Thanksgiving!
19. This season, we are blessed to have an employee as talented, hard-working, and dedicated as you are. We wish you a lot of fun on this well-deserved holiday with family and friends. Happy Thanksgiving!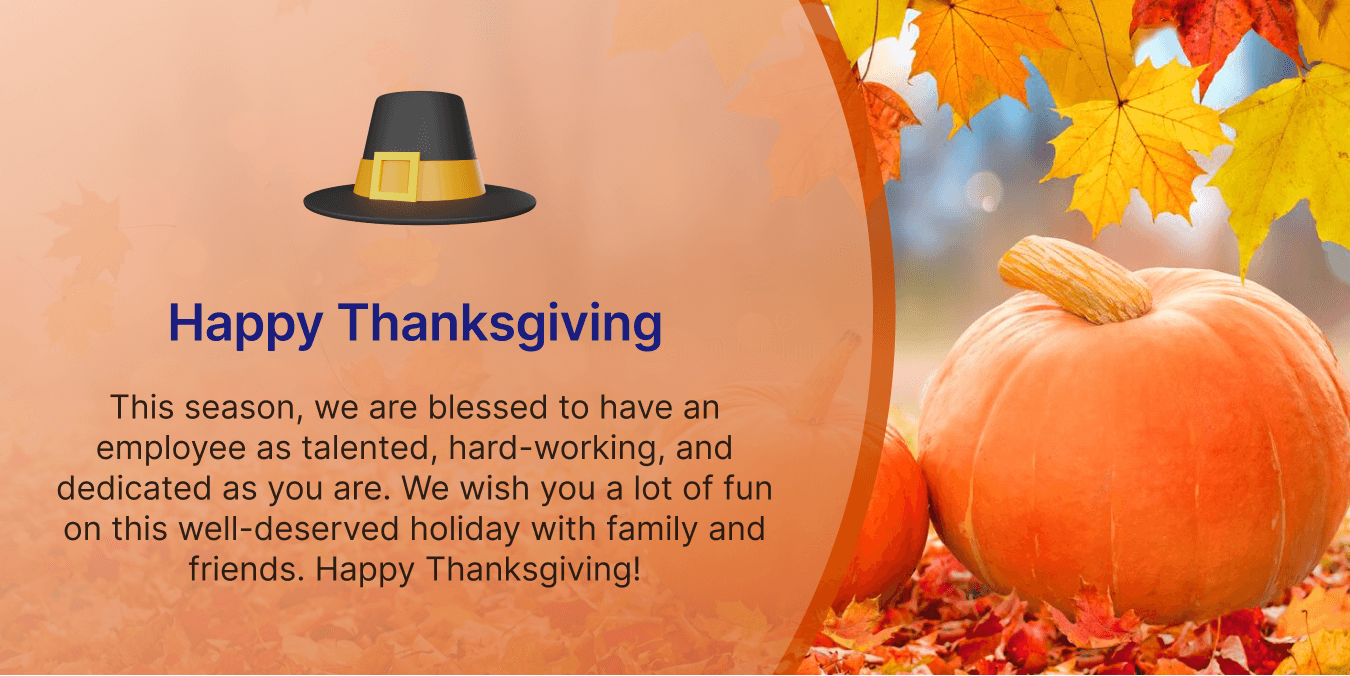 20. We're appreciative throughout the year about the outstanding works you all have done. The best way to honor that would be to dedicate this thanksgiving to all our employees. We wish you an amazing holiday season with your family and friends. Happy Thanksgiving!
21. Thank you for being such an amazing employee and doing an incredible job with the company. We appreciate the faith you have in us and we will do all that is needed to ensure you have the best time of your life while you're here. Happy Thanksgiving!
22. Looking back at all the incredible work we did throughout the year; our faith is as strong as ever in our employees. This season is a great reminder of how we can overcome obstacles and overcome challenges. Thank you for being on this journey with us. Happy Thanksgiving!
23. Happy Thanksgiving, everyone! Thank you for being such wonderful employees. Thank you for putting your faith in us and working diligently for the success of the collective. We couldn't ask for better people to be around!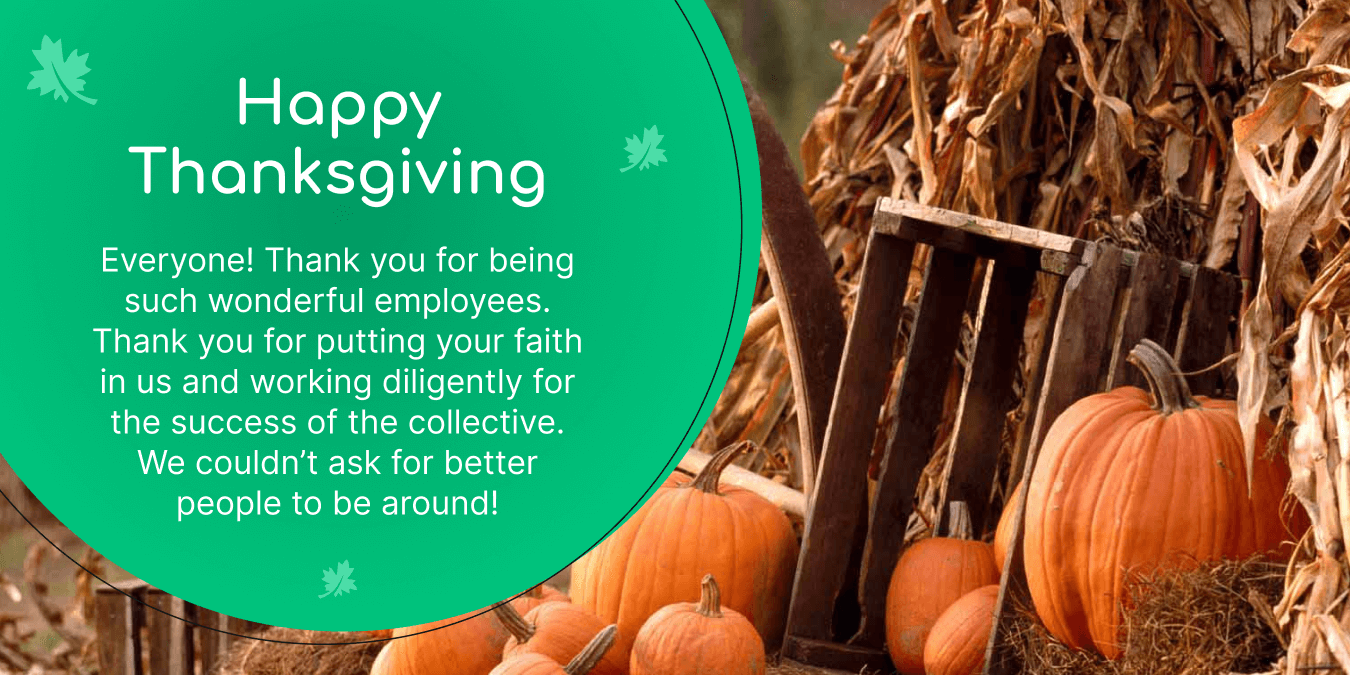 24. This Thanksgiving is a time for us to remember all the incredible things we have accomplished over the year working as a family. All of this success wouldn't be possible without every one of you. Happy Thanksgiving!
25. As we count all our blessings this thanksgiving, we count you as the best of it! We are proud of all our employees and everything we can accomplish thanks to our collective efforts. We wish for many more thanksgiving with amazing people like you. Happy Holidays!
🎁
This Thanksgiving, get your OOTD on! By using Youforia, you can get up to 18% off on a variety of
fashion e-gift cards
. Give your colleagues, coworkers, and employees a reason to smile this festive season. Our gift cards include Myntra, Westside, Lifestyle, Pantaloons, Allen Solly, Manyavar, and major brands.
Shop now!
Conclusion
These Thanksgiving messages represent the positive connections between people that foster a healthy working environment. Colleagues and employees are indeed a blessing and should be celebrated! Show them how much their presence means to you, and pen down a great Thanksgiving wish.