Table of Contents
Employee onboarding software is creating all sorts of buzz in the market. But do we really know what it means and what it does? Let's break it down.
Managing human resources in a large or a mid size company can be a challenging affair. There are many attributes of an employee that need to be recorded when new employees join.
Onboarding of a new employee is a tedious and meticulous task especially if you are an HR manager at a big company that has an extensive onboarding procedure.
To assist the onboarding of employees in companies and to make the transition of employee information smooth and accessible, employee onboarding softwares is used. In this blog, we discuss the best 10 employee onboarding softwares of 2023 that make this process a breeze.
Factors to consider while choosing an employee onboarding software
Here are the factors to consider while choosing an employee onboarding software.
1. Should be scalable
The size of a company changes dynamically and usually with software, this can be challenging as it comes with a set number of users and with steep cost to include more. The software you choose must be flexible enough to scale vertically and horizontally with the business.
2. Must work seamlessly in any ecosystem
Companies may buy different softwares of different makes for individual requirements of each department. An HR software works in tandem with all units of a business and must integrate well with all kinds of business software in an existing ecosystem.
3. Must adapt to changing business needs
The needs, functions and size of a business changes as and when it grows. The business may change their way of working, how they recruit employees, how they train or onboard etc. The software must be flexible enough to accommodate these changes.
4. Reputable with good reviews in the market
Last but not the least, it is important to buy a software that has a good reputation amongst other softwares in the market with good reviews from peers in the industry. It is safe to assume that a product with good reviews from HRs in the market would work for your business.
List of top 10 employee onboarding softwares
1. Xoxoday Empuls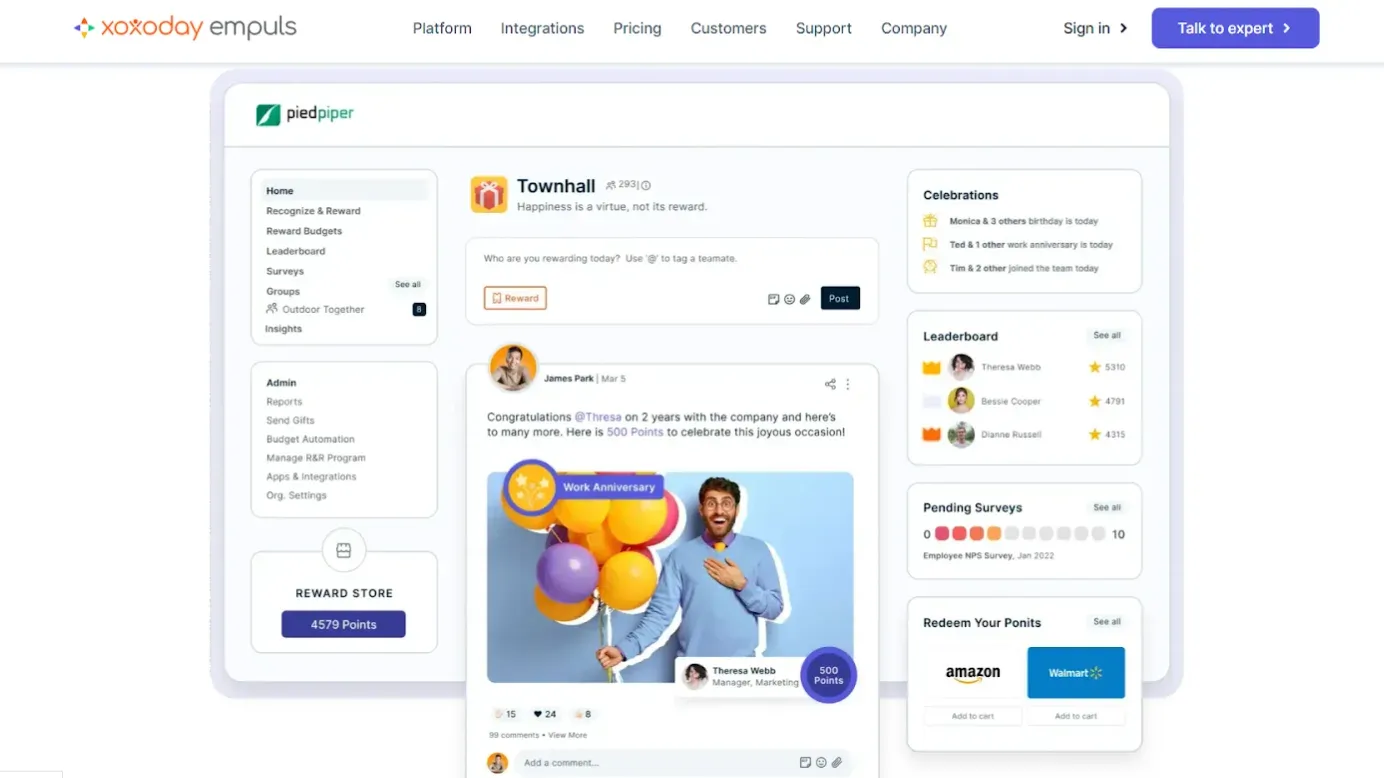 Xoxoday's Empuls provides companies with a complete work environment that combines people engagement, onboarding and employee perks and benefits everything together.
Xoxoday Empuls provides many functions and tools that help with seamless sync with the HRMS system along with integration with various tools for smooth onboarding of employees.
Employees also enjoy perks and rewards such as onboarding rewards, surveys with rewards for 1 week joining, 2 weeks joining, 1 month joining etc.
Key features of Xoxoday Empuls:
Integrates with HRM system for easy onboarding
Paperless and seamless transition of employee documents
Powerful rewards integration that awards and redeems points
Integration with many different applications for seamless sharing of data
Secured onboarding software and compliance approved
Employee onboarding is only one of the many features that this platform offers. Employee performances can be reviewed and employees get to earn rewards on the basis of reward points that can be redeemed on the platform for exciting lifestyle based products and services.
It is one of the most unique platforms that is being hailed for its simplicity across the industry.
Pros of Xoxoday Empuls:
Empusl has more than 2 million customers who are already using the software successfully in their companies
Multilingual, multi regional and multi currency platform that can be used by all
Safe and secured data, CPRA and GDPR compliant.
Future ready tools with a scalable platform
Cons of Xoxoday Empuls:
Some users reported they needed more information on advanced tools and features
Some users noted they wanted integration with Paytm and Amazon for voucher redemption as these were removed recently
Pricing structure:
Employee Rewards plan starts at 3 USD per month per employee.
Survey plans start at 3 USD per month per employee.
Employee perks and benefits plans start at 2 USD per month per employee.
Reporting and analytical tools, HRMS and HRIS come with the plan.
Empuls company case studies:
Gulf Taleed, a marketing service company in Saudi Arabia was able to provide a holistic work culture by employee engagement tools using Xoxoday Empuls. The firm was able to achieve 300+ peer recognition using the system with an ever high employee interaction.
FCA India, an automotive company has adopted the rewards and recognition platform of Empuls with its 3000 users in the company. Now the company utilizes the platform for recognition of employees, for taking surveys and for employee engagement within the firm. 90 percent of the employees use the system as of today.
Companies using Empuls:
Pepsi
Dunzo
Freshworks
Redbus
Sharechat
G2 rating - 4.6 on 5 with 650+ reviews
Capterra rating - 4.5 on 5 with 60+ reviews
2. Keka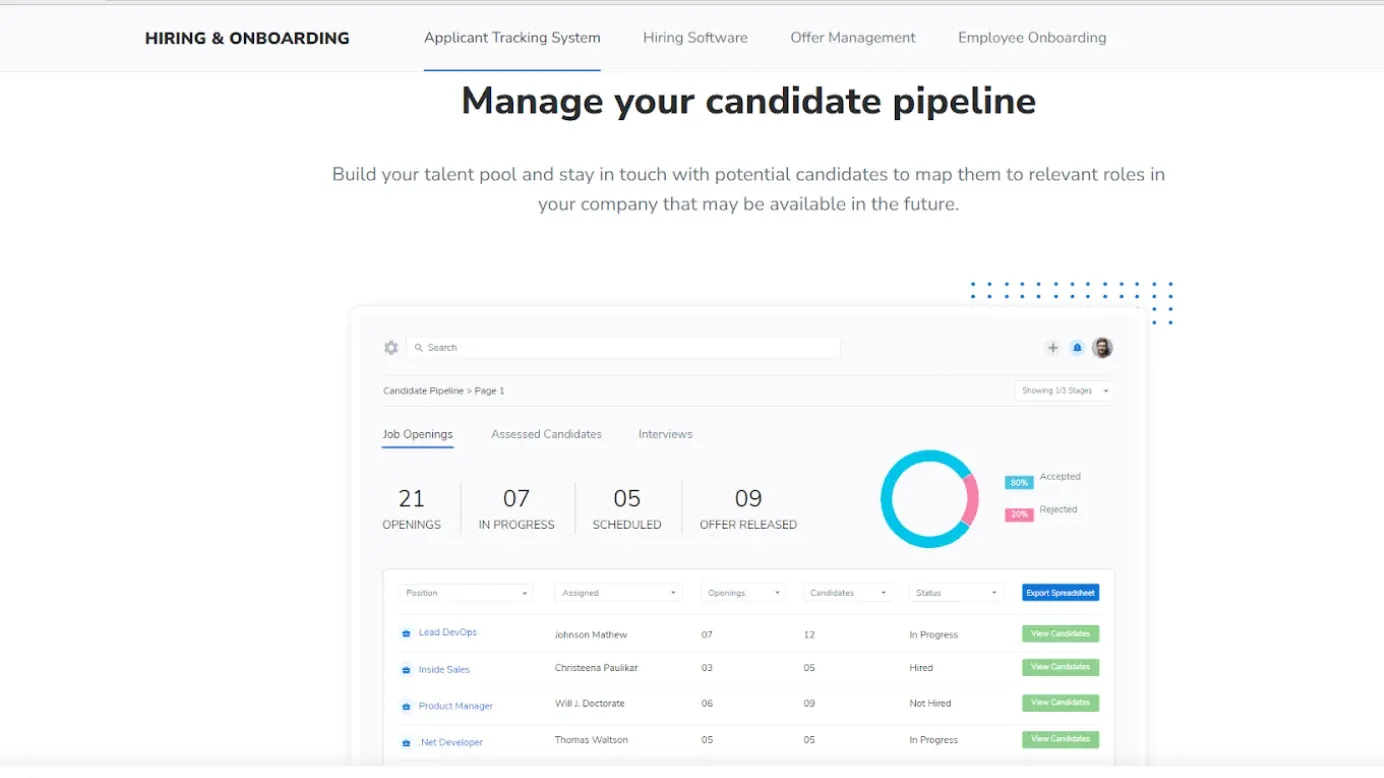 Keka is one of the most popular HR programs with a fully efficient and powerful hiring and onboarding platform.
Using Keka's award winning HR platform, many of the top companies globally achieve complete efficiency in their hiring and onboarding process.
Keka allows employees to maintain employee applications, candidate testing and scoring, maintaining candidate pool for future requirements, onboarding of employees and keeping track of their progress using job boards and custom made project tracking.
Key features of Keka:
Maintain ATS and keep a pipeline of candidates always available for all jobs
Provide seamless, paperless and smooth onboarding using modern tools
Complete onboarding formalities and document sign ons in seconds
Create unique job boards and personal scoring sheets for all employees
Maintain and manage employee performance after placement and hiring
Keka offers a flexible and all encompassing HR suite that helps HRs and business owners to scale up easily.
Their plans are very adaptive and customizable which is great for any kind of business. Their platform offers tools to prepare reports and use analytical data for insights on HR, hiring and onboarding.
Other features include integration with other apps, manage payroll, document storage, document sign-on, feedback and survey management, attendance & leave tracking etc.
Pros of Keka:
A complete suite of all HR tools in one single software but with flexible plans
Industry best tools and advanced HR onboarding process
Create pipeline easily with the ATS and employee testing and scoring tools
Create score cards for easy evaluation and use the same information for future hires.
Cons of Keka:
Customer support is lacking according to some user
Learning curve is higher with the software
Pricing structure:
Keka pro at 20 USD per month per recruiter
Keka advanced at 34 USD per month per recruiter
Free trial available
Keka company case studies:
Arete Industries is a company that offers cybersecurity solutions and has seen excellent growth in terms of HR functionality using Keka. Their employee engagement soared by 23 percent and HR inquiries reduced by 17 percent. They were able to hire 14 percent faster and with 21 percent retention rates thanks to Kekas onboarding tools.
REI systems is an IT company in India that was able to achieve significant reduction in manual onboarding and other HR tasks thanks to Keka. They were able to reduce 50 percent time by automating processes and streamlined performance management from 2 days to 2 hours.
Companies using Keka:
Travel Triangle
CoinDCX
Oppo
eBay
Hyundai
G2 rating - 4.4 on 5 from 660+ reviews
Capterra rating - 4.4 on 65+ reviews
3. Qandle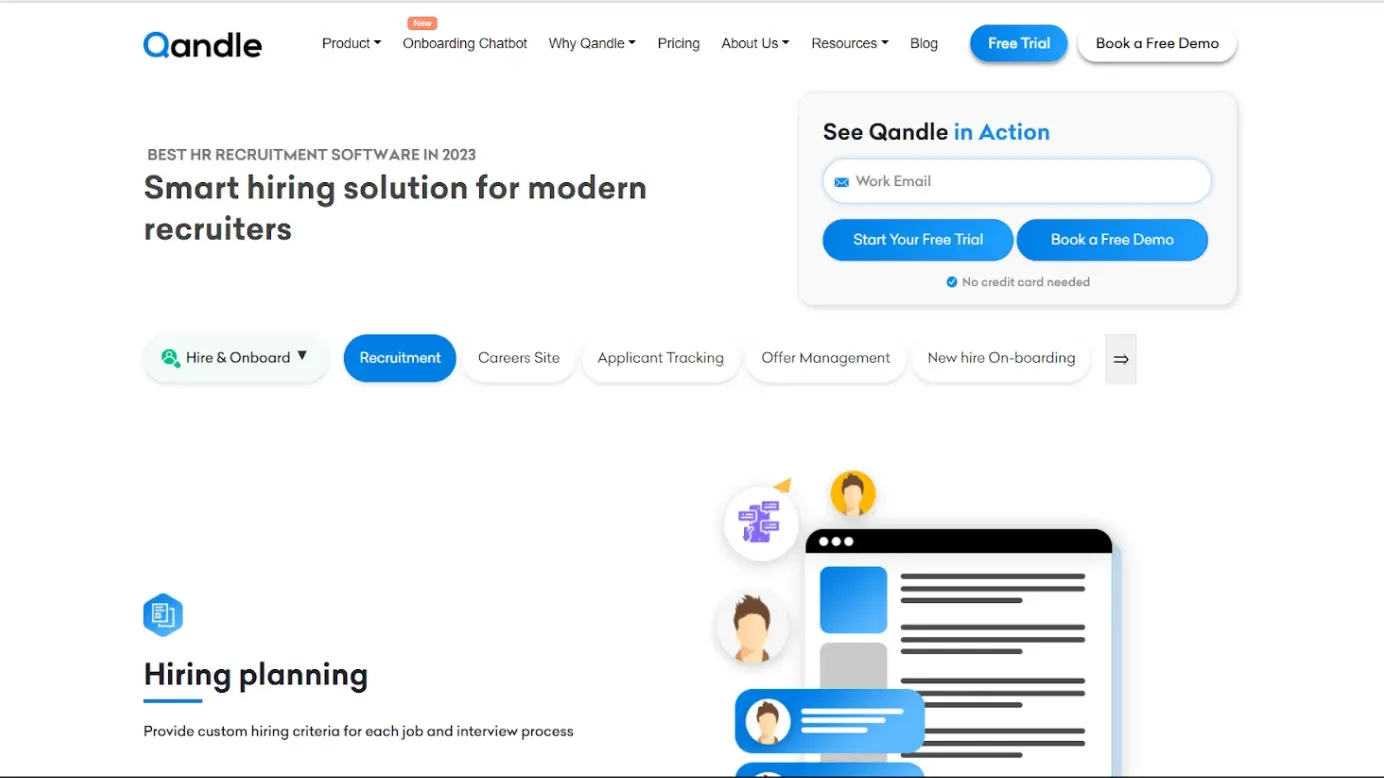 If you are looking for insightful and intelligent onboarding software, Qandle is the one for you. Qandle provides a fully efficient onboarding software with various functions complete with Pre joining orientation, task management, document upload and signing, post joining orientation, manage offer letters, probation management and other key functions.
It helps hiring managers with everything beginning from sourcing to placing candidates in the company.
Key features of Qandle:
Configure workflows for job requisitions and pipeline management
Handle internal posting and referrals within the onboarding and hiring suite
Use scorecards to efficiently vet candidates and schedule interviews easily
Complete paperless onboarding with document upload and signing
Advanced analytics and insights that help hire management
Qandle has been serving more than 35+ industries with over 1000+ clients in a competitive market which speaks for itself.
Besides the onboarding platform, Qandle is also equipped with other HR functions such as hiring management and payroll that makes it a complete suite for HR tasks. It helps with easy applicant management, recruitment, candidate tracking and payroll.
Pros of Qandle:
Many different HR modules that help in scaling based on different needs
99.9 percent uptime with a complete secure platform
GDPR compliant with features that help keep policies and compliance in place
Offboarding and many other smaller packages can be added on as extra
Cons of Qandle:
Some users reported that the system crashes and is slow
Response time is slow according to some users.
Pricing structure:
Onboarding feature included in the Plus plan which is priced at approximately 60 USD for 50 employees
Premium plan which includes onboarding is priced at approximately 75 USD for 50 employees
Enterprise plan available at custom pricing
Qandle company case studies:
Qandle was able to help an IT company with attendance management by providing advanced features such as GPS locations, and real time visibility was also increased for employees for better management by managers.
Qandle helped a major payment solution provider with their performance appraisal system by introducing 360 degree evaluations and setting up industry best practices using KRAs and KPIs for analysis.
Companies using Qandle:
Seven Seas Hotel
Fab hotels
Avanti
One Source
Freight Bridge Logistics
G2 rating - 4.3 on 5 with 10+ reviews
Capterra rating - 4.4 on 5 with 25+ reviews
4. FactoHR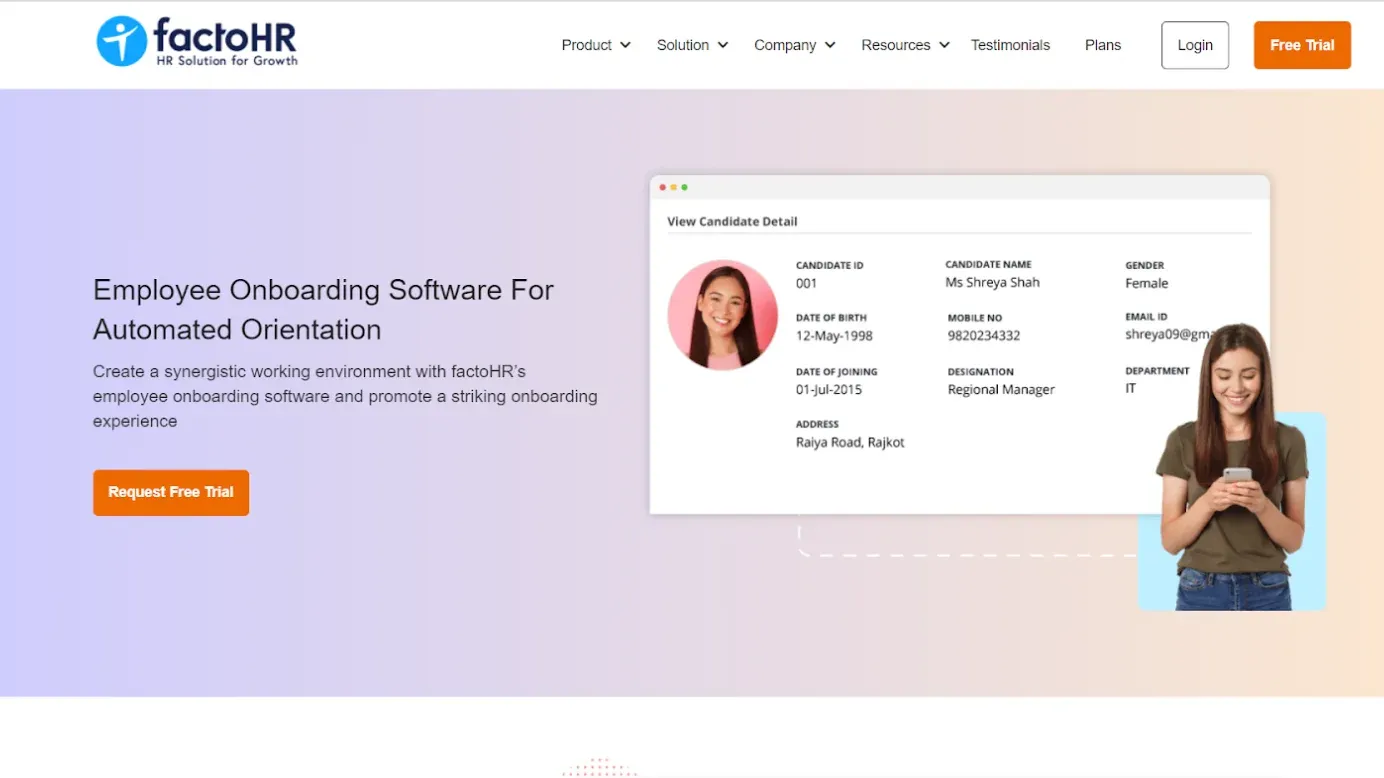 FactoHR is one of the leading HR software that helps in managing onboarding in a seamless and effective way.
FactoHR offers easy templates that help in automating the onboarding process with functionalities such as offer letter creation and management, pre-onboarding emails for completion of paperwork, document upload, import and export of candidate details from HR software to master employee software, setup payroll and other details simultaneously, set up alerts and notification to employees,, etc.
Key features of FactoHR:
The best feature is their template based function for preboarding emails, orientation, offer letter and other formal welcoming communication
Send out links for candidates to complete joining formalities completely paperless before they step in on their actual joining date
Complete automation of onboarding functions including sending out offer letters, document signing, uploading to master database etc
Import and export details between ATS, HR software and master employee database for quick sync of details
Send out alerts for certificate and other important documents or for renewal of documents and certificates
factoHR takes into consideration all of the aspects that come into play when onboarding new candidates in a company. It offers many templates and formats that HRs can make use of and therefore skip the delay in getting started.
factoHR also helps with asset management, reporting, analytical insights and reporting, hiring process management and payroll functionality as well.
Pros of FactoHR:
Easy and quick to get onboarding process started for multiple candidates
Sync and transfer of data between softwares is seamless and integrated
Alerts and notifications are sent out to candidates on real time updates
Fully customizable with custom fields and is scalable for business requirements
Cons of FactoHR:
System software is slower than the competitor products
Technical issues and errors were found by some users upon usage
Pricing structure:
Prices are subject to business requirements and can be availed via website or email.
Free trial available
FactoHR company case studies:
Freightlinks International is a company that is into logistics for 2 decades and has been successfully utilizing factoHR for onboarding, attendance management and payroll that helped automate HR processes by improving efficiency by 30 percent and boosting employee satisfaction by 50 percent.
Kelvin Plastics is a large plastic manufacturer that has successfully automated their onboarding, attendance, payroll and core HR functionalities using factoHR and has been able to cut down HR workload period from 5 to 6 days to just 2 to 3 days. Their attendance accuracy has also shot up to 95 percent.
Companies using FactoHR:
Blue dart
Mercedes Benz
Siemens
Wipro
Zydus Medical College and Hospital
G2 rating - 4.7 on 5 with 30+ reviews
Capterra rating - 5 on 5 with 7 reviews
5. Oracle fusion cloud HCM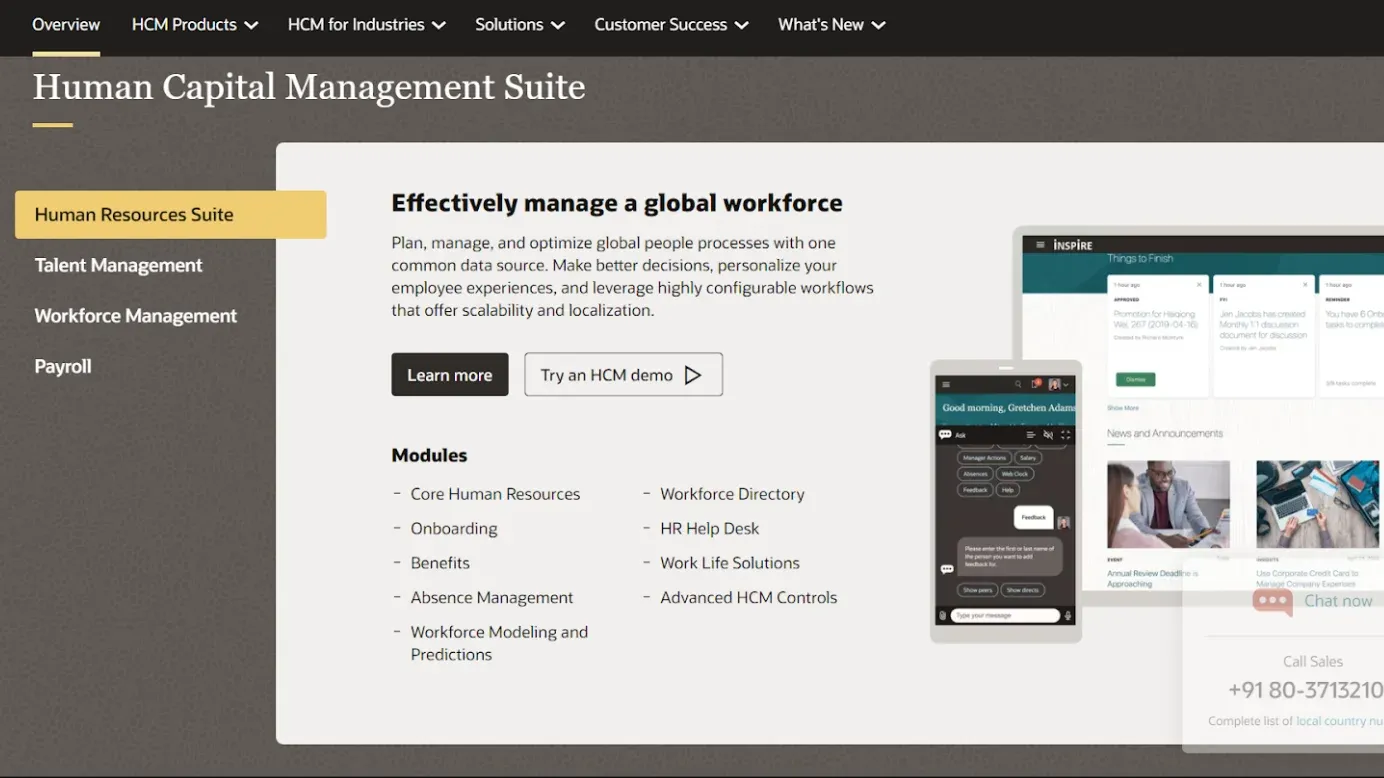 Oracle Fusion cloud HCM is unlike the programs you may have ever seen before. This software combines way more than your regular HR functions and helps integrate the entire process from hire to retire.
The suite includes functionalities such as Onboarding, absence management, workforce directory, help desk etc.
Within onboarding, the software helps with seamless human resource management through orientation, document sign on, licensing and certification upload, management of offer letters, employee growth and skillforce development etc.
Key features of Oracle fusion cloud HCM:
Complete HR solutions with plenty of HR modules from hire to retire
Core HR process includes automated onboarding for seamless take-on of employees
Personalized employee experience with automated and configurable workflows
Manage a global workforce using a single software system with localization
Compliance and legal practices are at the core of all HR modules
For companies who are looking into automating and managing large HR workloads for larger enterprises, Oracle fusion cloud is your best bet.
With flexible plans and plenty of HR modules to choose from, managers can create a unique ecosystem based on their requirements.
Apart from essential HR core services, Oracle fusion also has other important functions such as workforce management, recruitment and performance management, human resource communication etc.
Pros of Oracle fusion cloud HCM:
Scalable and flexible HR software with plenty of HR modules that managers can choose
Complete HR core process including onboarding comes as a single HR module
Pay per employee plans with scalability for small to large enterprises
Native mobile apps and plenty of integrations within Oracle and with 3rd parties.
Cons of Oracle fusion cloud HCM:
More expensive than similar products in the market
Pricing structure:
Prices are subject to business requirements. Custom quotes can be designed after contacting the sales team via their website or phone.
Demo request available on website
Oracle fusion cloud HCM company case studies:
Illy cafe which is one of the most popular cafes in the world uses Oracle HCM platform to attract and retain the best of employees and keep their 1200 employees engaged and satisfied with industry best salaries and benefits.
Emblem Health is a non profit insurer that benefited immensely from using the Oracle HCM by reducing manual HR labor from 3 days to 3 hours and less. They were also able to automate their core HR process that helped them cut down as much as 700k USD per year and 30 percent reduction in taxes.
Companies using Oracle fusion cloud HCM:
Adventist Health
Baylor University
Fuji Xerox
Hitachi
FujiFilm
G2 rating - 3.5 on 5 with 500+ reviews
Capterra rating - 3.9 on 5 with 60+ reviews
6. Wallet HR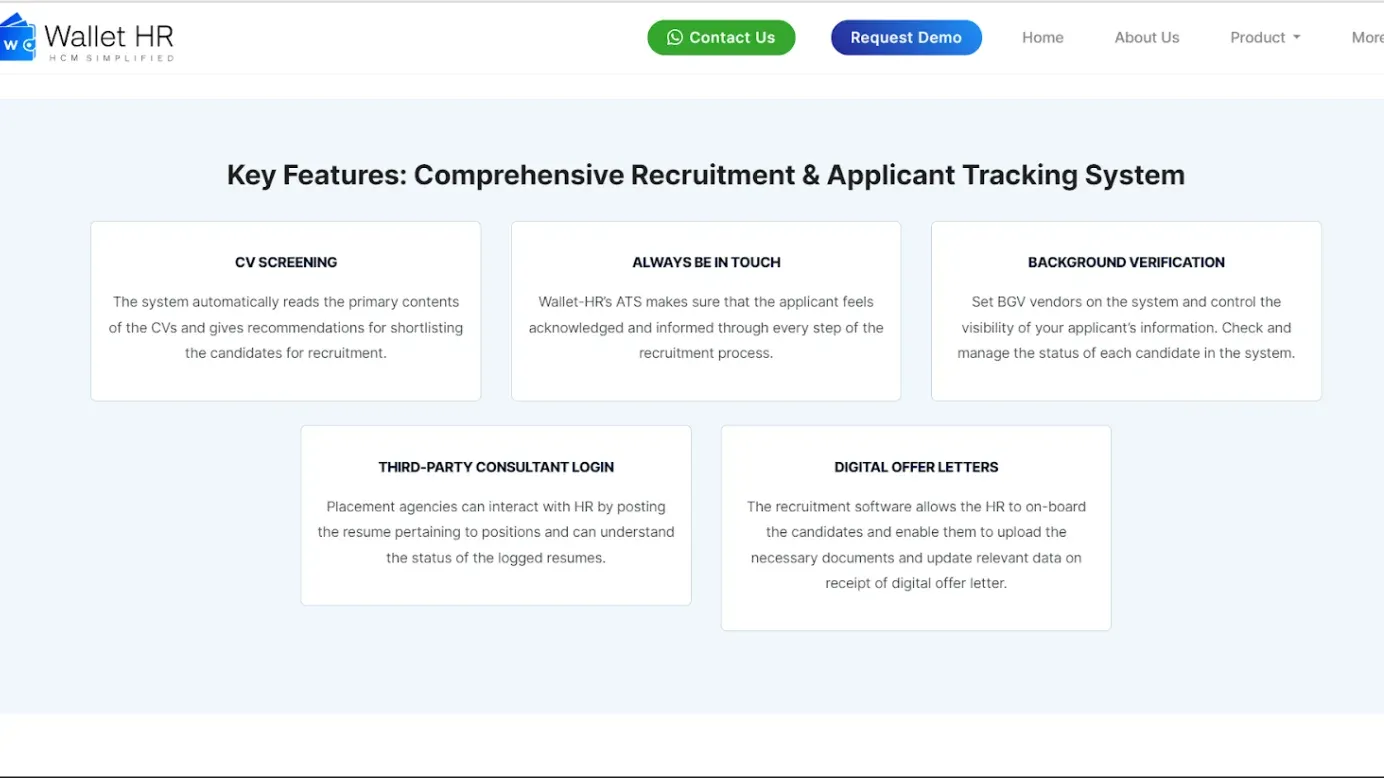 If you are a small to medium sized company that is looking for a simple HR software that does everything efficiently and does not burn a hole in your pocket, then Wallet HR is the one for you.
This simple, efficient, intuitive software helps with a range of hiring and onboarding functions such as Employee recruitment beginning from sourcing, candidate application tracking, hiring formalities, training management including pre and post joining orientation etc.
A comprehensive employee dashboard allows HR's to easily store and access employee details and analytical reporting features help with tracking the HR system for the employees.
Key features:
Offers onboarding as part of the hiring platform which includes features such as screening, ATS module, background verification and many other functions.
Provides option to automate onboarding using digital offer letters, paperless document upload and signing features
Automatically sync documents uploaded by candidates and send them timely updates and reminders to complete onboarding formalities
The software can be chosen as an on-cloud or an on-premise solution which improves its scalability and flexibility.
Wallet HR is a small software company that is now one of the top contenders in the Hr software market with some of the biggest clients in its kitty.
Packed with industry best features, some of the best functions besides onboarding includes leave and attendance management, payroll, learning and development, timesheet management, performance appraisal and a ticketing system for employees.
Pros of Wallet HR:
Industry best features including candidate screening, hiring, ATS tracking etc
Seamless onboarding of candidates no matter how few or how many using automated onboarding tools
Digital offer letter templates that are super handy to send out to new recruits
Sync documents from software to master and to relevant departments instantly
Cons of Wallet HR:
Software is noted to be slow
Data loss is noted when the system is offline especially incase of attendance management
Pricing structure:
Pricing is provided on the basis of business needs
Demo can be requested on the website or via customer support
No free trial available
Wallet HR company case studies:
Lucas TVS, a leading automobile manufacturer was able to automate the onboarding formalities using Wallet HR. This was done by sending out emails to candidates who had to upload their documents and photos which were then added to the HR and IT database instantly before the candidate joined the company.
Hyundai Software division was able to make use of the Wallet HRs platform to automate hiring and recruitment which helped them cut down on 7 percent of turnover costs year on year in their 45 locations with over 4000 employees.
Companies using Wallet HR:
Hyundai
AIG Hospitals
Le Royal Meridien
Aban
iOPEX
G2 rating - 4.3 on 5 with 3 reviews
Capterra rating - 5 on 5 with 1 review
7. PulseHRM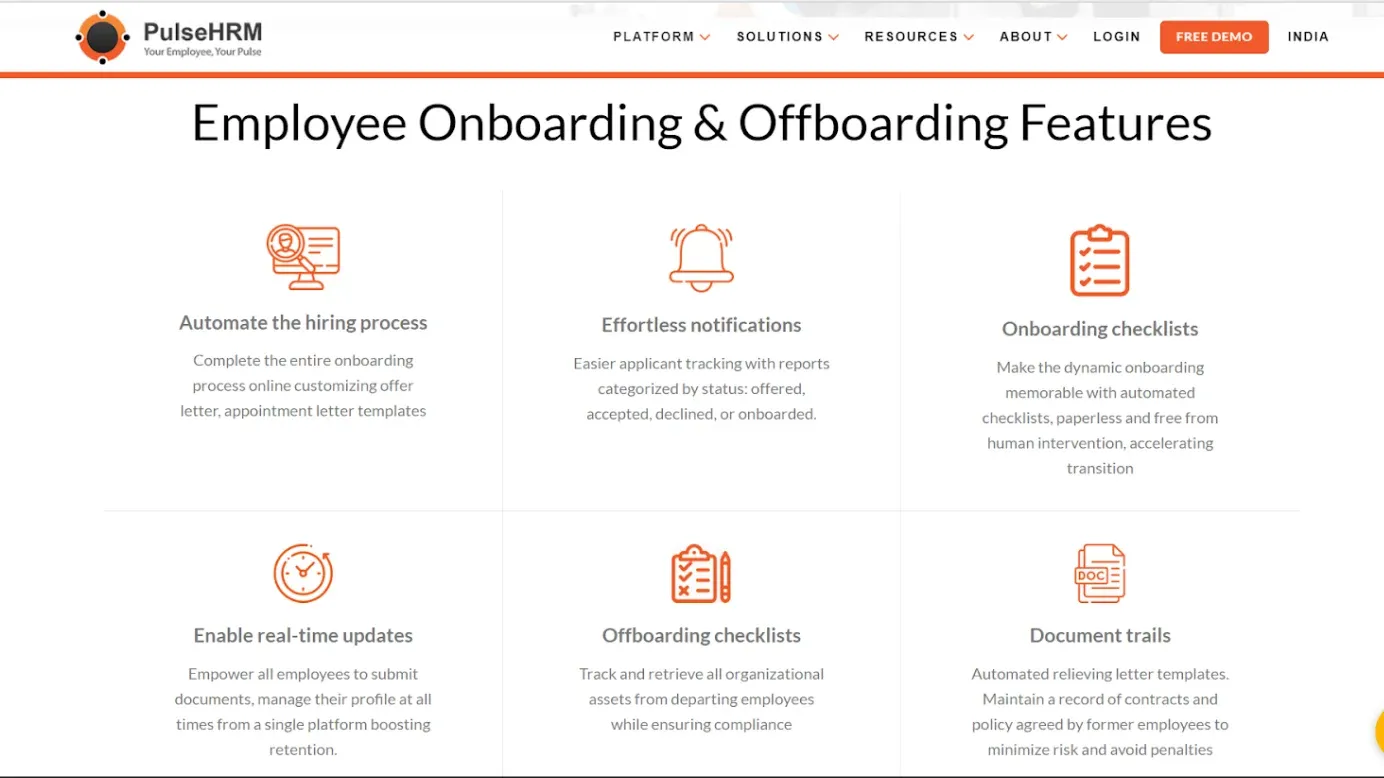 Pulse HRM is one of the recent additions to successful HR management and onboarding solutions in the market that has made quite a mark in the industry. Their suite for onboarding and offboarding automation is one of the best on this list.
The complete process of onboarding is automated and helps HR managers to quickly onboard employees by sending out offer letters, appointment letters etc from a library of customizable templates.
Key features of PulseHRM:
Templates to create offer letter, appointment letters etc
ATS tracking system with real time updates such as Offered, Accepted, declined etc
Automation of onboarding using checklists to skip manual entry
Use same platform for exit interviews and offboarding automation
PulseHRM has grown quite popular in the past few years. The software enables HR's to effortlessly onboard employees and track their progress using checklists, profile dashboards, notifications and paperless migration.
Other exciting features that the software offers are payroll, hiring & recruitment management, biometric implementation, leave management etc.
Pros of PulseHRM:
Single platform for onboarding and offboarding packed into one
Easy to use templates for offer letter, acceptance letter, relieving letter etc
Paperless and quick document upload using digital sign on and instant upload
Integrates with payroll for instant record updation of new candidates and similarly for employees who leave after offboarding
Cons of PulseHRM:
Software is slower than other products in the market
Some software errors and bugs were reported by users
Pricing structure:
Pricing is based on business needs and is estimated around 0.25 USD per employee per month. Exact pricing is quoted based on business size and needs
Free demo can be availed using their website.
PulseHRM company case studies: Not found
Companies using PulseHRM: Not found
G2 rating - 4.5 on 5 with 10+ reviews
Capterra rating - 4 on 5 with 1 review
8. HRMantra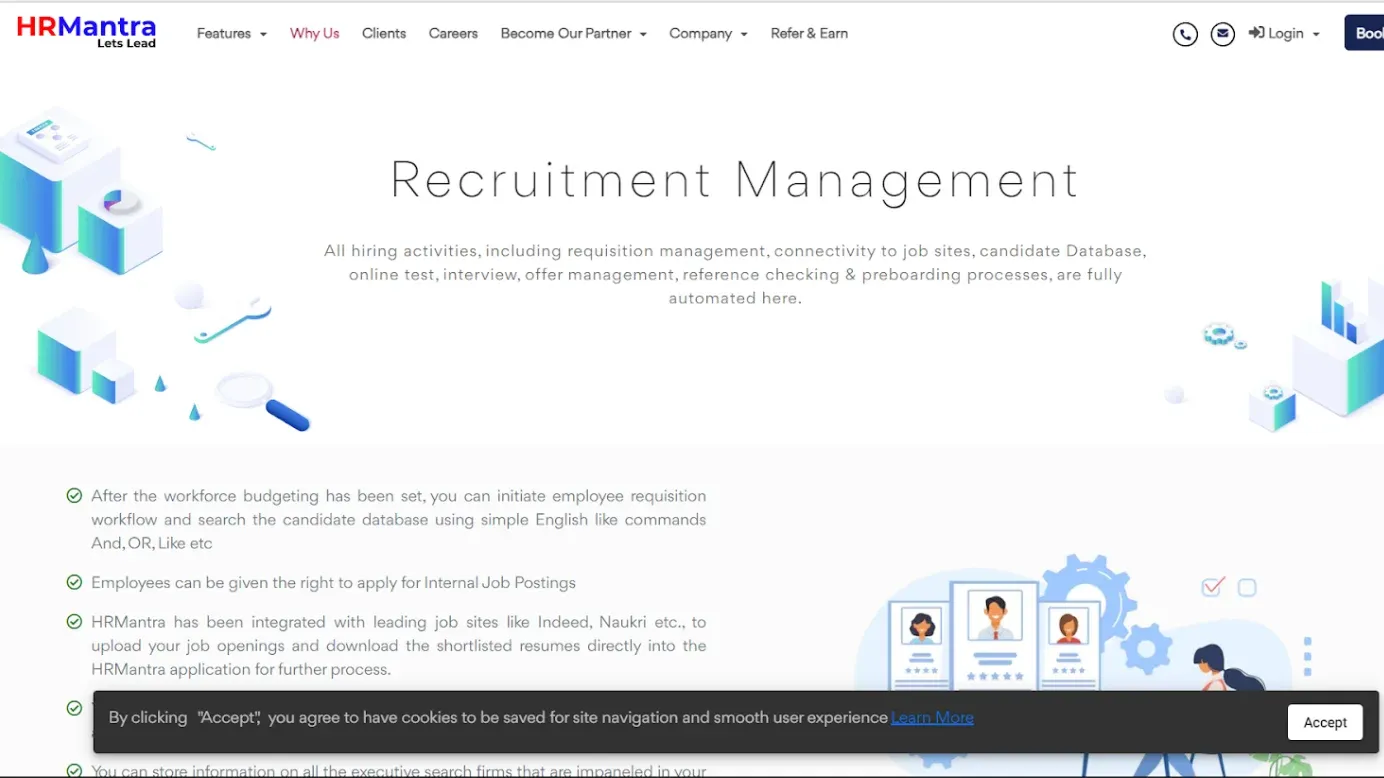 HRMantra is a straightforward HR management software that is powered by AI to help automate almost all parts of HR management functions in a company.
If you are a medium to large-scale, company that wants to automate their hiring, recruitment and onboarding formalities using the power of AI, then HRMantra is the software for you.
This platform combines the functions and formalities of hiring management with recruitment and onboarding and offers hassle-freelarge-scale document upload, digital signatures, preboarding checklists, emails from templates for letters, and schedules for training of employees all in minutes.
Key features of HRMantra:
HRMantra provides onboarding as part of the recruitment module with hiring, screening and employee training functions
Send letters using templates for offer letters, acceptance letters to candidates instantly
One click job acceptance emails for immediate response and digital document upload for completion of onboarding formalities
Paperless document upload for pre joining requisitions and for smooth onboarding'
Digital signatures and instant database updation using AI integrations
HRMantra uses AI at its core and provides onboarding as part of the intelligent recruitment module of their software.
Use templates, AI chatbots and digital assets to quickly onboard and train new recruits.
Other exciting features of this software include core HR management functions, payroll and claims management, attendance and leave management, performance management etc.
Pros of HRMantra:
The software promises 10 times the ROI with only 3 minute average per employee
The recruitment module integrates with job boards for hiring and using smart AI to source and screen candidates for onboarding
Use AI for creating attractive offer letters and employee manuals/ training module
Fully automated onboarding with document upload and digital signatures
Cons of HRMantra:
Software is slow and lags a bit according to users
Real time updates for attendance takes longer to reflect
Pricing structure:
Pricing is custom created based on business needs. Demo can be availed from the website/ via email or phone.
HRMantra company case studies:
Iksula has been using HRMantra when they had 150 employees and a basic HR policy but today they have over 1000+ employees and have been able to scale up easily using HRMantra and the software was able to manage changing policies in a flexible way.
PODAR is an education network with more than 10k employees and were able to onboard and train new joinees easily with HRMantra.
Companies using HRMantra:
Fujitec
Jockey
Shinhan bank
Ferrero Rocher
Schneider Electric
G2 rating - 3.1 on 5 with 5+ reviews
Capterra rating - 4.1 on 5 with 5+ reviews
9. Papaya Global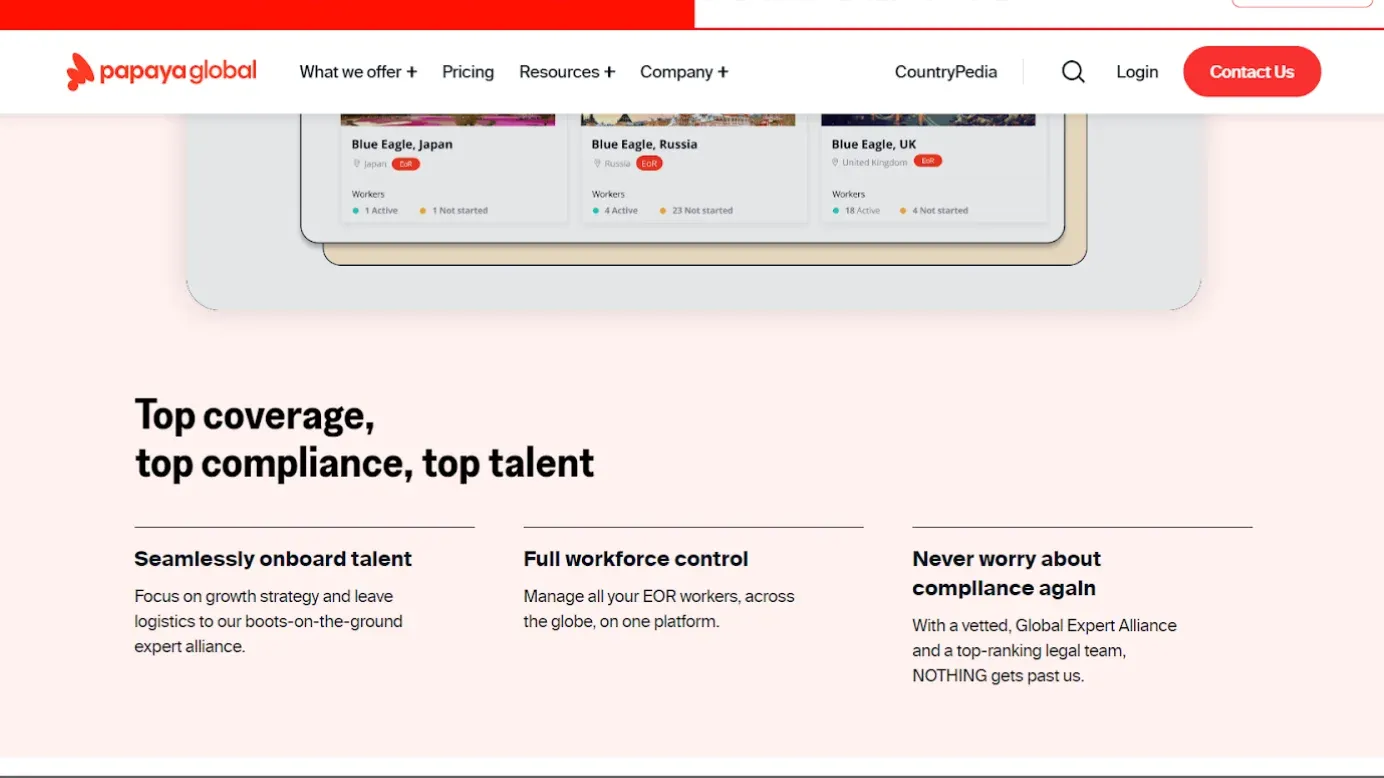 Papaya Global is one of the top and leading payroll processing and payroll management softwares used by some of the top companies in the world.
This software has its core in payroll and payment processing with a fully automated payments system across the globe for all employees, but the software also supports HR management, including hiring and onboarding as a sub-function.
Suitable for large and global companies that have the need for large-scale onboarding for multiple offices, Papaya Global facilitates seamless and paperless onboarding of employees and integrates employees directly by connecting HR and finance for quick and instant payroll processing.
Key features of Papaya Global:
Onboarding of employees is offered as part of the EOR or employee of record package and through contract management
Hire and onboard talent quickly using automated workflows
WIth payroll and compliance at the core, sync of data across different departments is seamless and instant
Onboard and manage workforce in all locations from one software
Global compliance and labor laws are included
This software offers a global platform for hiring, and onboarding, be it directly or through agencies and contractors. Automation of onboarding using digital tools help in onboarding large workforce easily within minutes.
Other top features of the Papaya global software include workforce analytics, an employee portal on the web and app, compliance management, global payroll, secured transactions, etc.
Pros of Papaya Global,:
Best suited for large corporations that are spread across the globe
It helps in managing hiring and onboarding both directly and through contractors
Flexible and scalable plans that help manage the workforce from one single location
Integrates hiring, training, onboarding, and payroll all at once.
Cons of Papaya Global:
Expensive EOR package
Not a full-fledgedGlobal Company onboarding solution but more as an integrated module
Pricing structure:
The employer-of-record full-fledged plan starts at 650 USD per month per employee
The contractor management plan starts at 2 USD per month per employee for onboarding and hiring contractors
Papaya Global Company case studies:
Rubrik is a global cloud storage company that uses Papaya Global to onboard and hire employees across their various locations using local labor law support and AI-automated onboarding solutions, adding to its 2000+ employees globally.
Kong is a global API developer that always is looking for developers and coders, and using Papaya Global, they were able to use business analytics to fine-tune their hiring process. They were able to do in-depth research, hire the best of talent and onboard them quickly using the software. Using the EOR solution, they were able to create a diverse workforce at the company.
Companies using Papaya global:
Shopify
Toyota
Vimeo
Microsoft
Canva
G2 rating - 4.3 on 5 with 15+ reviews
Capterra rating - 4.5 on 5 with 25+ reviews
10. Kpi.com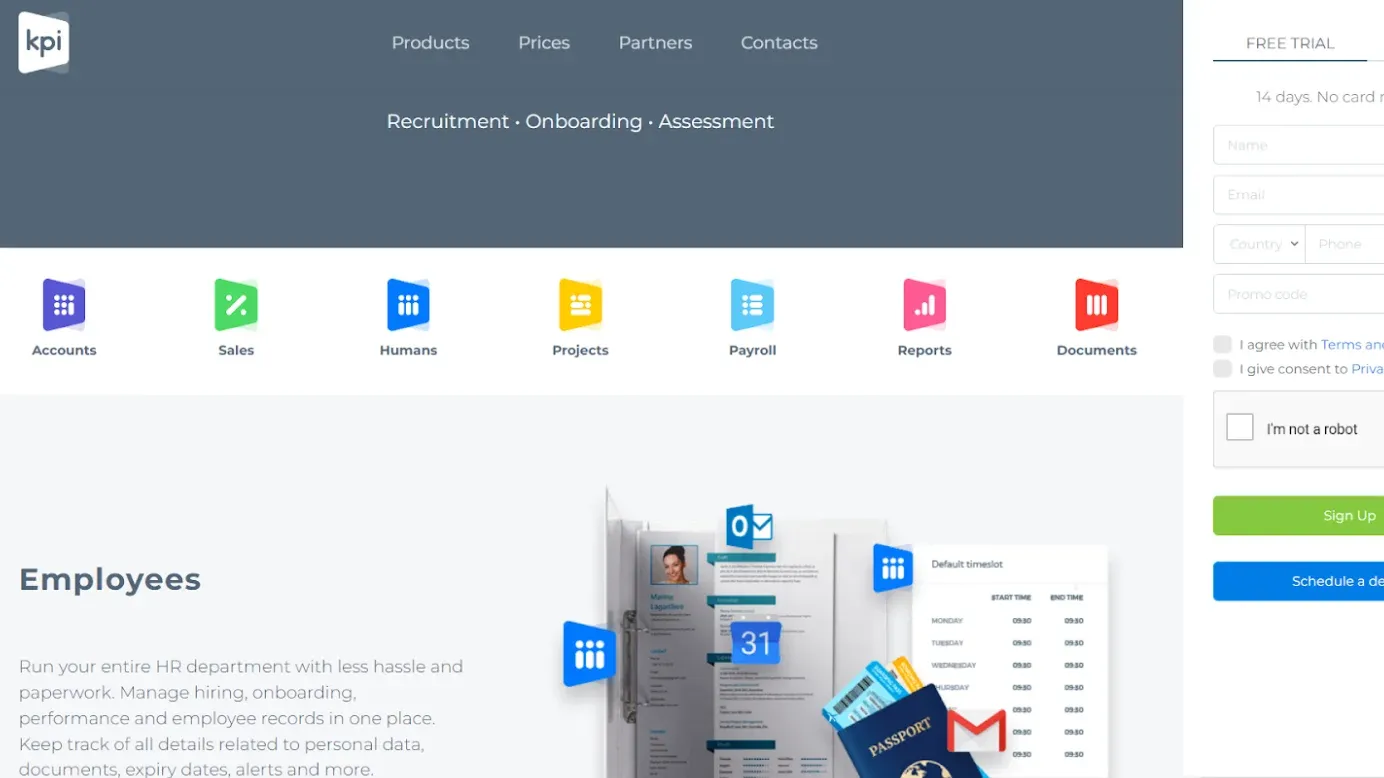 Kpi.com is essentially a project management software that helps integrate the various parts and functions of business in an easily automated manner under one software console.
The HR evolution platform of Kpi.com offers seamless HR integration for HR managers to manage human resources with hiring and onboarding.
The platform assists with onboarding employees easily and seamlessly without any papers and upto the standards and compliance norms of the industry or the company.
Kpi.com also enables other functionalities such as attendance management, payroll and performance analysis and reporting within the HR suite of application.
Key features of Kpi.com:
Hiring, onboarding and performance management all in one HR human module
Onboarding is included with documentation and filling module that helps with paperwork and upload of documents as per norms
Integrates with payroll, billing and attendance management with self service forms
Compliance and company norms are given due attention and top priority
App on iOS and android available for mobile accessibility
Onboarding is offered as part of the HR human platform that comes with a range of features and future ready tools. With complete automation for onboarding and documentation, managers can onboard a large number of employees with ease.
Kpi.com offers a sleuth of software for other business functions including project management, Account management, sales software, payroll management, reporting etc.
Pros of Kpi.com:
Easy to manage hiring and onboarding functions in one module
Perfect for companies looking for complete HR package
Documentation and filing services included within for automated document upload
Comes with native mobile apps
Cons of Kpi.com:
Learning curve is higher with the software
Pricing structure:
Human evolution (HR module) pricing starts at 215 USD per user per year
Every extra ESS user billed at 21 USD per year
Nonusers billed at 6 USD per year
Free trial available
Kpi.com company case studies:
Adchem is a distributor of innovative ingredients who found a stop solution for complete business integration with Kpi.com. They were able to use project management, human resource management, and accounting and sales platforms for their complete business.
Companies using Kpi.com:
Finnet
Tanla solutions
Datasite technology
British council
G2 rating - 4.2 on 5 with 10+ reviews
Capterra rating - 5.0 on 5 with 1 review
Conclusion
In the changing world of employee onboarding software solutions, the best choices for 2023 have showcased their effectiveness in making the onboarding process smoother and more effective.
These platforms have consistently demonstrated their capability to help organizations seamlessly integrate hires, boost employee engagement and achieve long term success.
As businesses prioritize talent acquisition and retention, investing in one of these leading employee onboarding software solutions can undoubtedly ensure a productive onboarding experience for both employees and employers.